You can never predict exactly what you'll be asked in an interview. However, you can prepare ahead of time by brushing up on the top interview questions asked by employers.
You should avoid reciting a prepared response word-for-word in an interview because you'll come across as over-rehearsed. However, reviewing some common interview questions can help you think about the qualifications and experience you want to highlight, making you more likely to ace your next interview.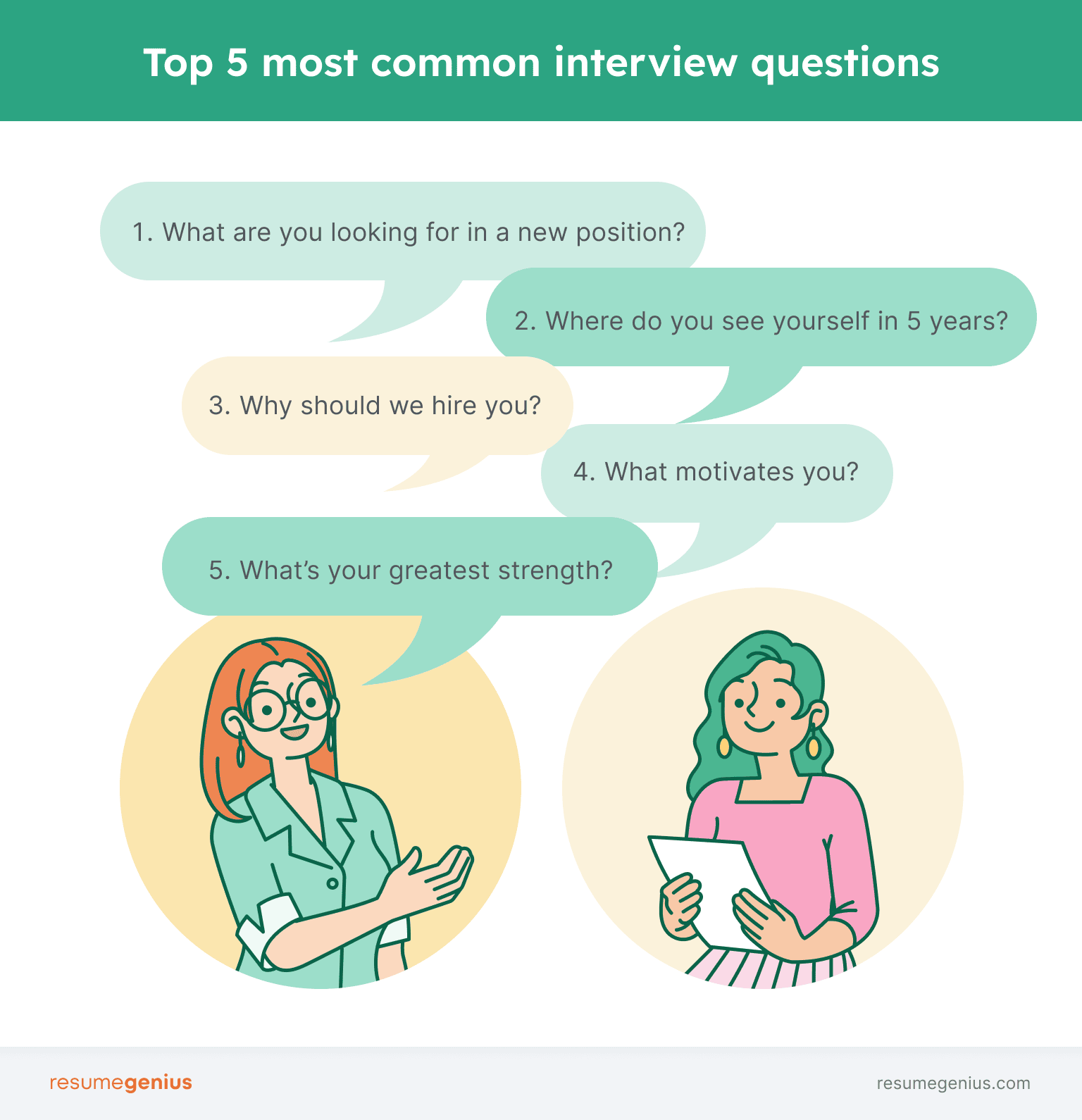 Here are the 25 most popular interview questions you'll encounter on your job hunt:
Many of these prompts are also typical phone interview questions. So even if you don't have a formal interview lined up just yet, it's still important to familiarize yourself with these common questions so you can be prepared for any situation.
Be sure to check out the video below where in-house career expert Eva gives you seven tips for acing your interview:
1. Tell me about yourself
Interviewers often ask "tell me about yourself" to break the ice and get more information about your work history.
This question is usually just an introduction to the interview, so most interviewers won't take your response too seriously. However, you should still keep your response concise and focused.
Remember to stay focused on your professional life. This interview question sounds open-ended, and as a result many candidates start talking about their life story, but that's not what interviewers are looking for.
I knew I wanted to work in the travel industry from a young age, when my family took me on a trip to Rome when I was in high school. That trip changed my life perspective, and I decided I wanted to spend the rest of my life exploring all of the beautiful places the world has to offer.
At college I studied Hospitality Management and went on to get a Master's degree in Travel and Tourism Management. Each summer I've worked as a tour guide in my hometown of Seattle. I designed and launched the first walking ghost tour, which quickly gained popularity and helped me save an extra $5000 the first summer. Interacting with all of these tourists has helped me develop strong communication skills, and I'm very comfortable speaking with new people.
I believe that my communication, organizational and planning skills combined with my passion for travel and adventure make me a strong candidate for your travel agency, where I hope to grow my knowledge of the industry and build strong relationships with clients and customers.
2. How did you hear about this position?
"How did you hear about this position?" is usually one of the very first questions interviewers will ask you. Like the previous prompt, this interview question is mostly just to get the conversation started and helps the interviewer get to know you a little better.
If you have a contact who currently works at (or previously worked at) the company and recommended you apply, this is the time to bring them up. Talking about a mutual connection helps establish a rapport with the interviewer and makes you seem like a better fit for the job because a current employee believes you're qualified.
Don't have a connection at the company? No problem. Just talk about how you found the job listing and what attracted you to apply. This is a great opportunity to highlight why you're qualified and express your enthusiasm for the role.
I heard about the position from my friend Alex, who works in the accounting department. We used to be coworkers at Big Corp, and when I mentioned I was looking for a new marketing job he recommended I apply here. It was actually an interesting coincidence because I've admired the work being done by all of you at ABC Tech for a while, and was excited when Alex told me you were hiring for the Marketing Assistant role.
3. Walk me through your resume.
At some point in your job search you're likely to have an interviewer ask you to "walk me through your resume."
This common interview question stumps many job seekers because it's very open-ended.
What interviewers are usually looking for is something similar to how you'd respond to "tell me about yourself." Basically, they just want you to summarize why you think you're qualified for the position you're interviewing for, and how it fits into your career goals.
The key to answering this question well is to keep things concise and break your answer into three sections:
your educational background,
work history,
and career goals.
Here's an example of a well-structured response to this popular interview question:
I've been passionate about building a career as a librarian for a long time. In high school, I spent two years volunteering in the school library. My volunteer experience gave me my first hands-on experience working with library materials and resources, and even using library software like Lucidea Integrated Library Systems. In college, I majored in Education because I knew I wanted to work as a school librarian, and this degree would give me the knowledge I needed to work with children in a school or classroom setting.
I also worked as a library assistant in college, which helped me learn about the organizational and customer-facing side of a librarian's role. Since then, I've volunteered in my local community library, where I've had the opportunity to develop a new program to encourage middle schoolers in the school district to read nonfiction books by holding weekly workshops. I'm sure this program could also benefit the library here at Smith High School and get kids more involved in their studies.
I'm confident that working at Smith High School would be a great opportunity for me to fulfill my ambition of making a real difference as a school librarian. It would let me put into practice my knowledge of running a library efficiently and cheaply, as well as giving me the chance to turn the library into a welcoming space to help students achieve.
4. What is your greatest strength?
Interviewers commonly ask "what is your greatest strength?" to learn more about what kind of skills you have and where you think you can contribute the most. But more importantly, interviewers want to see if you understand how to apply your strengths in the workplace to accomplish goals.
The best way to answer this question is to focus on a strength that aligns with the needs of the company.
Here's an example of how to answer this top interview question: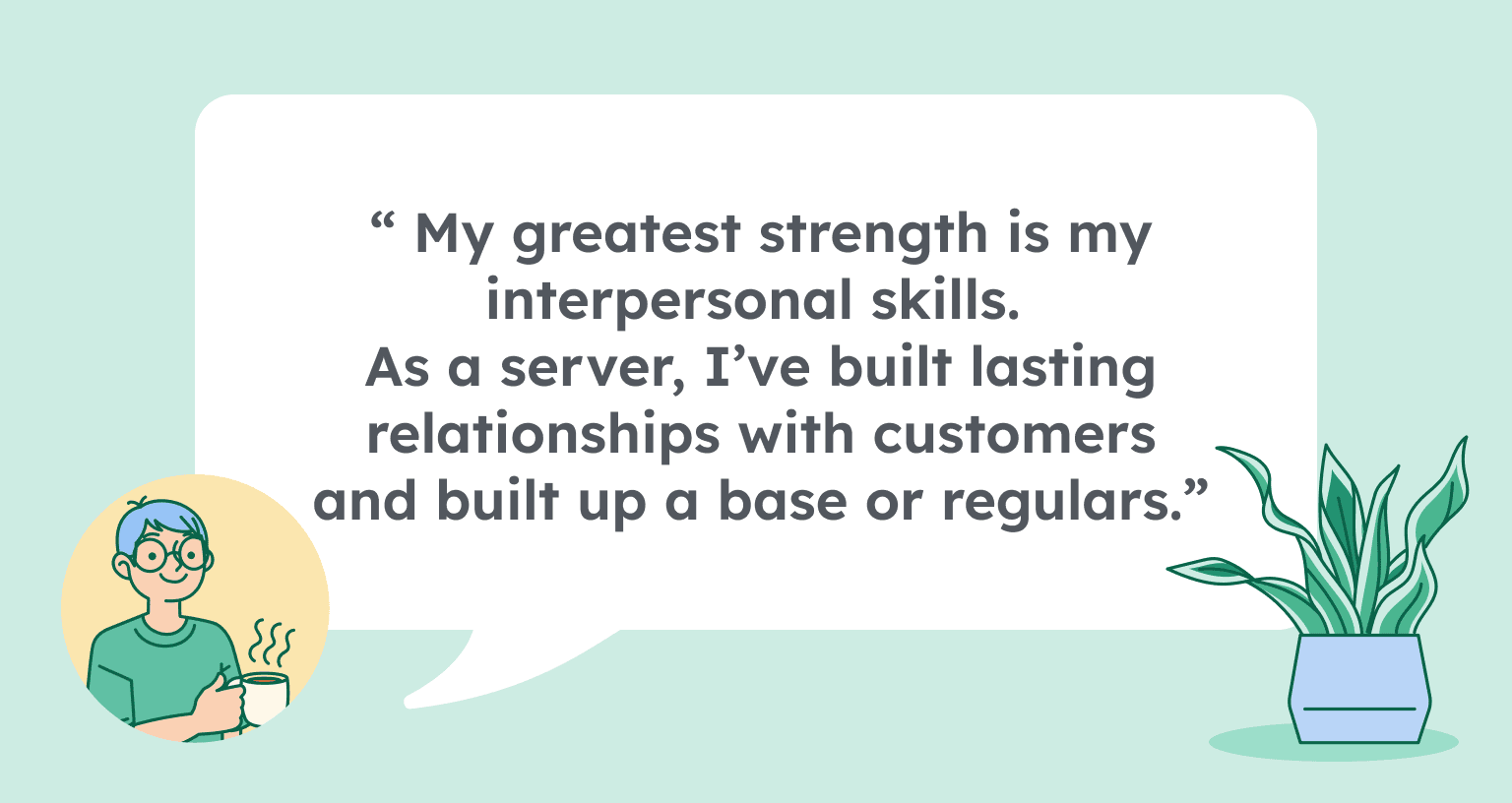 I would say my greatest strength is my ability to build lasting relationships with customers. I'm a people person, so the most gratifying part of my job as a server is providing specialized service so that everyone leaves satisfied. In fact, in my current job at Phil's Seafood I've developed a strong base of new repeat customers, increasing food sales by more than 60% over this past year.
If you've already got great accomplishments on your resume, you can take those examples and expand on them during the interview to successfully answer "what is your greatest strength?"
5. What are your weaknesses?
This is the previous question's more negative sibling. "What are your weaknesses?" frequently trips up job seekers because it's difficult to think of an answer on the spot that won't hurt your chances of landing the job.
After all, is there such a thing as a "good" weakness to have when you're interviewing for a job?
Fortunately, there's an easy method to answering this question that will ensure you nail it. The key is to be honest and focus on a weakness that doesn't directly impact your ability to perform your job. Then, explain what you're doing to improve.
Additionally, make sure to avoid the cliché of disguising one of your strengths as a weakness. Hiring managers will immediately roll their eyes if you respond with a cop-out answer like "my weakness is that I'm too hardworking."
To be honest, one of my weaknesses is that I'm impatient. I tend to finish my work pretty quickly, and get easily annoyed when colleagues lag behind on team projects or don't pick up on new skills right away. In my last job, this ended up negatively impacting my relationship with my coworkers, which led me to ask my manager to assign me projects I could complete on my own.
However, I know I have to work on my teamwork skills, so I enrolled in a course to help me cultivate patience in the workplace. I've also started taking stress management classes, both of which have helped me manage my impatience and learn to focus on other tasks once I've finished my portion of a project.
6. What's your ideal work environment?
This common interview question is pretty straightforward. Interviewers just want to know whether you'd make a good fit for their company's office culture and work style.
There's no one right answer to this question because every company's work environment is different. The best approach is to say that your ideal work environment is similar to the one at the company or organization you're interviewing with.
If you're not sure what a company's work environment is like, do some research before your interview by looking at their official social media accounts or website to see how the company presents itself.
Do they present themselves as casual and youthful, or more buttoned-up?
Do they advertise their commitment to corporate responsibility?
Do they have teambuilding events?
What kind of atmosphere does the work environment have?
Whatever the case, try to match the company's work environment in your answer to demonstrate that you're a good fit for the position.
My ideal work environment is casual but fast-paced. It sounds cliché, but I'm a work hard, play hard kind of person. I come from a background in food service, and I think that's influenced how I approach my work in sales. I really enjoy being busy during work hours and challenging myself to be more productive.
At the same time, I appreciate being close to my coworkers, and am always looking for environments where people are interested in going out after work. In fact, I still regularly hang out with some of my coworkers from my last job, and consider them life-long friends.
7. Describe your best/worst boss.
Interviewers often ask about your best or worst boss because it's a good way to evaluate the management style that you work best with (or don't).
In many cases, the person interviewing you for a job is the same person who'd be managing you once hired. Getting an example of how you respond to certain types of management helps them understand how you'd react to their management style, and if they'd need to make any adjustments.
The best way to answer this question is to be honest and neutral. If you're asked about your worst boss, avoid ranting about them. Instead, objectively explain (as best you can) why you struggled with their management style and what you think could've been done differently.
I've actually had a few great bosses in my career, but if I had to choose one it would be my current boss. She's always there to help me when I have an issue, but doesn't micromanage my work. She's also very open to new ideas, which has given me the opportunity to experiment in my role and as a result I've learned a lot.
8. What motivates you?
If you think "what motivates you?" sounds like an intimidating interview question, you're not alone. Many job seekers freeze up when asked this common question because it's so general (and even a bit existential).
The best way to approach this question is to put yourself in the place of the interviewer. What do they actually want to hear?
They're not looking for a deep answer about you as a person, they just want confirmation that you're excited about the specific role you're interviewing for, and that you'd be motivated by the work once hired.
As a graphic designer, I'm really driven by the collaborative process of designing on a team. I love working with my coworkers on creative projects because our interactions lead to exciting new ideas that I wouldn't have thought of on my own. The overall process leads to designs that are innovative, fresh, and energizing.
I know that your design team is well-known for its collaborative process. I'd love to apply my extensive technical background and diverse experience to help the design team at ABC Corp achieve their goals.
9. What is your greatest professional achievement?
Interviewers ask this question because they want to see what you're capable of achieving if hired.
The right approach to answering "What is your greatest achievement?" is to narrow in on a specific accomplishment from your professional or academic career that you're particularly proud of. Then, quickly explain how you achieved it and why you're proud of your work.
I would say that my greatest professional achievement would be the work that I've done in developing and expanding the video program at my company. I started the program from sratch, and did all the filming and editing myself.
Eventually, my work led to a noticeable increase in company sales, and I was given the opportunity to grow out a small team. In two years I put together a successful video team of four people, and we reliably produced a new full-length video every week, boosting the marketing department's clickthrough rates by 4% per page on average. I'm really proud of the work that I've done in this area, and it's been the highlight of my career so far.
10. What are you looking for in a new position?
This interview question is just another way for interviewers to find out if you're actually interested in the role.
A good approach to answering this question is to focus on the qualities and skills that are most important for the role you're interviewing for, and explain how your qualifications match up.
For example, if you're applying for a job as a project manager, you might highlight your experience in planning and organizing projects, and explain how your skills would benefit the organization.
While I enjoyed my previous job, it was at a large, established corporation and didn't offer a lot of opportunities for growth or learning. I'm looking for a new position with a more open-ended job description because I think this will allow me to use my skills and abilities to make a contribution to the organization and grow along with it.
That's why I think the position at ABC Corp would be a great opportunity for me. Your company seems tight-knit and is growing quickly, and I'm confident I could help drive growth while learning a lot myself.
11. Do you like working independently or on a team?
When interviewers ask this question they're just trying to imagine how you would fit in if offered the job.
There's no right or wrong answer here, so the best approach is to be honest about your work preferences and explain to the interviewer why that's your preference.
Here's a sample answer for this common interview question: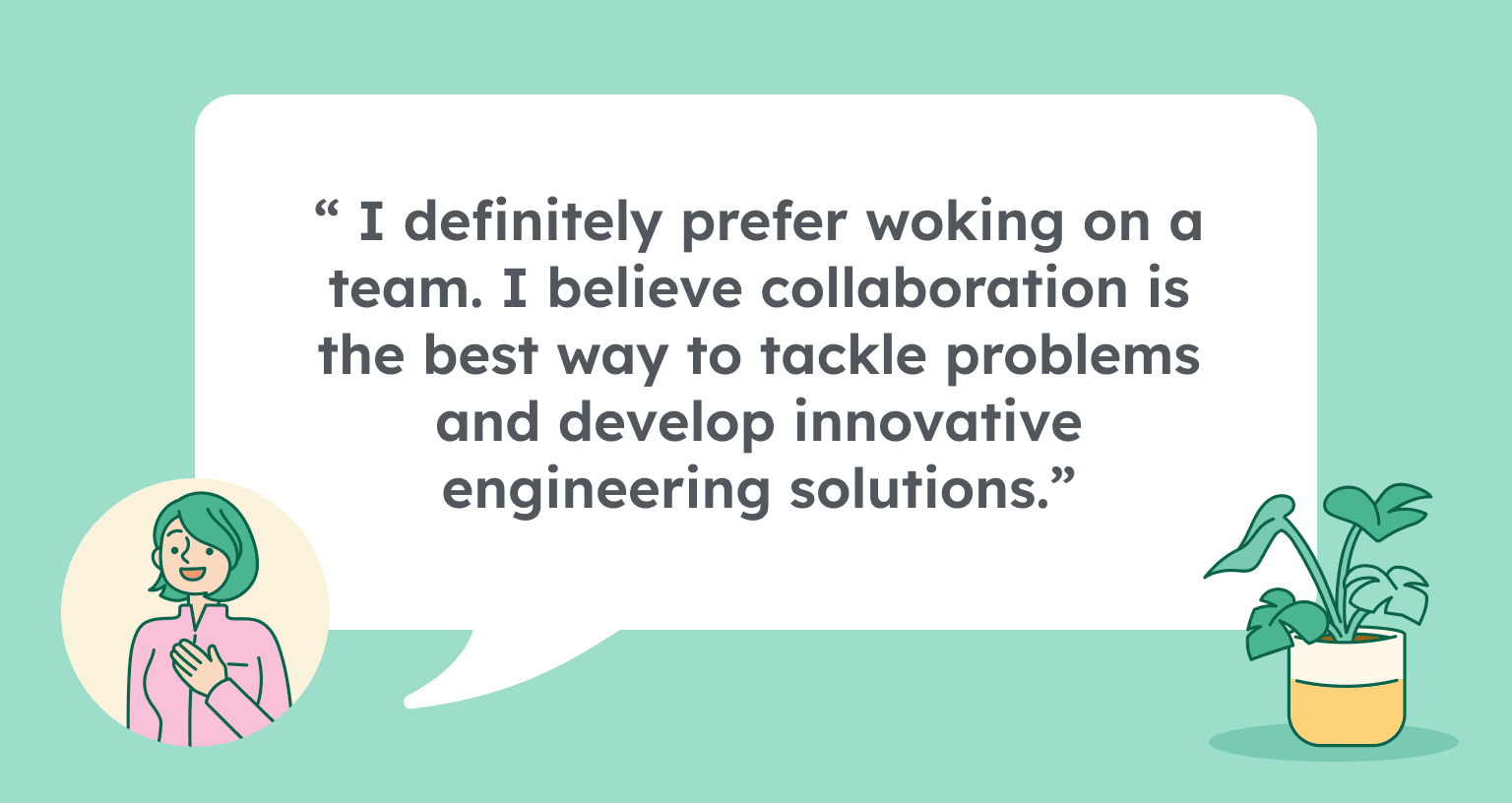 I definitely prefer working on a team. I believe collaboration is the best way to tackle problems and develop innovative engineering solutions. Obviously, there are times when I'm happy to work independently so I can focus on my own projects. But in general, when it comes to the ideation process and troubleshooting, there's no replacement for in-person meetings and conversations.
12. What do you know about this company/organization?
This top interview question is actually very simple: interviewers just want to check that you did your research before showing up to the interview.
The only wrong way to answer this question is to say "I don't know anything," because this immediately tells the interviewer that you don't care enough about the job to do a quick Google search.
Before your interview, you should do some research about the company. Look up their website, official social media accounts, and any news articles about them.
Look for information about the company's:
Products or services
Office culture
Latest news
Future goals
Well I know that GreenWorld is one of the biggest nonprofits fighting for environmental protections. I especially admire the work your organization has done to preserve the natural mountain ecosystems in the Northeast, which is something I care deeply about.
I actually volunteered for a GreenWorld campaign to protect a local fresh water lake in my home state of New Hampshire when I was in high school, which was one of my first experiences with activism. At the time, the GreenWorld employees on the ground there made a huge impact on my worldview and influenced me to go on to major in environmental science in college.
13. Tell me about a time you failed.
Talking about your failures in an interview can feel risky. When you're put on the spot, it's difficult to think of an answer that doesn't make you look bad.
The best way to respond to "tell me about a time you failed" is to provide a real example of a failure in your career – even a small one. But more importantly, you should explain how this experience helped you learn and grow.
Everyone fails sometimes, so don't focus too much on the negative aspect of your example. What's key is that you show the interviewer you took something positive away from the experience.
In my previous job, I was tasked with a marketing project and things didn't go as planned. I hadn't had much experience in project management up until that point, and thought I could handle the launch of a new website on my own. Unfortunately, between communicating across teams and time management issues, I wasn't able to meet the deadline and my boss moved the project out of my hands.
It was a serious professional embarrassment for me at the time. In the end though I learned a lot from that experience, in particular that it's important to reach out for help when I'm not sure how to handle something.
14. Could you tell us about a conflict you resolved?
"Tell me about a conflict you resolved" is a typical behavioral interview question that focuses on how you've put your conflict resolution skills to the test in the past.
To answer this question, give an example of a time you resolved a conflict at work or in school.
You should structure your response as a brief story by:
Giving some background information
Describing what the conflict was
Relaying what action you took to address the situation
I can think of one particular conflict I resolved. It was with my boss, and it was over a project we were working on. I felt like she was micro-managing me, and I wasn't happy with the way things were going. I talked to her about my concerns, and we were able to come to an agreement about how the project should be managed. We worked together to come up with a plan that both of us were happy with, and the project turned out great.
15. Why do you want to work here?
"Why do you want to work here?" is an interview question that often trips up job seekers because it's so direct.
Interviewers ask this question to confirm that you're enthusiastic about the job opportunity. So the best way to respond is by talking about the aspects of the job that you're most excited about.
Even if you're applying for a position to pay the bills, you should always mention something that you're enthusiastic about. The last thing an interviewer wants to hear is that you're only interested in the job for a paycheck.
During my senior year of college I completed a marketing internship at ABC Corp. As you know, they use your software for demographic research, and I got to use it on a daily basis. I was really impressed by the quality of the product and how responsive your company's support team is. It actively made my job and the jobs of my managers easier.
When I saw you had a job position open, I thought it would be a great opportunity to join a team that shares my values of putting out fantastic work and making a positive impact for clients.
16. What do you like least about your job?
A lot of job seekers dread being asked "what do you like least about your job?" because it's tough to respond without sounding negative.
The best way to respond to this question is to stay positive and discuss, as objectively as possible, an aspect of your job that you dislike.
If your response devolves into a rant, this is an immediate sign to the interviewer that you lack professionalism, so be sure to keep your answer focused and objective.
At my current job, I've had the opportunity to work with hundreds of clients to solve operational issues, ranging from strategy to logistical challenges.
However, as I've grown in my role, I've realized that upper management is a bit disorganized. I often had multiple supervisors, each with different expectations and instructions on how to complete a particular task. While these challenges were often good opportunities to develop my time management and organizational skills, I feel it's ultimately limited my career growth and makes for a confusing work environment.
Going forward, I'm looking for a position where upper management has a clear mission, with agreed-upon strategies for achieving the company's goals.
17. Why do you want to leave your current company?
Sometimes phrased as "why did you leave your last job?", this interview question is straightforward but can easily sabotage your interview if you're not careful.
The golden rule with your response here is to stay positive.
If you speak negatively about your company or your boss the interviewer will see this as a red flag because it suggests that you have a negative outlook and could potentially be difficult to work with.
So when you answer "why are you leaving your current job?", only talk about the positive aspects of your current or previous job and then explain why you're looking for new opportunities.
Looking to leave your current position? Make sure you write a letter of resignation that helps you leave on a positive note and increases your chances of getting a good recommendation from your manager.
Here's a sample answer to this top interview question: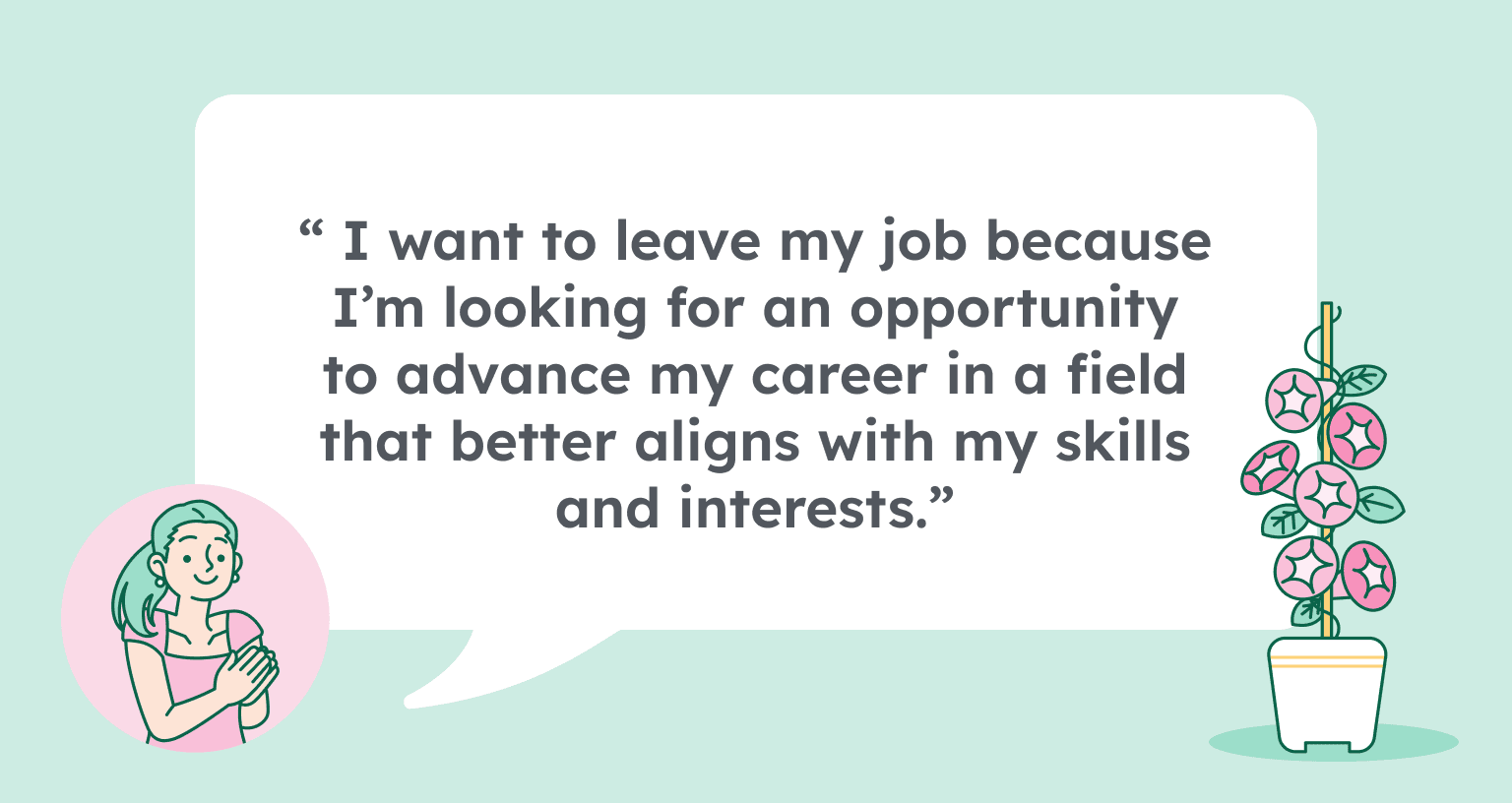 I want to leave my current job because I'm looking for an opportunity to advance my career in a field that better aligns with my skills and interests. My previous employer wasn't able to offer me the type of growth I was looking for, but I'm confident that your company can help me reach my professional goals.
18. Where do you see yourself in 5 years?
This interview question may seem tricky, but it's actually fairly simple to answer. Hiring managers ask "where do you see yourself in 5 years?" to figure out if you're going to use the company as a stepping-stone, or if you might stay long-term.
Here's an example of how to answer when an interviewer asks "where do you see yourself in 5 years?":
This answer shows the employer that you're ambitious and hardworking.
I love working directly with people, so customer service is a great fit for me. In the next five years, I'd like to improve my leadership skills and transition into more of a managerial role. I'd love to get more experience onboarding and mentoring new employees, while using my problem solving skills to continue to improve customer experience.
19. Why should I hire you?
Some interview questions are designed to put you on the spot. "Why should we hire you?" is the most common question in this genre.
Fortunately, with some preparation this question is easy to nail. When interviewers ask why they should hire you what they're really asking is "why should we hire you over other candidates?"
In your answer, highlight not only why you're qualified for the job, but what makes you uniquely suited for the role as well – whether that's your skillset, professional background, or passion.
You should hire me because my expertise aligns perfectly with this position and I share many of the same values as ABC Software. I have five years of tech-related project management under my belt, and am passionate about delivering user-centered software to consumers.
I also understand that ABC Software is looking to expand into the Asia-Pacific over the next couple years. In my current role, I've worked extensively in Japan and South Korea, helping my current company set up offices there and launch new products for those markets. I'm confident that my diverse expertise not only makes me capable of handling the day-to-day responsibilities of the project manager role, but would allow me to assist ABC Software in achieving their long-term goals as well.
20. Why are you suitable for this job?
Much like the previous interview question on this list, "why are you suitable for this job?" can be intimidating because it's designed to put you on the spot.
Fortunately, this question is a great opportunity to sell yourself as the perfect candidate for the role.
Just make sure to do your research before your interview, so you can tailor your answer to the specific job you're applying for.
I think I'm suitable for this position because I have the experience to do the job well, and I share many of the same values that your company stands for. I've actually admired the work being done by Emerging Entrepreneurs in South Asia for a while, and think it would be a great opportunity to put my skills in business administration to work to help entrepreneurs in industrializing countries realize their dreams.
I'm bilingual in Hindi and English, and have a degree in business administration. Additionally, I have 3 years of experience working in e-commerce and have volunteered with three different non-profit organizations in India and Pakistan while getting my degree to gain experience in the non-profit world.
21. How would your coworkers describe you?
This question might appear tricky because you've probably never asked your coworkers what they think about you.
What employers really want to know when they ask this question is what you believe your most valuable qualities are as a professional. So you should answer this question similarly to how you would answer "what is your greatest strength?"
Pick a couple of skills that will help you succeed in your target role and give an example that proves you know how to apply these skills in the workplace.
My coworkers would describe me as someone who is efficient and works well as part of a team, because I'm always willing to help out if someone is tackling a particularly challenging problem at work.
Recently, one of my colleagues was in charge of creating a prototype for an educational programmable robot. They were struggling to finish it by the deadline, so I stepped in to assist with the design and we were able to deliver the prototype on time.
22. Tell me about a time you had a conflict at work.
"Tell me about a time you had a conflict at work" is a typical behavioral interview question used to evaluate your conflict resolution and people skills.
A great way to respond to this prompt is to structure your answer as a short story using the STAR method. In other words, describe the following information:
Situation – explain the context leading up to the problem
Task – what your role or responsibility was in the situation
Action – the actions you took to tackle the issue
Result – what you achieved as a result of your action
By structuring your answer this way, you give the interviewer a quick overview of how you handled a conflict and what the outcome was.
While I was in grad school, I worked as a shift manager at a fast-food restaurant. One night, one of my cashiers got into a shouting match with a customer over the fact that our ice cream machine was down for cleaning, and as manager, it was my responsibility to step in.
Remaining calm, I told my employee to take a 15-minute break to cool off, and then I informed the customer that if they didn't stop yelling, I'd be forced to call the police. When he calmed down, I gave him two coupons for free ice cream, and he left. He returned the next day, apologized to the cashier, and got his free ice cream to go with a large food order.
23. Tell me about a time you went above and beyond.
This is a question interviewers ask to find out if you're a committed employee who will do your best if hired.
Going above and beyond can mean many things, and just like with other interview questions, you should prepare an answer that draws attention to the reasons why you're a good fit for the job.
One time that I went above and beyond at work was at my last job as a waitress. Last July a food critic was set to visit the restaurant, but COVID was going around and a bunch of my coworkers had to call out sick.
I wasn't on schedule, but I offered to pick up three double shifts in a row to compensate for everyone being out. In the end, we were able to provide great service even while being short-staffed, and got a good review from the critic. I have a lot of experience dealing with stressful situations like this and am able to remain calm and polite even under pressure.
24. What do you like to do in your spare time?
This basic interview question is usually asked toward the end of an interview to wind things down.
Interviewers just ask this question to get a better idea of how you'd fit into the company culture, so there's no need to overthink your answer. Just be honest and talk about one or two of your hobbies (as long as they're safe for work).
I'm a pretty avid mountain biker. I have some friends I go hit the trails with most weekends. There are actually a ton of great trails pretty close to San José, so we'll usually drive a couple hours into the mountains if the weather's nice.