Some interview questions are designed to put you on the spot, but few are as intimidating as "Why should we hire you?"
Similar to "why are you suitable for this job?", this interview question trips up many job seekers because it can feel unnatural to explain to a hiring manager why you're the right person for the job.
But if you prepare your response ahead of time, you can easily nail this common interview question.
In this article, we'll show you how to answer "why should I hire you", break down several sample answers, walk you through answering without experience, and let you know what to avoid in the process.
Let's get started.
How to answer "Why should we hire you?"
Like a lot of interview questions and answers, when employers ask "why should we hire you", what they really want to know is what makes you the best candidate for the position. In other words, they're asking "Why should we hire you over other candidates?"
To give a compelling answer, you can't just summarize your relevant qualifications. Other candidates have these too. You need to be able to pinpoint and demonstrate what unique qualities, experiences, and achievements position you to excel in the role.
Here are five steps to help you craft a compelling answer:
1. Demonstrate your knowledge of the company and its needs
If you want to impress hiring managers, you need to be able to demonstrate knowledge about the company you're applying to. Answers like "you're hiring a sales associate and I have extensive sales experience" won't be convincing.
Just like when answering "Why do you want to work here?", you should use specifics about the company in your answer by discussing the company's history, vision, or current position in the market. This shows the hiring manager that you're truly interested in the position and have the knowledge base you need for the role.
To show you have an understanding of the company's needs in your answer, you might have to do some research. The best place to start is with the job advertisement.
For example, if the company you're interviewing for is creating a new position for a Head of Growth, the job advertisement might look something like this: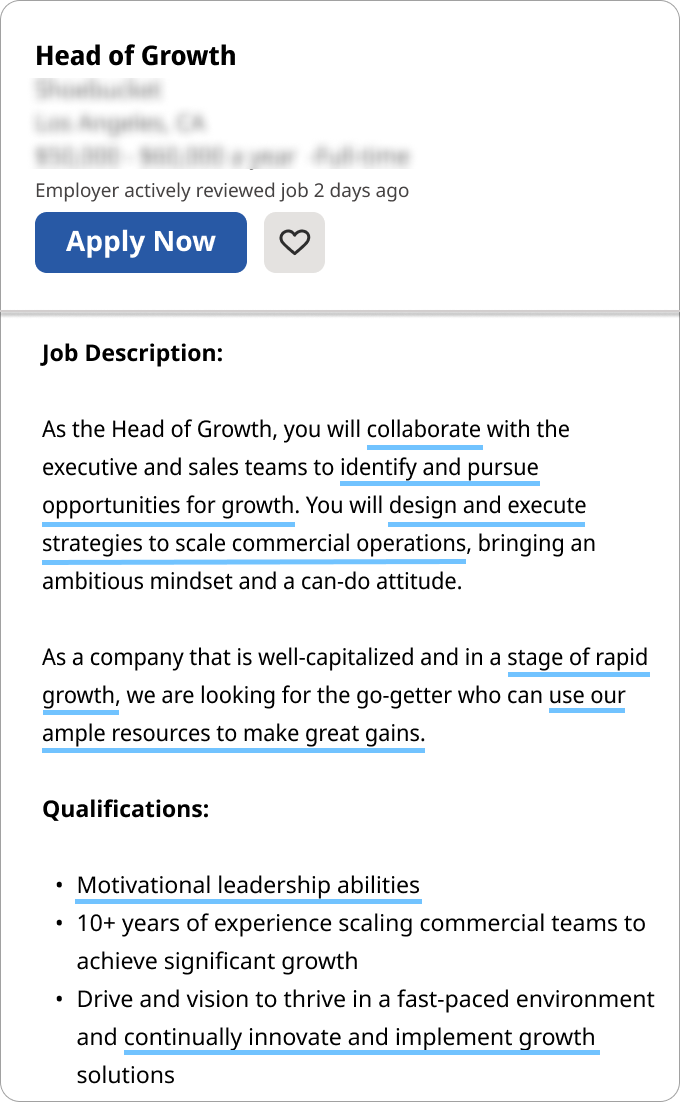 From the advertisement, it's clear that the company has a sizeable budget and is looking for an experienced leader to drive big growth initiatives. Keywords underlined in blue tell us about the important role responsibilities and company goals.
If you can demonstrate that you understand how to build effective strategies for promoting that growth, you're making a solid case for why they should hire you.
Once you understand what the company's needs are, you can target these in your answer by telling your interviewer how you're qualified to help fill these needs.
2. Showcase your unique skills and qualifications
In order to be considered a competitive candidate, you need to have the relevant skills and qualifications required for the role.
However, by the time this question comes up in the interview, you've probably already discussed your experience and qualifications, so take this opportunity to focus on what unique skills and experience you possess.
Here's an example:
"I understand that your company is looking to expand into the Singaporean market. During my time at Philips, I worked as an Account Manager in Singapore and Malaysia, building strong relationships with clients, developing cross-cultural communication skills, and growing my understanding of international markets. This experience puts me in a strong position to help navigate your company's expansion into new markets."
If you know that the company is looking to expand into a market you have experience in, illustrating your insight into specific market trends could provide a powerful incentive for the company to hire you.
By identifying what assets you have that set you apart from other candidates, you can strengthen your position in the recruitment process and boost your chances of landing the job.
3. Explain how you can benefit the company
When asked "why should we hire you?" many job seekers get caught up talking about themselves, instead of focusing on how they'll be an asset to the company.
When thinking of your response, you should identify one or more company needs or areas where you believe you can contribute to growth or improvement.
Then, use specific and concrete examples from your previous experience to demonstrate how you've been able to achieve similar results in the past.
Here's an example:
"As a Product Manager at my previous company, I pioneered an educational program for employees across all departments, increasing overall product knowledge which led to more effective marketing strategies that ultimately increased sales by 16%. As your company plans to launch a new line of products, I am well-equipped to design and oversee the development of educational programs tailored to your employees' specific knowledge gaps that will boost sales."
Describing your accomplishments in context and explaining how you can use your experience to benefit employers will make you a more credible and attractive candidate.
4. Describe how your interests align with the position
Employers are always looking for motivated employees, and they know that having an interest in the work is essential for long-term motivation. In your answer, let employers know specifically what interests you about the position you're applying for.
Perhaps you're looking for a career change and interviewing for a new position while still employed; for example,  you've been working in product development, but you're pursuing a position as a customer service specialist because you're more interested in a customer-facing role.
Demonstrating that your interests align with the new position is critical if you want to correctly answer the question "why should we hire you?" but also "why are you leaving your current job?"
In this case, tell your interviewer why you're interested in switching to a customer-facing role. Perhaps your strong communication skills make you adept at interacting with customers, or you like the problem solving that's involved in responding to customer feedback or concerns.
You could say something like this:
"After working in product development for several years, I've decided to pursue a customer-facing role. While I love the behind-the-scenes aspect of product development, I feel that I'm more suited to a role that allows me to really use my strong interpersonal skills and interact with new people every day. I'm adept at active listening, and love being able to help others problem-solve, so I know that your customer service specialist position will be a great fit for me."
This example works because the candidate not only relays their interests in the role, but lets the interviewer know how it's a great fit and what relevant skills they have.
If employers see how the role they're hiring for aligns with your passions, it'll reassure them that you'll be a motivated and fulfilled employee.
5. Illustrate how you envision your career growth with the company
You should close out your answer by talking about how you see your future with the company.
If employers see that you're actively considering your career trajectory and growth within the company, they'll know that you're serious about the position and your long-term intentions will give them a good reason to hire you.
Start by describing how you see yourself performing in the role that you're applying for. From there elaborate on what professional development and advancement you'd like to achieve, whether it's learning new skills, earning certificates, or stepping into a management role.
You'll get bonus points for describing how you'll grow along with the company, and to make this clear in your answer you'll need to know about the company's vision and goals.
Here's an example:
"As a junior animator at Epic Games, I see myself making the most of a collaborative culture to learn from senior animators, developing and honing my technical skills. As I gain experience I aim to become a team member that can help onboard and train new junior animators while professionally branching out into character and storyboard development. I hope to become instrumental in the game development process as the company begins crafting games for new markets, and ultimately become an Animation Director leading innovation and growth at Epic Games."
Laying out your vision of working with the company as a dedicated and contributing employee will convey your commitment and give employers a good reason to hire you.
"Why should we hire you" answer template
To help you know how to tackle the "why should we hire you" interview question, here's a template that combines all of the above elements to make tailoring your own response easy:
I know that your company is currently positioned to [company goal] and is looking to [company goal #2]. This will require [company need], which I believe I am uniquely qualified to support. My experience in [previous relevant experience] resulted in [beneficial result], and in this role I will be able to translate that experience into [action] to bring about [tangible result]. I have a deep interest in [relevant interest], which drives me to continue learning and developing as a professional. Moving forward, I hope to gain [type of job-specific experience] experience at [target company] and grow into a role that allows me to [achieve x result] and grow professionally in [growth area].
"Why should we hire you" answer examples
It's easier to know how to respond to "why should we hire you" if you've seen a few examples.
Here are five example answers to give you a bit of inspiration when thinking about your own response:
The culture fit candidate
At Community Arts, I know that you're committed to fostering Diversity, Equity, and Inclusion. Coming from a diverse background myself, this is a core value that I share with the company. As Community Arts continues in efforts to hire a diverse workforce to inspire teamwork and innovation, you will need a manager who is a highly skilled communicator, with exceptional interpersonal and leadership skills.
As a Program Officer at The Vera Project I oversaw development of the organization's various programs, hosting workshops and working across departments with over 50 colleagues to ensure that programs were built with a commitment to inclusion and equality. In fostering an intentional and collaborative environment where open communication was encouraged, employees thrived and we saw a 20% increase in productivity.
My experience uniquely qualifies me to step into a role as a manager at Community Arts, where I can lead and support a diverse team to find the perfect intersection of collaboration and creativity.
In this example, the candidate makes a strong case for the company to hire them by showing that they are a perfect culture fit. For many companies, this is an increasingly important measure of whether or not a candidate will make a compatible match.
If you know that the company you're applying at values having a particular office culture, make sure to do your research and find out if your values align. Then use this question as an opportunity to demonstrate not only how you'll be able to fit into the company culture, but also how you'll help shape it.
The industry-savvy candidate
With growing awareness and attention around expanding company wellness programs in the tech industry, it's important to ensure that these programs are effective and easily accessible to employees. I know that JL Design is planning to launch a new wellness program in the coming year, and will need to have a clear blueprint for designing and implementing a smooth roll-out.
As an HR professional with years of experience building and overseeing company benefit programs, I have expertise in managing budgets, establishing committees, conducting research, and planning the implementation of new programs. Previously, I spearheaded an Onsite Fitness Program that resulted in an 18% increase in employee satisfaction and a 7% increase in employee retention.
I would love the opportunity to apply these skills to developing and running a new wellness program, which is something that I am personally passionate about. I aim to help JL Design support its employees in the most important ways, and hope to find more ways to expand employee wellness in the future.
This answer showcases the candidate's knowledge of industry trends and expertise in the duties of the target role. The candidate shows that they know the company is making efforts to keep pace with HR developments, and effectively demonstrates how they can help the company achieve its goals and what benefits they can provide by leveraging their relevant experience and skills.
If you can show an employer how you'll be able to help them keep pace with developing industry trends, and how you'll achieve tangible results in doing so, they'll have a strong incentive to get you on board.
The perfectly qualified candidate
With 12 years of experience in the CCTV business, I have all of the expertise and knowledge you're looking for in your Lead CCTV Technician role. I have extensive experience in building, assembling, maintaining, testing, and repairing surveillance units, with a wide base knowledge of hand and power tool operation. I'm well versed in the safety procedures, guidelines, and equipment, and always organize all materials to minimize potential hazards and ensure efficiency.
My exceptional technical abilities combined with strong communication skills have earned me 5 separate managerial roles, in which I have trained and led over 200 technicians in job safety practices, wire types, and knowing when to use electric versus manual hand tools. I have overseen inventory, taught workshops in equipment maintenance and product inspection, and always hold my technicians to the highest standards, ensuring top quality and product performance.
I know that my strong skill set will be an asset at Garda World Security Services, where you need a competent manager to oversee daily operations. With my flawless safety record and ability to lead large teams, I'm confident that I'll be able to quickly improve your training processes and ensure that all employees are operating in compliance with all quality service regulations.
This example answer cuts right to the point and lays out all of the candidate's qualifications. For positions that are highly technical, like mechanics or electrical engineering, this is a solid approach.
Employers want to know that you have all of the technical skills you need to perform the job effectively, and if you can demonstrate how you've excelled (for instance, by implementing new safety procedures or training new hires) then you'll position yourself as a strong candidate.
The passionate candidate
The first time my family went on vacation, we stayed at the Park Hotel Vitznau in Switzerland for two nights. As a child, I remember being absolutely stunned and overwhelmed by the grandeur of it. It was the most magical experience I'd ever had, and sparked a lifelong passion for hospitality. I dreamed of one day delivering the same quality of experience for others to treasure forever.
To pursue this dream, I studied Hospitality Management at the University of Nevada, Las Vegas, and began working in Housekeeping at the Luxor Hotel. Over the next three years I worked my way up to a front desk position. During my time at the Luxor, I became knowledgeable about hotel policy and procedure and streamlined front desk operations by implementing a new organizational system. As the face of the company, I excelled at interacting with guests, receiving 98% positive feedback.
This experience has prepared me for the responsibility of Front Desk Management at the Excalibur Hotel, where I will use my organizational skills to oversee and improve daily operations. I plan to make the most of the professional development opportunities offered by the Excalibur and apply what I learn to continually achieve greater performance goals, contributing to the success of the company.
This candidate's answer works well because it effectively relays their passion for the industry and drive to excel in their work. Demonstrating passion and drive gives employers a reason to hire you because they know that you will be a devoted and hardworking employee.
Why should we hire you with no experience
Knowing how to answer this question without any professional experience is more difficult, but don't worry – it can be done well if you know how to structure your response.
Rather than focusing on work experience, hone in on your relevant experience and transferable skills. If you've done some volunteering or completed an internship in your target industry, highlight these experiences. Emphasizing your academic experience can also be a way to show employers you have the knowledge and skills you need to succeed in the role.
Demonstrate your interest in the role and don't underestimate the power of your soft skills, like your ability to adapt, problem-solve, or brainstorm. Soft skills are becoming increasingly important in today's job market as more sectors become automated, and they're always transferable.
Here's an example of how to answer "why should we hire you" with no experience:
I know that Green Mountain Energy is looking for a Marketing Specialist to expand the company's online presence, increase brand awareness, and improve conversion rates. My academic experience has prepared me for this unique opportunity.
As a student at University of Georgia, I earned a Bachelor of Science in Marketing and graduated magna cum laude with a 3.7 GPA. During my academic career I gained experience in data analysis, publication marketing, and web-based advertising. Some relevant courses I completed include Marketing Analytics, Marketing Management, Survey Research, and Integrated Marketing Communications.
For my honors thesis I assessed the effectiveness of 5 different renewable energy marketing strategies by compiling data on company campaigns across the industry and comparing their reach as well as levels of engagement and conversion. This experience has given me insight into what makes environmental marketing strategies effective, which I will apply as a Marketing Specialist to create successful marketing strategies and advertising campaigns.
This answer highlights the candidate's achievements and qualifications for the role without discussing any work experience at all. By using relevant coursework, the candidate demonstrates that they have the knowledge and skills needed to effectively fill the role and benefit the company.
What to avoid in your response
When you're put on the spot, it can be easy to get a little off track in your answer. If you can't remember what you should say, remember to avoid these landmines:
Salary expectations: Bringing up salary expectations as a reason for wanting a position is never going to make a good impression on employers. Focus instead on communicating how you're seeking opportunities for growth and professional advancement.
Personal circumstances: If you're going after this position because you need to pay tuition and rent, avoid sharing this information with potential employers. They won't be eager to hire you if they think you're applying out of necessity. Instead, highlight how motivated you are to get the job.
Exaggeration: You can probably get away with a little embellishment in your interview, but avoid over-exaggerating your qualifications and skills. Hiring managers have a lot of experience conducting interviews, and they know how to spot lies, which will undermine your chances of getting the job (similarly, avoid lying on your resume). Instead, work on finding the right language and keywords to describe your qualifications so that they land effectively.
Other interview resources
Once you've nailed your answer to "why should we hire you?", make sure you have some follow-up questions to ask the interviewer. And, continue your interview prep by workshopping answers to the following questions: