Putting together a job application? No matter what industry you're applying for work in, you'll need to demonstrate hard skills on your application materials to gain attention from hiring managers.
Let us show you how.
Our free-to-use resume builder can make you a resume in as little as 5 minutes. Just pick the template you want, and our software will format everything for you.
What are hard skills?
Hard skills are job-specific abilities or knowledge learned through education, hands-on experience, or training. In practice, hard skills are either the technical skills needed to perform a certain job, or a general set of expertise (such as project management).
When searching for a new job, emphasizing your hard skills is key to taking the next step in your career because your hard skills prove that you're qualified and ready to take on the challenges of the position.
In fact, recent survey results show that most hiring managers specifically look for hard skills when scanning applicants' resumes.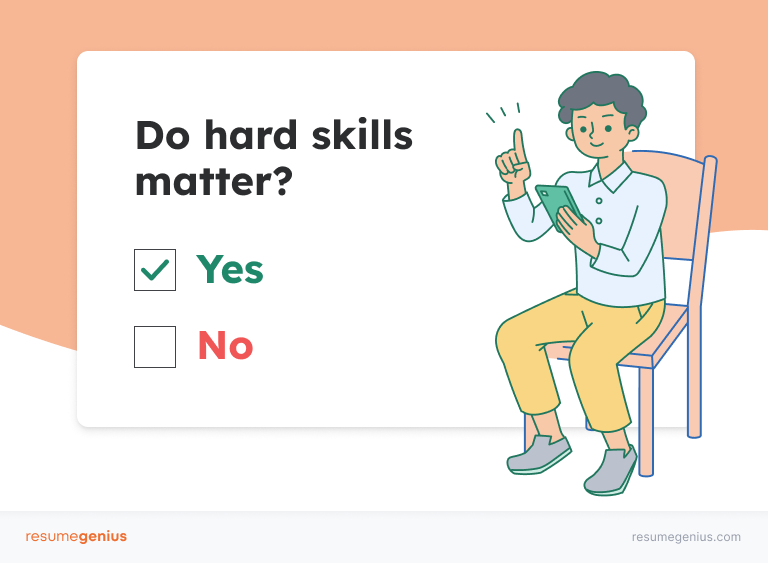 How do hard skills differ from soft skills?
One of the main differences between soft skills and hard skills is that most soft skills can't be taught in a classroom, whereas hard skills can be.
There are plenty of classes to choose from if you want to learn programming or photography, but you'll likely struggle to find courses teaching empathy or attention to detail.
List of 24 hard skills for resumes in 2023
Looking to learn new skills in 2023? Here's a list of some highly-sought after hard skills that will enhance your resume: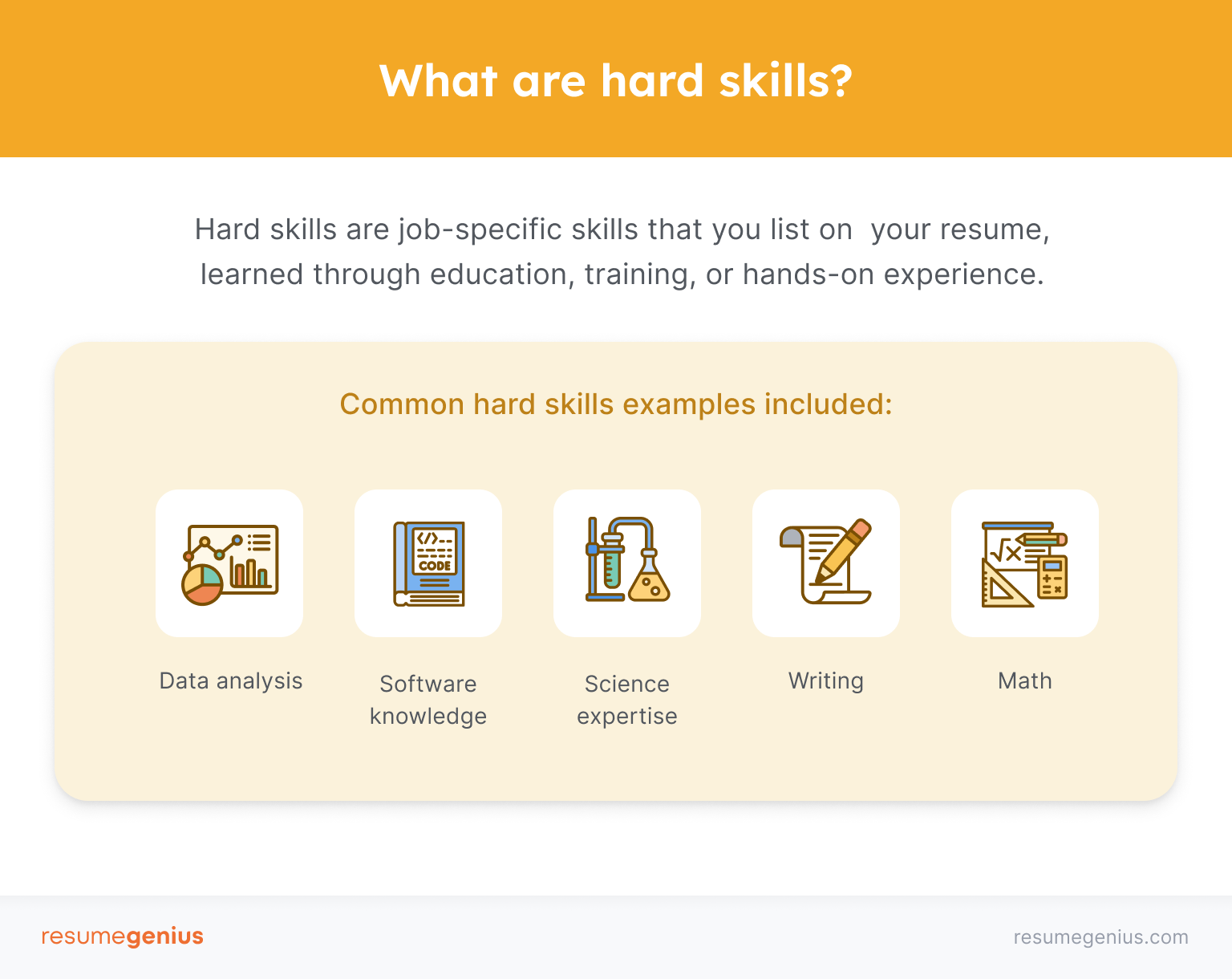 Copywriting
Smart contract development
Statistical analysis and data mining
HTML/CSS/Javascript
Video editing
User interface design
Social media
Graphic design
Project management
Computer troubleshooting
Accounting
Business and data analysis
Patient care
Macro/Micro economics
Server maintenance
Automotive services, parts, and design
Marketing skills (SEO/SEM)
Cloud and distributed computing
Database management
Electronic and electrical engineering
Civil engineering
Photo editing
51+ examples of hard skills for your resume
When making a resume for a job or preparing for an interview, having a list of your hard skills is essential. If you're not sure what skills to highlight, here are some of the most valuable hard skills for resumes (and work) in 2023, broken down by category:
Computer technology
Today, job seekers generally possess at least a basic understanding of computer technology. And the number of jobs that require fluency with certain software and programming languages is increasing.
Show your prospective employer that you have the computer skills required for the job by highlighting some of these key computer hard skills:
Hard skills list
Microsoft Office Suite and Google Drive Suite
Social media
Pivot tables
Trello
Zoom
Machine learning
Natural language processing
Blockchain
HTML, Javascript, CSS
Swift, Python, Perl, XML
SAS, MySQL, Apache
Hard communication skills
While communication is often viewed as a soft skill, there are several ways that your strength as a communicator can be demonstrated as a hard skill. Effectively showcasing your hard communication skills can help you stand out from other candidates.
Here are some examples of hard communication skills you can put on your resume:
List of hard skills
Foreign languages
Digital communication
Copywriting
Presentations
Data analysis
Data analysis is a hard skill that's highly valued across a wide variety of industries, especially in finance. Employees who are good at eliminating waste and can save a company money and time are sought after by business owners.
Here are some general data analysis hard skills to highlight on your resume:
Hard skills list
Data mining
Data presentation
Resource management
Data engineering
Database management
Data-driven decision making
Reporting
Diagnostics
Certifications and Licenses
While they may not be hard skills themselves, listing certifications and licenses in your resume's skills section is a great way to demonstrate mastery of certain hard skills.
If you have any certifications that are specific to the job or industry you're applying to, clearly showcase those certifications on your resume.
Some common types of certifications and licenses include:
Hard skills list
Learning management systems, such as Blackboard, Canvas, or Eagle
Data management systems such as Colleague
Healthcare related licenses
Certificates, awards, badges, and industry-recognized credentials
Marketing
The ability to convince people to purchase a company's products or services will always be an invaluable skill to potential employers. After all, success in marketing directly correlates to an increase in revenue.
The following are some of the top marketing-related hard skills:
List of hard skills
Search engine optimization (SEO)
Search engine marketing (SEM)
Marketing campaign management
Google Analytics and Google Search Console
Content management systems (CMS), such as WordPress
A/B testing
Ahrefs, SEMrush, PageOptimizer Pro
PPC
MailChimp
Project management
Project management is a hard skill applicable to a variety of industries, including information technology, health care, and construction. Because of this, project management skills have become extremely valuable to many employers.
Here are some hard project management skills to include on your resume:
Hard skills list
Agile methodologies such as Scrum
Project management software such as Trello and Zoho
PMP certification
Risk management
Strategic planning
Project lifecycle management
Budgeting
Design
Whether you're a web designer or an illustrator, there are specific design techniques and software essential to doing your job.
Here are some examples of the hard skills that will help you succeed as a designer:
Hard skills list
User interface (UI) design
User experience (UX) design
Adobe Creative Suite (Photoshop, InDesign, etc.)
Design software like Figma and Sketch
Digital product design software such as InVision and Zeppelin
Video production software such as Adobe Premiere Pro, Final Cut Pro, and Corel VideoStudio Ultimate
Typography
Print design
Illustration
Photo composition
Color correction
Cloud computing
IT skills are predicted to become some of the most important skills in the future, and skills-based hiring is expected to become increasingly common because of technological advancements. As a result, practicing hard skills like cloud computing can help you get ahead in your career.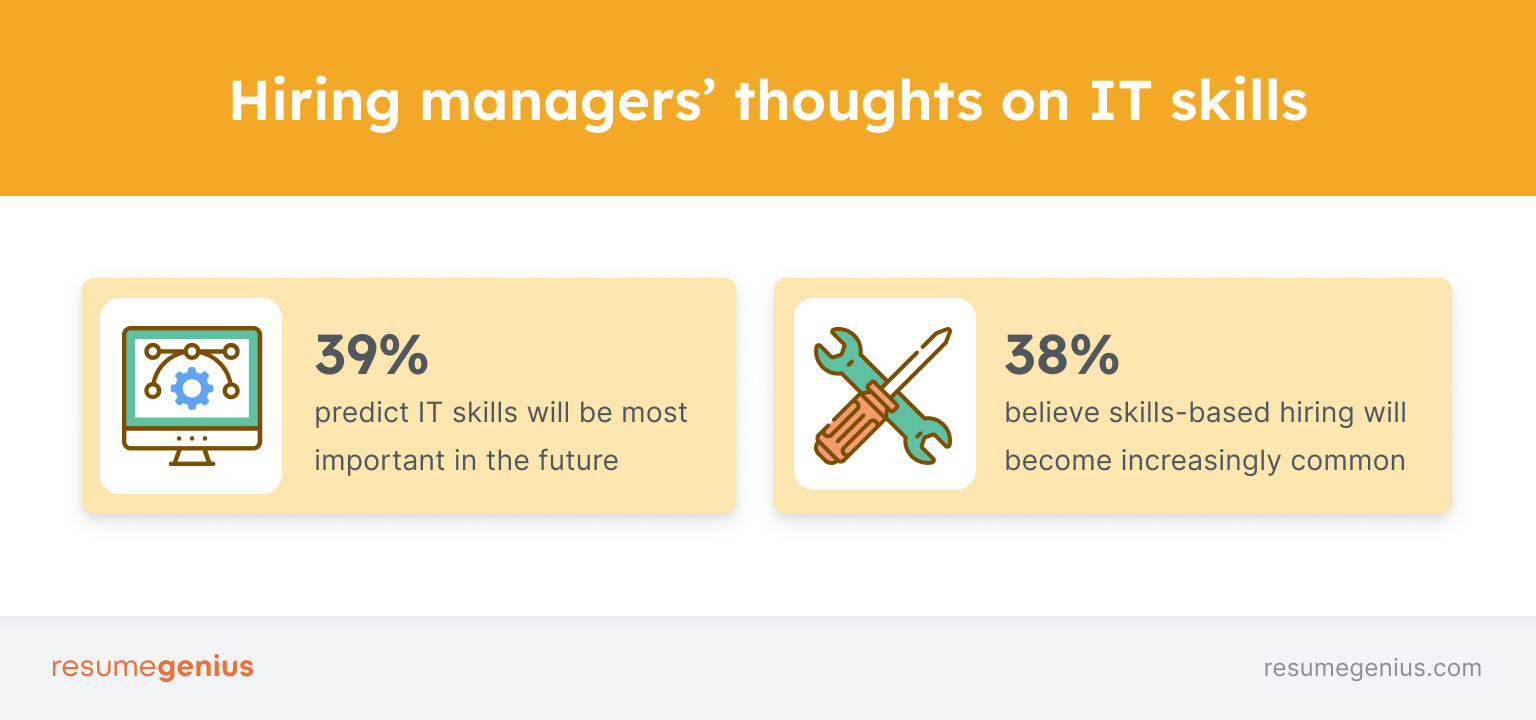 More and more businesses have turned to cloud computing as a convenient data storage and management solution, so people who have the skills to build and manage cloud networks are in high demand.
The following are some examples of the kind of cloud computing skills employers look for:
List of hard skills
Cloud Architecture
Storage and Data Management
Networking Communication
Cloud Middleware Technologies
Cloud Applications, such as JSON, Rest, and RPC
Writing
From writing blog articles to putting together presentations for clients, being able to write well is an essential hard skill for a huge number of industries.
Show off your ability to put pen to paper with these writing-related hard skills:
Hard skills list
Email writing
Copywriting
Copyediting (grammar, flow, syntax, spelling, punctuation)
Content management
Grant writing
Storytelling
Storyboarding
Writing press releases
Report writing
Formal presentations
Investigative journalism
SEO copywriting
Mobile & web development
With over 6,000 apps released per day on Android alone, the demand for web and mobile developers will continue to grow.  All of these websites and apps can only be created by people with the necessary mobile and web development hard skills.
Here are some examples of the kind of hard skills you need to become a successful developer:
Hard skills list
Software Revision Control Systems
Android Development
iOS App Development
Web Architecture and Development Framework
Angular and Node Apps
Swift, C#, Java, Objective-C
Network structure & security
A company's data is priceless – if sensitive data is leaked or stolen due to faulty network security, it could cost a company thousands, if not millions, of dollars. IT professionals who have the skills to protect that data are in higher demand than ever before.
Being a company's data shield is no easy feat, however, and requires a strong set of hard skills such as:
List of hard skills
Encryption algorithms
Authentication systems
Risk assessment
Cryptography
Virtual and host-based firewalls
Incident response
Network monitoring software like Wireshark and Nagios
Virus protection software like Ping Identity, Portswigger BurP Suite, and Symantec
How to develop hard skills
Do you want to acquire new hard skills or upgrade the ones you already have? There are numerous ways to develop hard skills, including:
Signing up for a course – Whether it's online or in-person, signing up for a course can help you develop your hard skills. Websites like edX, Udemy, and Coursera offer courses on a range of subjects, from coding to grant writing.
Getting a new hobby – If you're preparing to enter a new field and need to learn some hard skills so you can include them on your career change resume, consider getting a hobby relevant to your field of choice. For example, if you were vying for a position as a social media marketer, you could pick up photography or start learning about video editing in your free time.
Volunteering – Doing volunteer work is another great way to grow your skill set. Look up volunteer opportunities in your area and see if any of them will allow you to develop your hard skills.
Taking on challenges at work – If you want to develop your hard skills in the workplace, make sure to jump on any professional development opportunities offered by your employer. You can also accept assignments that will require you to learn how to use new tools or software.
How to showcase your hard skills
When it comes to job hunting, simply possessing the hard skills required for your target position isn't enough. Companies mainly close skills gaps by hiring new employees with the right skills, so to advance your career, you need to show employers that you have the skills they're looking for.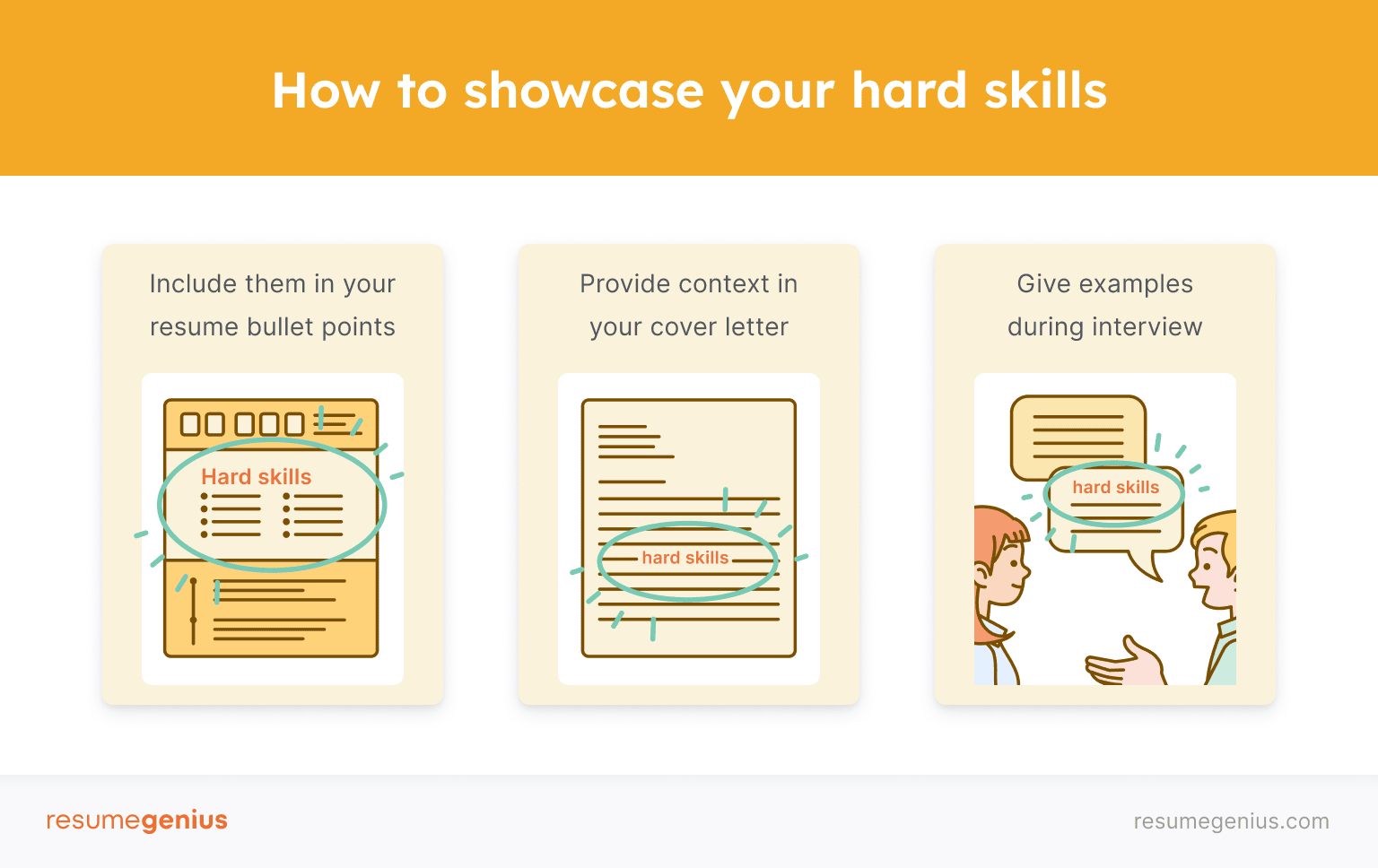 Here's how to showcase your hard skills throughout the job application process:
On your resume
If you really want to highlight your expertise in a certain area, the best way to do it is by providing real-life examples of how your hard skills helped you achieve certain accomplishments.
To do this, include bullet points in your resume's work experience section that demonstrate how you used your hard skills to accomplish key goals for your previous employers.
Here's an example of how one candidate effectively used their experience section to demonstrate their hard programming skills:
Optimized performance using ASP.NET, C#.NET, and MS SQL, streamlining processes and saving the company $170k
You should also have a dedicated skills section on your resume that features your top job-relevant skills. Normally it should feature a mix of hard and soft skills, but if you're applying for a technical role, focus on your hard skills.
Be sure to also list relevant skills on LinkedIn so you can show up in more recruiters' searches and make your profile stand out.
In this video, our career expert Eva shows you everything you need to know about writing an impressive resume skills section that emphasizes your hard skills:
In your cover letter
Your cover letter is your chance to give employers a glimpse of your personality, but also to provide additional context for the hard skills you list on your resume.
To create a convincing cover letter, focus on hard skills required for the role you're applying for. If you're sending out multiple applications, you should customize each one to maximize your chances of getting invited for an interview.
You can easily find out what hard skills an employer is looking for by reading the job ad. Hard skills are necessary for most jobs, so hiring managers will state hard skills they want candidates to have in the "Requirements" section of the advertisement.
I'm excited to submit my application for the Video Editor position at Fragment Media which I found advertised on LinkedIn. As a video editor with over 5 years of experience, I strive to deliver high-quality video content that exceeds clients' expectations. I'm confident my proficiency with industry-standard software such as Adobe Premiere Pro and DaVinci Resolve combined with my understanding of motion graphics, audio mixing, and color grading will make me an excellent addition to your team.
During an interview
Interviews are another opportunity to showcase your hard skills. When answering interview questions such as "What is your greatest professional achievement?" or "What is your greatest strength?", provide specific examples that highlight how your hard skills have led you to success in the past.
Additionally, for some industries, you might have to complete an on-site exam or task that tests your hard skills as part of the interview process. Writing tests and coding tasks are especially common, so if you're applying for a job that requires these skills, be prepared to demonstrate them during your interview.
Frequently asked questions about hard skills
Got more hard skills-related queries? Here are answers to some of the most common questions about hard skills:
What are my hard skills?
Your hard skills are abilities you've acquired through training and that can be tested or measured, such as language skills, proficiency with certain software, or photo editing skills.
What are hard skills in the workplace?
Some common hard skills in the workplace are:
Microsoft Office Suite
Data analysis
Budgeting
Copyediting
Marketing
However, remember to do your research to learn what hard skills are most sought after in your industry before you begin writing your job application.
Why are hard skills important?
Hard skills are important because they help you carry out job-specific responsibilities that require previous experience, knowledge, or training. Employers tend to look for well-rounded candidates with a mix of hard skills and soft skills that will help them excel at their job.
Which careers rely heavily on hard skills?
Careers that rely heavily on hard skills include:
Software and web development
Health care
Engineering
Finance
Digital marketing
If you're looking for jobs in one of these fields, make sure you emphasize your hard skills at all stages of the application process.