Cashiers need a variety of hard and soft skills to succeed at their job. Listing some of the key cashier resume skills on your application will help you get noticed by employers and land you your next cashier position.
Check out this video where our resident career expert Eva shows you how to write a great resume skills section that stands out:
1. Math skills
As a cashier, you'll constantly work with money and numbers, so mention your math and cash handling skills on your resume. Because math is learned from schooling or practical experience, it's considered a hard skill.
Working as a cashier, you:
collect payments and receipts
make change for customers
scan coupons and promotion codes
process returns and exchanges
Although you often use scanners and cash registers that automatically do the calculations, using these types of equipment still requires accuracy and efficiency. You'll also need to memorize prices.
2. People skills
People skills are an example of soft skills — positive personality traits like being polite, empathetic, and being respectful when interacting with others.
Because cashiers work directly with customers, hiring managers seek friendly, welcoming, and personable applicants.
Greeting customers and colleagues warmly, making small talk with customers, and saying goodbye may seem like small gestures but are all traits of an excellent cashier.
Here are some other interpersonal skills you might be able to add to your resume:
Patience
Teamwork
Conversation skills
Charisma
Flexibility
3. Computer skills
Today, companies require applicants to have basic computer skills.
Cashiers receive training for point-of-sale (POS) systems, but employers want to know that you can adapt to using other new systems too.
They'll choose you over other job applicants if you have experience using computers, point-of-sale systems, and other electronic devices.
To prove that you're tech-savvy and a quick learner, list the following skills (if you have them):
Adaptability
Point-of-sale systems
Email
Social media
4. Communication skills
Cashiers need to be excellent communicators. Because you have to interact with hundreds of customers every shift, communicating clearly is a must.
Along with communication skills, add any foreign language skills you have to your cashier resume.
Knowing other languages makes you a stronger candidate, as you can assist even more customers.
For instance, helping people translate product labels and item instructions into their native language leads to positive shopping experiences.
5. Time management skills
Time management skills are vital for cashiers. You need to conduct numerous transactions a day and bag items, all while responding to customer inquiries.
Show employers you can work independently and help customers, while prioritizing necessary tasks and avoiding distractions.
Use these skills on your resume to showcase your excellent time management skills:
Accountability
Agility
Delegation
Initiative
Logical thinking
6. Dependability
Cashiers operate the cash register and conduct transactions, so hiring managers need to see you're honest and dependable.
Showing up to your shift on time, ready to work is another essential duty of a good cashier.
"Punctual," "reliable," and "trustworthy" are positive resume adjectives you can use to describe yourself in your skills section to showcase your dependability.
7. Problem solving skills
To deal with problems or emergencies as a cashier, you need to think fast and come up with solutions.
Whether you're handling complicated customer inquiries, broken merchandise, or technical issues, you must work well under pressure and de-escalate difficult situations.
If your experience includes being proactive when helping someone resolve an issue, or seeking out information to fix a difficult situation, list problem solving skills on your resume.
8. Customer service skills
Having excellent customer service skills is critical for cashiers.
Cashiers greet customers, answer inquiries on the phone and in-person, explain product information, and direct customers to what they're looking for.
Show employers you understand that the customer always comes first by listing this as a top skill in your resume.
Here are some more customer service-oriented skills:
Confidence
Active listening
Public speaking
Strong memory
Helpfulness
Tactfulness
9. Organizational skills
Besides ringing up customers, you're responsible for shelving merchandise and keeping the store clean.
Employers look for cashiers who can keep their workstation tidy, so mention that you're organized and won't misplace documents such as purchase orders, inventory lists, and store receipts.
Here are some organizational skills you can mention:
Attention to detail
Self-motivation
Coordination
Focus
10. Sales skills and product knowledge
Cashiers need strong sales skills. You have to earn the trust of customers before they'll consider making a purchase, so it's important to be knowledgeable about what you're selling.
Employers may also want you to cross-sell products to increase company profits.
For instance, you might be asked to sell promotional items to customers.
Some sales skills that employers love are:
Presentation skills
Confidence
Being self-motivated
Meeting sales targets
Our free-to-use resume builder can make you a resume in as little as 5 minutes. Just pick the template you want, and our software will format everything for you.
3 tips for adding skills to your cashier resume
Follow these tips to properly showcase your cashier skills throughout your resume: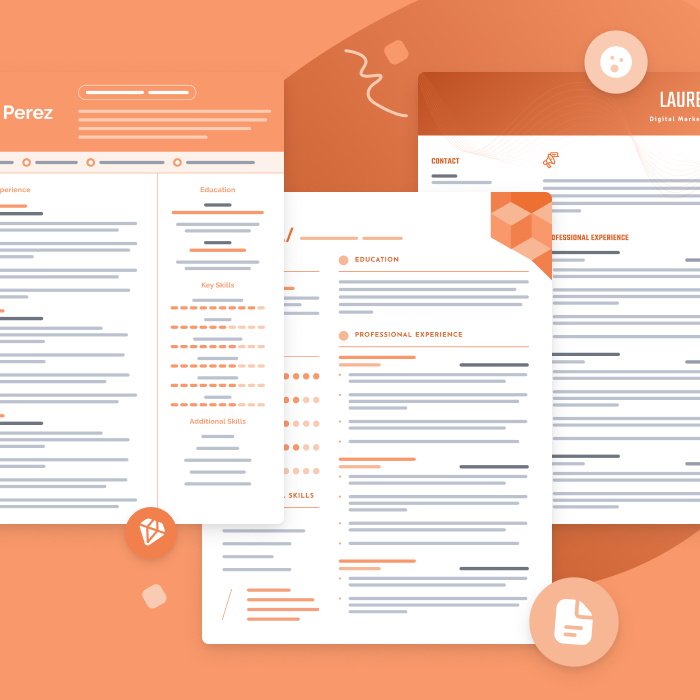 One of the best ways to make your resume is by filling out one of our free resume templates. All our templates are designed by experts and free to download for Microsoft Word or Google Docs.
1. Use hard numbers throughout your resume
Hard numbers give employers clarity about how many customers you served or how long it took you to complete tasks.
Here's an example of a cashier using hard numbers in their resume work experience section:
Greeted 250+ customers a day and directed them to correct store section
Completed 475+ transactions in store within 6 hours per day during Black Friday
Won internal monthly sales contest by effectively promoting $3000+ worth of sales and promotional items to 120 customers in June 2021
2. Use keywords in your cashier resume
Employers use applicant tracking systems (ATS) to filter applicants, so make sure your resume can make it past this software by using the exact cashier skills and duties they're looking for. Do this by scouring job adverts for keywords and adding these keywords to your resume.
3. Write a cashier cover letter
If you're looking for more ways to show employers your best job skills, add a cashier cover letter along with your application.
A cover letter shows initiative and employers appreciate the effort you put into explaining your cashier qualifications.