An ATS (Applicant Tracking System) is software used by companies to help them quickly evaluate potential candidates for any given job opening.
ATS software automatically scans and processes each job application a company receives, and ranks them according to their relevant qualifications. It then produces a shortlist of qualified candidates to be reviewed by a hiring manager.
If your resume doesn't meet the requirements of a company's ATS, your application will likely be rejected before a hiring manager even gets to look at it.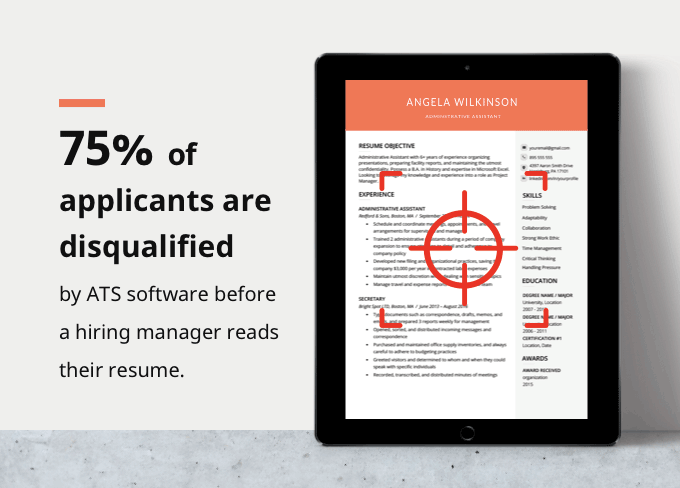 What is an ATS-compliant resume?
An ATS-compliant resume is a resume designed specifically to make it easier for ATS software to find the information it's looking for.
For example, this could mean using an easy-to-read resume format, or removing objects such as tables or images because they're difficult for the ATS to parse.
Resumes designed to be compliant with ATS software have a much higher chance of getting into the hands of a human hiring manager, which is one step closer to an interview.
How to make an ATS-friendly resume
Here are six tips to help you make a more ATS-friendly resume and ultimately beat the applicant tracking system.
1. Follow a standard resume format
There are three primary resume formats used by job seekers today, which are the:
Most ATS software is programmed to scan your work experience in chronological order, making chronological resumes the most ATS-friendly resume format.
Use a chronological resume to ensure the software can parse your experience section.
2. Correctly label your sections
Applicant Tracking Systems are designed to sort your qualifications based on common resume headings. Using unconventional headings will confuse the ATS and can easily get your resume discarded.
For example, here's how to properly label your resume to ensure that the ATS can read your headings:
ATS Friendly Resume Headings
Work Experience
Skills
Education
ATS Unfriendly Resume Headings
Jobs I've Done
Major Abilities
Where I Studied
By sticking to common headings, you prevent the bot from placing your qualifications under the wrong categories, or misreading your sections altogether.
3. Include job-related keywords
To help determine whether your qualifications are relevant to the position, ATS software scans your resume for specific job-related resume keywords. To increase your chance of getting into the interview pool, look through the job listing for these words to include on your resume.
For example, a software company hiring a new front-end developer might use these words in the advertisement to describe the hard and soft skills they're looking for in a candidate:
CSS
C++
Javascript
Collaborative
Innovative thinker
Take note of keywords like these and include them in your resume core competencies section or resume skills section to ensure that the ATS knows you're qualified for the job (just don't lie about your skills).
To see what this looks like in action, the images below contain a real example of a sales associate job description. We've highlighted the important keywords applicants for this job opening should include on their resume to pass the ATS: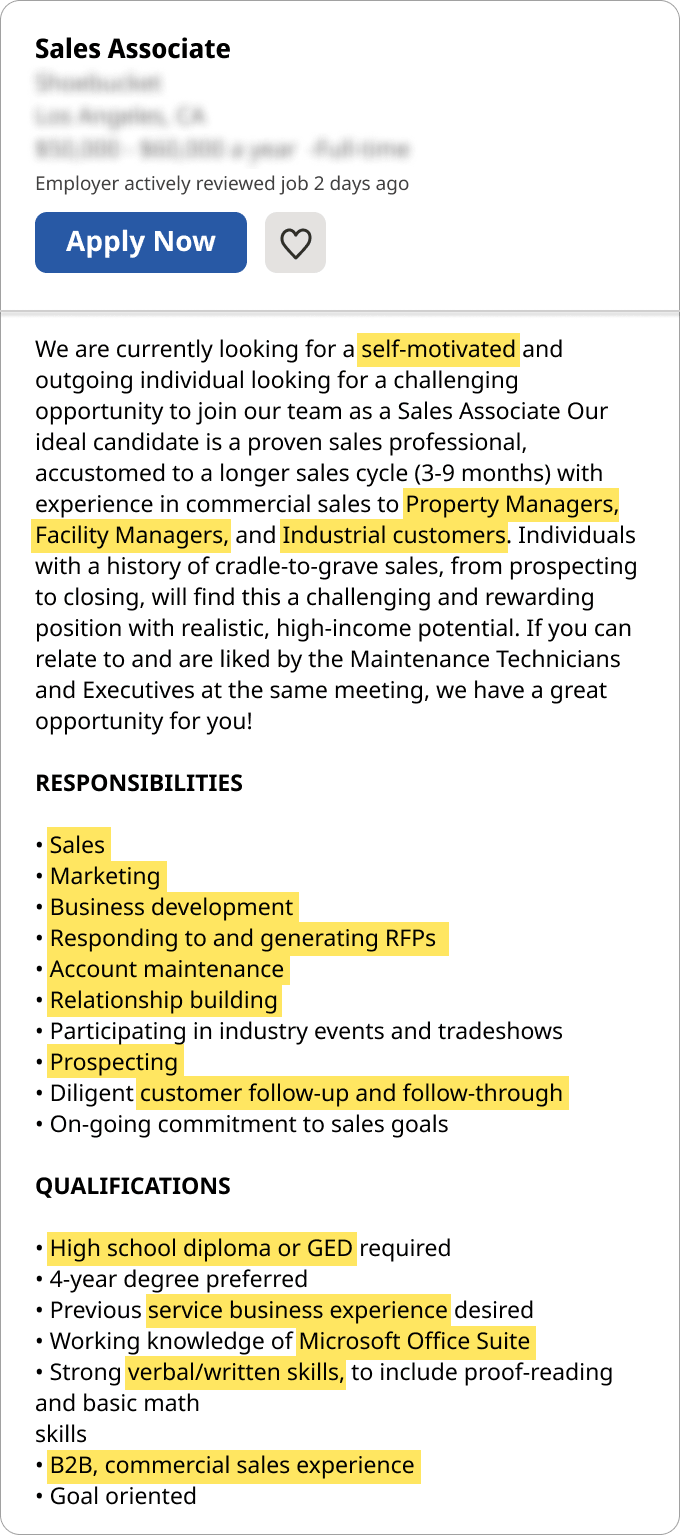 All of the keywords highlighted above have a high potential of being important for the ATS.
4. Use an ATS-friendly resume template
Many job seekers use fancy resume templates to help them stand out from other candidates. However, templates with graphic elements, tables, or unique fonts are difficult for most ATS software to read.
Instead, use one of the many ATS-friendly resume templates available online. Many templates are built specifically to beat the ATS by using easy-to-read formats and minimal design.
For example, here's an ATS resume template that still looks professional and eye catching: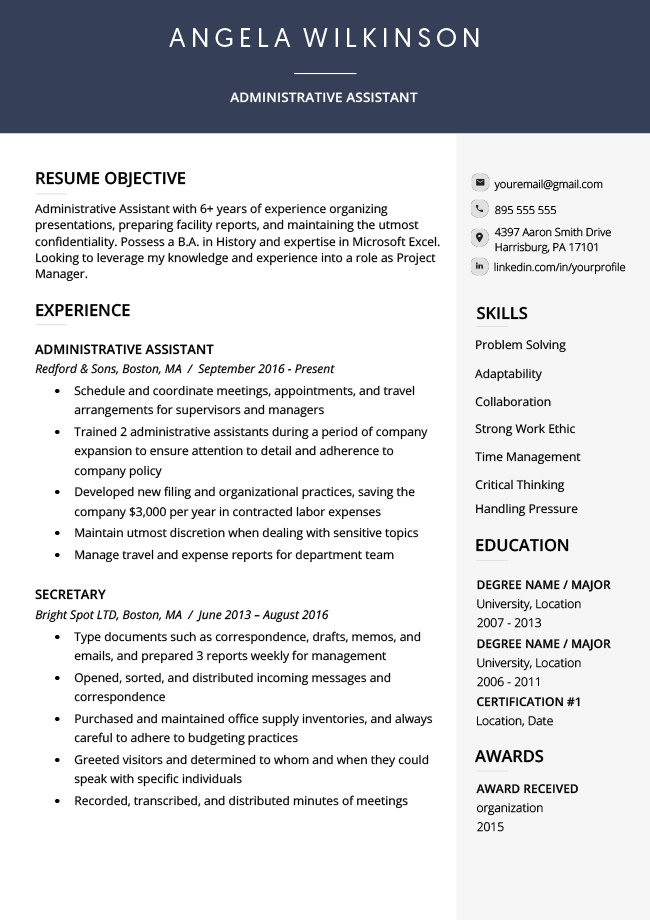 ATS Resume Template Free Download
5. Use a common resume font
Most ATS software is programmed to read more common typefaces. Using an unusual or outdated looking font can result in your resume being rendered incorrectly, with large chunks of your information left unreadable.
The best resume fonts to get past the ATS are common and easy to read. When in doubt, stick to basic fonts like Times New Roman, Calibri, Arial, or Georgia.
6. Save your resume as the proper file type
PDFs  are the preferred file format for most companies today, and are easily understood by any modern applicant tracking system.
However, some older ATS software is unable to parse PDF files. So to be safe, check the job listing and see if the company requires your resume as a specific format. If they specifically mention that your application should be sent as a .doc file, then their ATS is likely older and you should save your resume in .doc format.
Five ATS-friendly resume templates for 2020
The easiest way to ensure that you have an ATS-compliant resume is to start with a well tested format. That's where resume templates come in handy.
The following five ATS-friendly resume templates are free to download and specifically designed to beat the applicant tracking system. If you're making your resume in MS Word, all you have to do is open the template with Word and fill in your information.
Beating the Applicant Tracking System is easier than you think
Learning how to beat the applicant tracking system seems difficult at first.
Fortunately, it's much simpler than most people think. By sticking to a handful of standard practices, you can easily improve your chances of getting your resume past the ATS and onto the desk of a human hiring manager. Just remember to:
Use a chronological resume format
Remove any graphics or tables
Include job-related keywords
Type your resume in a common font
And if you want to save time, simply use an ATS-compliant resume template. But whether you use a template or design your application yourself, just making your resume basic and easy to read will guarantee that most modern ATS software will have no problem scanning your application.