There have been vast changes in the job market over the last couple of years. From shifts toward remote work to staggering numbers of workers leaving their jobs in search of new opportunities, many of us are left wondering how it all affects the job application process.
Resumes are still crucial to the job hunt. But as the world of recruitment and job searching evolves, so do the requirements of a successful resume.
Here are six current resume trends to follow in 2023:
1. Resumes are becoming more skills-focused
Rapid technological advancement and the resulting transformation of skills requirements in tech jobs has resulted in a widening digital skills gap.
As a result, employers are changing their recruitment strategies. Companies are focusing more on skill sets, actively seeking candidates with the necessary hard and soft skills for long-term success in a role. Candidates who use their resumes to effectively demonstrate their skills will have an edge over others vying for the same position.
Hard skills
Recruiters in many industries are having trouble finding candidates with the hard skills needed in today's digital workplace. Skilled candidates are particularly sought-after in the upward trending sectors of artificial intelligence, machine learning, data science, cybersecurity, and digital marketing.
Employers recognize the importance of closing the skills gap. 68% of learning and development leaders say that the level of urgency to create learning programs for employees has risen significantly.
If you have marketable technical skills that match the job listing, feature these skills clearly on your resume so employers don't miss them. Your hard skills are a critical part of what qualifies you for a position, and help inform an employer's decision to hire you or not.
Soft skills
Don't have the technical skills for the job you want? You may still be okay, as recent research shows that 93% of hiring managers at large companies look for soft skills when screening applicants. So even if you don't have the hard skills for a position, if you can write a resume that shows you have the right soft skills, you might still get the job offer.
Here are some sought-after soft skills to highlight on your 2023 resume:
Adaptability
Resilience
Creativity
Innovation
Curiosity
Critical thinking
Flexibility
Learning quickly
Strategic thinking
Communication skills
Dependability
Self-motivation
Self-management
Time management skills
Integrity
Initiative
Responsibility
2. Your online presence matters
With more and more people working online, it's no surprise that your online presence can help (or hurt) your job hunt. To improve your chances of getting hired, ensure that you're using digital tools to your advantage.
Social media
According to an article by LinkedIn:
84% of employers use social media for recruitment purposes
43% of organizations do background checks on candidates with the help of their social media profiles
58% of employers use information found on applicants' profiles to support their qualifications for the position
Cleaning up your social media accounts and representing yourself professionally can help you attract recruiters and earn more opportunities.
These statistics make it clear that managing your online presence has a significant impact on your job search.
Start by adding your resume to LinkedIn. This resume trend makes your professional information more accessible to recruiters and increases the likelihood that they'll reach out to you.
While LinkedIn is the most popular recruitment platform designed specifically for job hunters and employers, don't neglect other social media channels. Facebook, Instagram, and Twitter are also commonly used by recruiters, so it's important to make sure your profiles don't contain anything you wouldn't want a potential employer to see.
Portfolios and websites
Another part of a professional online presence is a website or online portfolio. For jobs in creative industries like design, photography, or writing, creating an online portfolio is an effective way to showcase your skills for potential employers.
A popular resume trend is to include a link to a website or portfolio on your resume. Such a link should also be included on your social media accounts and featured on your LinkedIn profile.
3. Resumes targeted at specific jobs are more likely to succeed
With a widening skills gap and so many employers reporting difficulty finding qualified candidates, it's increasingly important to tailor your resume to the job listing. Making one generic resume and sending it out to dozens of employers won't show those employers how you're uniquely qualified for the position they're hiring for.
Instead, carefully examine the job listing of the open position for important keywords to add on your resume. These are generally industry-specific skills and experiences employers are looking for on your application. The ideal resume includes these keywords as much as possible (without lying or stretching the truth) to show you can handle the work if hired.
Use each part of your resume to incorporate these keywords, including your:

4. Work experience is changing
Over the past few years, many workers were laid off or quit their jobs to pursue new opportunities. These personal circumstances led to an increase in self-employment, freelance work, and personal pursuits to develop new skills.
As a result, one resume trend is that employers are seeing more of these types of experiences on resumes. With learning and development being prioritized by employers more than ever before, self-taught skills are very valuable experiences to include in a resume.
Give these forms of experience the space and attention they deserve on your resume. List your freelance work or work you did while self-employed in the work experience section of your resume, as you would list experience for any other position. Employers will likely be impressed by your adaptability, initiative, and entrepreneurial spirit.
If you've taken courses and acquired new skills, you can list them specifically under a continuing education or professional development section. Including such information shows employers that you're a motivated self-starter who is eager to learn and grow.
Our free-to-use resume builder can make you a resume in as little as 5 minutes. Just pick the template you want, and our software will format everything for you.
5. Automated application processes continue to grow
Many industries have been undergoing rapid digitization, and recruiting is no different. Up to 35% of recruitment professionals in a LinkedIn survey reported that automation is the biggest trend influencing their hiring practices. In addition, Applicant Tracking Software (ATS) is expected to experience sustained growth through 2029.
Job seekers now must contend with more automated platforms throughout the hiring process. Not just ATS either, but even Candidate Relationship Management systems (CRMs) and chatbots.
Greater automation means candidates should make sure they're making their resume as ATS-friendly as possible by using an easy-to-scan format (.docx or .pdf). These systems are often used to filter candidates before hiring managers get a chance to see applications.
Ensure your resume is set up to make it past the first automated rounds of screening, and you've already made it further than many other applicants.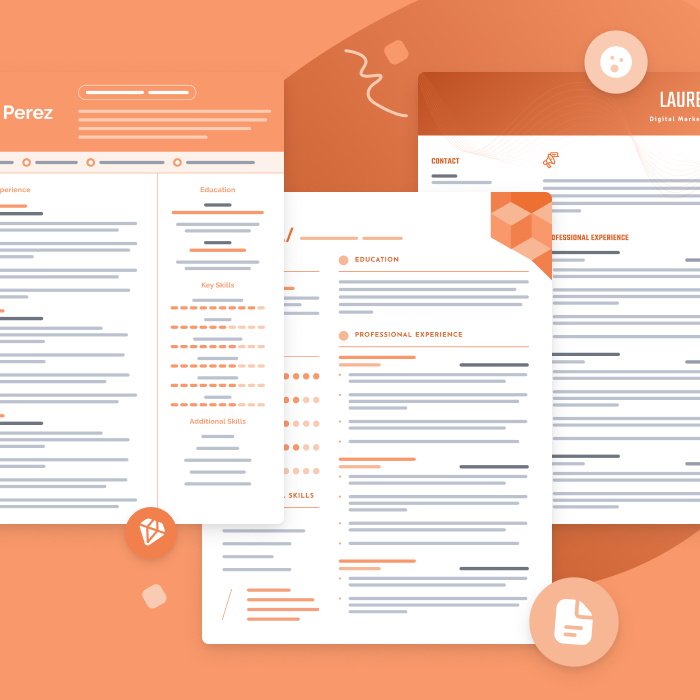 One of the best ways to make your resume is by filling out one of our free resume templates. All our templates are designed by experts and free to download for Microsoft Word or Google Docs.
6. Video resumes are gaining traction
Another of the biggest 2023 resume trends to keep an eye on is the rise of video resumes. Compared to traditional paper resumes, video resumes let job seekers showcase their skills and personality in a more dynamic way. This type of resume works particularly well for candidates applying for positions in social media.
But professionals in other fields can benefit from this format as well. If you're looking for a job that requires excellent communication and presentation skills, a video resume will help you emphasize these skills.
Worried that employers aren't ready for video resumes just yet? While you might not have heard of them until now, they've been around for a while. In fact, back in 2021, TikTok collaborated with Fortune 500 companies like Target and Chipotle to launch a video resume pilot program that allowed users to apply for open positions using TikTok resumes.
However, video resumes aren't suitable for everyone, so you should consider if it's appropriate for your target job or industry before submitting one.