2 Examples of Self-Employment on Resumes
If you're wondering what self-employment on a resume looks like, check out these two examples.
Self employed resume example (full-time)
In this example resume, the applicant has worked for themself for several years and is now applying for a full-time position at a company with the intention of ending their self-employment: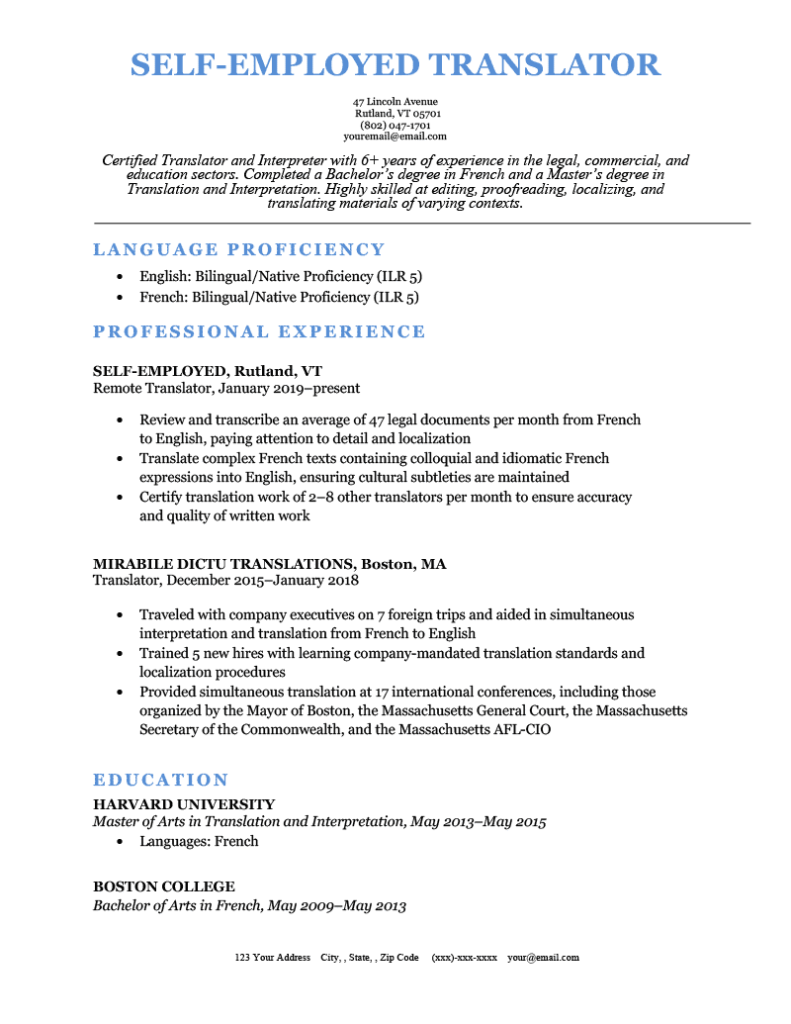 Self employed resume example (side project)
This resume example was written by a candidate who currently has a full-time job but does regular freelance work: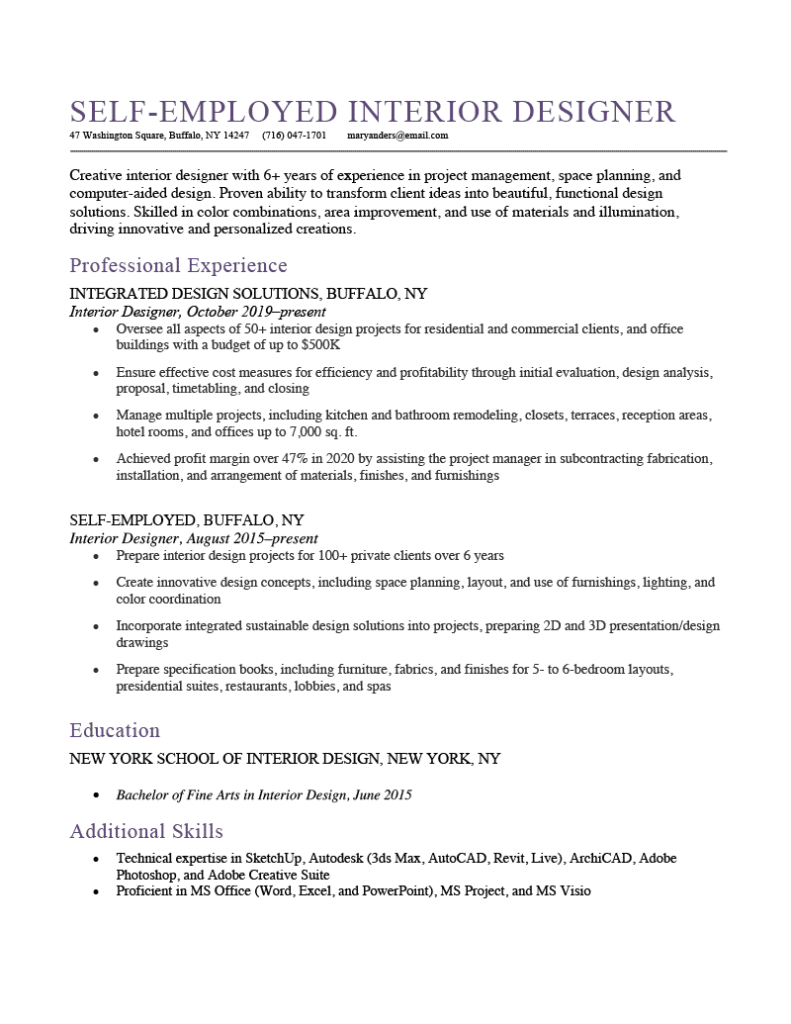 How to list self-employment on your resume if it was full-time work
If you've been working full time in a self-employed capacity, simply list it on your resume like you'd include "traditional" work in a regular work experience section.
Our free-to-use resume builder can make you a resume in as little as 5 minutes. Just pick the template you want, and our software will format everything for you.
1. Choose an accurate job title
As a self-employed professional, you can pick your own job title.
However, the job title you put on your resume should reflect the actual work you do. So even if you're the owner of "Aaron Chen's Window Cleaning Services," list your job title as "Window Cleaner" if that's what you spend the majority of your time doing.
Saying you're the "CEO" or "Director" might be somewhat accurate, but may make hiring managers think you're overqualified.
Decide what to put in the company name field
When you write your company's name (even if you were just a freelance writer) on your resume, you have several options. You can either:
write "Self-Employed", "Freelancer", or "Contractor"
list your company's name (for example, if you registered one for tax purposes)
if you did the bulk of your projects for one (or more) companies, you can list those company names
Here's how each of these options would look:
Writing 'Self Employed'

Listing your personal company name

Listing companies you collaborate with

If you collaborated with any prestigious or well-known companies, you can also fit that information into your work experience bullet points. For example:
Performed 47 coding tasks for companies such as Apple, Acer, and HTC
Skills for Self-Employed Resume
Because some hiring managers assume that being self-employed means you work alone and lack interpersonal skills, addressing this concern on your resume is vital.
If your job title suggests you work by yourself, try to include a bullet point that showcases your interpersonal and people skills.
For example, if you worked as a window cleaner:
Communicated with an average of 47 clients per week, discussing their cleaning needs, making small talk to build a rapport and customer loyalty, and listening to and acting on their feedback
And if you work on a computer, perhaps in your home office, you could focus on collaborative work to show you have effective communication skills:
Use Slack, Microsoft Teams, and Zoom to interface with project leaders for 7+ hours a week
How to put self-employed projects on your resume alongside a full-time job
Putting freelance projects on your resume that you do outside your full-time role is simple. When you format your resume, list two positions and make it clear from the dates that both roles continue to the present. Here's an example:
Work Experience
Digital Marketing Specialist
Kenting Software, Kenosha, WI / July 2019–present
Create 5+ blog posts per week on software updates
Manage 7-person team
Increased CTR by 47% in 12-month period by implementing new marketing strategies
Use 5+ SEO tools, including Ahrefs, SEMrush, and Google Analytics, to analyze user needs
Content Creator
Self-Employed, Kenosha, WI / December 2017–present
Write an average of 10 blog articles per month on travel for Wandering Around the Midwest, Roaming Alone, and Travel with Pets — Unleashed
Produce 1,500+ word articles with turnaround time as tight as 3 days
Earned average of 20% in bonuses in 2021 due to travelers mentioning my articles at travel destinations for discounts
Increased output by 27% from 2019 to 2021 despite negative impact of COVID-19 on travel and tourism industry
Because both of these positions are roles the applicant currently holds, they'd list whichever job is more relevant to the opening they're applying for. For example, if this hypothetical applicant was applying to a software company, they'd list the Digital Marketing Specialist role first.
However, if they were applying for a full-time travel blogging role, they'd instead list the Content Creator role first.
Use your cover letter to showcase your skills juggling both jobs
When you write a cover letter to go along with your resume, use it to describe how you balanced working a full-time job and a side hustle — and succeeded in both.
For example, you can showcase how your ability to meet deadlines for freelance projects in your spare time highlights your effective time management skills.
You can also note how managing the responsibilities of two roles means you can handle a greater workload than other applicants.
Use this opportunity to reassure the hiring manager that if you're planning to continue with your freelance work, it won't affect your ability to handle a full-time job.
By mentioning time management and multitasking skills on your resume, you indicate a greater dedication to your profession than most job seekers, giving you a boost in the eyes of employers looking for hard workers.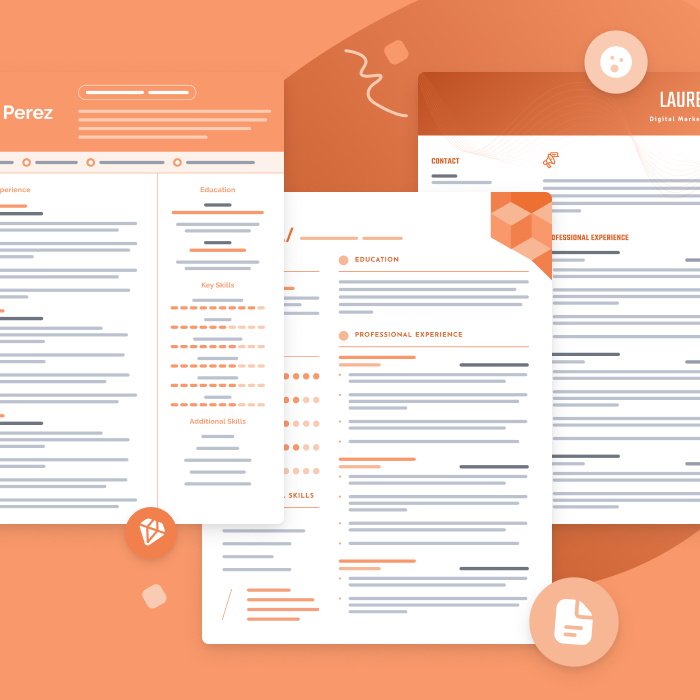 One of the best ways to make your resume is by filling out one of our free resume templates. All our templates are designed by experts and free to download for Microsoft Word or Google Docs.