A resume header is one of the most basic things to put on your resume. However, it's also one of the most important.
Your header is the very first thing a hiring manager will see. So when you write a resume, you should pick a resume design with a header that looks professional, matches your cover letter header, and quickly conveys your contact information.
If you aren't sure where to begin, don't worry. We have examples of various resume headers, and tips to help you format your own.
Our free-to-use resume builder can make you a resume in as little as 5 minutes. Just pick the template you want, and our software will format everything for you.
Resume header examples
Before choosing a resume header, consider the level of formality required for the job you want, as well as the layout of your resume.
Think about it: is the job you're applying for professional or casual? Does your resume design need to be creative or traditional?
After you've decided what level of formality is appropriate, you have three basic types of resume headers to choose from:
Professional header
The most formal type of resume header (and also the most common) is the standard left-aligned horizontal header.
Here's an example of a professional horizontal resume header:

A horizontal header is a safe choice that suits any level of formality. It's basic, readable, and highlights your name.
Don't title your resume "resume" or "[name]'s resume". Resume headers only require you to include your name, as well as your contact details.
Two page resume header
If you have over a decade of relevant work experience, your resume may require a second page. If it does, repeat your header on both pages.
This makes your resume look consistent, and helps the hiring manager remember your name.
Vertical header for resume
Most resume templates have a horizontal resume header. Some resume layouts, however, place the header in a vertical bar along one side of the resume.
Here's an example: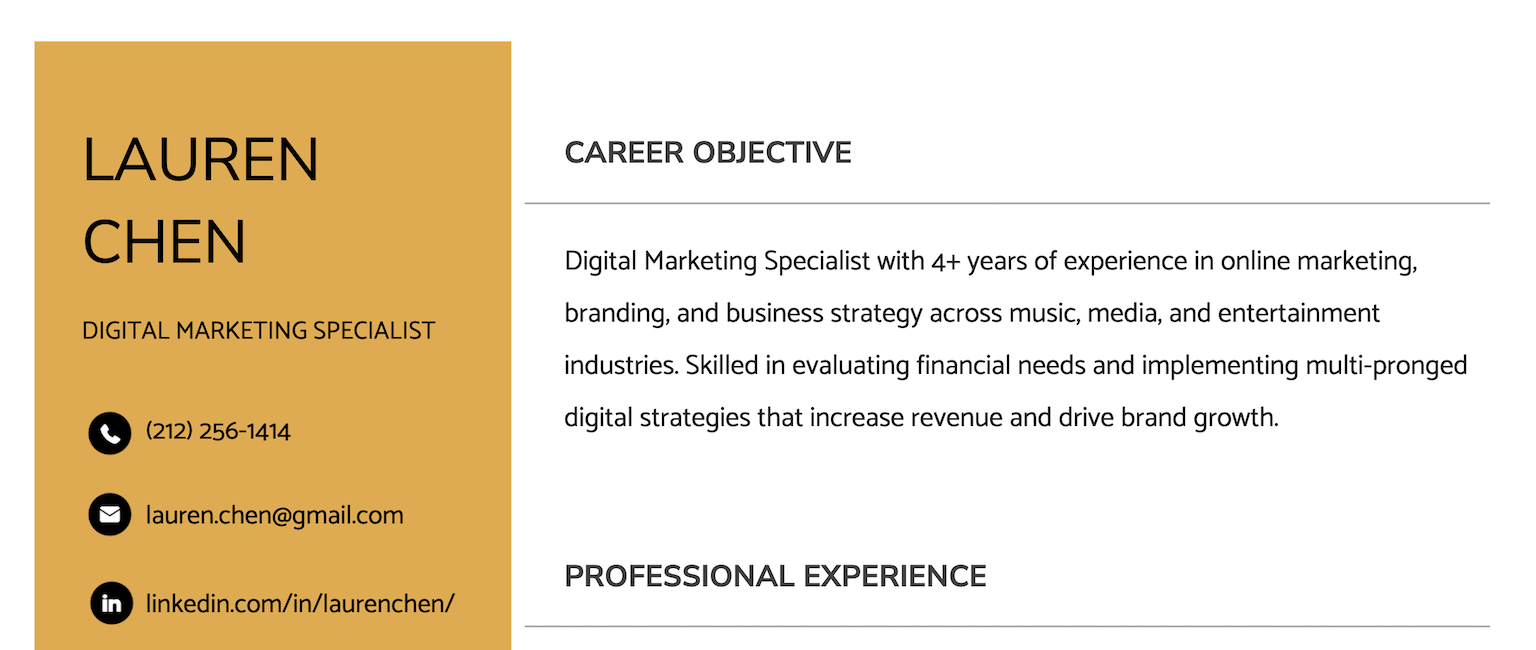 A vertical resume heading is a great way to make your resume stand out and add a creative, modern flair to your application.
However, keep in mind that a vertical resume header is less formal. If you're applying for work in a serious industry (law, medicine, etc.), use a horizontal header instead.
How to format your resume header
Formatting your resume header correctly is just as important as picking the right resume format. It needs to be concise enough that it doesn't take up unnecessary space, but must still fit all the basic information hiring managers need to know about you.
At a minimum, your resume header should include the following information:
Your first and last name
Current job title
Email
Phone number
Optionally, you can also include a link to your personal website or add your LinkedIn to your resume.
In many European countries, including a resume picture in your header is also common. However, make sure to do a quick search about what is normal in your country before adding one to your resume.
Type your first and last name
Include your first and last name as the "title" of your resume.
If you've changed your name (whether through marriage or another legal process) or go by a nickname, use your most searchable name (the one a hiring manager would use to find you on the internet).
For example, if your name is "Macie Green" on Facebook and LinkedIn, but you're recently married and now go by "Macie Pink", choose the name that appears on your online profiles.
Here's an example of how one candidate emphasizes his name in his resume header:

List your job title
In a smaller font, include your current job title. For example, if you're a restaurant manager, simply put "Restaurant Manager" underneath your name.
You can also add your years of work experience here, to create an eye-catching resume headline.
Additionally, don't forget to note any certifications or licenses you hold in your header. If you're a Certified Nursing Assistant, put "Patient Care Assistant, CNA" or "Home Hospice Caregiver, CNA" as your resume header title.
Write your mailing address (Optional)
Next, include your mailing address. If you add "open to relocation," it tells the hiring manager that you're willing to move if needed.
However, if you live far away and are afraid it may hurt your chances of getting the job, just put the name of the city in which you live, or — better yet — simply don't put your address on your resume.
List your email address
Are you submitting your resume online? Include a clickable email address to provide a quick way for hiring personnel to contact you.
Avoid using unprofessional email addresses such as "LionQueen347@gmail.com". If necessary, use a free email service such as Gmail and create a professional email address for the job search.
If you're submitting your application by email, make sure you pair your resume with a strong email cover letter as well.
Type your phone number
Next, list your cell phone or home number in your resume header. Hiring managers usually prefer to contact candidates by phone to set up interviews, so include your most commonly used phone number.
How to write resume headers that stand out
While the main purpose of a resume header is to convey basic information about yourself, it's also an opportunity to include links to additional information about you and your work.
Depending on your work history and the description of the role you're applying for, you can add other relevant information to help your application stand out, such as:
Include your LinkedIn profile
LinkedIn is the ultimate online platform for the business world. Many hiring managers use LinkedIn to hire or vet new personnel.
A great way to make your resume stand out is by adding a personalized LinkedIn address to your resume header.
To personalize your LinkedIn web address, click "Edit public profile & URL" in the upper right-hand corner on your profile page.
Before including your LinkedIn profile on your resume, update your page with a well-written LinkedIn summary.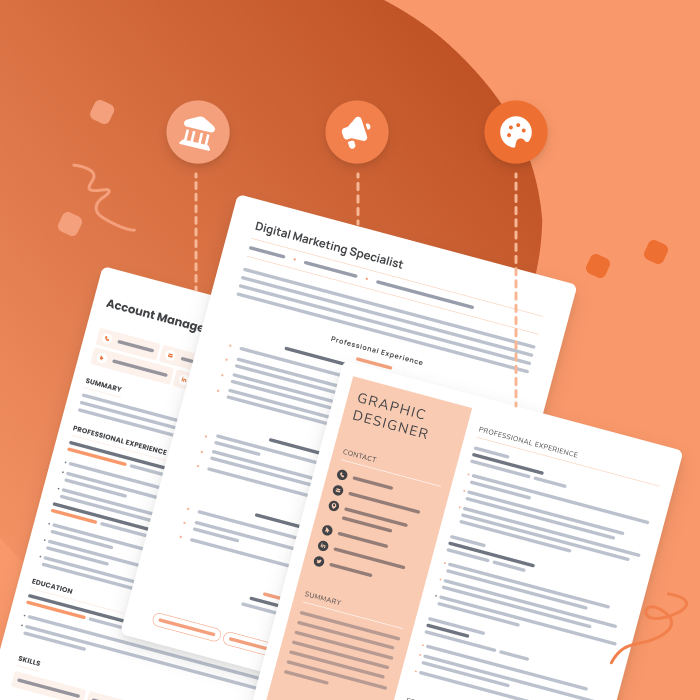 Not sure what your resume should look like? The best way to learn is by taking inspiration from resume examples written by other candidates in your industry.
Add a link to your Twitter
Only include your Twitter handle if you use it for business purposes.
For writers, designers, and other creative job seekers, your Twitter account can show potential managers that you care about the industry you work in.
Are you applying for a marketing job? Include your Twitter handle to show that you're up-to-date on the latest news and trends.
Include your personal website
If you're a web designer, photographer, interior designer, or writer, a professional online portfolio is a valuable way to highlight your work.
If you want to include a link to your personal website, your resume header is a great place to put it.
How to make a resume header in Word
If you're making your resume in Microsoft Word, there are a few things to keep in mind when you create your resume header:
Avoid using the document header to ensure your resume is ATS-friendly. Applicant tracking systems can't read Word document headers.
Stick to one or two different resume fonts at a maximum. Calibri, Arial and Cambria are good options.
Make your name stand out by using a large font size or writing in all caps.
Choose a point size of 10-12 for the rest of your contact information.