You've been sending out dozens of job applications for positions you know you're qualified for, but haven't received a single call back. What's going on?
If this sounds familiar, you've probably made a mistake on your resume that's preventing you from getting to the interview stage.
Knowing what mistakes to avoid when writing your resume is just as important as listing the right skills and qualifications. Hiring managers are selective, and your resume needs to be free of mistakes if you want to land an interview.
Here are the
biggest resume mistakes
hiring managers see, with some tips to help you avoid ending up with a
bad resume
:
1. Using the same resume for every job application
It sounds like a lot of effort, but you should always customize your resume for the specific job you're applying for.
Think about it this way: when you apply for a competitive position, there are dozens of candidates who tailor their resumes to show recruiters they're uniquely qualified to fill the position.
Sending out a generic resume is a missed opportunity to demonstrate that you have the specific qualifications the employer is looking for, and puts you at an immediate disadvantage.
How to avoid this mistake
An easy way to tailor your resume for the job is by incorporating relevant details from the job ad into your resume.
When making your resume, you should either include keywords found in the job ad throughout your skills and experience section, or write your bullets specifically to address the needs stated in the advertisement.
A great way to save time tailoring your resume is by using a general resume that includes all your qualifications and adding or removing content depending on the job you're applying for.
2. Including a photo of yourself

Including a photo on your resume is an extremely common mistake people make on their resumes.
It's easy to see why people make this blunder: including a photo of yourself is expected when applying for jobs in Europe and many other countries, and there are tons of websites that provide picture resume templates designed for non-American job seekers (ours included).
However, including a photo on your resume is considered unprofessional in the United States and can seriously impact your chances of landing a job.
Not only that, but adding a photo to your resume opens you up for employment discrimination based on your race, age, gender, or general appearance. In fact, some companies explicitly avoid accepting resumes with photos because they don't want to risk being accused of employment discrimination.
How to avoid this mistake
To be safe, don't include a photo of yourself on your resume.
If you're concerned your resume will look too boring without a photo, consider downloading a creative resume template that uses engaging colors and details but doesn't feature a spot for a headshot.
3. Using buzzwords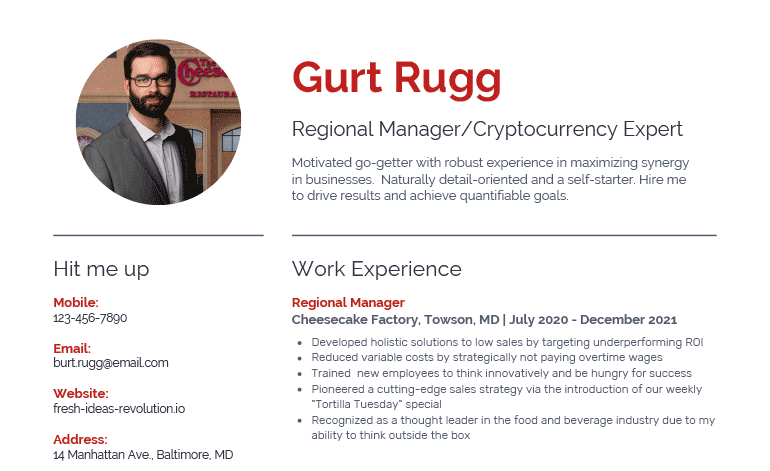 "Go-getter," "maximizing synergy," "self-starter" – including too many overused buzzwords like in the example above is a major resume mistake to avoid.
You want your resume to convince recruiters that you possess unique skills and traits that would make you an asset to the company. Including vague resume buzzwords makes you appear unoriginal and suggests you're exaggerating your qualifications.
How to avoid this mistake
A more effective way to demonstrate your qualifications and traits to employers is to include action verbs in the work experience section of your resume. Using strong action verbs to describe your experience shows employers how you work without the need for tired adjectives.
For example, instead of calling yourself a "team player", use a bullet point in your work experience section to describe your experience collaborating with a team, supporting your coworkers, or contributing to a group project.
4. Grammar and spelling errors

A simple typo can make the difference between you getting the job or someone else. If your resume contains grammar and spelling errors, employers might think you're careless or not serious about the job.
How to avoid this mistake
Simple grammar and spelling errors are some of the most common resume mistakes, so set aside some time to carefully proofread your resume before you send it out.
Better yet, ask a coworker, colleague, or friend to review your resume and check for any mistakes you might've missed.
5. Listing every job you've ever held
This is maybe the most common mistake that people make when writing their resumes (especially when writing a resume for a first job).
Many people believe that their resume should give a complete timeline of their work history. That's not the case.
Your resume should be a selective overview of why you're qualified for the specific job you're applying for.
How to avoid this mistake
Omit any jobs from your resume that aren't relevant to the position or you held more than 10 years ago.
For example, imagine you're applying for a software developer job but also have a restaurant industry background. You should leave off any information about your restaurant jobs from your resume because the skills and experience won't be transferable.
The only exception is if you're new to the workforce and the irrelevant experience is the only experience you have.
6. Using unprofessional fonts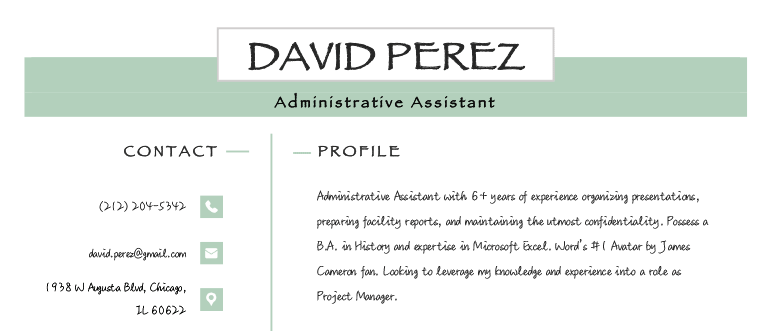 It can be tempting to use unique-looking fonts on your resume to add visual interest and set yourself apart from other applicants.
However, many non-traditional fonts can be difficult to read or make your resume look unprofessional, like in the example above.
You should avoid any decorative fonts like Courier, Impact, Papyrus, and (especially) Comic Sans. Additionally, using any handwritten-style fonts on your resume is a mistake because they're difficult to read.
How to avoid this mistake
Stick with simple, professional fonts for your resume. You can't go wrong with classics like Arial, Georgia, or Times New Roman.
7. Using an over-the-top design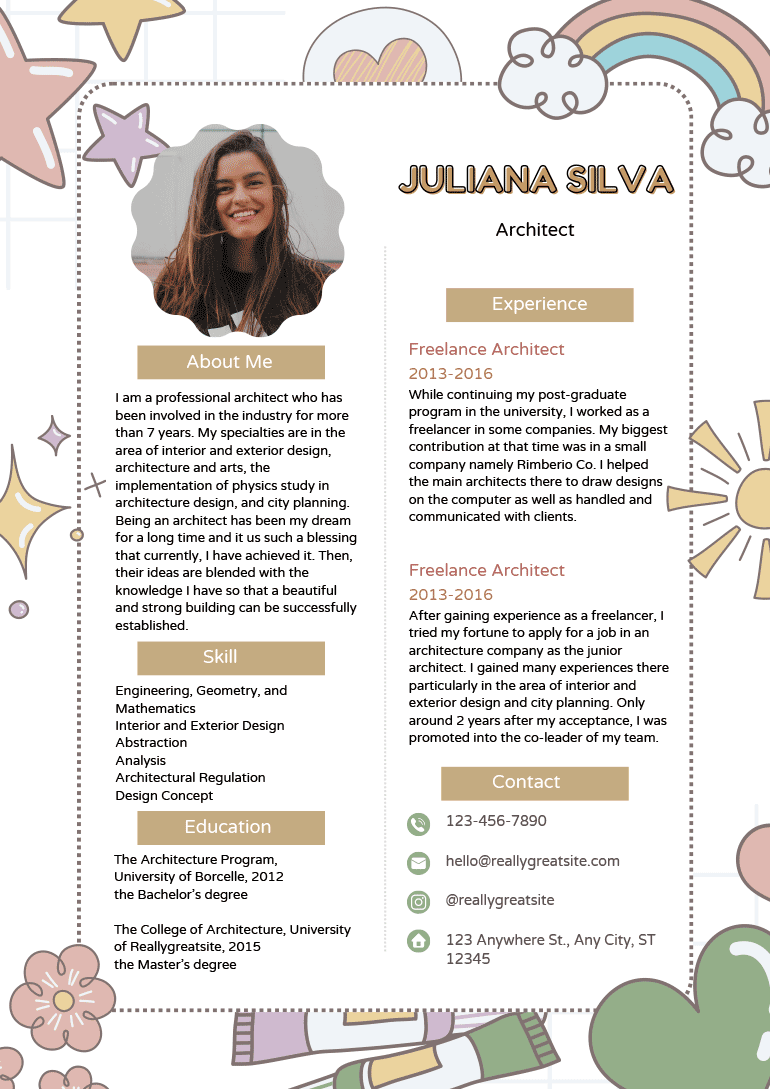 If you find traditional resume styles boring, you might be drawn to creative resume designs with more visual appeal.
However, before you invest the time and effort it takes to make an elaborate resume, it's important to carefully consider whether it's appropriate for your circumstances.
Unless you're applying for work as a graphic designer, using a resume with a bold design might come across as unprofessional and hurt your chances of getting an interview.
While the resume design above might be an effective way to demonstrate your design skills, it's not going to impress employers in most other fields, and will come across as childish.
How to avoid this mistake
In most cases, it's best to use a basic resume template that's easy to read and keeps the focus on your experience and qualifications.
8. Making your resume too long or too short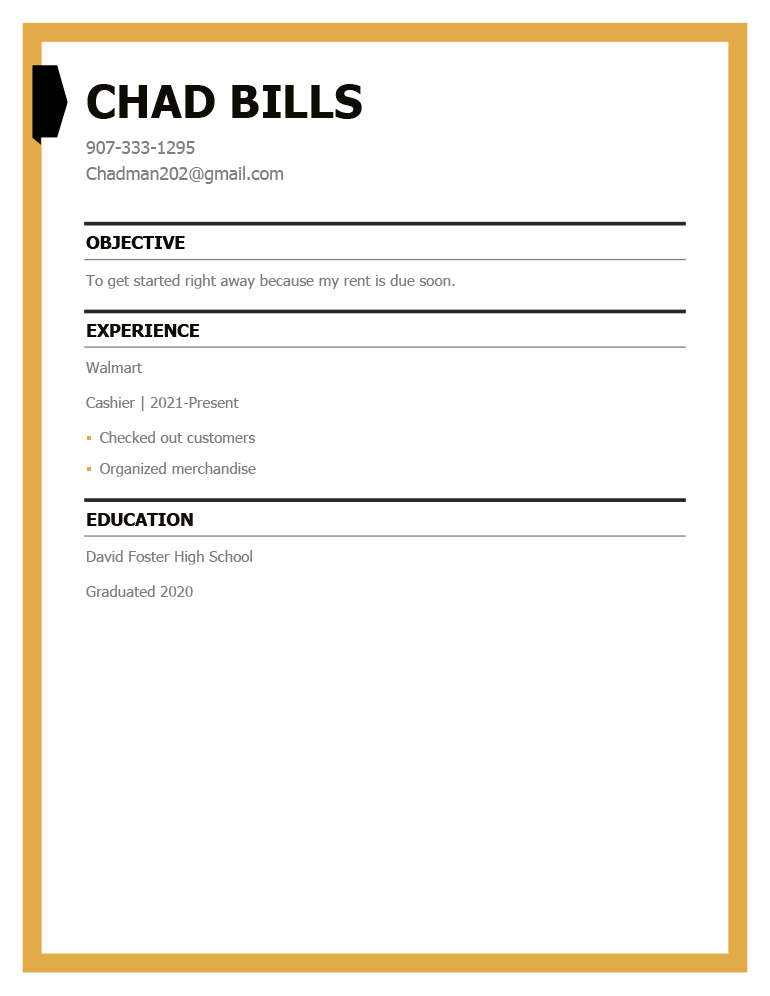 Hiring managers have a limited amount of time to spend on each application, so they won't be thrilled if they come across a multi-page resume that details every job you've ever had.
While there are some situations in which it's okay to use a two-page resume, you should try to keep your resume length to one page.
Likewise, you don't want your resume to be too short. If your resume is under a page long, it immediately makes you appear inexperienced and unqualified for the position.
How to avoid this mistake
The best way to achieve the right resume length is by sticking to a full, single page.
To start, only include information that's directly relevant to the position you're applying for. Cut any information that isn't related to the position you're applying to or is more than 10 years in the past.
If your resume is too short, you're probably a recent graduate or are just entering the workforce. In this situation, add extra information to your resume to highlight your skills and work ethic. For example, you could include any of the following information to fill out your resume:

9. Exaggerating your abilities
Exaggerating or lying on your resume is one of the most serious resume mistakes you can make.
If employers suspect you of lying during the hiring process, you'll come across as untrustworthy and it could cost you the job. Lies or exaggerations can be easily revealed through conversations with your references, so it's not worth the risk.
If you're going to list yourself as an expert on something, you need to be really confident in your abilities.
Even if you get a job after lying about your qualifications, you might end up being unable to meet your employer's expectations because you lack the knowledge and skills required for the role.
How to avoid this mistake
It's much better to be honest about your skills and experience rather than going into a job unprepared and performing poorly. After all, employers may be willing to give you the training you need to succeed in a role.
10. Not using proper formatting
Not only is it important that the content of your resume impress employers, your resume's formatting also needs to look good. From the colors you use to the page margins, it's essential that your resume layout is easy to read and professional-looking.
A disorganized or improperly-formatted resume is an immediate turnoff for many employers, and sends the message that you don't have strong attention to detail. This can quickly ruin your chances of getting a job.
How to avoid this mistake
Make sure your resume is organized and easy to follow by using an established resume format. Additionally, make sure all the spacing and design elements of your resume (such as horizontal lines and headings) are consistent and look professional.
If you're struggling to make a professional-looking resume in Microsoft Word, there are many free pre-formatted resume templates you can download online.
11. Focusing on your responsibilities instead of your accomplishments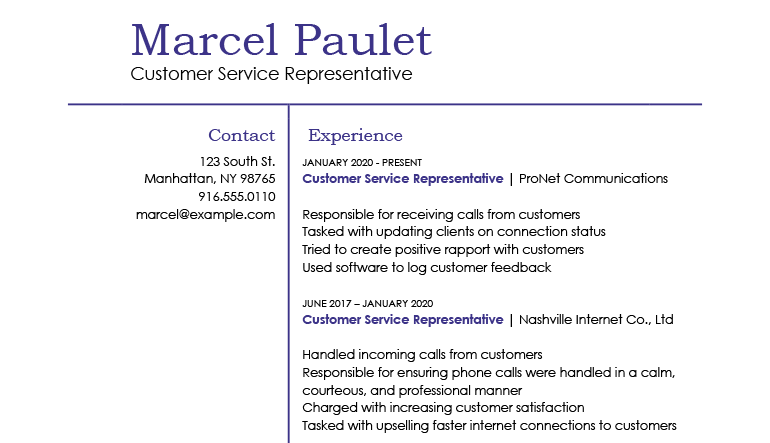 "Responsible for" and "tasked with" are passive phrases that hiring managers see on resumes all the time. The problem is that these phrases are generic and don't frame your experience in terms of what you actually achieved.
Employers don't just want to know what you can do, they want to know if you're good at what you do. Convince them by giving specific examples of times when you excelled in the workplace, and remember to back up some of your achievements with hard numbers.
How to avoid this mistake
Instead of presenting prospective employers with a comprehensive list of the responsibilities you had at your last job, pick out a few particularly impressive accomplishments for your resume.
For example, instead of writing "worked on email marketing campaign strategies", use the following accomplishment-focused resume bullet point:
Spearheaded a new email marketing campaign strategy, resulting in a 12% increase in open rates
Using hard numbers and focusing your experience on your achievements will show employers what you have to offer and increase your chances of getting an interview.
12. Listing references

Most employers want to see a list of references at some point during the hiring process.
However, contrary to popular belief you shouldn't list references on your resume. Adding a section for references on your resume sucks up valuable space you could be using to elaborate on your skills and experience.
Usually employers want to see references later in the hiring process, once they've already reviewed your resume and interviewed you. Once you've gotten to this stage, they'll simply ask you for a list of references.
How to avoid this mistake
Instead of listing references on your resume, create a separate document for your references that you send to employers upon request.
13. Disclosing personal information

Although it's illegal for employers to discriminate on the basis of religion, ethnicity, age, marital status, sexual orientation or disability, it's still commonplace in the United States.
Adding personal information that isn't relevant to your qualifications puts you at risk of being discriminated against due to recruiters' potential conscious or unconscious biases, so you're better off not disclosing this information at all.
How to avoid this mistake
Keep your resume professional by avoiding any information that isn't relevant to your work. The only contact information employers need is your email, phone number, and name.
14. Disclosing your salary requirements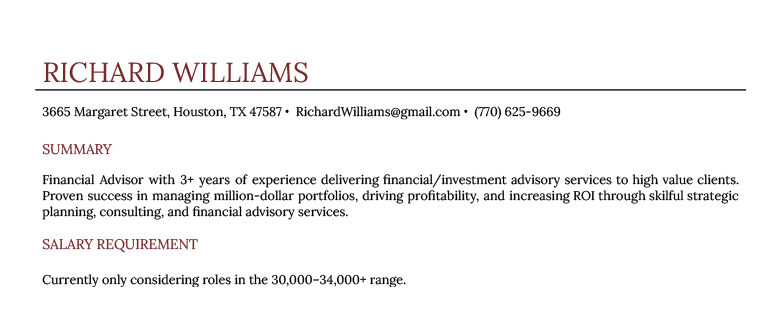 While it's good to understand your own value as an employee, don't put your salary requirements on your resume unless specifically asked to do so.
If the first thing hiring managers find out about you is how much money you expect to make, you'll likely look more focused on the salary than the actual work you'll need to do, which leaves a negative impression on most employers.
How to avoid this mistake
At the initial hiring stage, you focus on what you can do for the company, rather than what the company can do for you. You'll get the chance to discuss salaries later (typically after or during the interview process).
15. Not making your resume ATS-friendly
Have you been applying to dozens of jobs but haven't heard back from any of them? It's possible that your application is getting rejected by ATS software.
Many large companies like Walmart or Amazon rely on applicant tracking system (ATS) software to automatically weed out applications that don't match the criteria.
If your resume doesn't contain any relevant keywords or is formatted unconventionally, ATS software might struggle to parse your resume. The result? Your application gets rejected before it's even seen by a hiring manager.
How to avoid this mistake
To ensure that your resume gets into the hands of a hiring manager, make your resume ATS-friendly by:
Sending in a Word document
Choosing a simple resume template
Using an easy-to-read font
Including job-specific keywords in your resume
Leaving out tables, graphics, or images
16. Including irrelevant skills

You might have a broad skill set, especially if you've made a career change at some point in your life.
However, listing all your skills on your resume is a good way to make it difficult for hiring managers to find the information they're looking for.
Unless they're directly relevant to the job, employers won't be impressed by the Microsoft Office skills on your resume, and would prefer to see information that's more related to the position they're hiring for.
How to avoid this mistake
The best way to make sure you're not including irrelevant skills on your resume is by reading the job ad.
Take note of any specific technical skills listed as required or desirable for the position, and highlight your competency in those areas.
Anything else that isn't transferable to the position should be left off your resume.
17. Listing incorrect or outdated contact information
It sounds obvious, but if you're not getting any calls from hiring managers it's possible that they simply can't reach you because you've listed the wrong information.
Job seekers make this mistake more than you think. With all the stress that goes into job hunting, people mistype their email or phone number and don't think to give it a second look.
The end result? You could have the best resume in the world, but without the right contact information you'll never get called in for an interview.
How to avoid this mistake
The easiest way to avoid incorrect contact information on your resume is by double checking all your information before sending any job applications out.
Additionally, make sure you regularly update your resume when starting a new job search.
Good resume example
Now that you know what to avoid, it's helpful to reference a good resume example and model your own after it: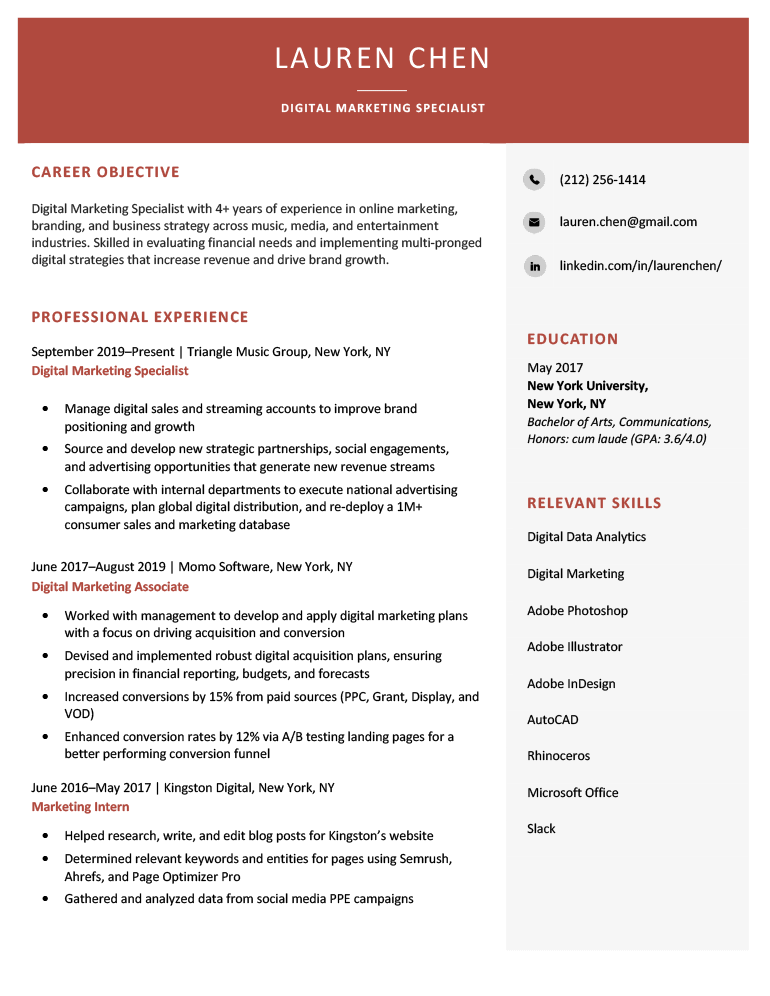 Frequently asked questions about resume mistakes
These are some of the most common questions we receive about resume mistakes:
How much is too much on a resume?
Here's how much is too much on a resume:
Any information that's irrelevant to your target job is unnecessary to include on your resume, especially if it pushes your resume onto a second page. Also, don't add jobs from more than 15 years ago.
Cutting details that don't match the job requirements makes your resume more relevant to the position, and ultimately boosts your chances of getting an interview.
However, there are exceptions to the one-page rule:
If you have 10+ years of experience, use two pages
If you're applying to a senior management position, use two or three pages to list your accomplishments and work experience
If you're seeking a job in academia, use three or more pages to fit your publications
If you're targeting a government job, submit a three-page federal resume
What are red flags on a resume?
The following are red flags on a resume:
Spelling and grammatical errors
Many jobs in a short period of time
Long or unexplained career gaps
Having been fired
Failure to follow job posting instructions
Lack of career progression
Being obviously overqualified
How many mistakes are acceptable on a resume?
There are no mistakes that are acceptable on a resume. Any spelling mistake, formatting error, or overused buzzword could make an otherwise excellent resume look less professional to hiring managers.
Although such mistakes might not get your resume rejected, it's best to carefully proofread your resume before submitting it to make sure you leave the best possible impression on employers.