Can a resume be 2 pages?
Yes, your resume can be two pages if you have a lot of relevant information to put on your resume, like work experience, certifications, educational details, and skills.
The recommended resume length is one page, but it's acceptable to use a two page resume if making it one page would hurt your chances of landing an interview by omitting essential qualifications. In that case, instead of struggling to fit everything onto one page, add a second page to your resume.
Our free-to-use resume builder can make you a resume in as little as 5 minutes. Just pick the template you want, and our software will format everything for you.
When is a two page resume ok?
Using a two page resume is ok in the following situations:
You have substantial (10+ years) relevant work experience
You're applying for a leadership or management role
You have many relevant technical skills or certifications
If you're in one of these groups, your resume can be more than one page, especially if you're having trouble condensing all of your information.
However, most candidates will be able to fit their work experience and achievements on a one page resume by cutting information not strictly relevant to the position, or by adjusting fonts and resume margins.
So before you use a two page resume, you should make sure you can't just make your current resume more space-efficient, as your Resume Genius expert Eva Chan explains in this informational video at 2 minutes and 49 seconds in:
Two page resume format
Writing a two-page resume is easy if you already know how to write a resume. But, there are a few things you should keep in mind to convince hiring managers that your resume is worth the extra time.
1. Provide key information on page one
Start your first page with a resume introduction. For experienced job seekers, a resume summary is the best option because you can highlight four or five of your biggest career-related achievements.
Below is an example of what a resume summary looks like:

This resume summary gives a concise overview of the candidate's work history while spotlighting their skills and accomplishments.
There are several other ways to start a resume, and the best choice for you depends on your professional background.
After your introduction, list your work experience. On a chronological resume, list your most recent job first, and then work backward. You can use your second page to continue your work experience section if necessary, but make sure the listed experience is still relevant to the role you're applying for.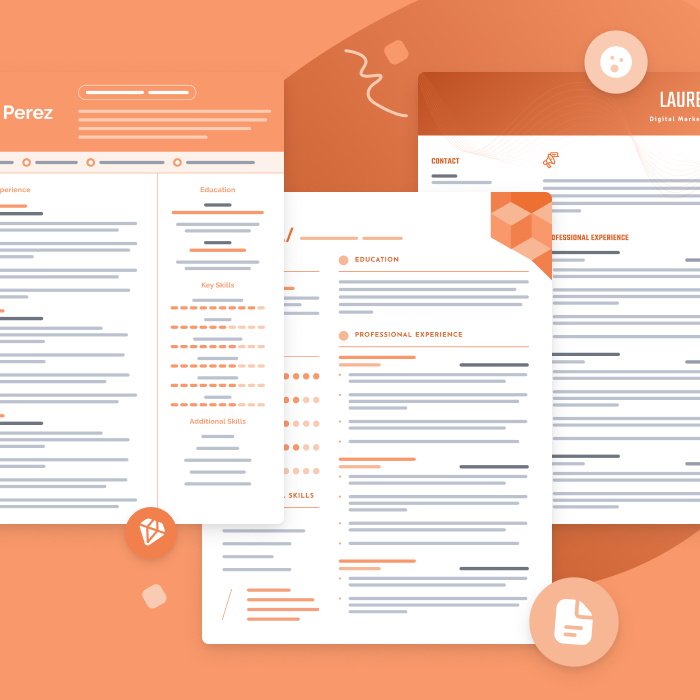 One of the best ways to make your resume is by filling out one of our free resume templates. All our templates are designed by experts and free to download for Microsoft Word or Google Docs.
2. List additional information on the second page of your resume
Since you're using a two-page resume, it's likely you have a lot of relevant work experience, which means that your resume's education section is less important. You can safely put your education section on the second page of your resume, along with your qualifications or certifications section.
If you have a relevant degree or qualification you want to highlight on your first page, include it in your resume introduction to make sure the hiring manager sees it.
3. Fill both resume pages
If you opt for a two-page resume, be sure to fill both pages. A 1.5 page resume (where the second page is only half-filled) should be avoided, because the empty space makes it look like you ran out of relevant information.
If you truly can't fill that second page, it's better to cut your resume to one page instead. As long as you focus on your most relevant achievements, this shouldn't be a problem. Even Elon Musk's resume can fit on one page.
Add volunteer work and extracurricular activities to fill the second page
If you're not able to condense your resume further without losing important information, fill the last bit of space on your second page by adding volunteer work to your resume.
Volunteer experience shows the hiring manager a personal side to your resume that your work experience doesn't touch on.
Also consider adding extracurricular activities and relevant coursework to your resume if they tie into the job you want.  Do some research on the company to find out if they promote individuality and diversity in the workplace. If so, including details that illuminate your unique perspective could give you an edge over someone who only lists work-related information.
4. Present your two-page resume properly
If you need to print off a physical copy of your two-page resume, follow these tips to make it look professional:
Use two pieces of paper: Instead of printing your resume out double sided on a single piece of paper, print it onto two separate pages. If you give a hiring manager a double-sided resume, they might not realize there's a second page.
Use a paperclip instead of stapling: It's likely the hiring manager will scan your resume, and using a paperclip makes it easier for them to place it in the scanner. They can also remove the paperclip if they want to lay both pages down and see them at the same time.
Pick suitable resume paper: Your resume paper should stand out in a pile of resumes. We recommend linen 100% cotton 32 lb, but there are other options as well.
Two page resume example
Use this two page resume example as inspiration when you write your own:
Page 1

Page 2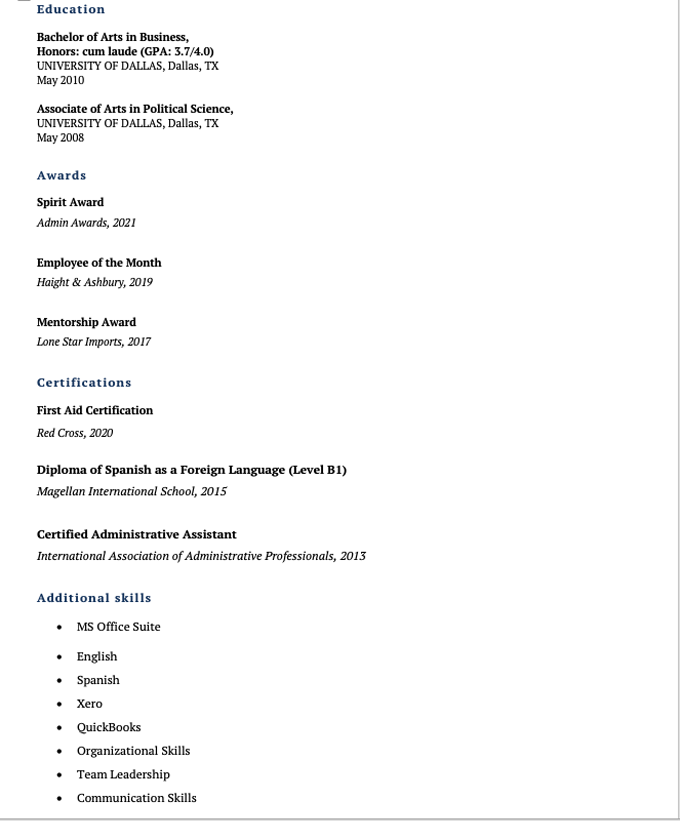 This two page resume example was written by a candidate who's applying to become the personal assistant for a local politician. She's had plenty of personal assistant experience, but she hasn't worked in politics for eight years. So, she uses a two-page resume format to showcase her relevant skills, awards and certifications in addition to her education and work experience.