While the content of your job application is primarily what wins you an interview, no amount of experience or skills on your resume will impress employers if your resume is hard to read or looks unprofessional.
Here are some basic formatting rules to follow when writing a resume:
Left-align the content
Use 1″ margins
Select a professional, easy-to-read font
Divide your information into clear sections
Set clear headers for each section
Use bullet points to explain your work experience
Keep your resume an appropriate length (one page for most candidates)
Here are eight steps to formatting a resume so that it's both professional and easy to read:
Our free-to-use resume builder can make you a resume in as little as 5 minutes. Just pick the template you want, and our software will format everything for you.
1. Left-align the content
Your resume should always have the most important information left-aligned. This includes information like your work experience and skills section.
Left-aligning content makes it easy for hiring managers to read through your qualifications and easily find the information they're looking for.
However, if you need to save space, right-aligning minor details on your resume like your education (if you're not a recent graduate), certifications, or awards section is acceptable.
2. Use 1″ margins
In most cases, you should use 1" margins on your resume. However, anywhere between ½"–1″ is acceptable.
For example, if you have less work experience you should be able to fit all your qualifications on a one page resume with 1″ margins. But you may prefer to use narrower margins if you have years of work experience and need to fit more information on the page.
3. Select a professional, easy-to-read font
The font used on your resume should be professional and easy to read. Generally, this means sticking to commonly used fonts like Times New Roman or Calibri.
The most important thing is that your font choice doesn't distract from the qualifications on your resume. So avoid using more eccentric fonts like Courier New or Impact (and especially avoid Comic Sans).
Here are some of the best fonts to use on your resume:
Times New Roman
Cambria
Georgia
Garamond
Helvetica
Calibri
Didot
Arial Narrow
Trebuchet MS
Lato
Additionally, the font size used for the body content of your resume should be between 10 and 12 points, depending on the font you're using and your space requirements. Meanwhile, your name and section headers should be larger to help break up your resume into sections.
4. Divide your information into clear sections
All the information on your resume should be divided into clear sections. This makes your resume easier for employers to scan through and find the information they're looking for.
At a minimum, here are the five resume parts you need to include:
Contact Information
Skills Section
If you want to highlight more information on your resume, you can add additional sections for things like your volunteer work, awards, or publications.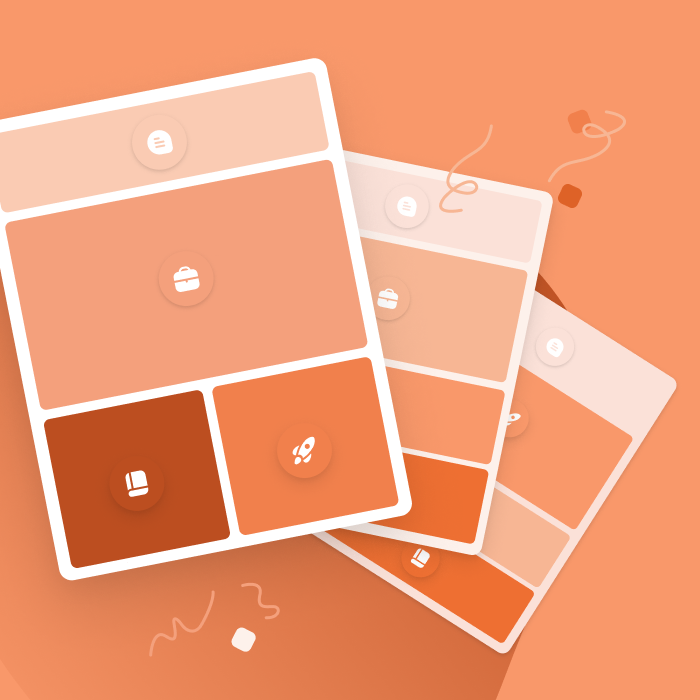 Learn how to pick a resume format that highlights your strengths and downplays your weaknesses by reading our HR-approved guide.
5. Set headers for each section
Start each section of your resume with a header that's distinguishable from the rest of the text on your resume and clearly states what information is found in that section.
For example, your work experience section should start off with "Work Experience" or "Relevant Experience" in a slightly larger, bolded font. Many resume templates also add underlines to section headers to further distinguish them.
Here's an example of a resume with appropriate section headers: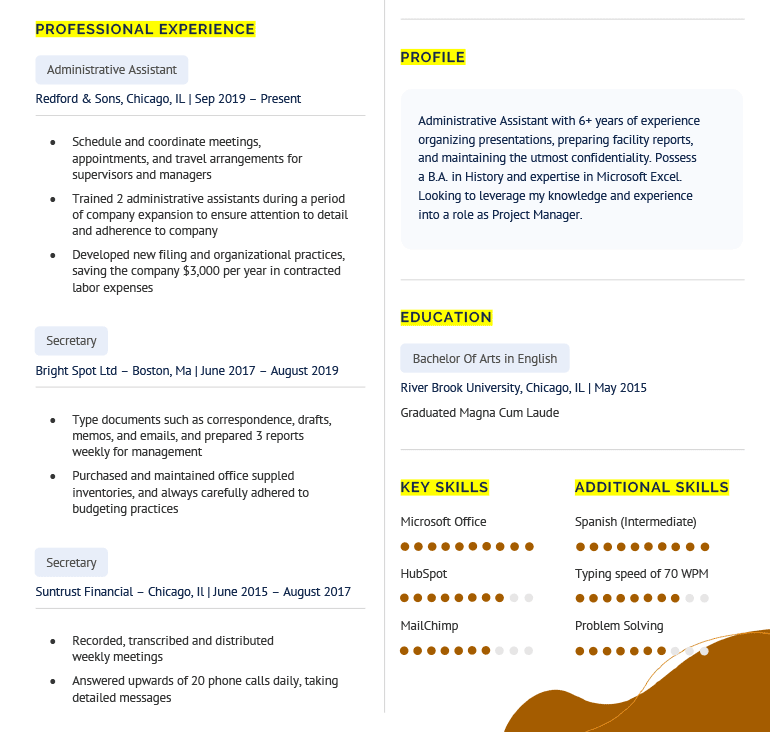 6. Use bullet points for your work experience
All the details of your work experience should be formatted in concise bullet points that highlight some of your key professional accomplishments.
Each bullet should start with a specific action verb that highlights what you did while at your previous or current job. You should also include hard numbers when possible to illustrate the exact impact you made while working in each role.
For example, mention the estimated dollar amounts you saved, number of sales you made, or customers you helped.
7. Stay concise with your job-relevant information
For each job you're applying to, you should tailor your resume for the role. The best way to tailor your resume is by only including job-relevant information.
For example, details like your university GPA, school projects or courses, and extracurricular activities should be left off your resume once you have a few years of relevant work experience.
Likewise, if you're applying for a job in accounting, you can safely leave your fast food work experience off your resume unless it's the only work experience you have.
8. Keep your resume an appropriate length
The ideal resume length for most people is one page, especially if you're a recent graduate or have less than five years of work experience.
Hiring managers are typically busy, and one page gives you enough space to summarize your main qualifications and achievements without using up their time.
However, if you have more than 10 years of relevant work experience, you can use a two page resume to communicate the depth of your experience and skills.
Resume formatting can be different depending on where you are. For example, if you're writing a resume for a job in India, you need to follow the professional Indian resume format.
Additional resume formatting tips
Now that you know the basics of how to format a resume, here are some additional tips for making your resume flow better.
Don't use first-person pronouns
Your resume should always be written in an implied first person perspective, meaning that you describe your responsibilities and accomplishments as your own, but omit "I" or "me."
If you started each bullet point with first-person pronouns, your resume would get repetitive fast. For example, "I built this," "I executed this strategy," "I increased sales."
Hiring managers understand that everything on your resume is referring to your own experience, so just directly state what you accomplished.
"Executed a new marketing strategy that increased personal sales numbers by 10%"
"I executed a new marketing strategy that increased my personal sales numbers 10%"
Use past-tense when explaining previous work experience
If you're currently employed and writing about experience from your present job, use the present tense for any responsibility that isn't a one-time accomplishment. However, all your former jobs or achievements should be described using the past tense.
Here's an example of a work experience section that uses proper tenses for this candidate's various responsibilities as a special education teacher for this candidate's various responsibilities as a special education teacher: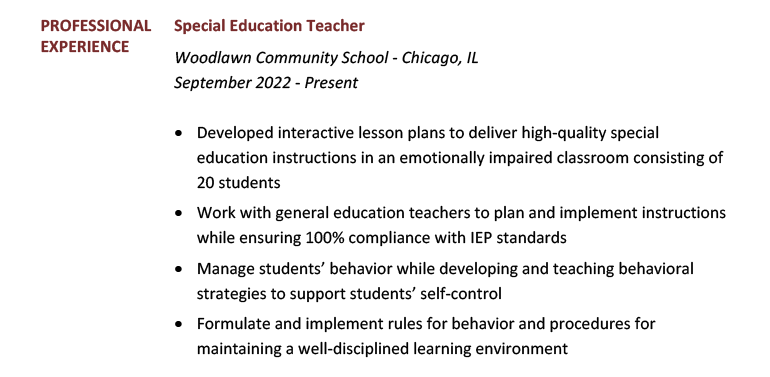 Stick to a consistent date format
The dates on your resume should follow a consistent format. For example, most job seekers state the month and year they began employment somewhere, followed by a dash and then the end date (or "Present" if the position is ongoing). Like this:
Content Editor
May 2019 – August 2020
Big Software, New York, NY
However, it's important to make sure you stick to the same formatting throughout your resume. If you start stating only the years you were employed (and not the months) halfway through your resume, it's likely to confuse employers.
Proper resume formatting template
Here's a resume template with proper formatting that you can copy and paste into Google Docs or Microsoft Word and fill out with your own information. This template is designed to help you stick to the basic resume formatting guidelines mentioned above.
1. Resume Heading
FIRST AND LAST NAME
Email: youremail@gmail.com | Phone: 995 555 555 | Address: 1234 Lincoln Rd. Harrisburg, PA 17101 | Linkedin: linkedin.com/in/yourprofile
---
2. Resume Introduction
Dedicated [industry] professional with [# of years] years of experience. Looking to leverage my abilities in [relevant skills] to fill the [position name] position at [Company Name]. An adaptable employee seeking to help achieve [Company's Name]'s goals and take on new challenges as soon as possible.
---
3. Work or Relevant Experience
Most Recent Job Title / Start Date – End Date
Employer Name / Location
Include a bulleted list of your accomplishments
Add hard numbers to these bullet points to illustrate your impact
Earlier Job Title / Start Date – End Date
Employer Name / Location
List relevant accomplishments from an earlier job
If you no longer perform this job, use past tense verbs to describe your experience
---
4. Education
Degree Name / Major
University, Location / Start Date – End Date
---
5. Skills
List relevant skills
Include a range of hard skills and soft skills
Mention the specific names of software or tools you're able to use
---
6. Additional Resume Sections
Here's where you can add any other relevant information
For example, this section could be for languages, publications, certifications, licenses, or volunteer experiences
Final resume formatting checklist
Before you send off your application, here's a final checklist to make sure your resume formatting is correct and helps you come off as a professional:
The Resume Genius Resume Formatting Checklist
Is your contact information accurate?
Does your resume NOT include sensitive personal information?
Does your resume fit on one page (or two pages if you're highly experienced)?
Is your information easy to read (fonts are above 10pt, sections aren't crowded)?
Is the design of your resume appropriate for the position you're applying for?
Did you include all relevant sections on your resume?
Did you include quantified achievements in your work experience section?
Does your resume address the requirements stated in the job ad?
Is your resume free of typos and grammatical errors?
Is all of your information clearly formatted and professional?
Are all your sections properly aligned (nothing looks pushed off to the side)?