The right way to make a resume is different depending on where you're applying for a job. It's always important to make sure your resume's written content and formatting align with common practices wherever you are.
If you're applying for a job in India, we've got you covered. In this article, we'll go over how to write a resume using the Indian resume format, provide a text template you can use, and include a free downloadable resume template specifically designed to land a job in India.
Our free-to-use resume builder can make you a resume in as little as 5 minutes. Just pick the template you want, and our software will format everything for you.
Sample resume with Indian format
The easiest way to make a resume for a job in India is to use a template created specifically for that purpose.
Here's a free Indian resume template you can download and use to land your next dream job: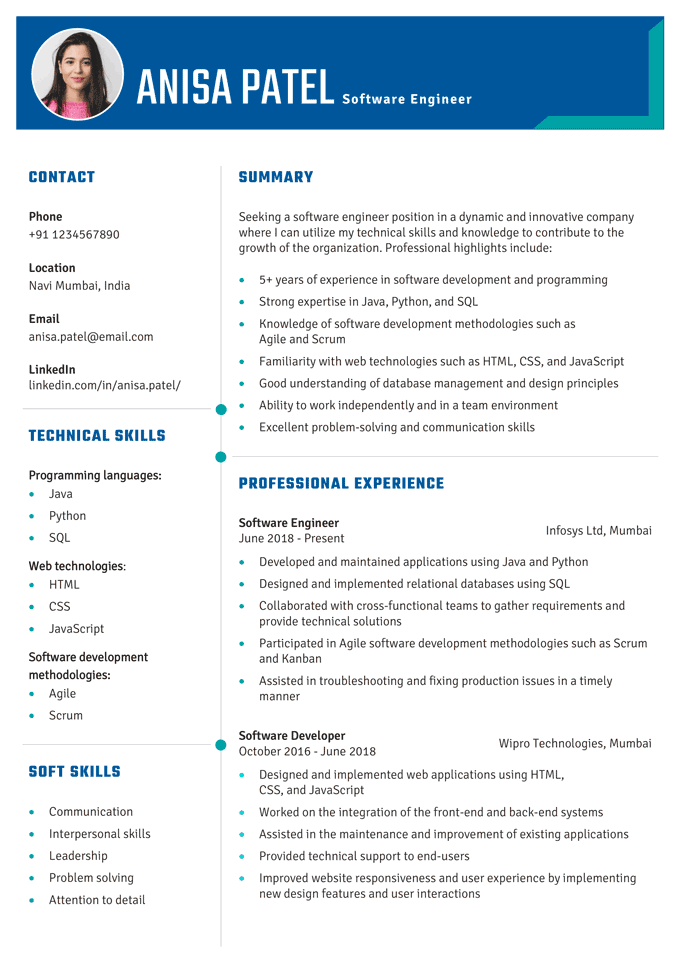 How to follow the Indian resume format
While writing a resume for a job in India is pretty similar to making a resume in Western countries, there are a few key differences to note. We'll guide you through how to write each section and make sure your resume format follows the Indian style.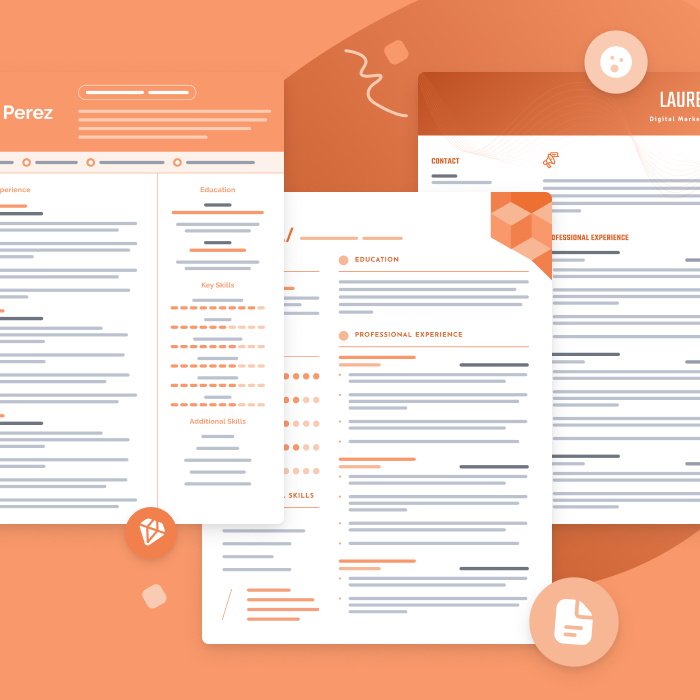 One of the best ways to make your resume is by filling out one of our free resume templates. All our templates are designed by experts and free to download for Microsoft Word or Google Docs.
Here's everything you need to know about writing each section of your resume for a job in India:
1. Include your contact information
Just like with any resume, you want to make sure it's clear to employers how they can get in touch with you. Your contact information is a simple yet crucial element, so make sure it's featured prominently at the top of your resume and easy to see.
At a minimum, your contact information should include your:
Professional email address
Phone number
Location (just including your city is fine)
Optional additions can include:
A LinkedIn profile
A professional website
An online portfolio
To ensure employers know how to call you to schedule that interview, put your contact information in your resume header along with your name to catch their attention.
In India it's also common to include a photo on your resume, so you can add a professional-looking headshot to your resume header as well.
2. Create a personal profile
One of the biggest differences between a western resume and an Indian one is the level of personal detail included.
In North America, it's standard practice to omit any personal information from a resume because of discrimination concerns. In India, however, it's common to include an additional section called a personal profile that includes additional personal details.
Here's what you should include in your personal profile:
Date of birth
Gender
Marital status
Languages spoken
Nationality
Willingness to relocate
Notice period (how much time you need to put in notice at your current job before you will be ready to start a new position)
3. Write a strong resume summary
Your resume introduction is usually the first thing hiring managers look at on your resume, so it should highlight your professional strengths and qualifications. It's also beneficial to include a sentence about what you hope to achieve in the role, and how you can benefit the employer.
Your summary should be 3–6 sentences long, introduce yourself as a candidate, and detail your professional achievements. You can write it as a short paragraph or use bullet points to highlight key accomplishments.
Use this section to target the specific job. You can use keywords from the job ad (including specific skills, qualifications, and duties) to show employers that you have the experience you need to succeed in the role.
Here's an example of an effective resume summary for a customer service representative:
In this example, the candidate gives employers a good idea of their skill set and personal strengths, and uses numbers to highlight some of their key achievements. Additionally, they end the summary with a statement about how they hope to make a positive impact in their new position, leaving employers with a good impression.
4. Fill out your education section
Your resume's education section should include the details of your highest level of education achieved. Here's an example of how you can format your education section:
B.Tech in Computer Science
University of Delhi, Delhi
2019
If you're writing a fresher resume, it can be helpful to expand your education section to include more academic achievements. Even if you don't have hands-on professional experience, employers might be swayed to invite you for an interview if they see you've taken relevant courses.
Here are some examples of academic achievements you can include:
GPA
Honors
Thesis
Scholarships
Here's an example of how to include these in your education section:
B.Tech in Computer Science
University of Delhi, Delhi
Graduated with First Class Honours, 2019
GPA 8.5/10

Thesis: "An Analysis of Artificial Intelligence in Image Recognition"
Relevant coursework: Data Structures and Algorithms, Database Systems, Computer Networks, Machine Learning, Artificial Intelligence
Scholarships: Recipient of the National Merit Scholarship for outstanding academic performance in computer science.
Awards: 2018 Recipient of the Dr. Shankar Dayal Sharma Gold Medal
President of the VR/AR Club
While you might not have all of these extra additions to put in your education section, highlighting the greatest and most relevant academic achievements you do have can go a long way towards impressing potential employers.
5. Describe your work experience
When it comes to putting work experience on your resume in India, the format is basically the same as everywhere else. Here's what to include:
Your job title
The company and location
The dates you worked there
3–5 bullet points that describe how you performed your role
The most important advice for filling out a strong work experience section is to use action verbs and numbers. Action verbs on your resume show employers how you accomplished your daily tasks and numbers demonstrate your tangible accomplishments.
Here's an example of a work experience section for a retail associate that effectively uses action verbs and numbers to sell employers on their qualifications:
Retail Associate
Zara, Jaipur
Jan 2021 – Dec 2022

Assisted customers in locating and purchasing merchandise, resolving complaints, and answering inquiries in a professional manner, resulting in a 97% customer satisfaction rate
Operated POS system, processed transactions, and balanced cash drawers at the end of each shift with 100% accuracy
Maintained a clean and organised store environment, including restocking shelves, cleaning displays, and organising the stockroom
Trained 5 new employees on store policies, sales techniques, and customer service standards, resulting in a 20% improvement in team performance
Quantifying your professional achievements in this way makes you a more compelling candidate by showing employers what you're capable of and what they can expect to see from you as an employee.
6. Highlight your relevant skills
Employers will look to the skills section of your resume to see if you have what it takes to fulfill the job requirements, making it a great opportunity to tailor your resume to the job you're applying for.
You should include 8-10 relevant, job-specific skills that target the role. Include a balance of hard and soft skills that shows you have both the technical expertise and the temperament to excel.
Here's an example of a skills section tailored to suit a project management role:
Skills

Team leadership
Stakeholder management
Risk management
Budgeting and financial management
Agile methodologies
Problem solving
Communication
Time management
Adaptability
This example includes both hard skills for project management and the soft skills it takes to be a good leader and oversee projects from start to finish.
Making sure that your skills section includes the skills you'll need to embody in your target position makes it more likely that the hiring manager will take notice of your resume.
Additional formatting tips
If you want your resume to make you stand out as a professional candidate, it's important to know what formatting guidelines to follow when you're making a resume for a job in India.
Here are some tips to make sure your Indian resume formatting is flawless:
Your resume should be 2 pages long (they can sometimes be longer).
It's encouraged to include a (professional) photo of yourself.
Use A4 size, with 2.5 cm margins (down to 1.27 is acceptable).
Use 10–12 point and easy-to-read fonts (serif and sans serif fonts like Arial, Times New Roman, Calibri, and Cambria are best).
Save your resume as a PDF or Word document.
It's acceptable to use some colors and design elements to enhance your resume (but make sure your resume remains highly professional)
Indian resume template (text version)
If you're still feeling unsure about creating your resume for a job in India, here's a simple text template you can copy, paste, and fill in with your own information.
Your Name
Email: your.email@email.com | Phone: +91 xxxx-xxxxxx | Location: City
Summary
Write a sentence or two about who you are as a candidate and mention your professional goal in applying for the position.
Include a bulleted list of professional qualifications, relevant skills, and accomplishments
Include numbers to quantify your achievements
Tailor this section to the specific role you're applying for
Education
Degree
University Name, City
Graduation year
If you lack professional experience, it can be helpful to showcase some academic achievements in bullet points describing any relevant coursework or projects
Work Experience
Position #1 (Current or most recent)
Company, City (Month, Year – Month, Year)
Use present tense if currently employed in this position
Leave out personal pronouns
Include 3–5 bullet points describing your experience
Start each point with an action verb
Use numbers to quantify your professional achievements
Position #2
Company, City (Month, Year – Month, Year)
Use past tense for previous roles
Target the role you're applying for with specific skills and duties
Provide examples of how you demonstrated relevant skills in context
Keep your points brief
Position #3
Company, City (Month, Year – Month, Year)
Use less bullet points for older positions
Highlight only your most relevant experience
List no more than 15 years of experience
Skills
List 8-10 skills
Use a mix of hard and soft skills
If you include technical skills, consider using skill bars to show your proficiency level
Certifications
List the name of the certification, the certifying body, and the date it was received
Personal Profile
Languages: Any first and second languages spoken
Date of Birth: Day Month Year
Gender: Female/Male
Marital Status: Single/Married
Nationality: Indian/American, etc.
Notice period: Specify how long you need to give notice to your current employer
Ready to Relocate: Yes/No