In this video, resident career expert Chloe walks you through the process of writing a resume without experience so you can send out your application confidently:
What is a fresher resume?
A fresher resume is a resume written by a recent university or secondary school graduate who lacks work experience. In short, it's a resume for those who are new to the workforce.
Writing a resume as a fresher requires a slightly different approach compared to writing a resume as an experienced job applicant because you don't have a lot of relevant work experience to put on your resume.
You also need to make sure you use the best resume format for freshers to ensure that you present your skills and experience in a way that captures hiring managers' attention.
Our free-to-use resume builder can make you a resume in as little as 5 minutes. Just pick the template you want, and our software will format everything for you.
Fresher resume sample
Not sure what a fresher resume should look like: Here's a properly formatted fresher resume example: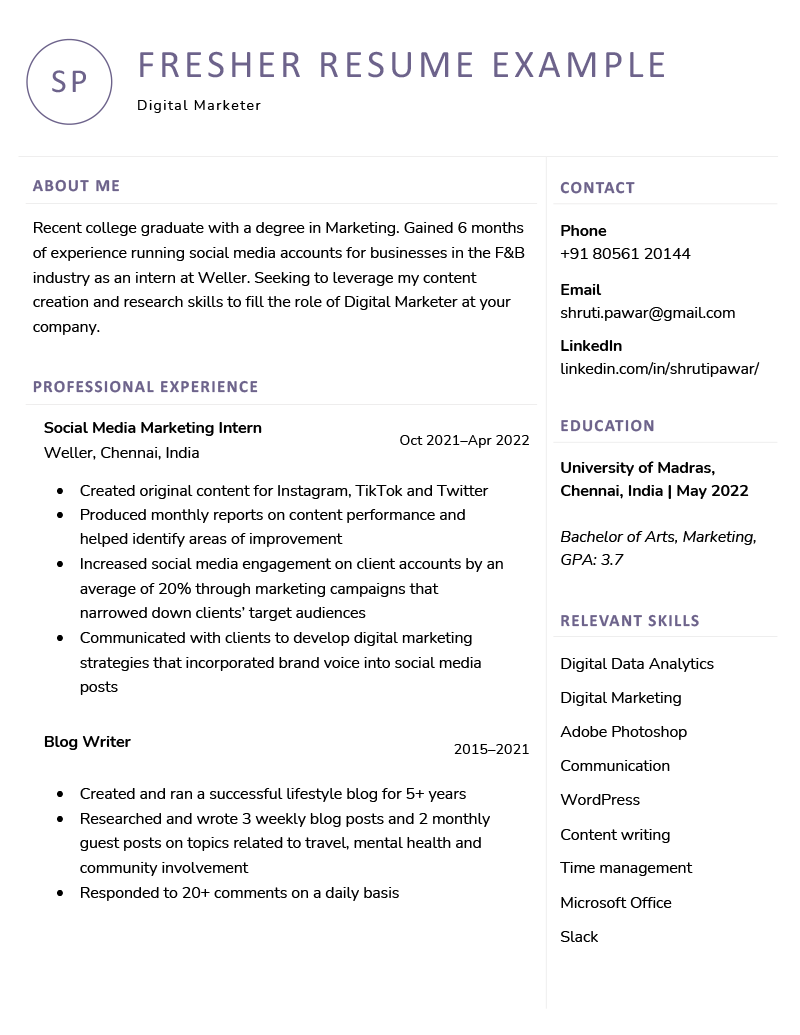 The best resume format for freshers
For freshers, the ideal resume format is a chronological resume. The chronological format gives hiring managers a clear overview of your educational background as well as your relevant experience by listing each position starting with your most recently held position at the top.
Follow this simple format when you write your fresher resume:
Resume introduction
Relevant experience
Education
Skills
Additional resume sections (projects, hobbies and interests, extracurricular activities, etc)
If you're writing a resume for a job in India, be aware that formatting conventions can be different. Check out our Indian resume format guide to make sure you're following best practices.
How to write a resume without experience
Writing a resume with no experience can be tricky. How do you convince employers that you have what it takes to be successful when you don't have any work experience to prove it?
Follow these five tips to write a strong resume that shows off your strengths as a fresh graduate: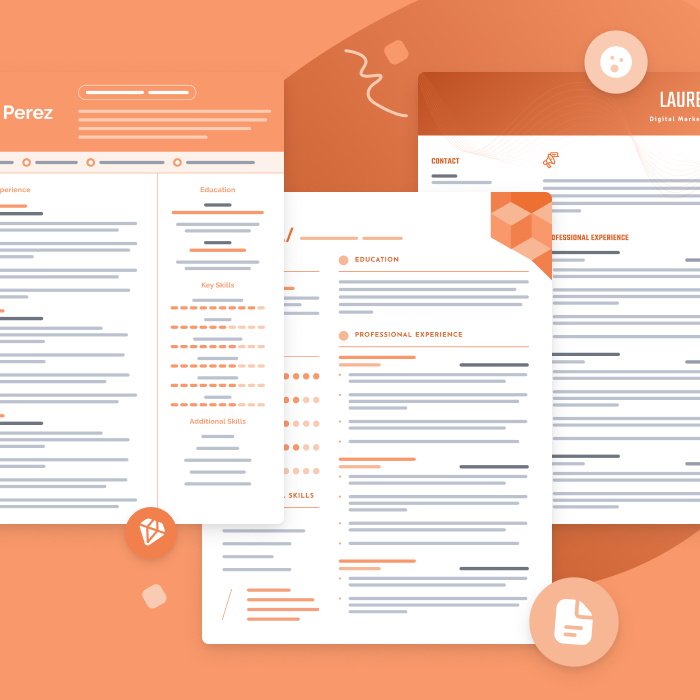 One of the best ways to make your resume is by filling out one of our free resume templates. All our templates are designed by experts and free to download for Microsoft Word or Google Docs.
1. Write a compelling "about me" section
To immediately grab their attention, you need a persuasive resume introduction that provides an overview of your background as well as the skills and accomplishments that make you a good fit for the role.
For freshers, it's better to opt for an "About Me" introduction rather than a resume summary, which is better suited to more experienced job seekers.
As a recent graduate, you should include the following information in the "About Me" section of your resume:
Your major
Part-time jobs or internships relevant to the position you're applying for (if any)
Relevant certifications
Professional goals
Here's a good example of a fresher "About Me" section:

This candidate doesn't have any previous work experience, so instead, they draw attention to an internship they did for a company in the same industry they're now applying to work in.
2. Tailor your resume for each application
A mistake many freshers make is to submit the same generic resume to multiple companies. The trick to writing a good resume, – and maximizing your chances of getting invited for an interview – is to tailor it to each position you apply for.
Employers want to know that you've thoroughly read the job description, researched the company, and are interested in this position specifically.
Including resume keywords from the job description throughout your resume is a good way to show that you've taken the time to think about what makes you a good fit for the position.
Here's an example of a sales associate job ad with the resume keywords in bold:
A candidate applying for this position should highlight experience that showcases their people skills and customer service skills, as well as skills related to organization, time management and technology.
Here's an example showing how to incorporate resume keywords into the experience section of a resume:

This example works because the candidate explains how their communication skills helped them provide better service to their clients.
3. Focus on your education
If you don't have any professional or volunteer experience relevant to the position you want to fill and are struggling to make your resume a full page long, emphasize your education section instead.
One way to do this is to include your education section before your work or relevant experience section, making it one of the first things employers will see.
You can also bulk up your resume's education section by adding the following:
Below is a good example of an education section on a fresher resume: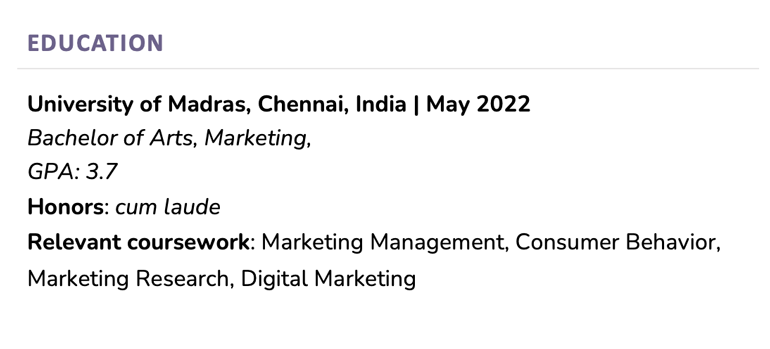 By listing relevant courses the candidate here shows that they've acquired skills that will help them become a good digital marketer.
4. Highlight transferable skills
Just because you're a recent graduate doesn't mean you haven't developed valuable resume skills that could give you an advantage over other more experienced candidates.
Throughout your academic career, you've likely picked up numerous transferable skills that will help you succeed in the role. Transferable skills are hard and soft skills that are highly sought after in all industries, because they make employees more well-rounded and adaptable.
A few examples of transferable skills are:
Interpersonal skills
Public speaking
Problem solving
Communication
Collaboration
Language skills
Research
In addition to listing your transferable skills in the skills section of your resume, emphasize particularly relevant skills by spotlighting them in your experience section. Here's a good example:

Providing examples of how you've applied your skills in the past lends credibility to your resume and makes it stronger overall.
5. Proofread your resume
Even if you've carefully crafted each section of your resume, make sure to read through the entire final draft before you start sending it out to employers.
Going over your resume one last time will allow you to catch and correct grammatical errors, repetitive language, and other resume mistakes that could cost you the job.
Ideally, you should ask a friend or family member to have a look at your resume as well. They might notice areas where there's room for improvement that you've missed.