Whether it's written, digital, or verbal communication, being able to convey yourself clearly is one of the essential soft skills you need for practically any job (and life in general).
But how can you be sure your communication skills shine through in a job application?
Our free-to-use resume builder can make you a resume in as little as 5 minutes. Just pick the template you want, and our software will format everything for you.
Why are communication skills important on a resume?
Communication skills are among the most important skills that make qualified applicants stand out, according to a survey on job skills for 2023.
Strong communication skills are becoming even more valuable as professionals adjust to an increasingly digital workplace. For example, the rise of remote and hybrid work has required workers to change how they communicate when collaborating digitally.
Additionally, many workplaces are beginning to use AI to complete daily tasks. When asked about what skills they thought would gain importance because of AI and automation, the majority of surveyed hiring managers said communication skills.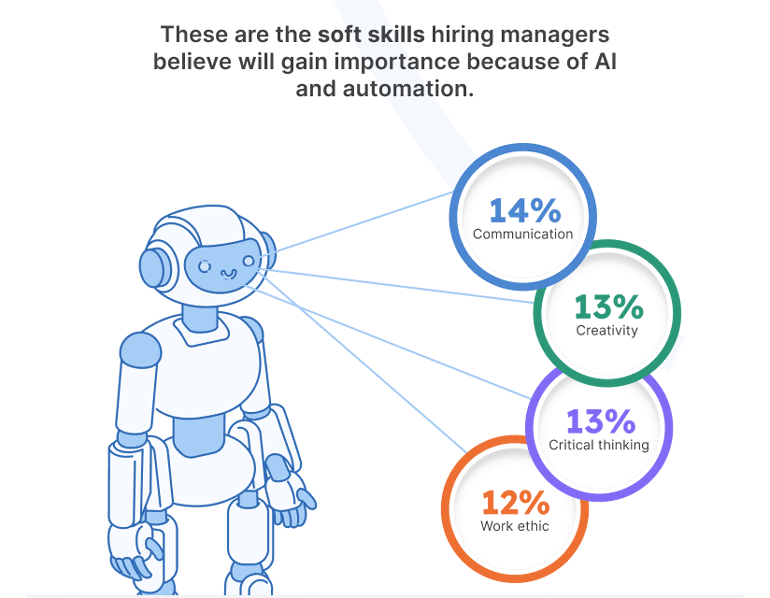 The best way to show employers that you can communicate effectively in the modern workplace is by highlighting your various communication skills throughout your resume. But what counts as a communication skill, and how do you list communication skills properly?
In this guide, we break down five different types of communication skills for your resume, provide examples of how to effectively showcase these skills throughout your application, and offer tips on improving communication. Let's dive in:
Good communication skills for your resume
Here are the most essential communication-related skills to put on your resume that will help you get the job you want:
Written communication
Written communication skills don't come naturally to many people — they need to be developed through experience. However, writing skills are highly valued by companies, especially if you're in fields like marketing, editing, or communications.
Here are some of the most valuable job skills related to written communication:
Editing
Proofreading
Translation
Content strategy
Social media content writing
Email etiquette
Proposal writing
Technical writing
Copywriting
Adaptability
Mastery of tone
Grammar
Even if writing isn't essential for your job, being able to communicate effectively through writing is still important. With many offices now fully or partially remote, being able to write a clear email or put together a thorough brief is a key skill no matter what your role is.
If you have a knack for writing, your resume and cover letter are places to prove it. Most people don't have many writing-related accomplishments to list on their resume, but writing a great cover letter is an effective way to showcase your written communication skills.
Verbal communication
Verbal communication skills include everything from being a great conversationalist to a strong presenter. These skills are highly important in any job that requires you to work with people, whether that's in front of a cashier or in the boardroom.
Some essential verbal communication skills include:
Presenting
Negotiation
Active listening
Foreign language skills
Interviewing
Persuasiveness
Storytelling
Public speaking
Politeness
Debating
Asking clarifying questions
Confidence
Clarity
Awareness of tone and volume
Conversational skills
Even brilliant engineers who spend most of their day deep in computer code can benefit from effective verbal communication skills. Being able to articulate complex ideas to people outside of your field could quickly help you move up the corporate ladder, regardless of where you're working.
Additionally, verbal communication will help you best represent yourself during interviews, meaning you'll never be far from work once you've mastered it.
Nonverbal communication
A lot can be said even without speaking. Even when you're talking, your body is helping you convey information (whether you're aware of it or not).
If you're able to harness the power of nonverbal communication skills, you'll immediately come off as more confident and capable to employers.
Some important aspects of nonverbal communication skills are:
Eye contact
Facial expressions
Body language
Appropriate gestures
Spacial awareness
Posture
Cultural awareness
Mirroring
Timing
Professional appearance
While nonverbal communication skills are difficult to highlight on your resume, they're an important part of your overall ability to communicate effectively, and help you make a strong impression at work and in interviews.
Interpersonal communication
In order to communicate effectively with others, you need to develop strong interpersonal abilities.
A big part of communicating your ideas clearly and persuading others involves building relationships with people. That's because people who trust you are more willing to see things from your perspective and work with you to get the job done.
Here are some important interpersonal skills to master:
Empathy
Sense of humor
Friendliness
Emotional intelligence
Respect
Giving and receiving constructive feedback
Collaboration
Approachability
Healthy boundaries
Trustworthiness
Leadership
Conflict resolution
Cultivating your interpersonal communication skills will make you a much more effective team member and leader. If you have a history of developing great working relationships with clients and coworkers, mention on your resume how your people skills have helped you succeed.
Digital communication
While some of us are most comfortable communicating face-to-face, others are happiest when talking over the internet.
With more and more companies going fully or partially remote, being able to communicate effectively online is an increasingly valuable skill for many jobs, particularly those in social media management or customer support.
Many employers are looking for the following digital communication skills:
Online research
Email
Instant messaging
Social media
Video conferencing
Web design and development
Project management software
Graphic design
Phone skills
Cybersecurity best practices
Online customer support
Additionally, you can easily highlight your digital communication skills on your resume by listing apps or websites you have experience with. While not necessary, employers may want to see that you're familiar with specific tools mentioned in the job posting.
For example, mention your knowledge of any of the following software in your resume skills section to highlight your ability to effectively communicate online:
Google Docs
Twitter
Instagram
LinkedIn
Customer support software
How to demonstrate communication skills on your resume
Now that you know some of the best communication skills for the workplace, it's time to highlight them on your job application.
Here's how to put communication skills on a resume like a professional:
1. Give examples of effective communication
The most effective way to describe communication skills on your resume is by highlighting them in your experience section. This gives you a chance to describe how your communication skills have helped you succeed in the workplace.
Giving specific examples and providing data on the positive impact you had (known as quantifying your achievements) is the most convincing way to let employers know what you're capable of.
Here's an example of how to include communication skills in your resume experience section (we've highlighted the communication skills in orange):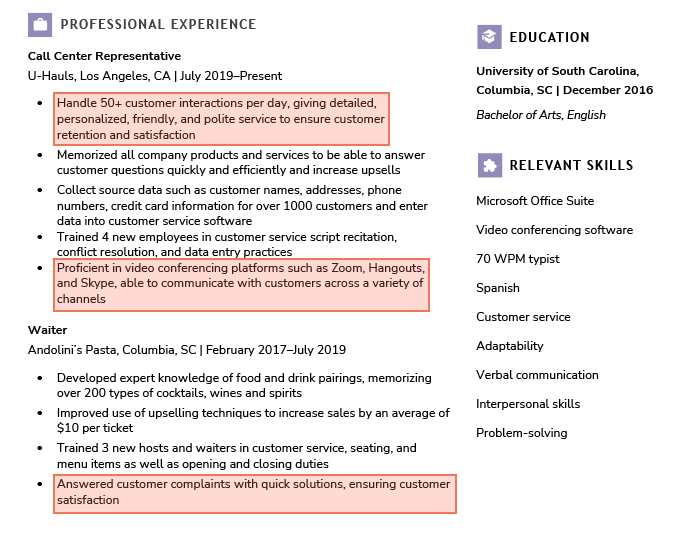 This candidate doesn't just tell employers that they have great communication skills. Using specific details, they demonstrate how they kept in touch with customers remotely and made sure they had a positive experience with the company.
2. Match job description and requirements
You should always target your resume to the job description to have the best chance of capturing the hiring manager's attention. But you don't need to write your resume from scratch each time — simply tweak your word choice to match what each employer is looking for.
For example, here's a sample job description for a role that requires strong communication skills:
To effectively target this job description, see how the following candidate targeted their resume introduction to the skills and experience the employer is looking for:
Not only does this sample resume excerpt use important keywords from the job description (underlined in green), but it also makes a convincing argument that the candidate is prepared to take on the duties of the job.
3. Be concise
No matter if it's verbal or written communication, people appreciate when you're able to get your point across in fewer words.
Your cover letter is another great place to show employers you're able to communicate effectively by editing your writing to remove any hedging, wordy phrasing, or unnecessary details.
Submitting a short cover letter that makes a convincing argument for why you're the best candidate will impress hiring managers and give them a first look at what writing abilities you'll bring to the job.
4. Choose the right adjectives and action verbs
Because you shouldn't throw things like "confident" and "perfect grammar" into the skills section of your resume, you'll need to demonstrate these different aspects of effective communication with your resume word choice.
Picking the right action verbs for your resume is a great way to highlight your communication skills with an example.
Below are some communication-related action verbs to consider using on your resume:
Wrote
Translated
Clarified
Negotiated
Contextualized
Contacted
Briefed
Presented
Coordinated
Corresponded
Explained
Reported
Conveyed
Collaborated
Mediated
You can also include some resume-appropriate adjectives to describe yourself, such as:
Persuasive
Engaging
Empathetic
Approachable
Collaborative
Responsive
Inclusive
Multilingual
Supportive
Culturally sensitive
Adding some adjectives to your resume is a great way to target additional skills the company is looking for. Just remember not to go overboard, because it's most convincing to use action verbs and examples to showcase your skills.
How to improve your professional communication skills
Not sure you have strong communication skills? Don't worry, there are still steps you can take to improve your communication skills in and out of the workplace. Here are a few tips for developing better communication skills:
1. Seek feedback from trusted sources
No matter your experience level, improving your communication skills is a lifelong task. Getting feedback from people you work closely with is one of the best ways to know what aspects of your communication skills you should work on.
Reach out to a trusted mentor, supervisor, colleague, or friend who can provide honest feedback. Explain that you want to develop your communication skills and ask them some of the following questions:
What would you consider some of my greatest communication strengths?
Are there any areas where I could improve my communication skills?
Have you noticed anything specific that may be getting in the way of my effective communication?
Can you think of any times when you weren't sure exactly what I was trying to communicate?
Listen to their feedback with an open mind, take notes, and reflect on their advice. If you get the same feedback from multiple people, that's probably a good place to start.
2. Take some time to self-reflect
Even if you don't have a good source for feedback, you can pause to reflect on your interactions with others and try to determine where you have room to grow.
Consider how people respond when you talk to them: Do people usually seem to get exactly what you're trying to say, or do you have to explain several times? Do you tend to dominate conversations, or are you a great listener? How well do you pick up on others' nonverbal cues?
If you're not sure, pay closer attention to people's tone, facial expressions, and body language in your next few interactions. Take note of when people seem engaged and interested in what you're saying and why that might be.
For example, if someone is swiping on their phone and giving you abrupt answers to questions, that could be a sign that they're not interested in what you have to say.
3. Consider taking an online course
Once you decide what aspect of your communication skills you want to improve, try searching around for some online courses or lectures to help you develop them.
Sites like Coursera and Udemy, as well as universities and local community centers often have free and paid courses to help you cultivate excellent communication skills.
Whether you want to speak a language more fluently, write more persuasively, or boost your emotional intelligence, there are plenty of online resources that can help you get there.
4. Learn from great communicators
One of the best ways to improve your communication is to pay attention to the types of media you're consuming — you'll naturally learn to speak and write like the people you listen to.
First, think of some public figures or authors you admire and would want to model your communication style after. (Do some research on great leaders and communicators if you don't know where to start.)
You can also listen to audiobooks or watch speeches, presentations, and documentaries on subjects you're interested in or that relate to your field.
Carving out some time in your schedule to learn from amazing writers and presenters will give your communication skills a boost that's sure to shine through in your work.