Employers are always on the lookout for candidates with effective communication skills. Job seekers who can express themselves well through writing or verbally can quickly impress hiring managers and land great jobs.
1. What Are Communication Skills? — Definition
Communication skills are abilities that allow you to clearly convey ideas, whether it be through writing, talking, signing, or body language. They're usually soft skills, but some are considered hard skills (like public speaking or Spanish fluency).
Individuals with strong communication skills can explain complex concepts in ways everyone can understand, and translate technical jargon into something easy to digest. Such people are often seen as having strong interpersonal skills as well, since communicating in a positive way is a big part of the interpersonal skill-set.
If this sounds like you and you need a job, you're in luck. The 2017 GMAC Corporate Recruiter's Survey Report found that four of the five most desired skills for business-school graduates were tied to communication.
These abilities aren't only coveted by companies headhunting candidates from MBA programs either — businesses from a wide variety of industries want to bring in recruits who can effectively communicate.
Employers around the world understand that hiring people who communicate well can benefit them in many ways. Whether it's by creating a better office environment or by simply representing the business in a positive light while in public or on work trips, the importance of communication skills in the workplace should never be taken for granted.
2. 10 Good Communication Skills for the Workplace
There are many types of communication skills out there. Some are universally useful, whereas others hold more value for people who regularly work with colleagues in a professional setting.
Incorporating these basic 'business' communication skills into your work life can help you grow as an employee or manager, and they can get you hired if you're on the job hunt. Plus they are easily transferable, so you'll be able to take them with you wherever you end up in the future.
Whether you're looking for work and wish to highlight communication skills to put on your resume or are just trying to improve your ability to communicate for your own sake, these 10 communication skills examples can help:
1. Written Communication
Topping off our list is a form of communication that many job seekers (and students around the world) struggle with: writing. Written communication skills do not come naturally for most people. However, they are extremely valued by companies.
If you have a knack for the written word, prove it throughout your job application. Most people don't have an arsenal of writing-related accomplishments to list on their resume, but writing a great cover letter is an effective way to show your skill in this department.
2. Verbal Communication
Verbal communication skills are important when working with people, presenting information, or speaking on the phone. Let employers know you can get the point across when talking to others, regardless of the situation.
Even brilliant engineers who spend most of their day deep in computer code can benefit from effective communication skills. Being able to articulate complex ideas to people outside of your field could quickly help you move up the corporate ladder, regardless of where you're working.
3. Nonverbal Communication
Much can be said without uttering a single word. And even when you're talking, your body is helping you convey information (whether you're aware of it or not). If you're able to harness the power of nonverbal communication skills, you'll immediately come off as more confident and capable.
The way you stand, your eye contact (or lack thereof), the movement of your facial muscles when you're interacting with someone — these all get internalized by people you converse with on a daily basis.
There's a reason the term "poker face" exists, because anyone who is in complete control of their nonverbal signals can prevent themselves from giving others clues as to what they're thinking. As you can imagine, such an ability is useful for a competitive game like poker, but it's also great in the business world as well.
4. Leadership
Even if you're applying for an entry-level position, hiring managers will still be evaluating your propensity to lead. If you have the requisite leadership skills, you may not be working at the bottom very long. Leading people effectively is a key management skill, and good managers are not always easy to come by.
Communicating in a way that inspires others and makes people believe in you will help you move up the ranks and get tapped for management positions in the future. It's in your best interest to convey your leadership-related communication skills to potential employers — whether it's on your resume, your cover letter, or in the actual interview.
5. Giving Presentations
Most of us have been honing our ability to give presentations from a young age. As working adults, those experiences can be turned into powerful communication skills for wowing bosses and impressing clients.
Decks and slide shows remain a constant in the business and marketing worlds. List presentation software you've mastered on your resume, and link to portfolio work to show off your ability to communicate in a slide format. Your interview will count as a type of presentation as well, so don't forget to prepare in advance!
6. Public Speaking
Not everyone with great oral communication skills can impress a crowd. Public speaking definitely counts as a distinct ability, even though it's strongly associated with strong verbal talents.
If speaking to groups of people comfortably and holding their interest is one of your stronger suits, use it as an example of your marketable communication skills in the workplace. Mention it in your cover letter, or even in your resume's work experience section (or resume introduction).
7. Web Communication
While some of us are most comfortable communicating face to face, others are happiest when talking over the internet. If you're someone who is more at ease behind a monitor than in front of clients or colleagues, consider highlighting your web communication skills to potential employers when on the job hunt.
Many positions, such as customer service posts and those involved in sales, are best performed by people with internet-centric communication skills. If you're an experienced CSR who is comfortable chatting via text or voice, show it off on your resume. Staying on top of multiple customer chat windows while simultaneously keeping each individual satisfied is definitely a specialist skill.
8. Phone Skills
You might not believe it, but being able to hold basic conversations with someone over the phone is still an important business skill today — especially for front office staff, salespeople, administrative employees, and customer service representatives.
If you work in any of these positions or are aiming for such a job in the future, let employers know that you can communicate clearly over the phone.
9. Active Listening
When you're talking with someone, are you waiting for an opening so you can speak, or are you actually trying to understand what they're saying?
People who are able to actively listen to others make great colleagues and even better managers. While verbal communication is critical for everyone in an office environment, being able to hear this communication, process it, and engage with the communicator in a meaningful way is equally important.
10. Empathy
Another good communication skill that we could all use more of in our lives (as well as in the workplace) is empathy. Being able to listen to others is a great start, but understanding what they have to say from their perspective will make you an incredibly well-liked figure at your office.
Employees who are empathetic quickly become confidants to their colleagues, and they are well-respected by managers. While this may be a difficult skill to fit into a resume skills section, it is nonetheless an effective communication skill that will serve you well throughout your life.
3. How to Improve Your Communication Skills
If you're on this page, then you already understand the importance of communication skills. Now that we've listed out some of the main types, let's get to more actionable advice.
Consider this section a crash course in communication skills training.
1. Pay Attention to Your Audience
When you're talking with one person or even in a group, be aware of who they are and where their interests lie. Are they friends from your fantasy football league? Talk with them about football. Are they coworkers? Ask them about their work, or what they like to do outside of the office.
Don't focus conversations on topics that only you enjoy. If you love comic books and can't resist bringing them up to others, that's fine — mention them. But if the person you're talking with seems uninterested in the subject, move onto something else. Or even better, ask them a question.
2. Ask People Good Questions
Humans are social by nature. When you let other people talk about themselves, you'd be surprised at how quickly they start to like being around you. Whether you're meeting someone for the first time or simply want to know them better, asking good questions will help you come off as someone with effective communication skills.
Even better, if you can listen attentively to what they have to say and respond sincerely, you'll earn the appreciation of friends, family, and colleagues.
3. Listen to Understand
When someone is talking, many of us have acquired the habit of mentally preparing a response without truly listening to what the person has to say. This mistake is why people on different ends of the political spectrum struggle to communicate with each other — they don't care to listen, only to speak their mind.
When someone is talking to you, pay attention. You can relate to what they are saying with ideas of your own, or you can simply ask them to explain things further. Either way, you show that you're interested in what they have to say, which is a positive thing.
4. Read Nonverbal Cues
Finally, you can often tell whether to continue down a topic rabbit-hole or move onto something new based on how the person you're talking with is behaving. If they are swiping their phone and giving you abrupt answers, then maybe it's time to change the subject. On the other hand, if they seem engaged and interested in what you're discussing, then keep it going.
4. Creating a Communication Skills-Based Resume
If you really want to impress a potential employer with your assertive communication skills, you'll need to make it to the interview stage. However, if you don't know how to write a great resume, you're not going to get far enough to showcase your verbal prowess in person.
Here's how to assemble a resume that reflects your professional capacity to communicate in the workplace, so that you land more interviews (and eventually a great job). But first, check out this communication skills resume list:
List of Communication Skills for a Resume
Here are a few good communication skills examples in the form of an easy-to-read list. Feel free to take one (or several) and fit them into your job application:
Clarity
Empathy
Friendliness
Confidence
Respect
Nonverbal Communication
Verbal Communication
Written Communication
Constructive Feedback
Public Speaking
Counseling
Teaching
Summarizing
Listening
Active Listening
Presentations
Phone Calls
Leadership
First: Include an Excellent Example in Your Skills Section
Your skills section should be fairly concise, unless you're writing an IT resume or applying for a job in another highly technical field. This means you don't have much room to include your professional communication skills here.
However, you can still include a strong one or two if they are:
Relevant to the position
Placed alongside marketable hard skills
Something you don't mind discussing during an interview
Here's what this might look on a resume:
Second: Mix Key Abilities Into Your Resume Introduction
Your resume introduction is another great opportunity to stir a few good communication skills examples into your application.
While using the verb "communicate" is great, consider the other types of communication skills we've outlined in this post. Check out how this teacher applicant manages to hit upon numerous abilities associated with communicating in her introduction:
Finally: Tie Good Communication Skills Into Your Work Experience
In terms of content, the work experience section is the most robust part of your resume. This means you have plenty of space in this section to elaborate on how you've applied your effective communication skills in the workplace.
One way you can clearly display these abilities in your experience bullets is to include action verbs that showcase how you used communication skills to solve a problem or achieve a result.
Perhaps you created a presentation or wrote a sales email that had a high conversion rate. Or maybe you used verbal and leadership communication skills to bring divided teams together under a common goal.
Notice how this administrative applicant touches upon their ability to communicate at the top of the experience section (emphasizing its importance):
Communication Skills Resume Example
Although we've provided screenshots above that highlight how good communication skills can be used throughout a resume, take a look at how this all comes together in a single one-page document: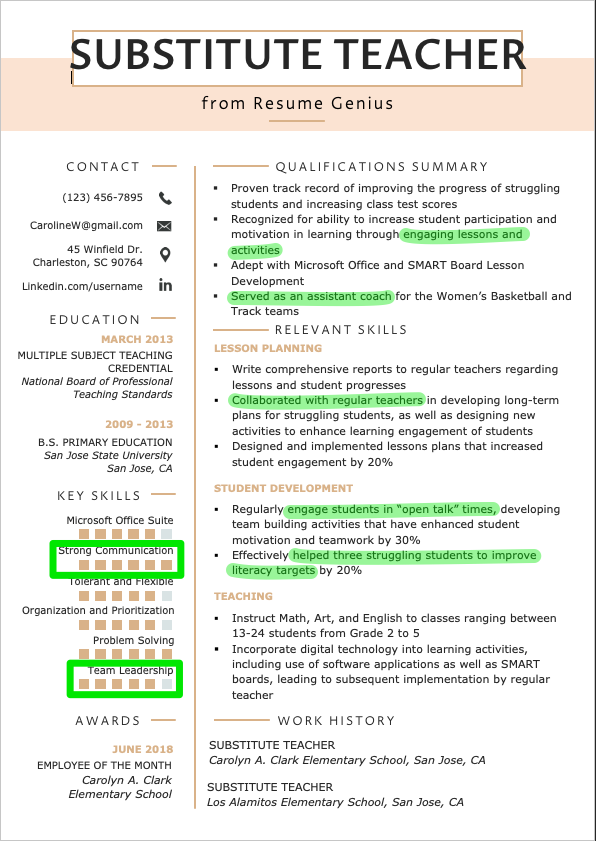 We hope that the communication skills examples, lists, and descriptions above have been helpful for you. If you're now ready to build your resume, then we suggest you go for it! Resume Genius provides hundreds of free resume templates for job seekers and a free resume builder, so don't let the stress of formatting bring you down. Happy job hunting!