Our free-to-use resume builder can make you a resume in as little as 5 minutes. Just pick the template you want, and our software will format everything for you.
The best hard skills for server resumes
Hard skills come from hands-on experience, education, or training, such as operating point-of-sale (POS) systems, recommending wine pairings, or setting tables.
Need guidance on how to highlight your most relevant abilities on your server resume? Let our career expert Eva show you how to write a resume with a properly formatted skills section:
Then, impress hiring managers by adding the following hard skills:
Physical stamina
Working in the service industry means working on your feet for long periods. As a server, you need to:
balance plates of food and drinks
take orders at different tables
work at the cash register
clean up after customers
These duties are a regular part of your shift, so having a lot of energy and being physically fit are great qualities to mention on your server resume.
Memory
A crucial part of being a server is having an excellent memory. You need to memorize the menu, table numbers, and customers' faces and orders.
Accurately remembering a customer's face and specific details about their food order is essential for preventing food allergy issues, helping the restaurant operate smoothly, and brightening a customer's day — resulting in memorable dining experiences and positive restaurant reviews.
Cleanliness and good personal hygiene
Mentioning good hygiene and cleanliness practices is important to hiring managers, especially because many restaurants have tightened their food and safety guidelines during the COVID-19 pandemic.
Servers should follow physical distancing measures, disinfect tables and chairs regularly, and remind customers of safety regulations.
Also, to be a successful food server, you need to look tidy and presentable. Having a neat appearance and legible handwriting (for writing orders) are excellent server qualities, so include them in your skills section.
Alcohol and wine pairing knowledge
Customers often ask for their server's opinion on alcohol and wine pairings to enhance their meals.
Hiring managers will be impressed with your knowledge — especially if your alcohol and wine recommendations result in higher sales. So if you have this skill, add it to your resume.
Knowledge of point-of-sale-systems and restaurant equipment
As a food server, you regularly ring up customers on a cash register and use point-of-sale (POS) systems. If you have previous experience using POS systems, mention this skill on your server resume.
If you don't have POS experience, employers are happy to train you if you indicate your adaptability and willingness to learn on the job.
Also, some food establishments require you to learn how to use equipment like a coffee machine, ice maker, or a kitchen display system (KDS).
Here are some engaging words to enhance your resume skills and show that you have no problem with using new equipment:
Versatile
Committed
Fast-learning
Cooperative
Open-minded
Math skills
Not all restaurants use a POS system, so there may be instances where you need to add up your customers' orders manually or use a calculator.
Mentioning your math skills informs employers that they can rely on you to:
distribute guests' seating evenly throughout the restaurant
seat customers at appropriately sized tables
count the number of cutlery for each table
correctly calculate food and drink costs
divide tips to your colleagues (if you're a manager)
Computer skills and social media knowledge
In today's workplace, food establishments use social media to connect with customers through online surveys, promotions, contests, and in-house events.
Listing your social media knowledge and computer skills lets hiring managers know you're tech-savvy and can promote their restaurant's brand.
Employers may also provide you with online training or communicate with you through email, so add these skills if you have them: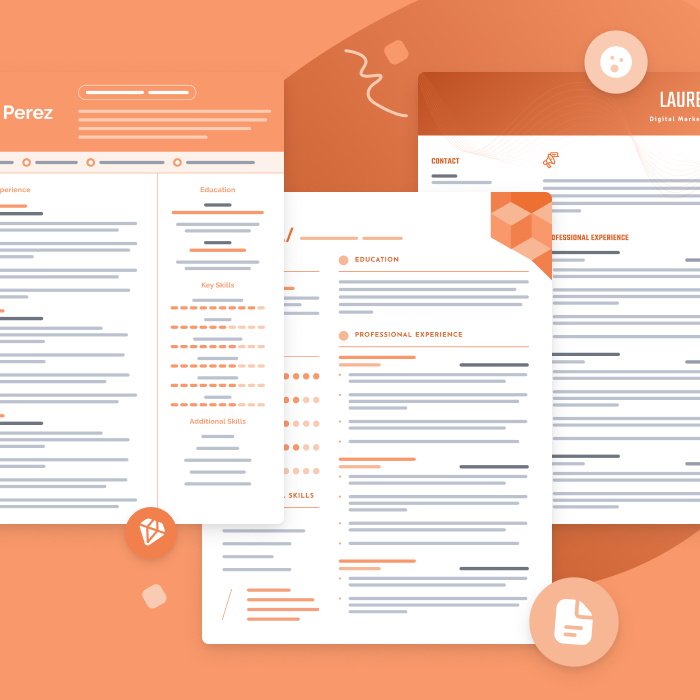 One of the best ways to make your resume is by filling out one of our free resume templates. All our templates are designed by experts and free to download for Microsoft Word or Google Docs.
The best soft skills for server resumes
Soft skills are personality traits that relate to how you interact with customers and colleagues in a work environment.
Greeting customers warmly and staying patient during busy restaurant hours are examples of soft skills.
This list of server soft skills will increase your chances of landing an interview:
Customer service skills
Servers are the face of every food establishment, so showcase your customer service skills.
Employers seek servers who speak respectfully to customers and create a welcoming environment. If you provide excellent customer service, customers will revisit the restaurant and recommend it to others.
Highlight the following skills on your resume to show employers that you're great with customers:
Patience
Empathy
Upselling
Attention to detail
Politeness
Interpersonal skills
Having strong interpersonal skills is vital for servers. Use your interpersonal skills to illustrate your strong work ethic and ability to have positive interactions with your customers and staff members.
Interpersonal skills are one of the most sought-after skills because they show employers that you're friendly and a good fit for the team.
Here are some examples of strong people skills:
Positive attitude
Emotional intelligence
Conversational skills
A sense of humor
Reliability
Approachability
Organizational skills
If you've worked in a restaurant before, you know that tables fill up quickly during the lunch and dinner rush. Include your organizational skills so employers know you can:
write down orders accurately
mention food modifications or customer preferences to the staff
tell customers if certain dishes sell out
serve food and beverages to the correct tables
Problem solving skills
Even the best servers have challenging days. For example, you might deal with unhappy customers, receive the wrong dishes, or rush to meet orders in an understaffed restaurant.
If you can handle feedback and criticism well, respond quickly to different issues, and stay calm, then mention these qualities on your resume. Illustrating that you're an excellent problem solver can also lead to management positions.
Have a look at these related problem solving skills:
Conflict resolution
Stress management
Adaptability
Tactfulness
Critical thinking
Working under pressure
Flexibility
Employers prefer to hire candidates with a flexible schedule, as servers' work schedules vary depending on the restaurant.
For large establishments, you likely need to work both weekdays and weekends, and it's common to switch shifts with other servers. In addition, if a restaurant is under or overstaffed, you might work different hours than you planned.
Stand out as an applicant by proving that you're open to a changing schedule and willing to take shifts if other servers call in sick or take time off.
Teamwork
You may be the only server in small restaurants and cafes, but you have to work in a team environment in large food establishments.
Being a team player is essential because chefs and managers rely on you to relay correct information about each table and bond with the customers.
Employers are also looking to see if you're open to helping your colleagues. For instance, another server might ask you to help with smaller tasks if they get too busy, such as assisting them with setting tables or taking their customers' payments at the cash register.
So if your previous work history includes collaborating with others in a team, bring it up on your resume.
Time management skills
As a server, you need time management skills to prioritize your customers and check on them appropriately.
If you can finish all of your tasks on time, you'll directly improve the workflow of a restaurant and make sure the staff doesn't fall behind on orders, so use this skill to help you stand out as a candidate.
Here are some other time management skills you can mention:
Coordination
Self-motivation
Focus
Communication skills
Servers need to be excellent communicators. You need to explain the menu clearly to customers, provide recommendations, and speak with multiple tables, so list skills that show your communication skills, such as public speaking, phone etiquette, and active listening.
Having foreign language skills is another great way for employers to notice you. Employers appreciate staff who can make small talk with customers in their native languages and help them translate a restaurant menu.
If you're unsure about your verbal communication skills, list your non-verbal communication skills on your server resume.
Non-verbal communication is a soft skill that helps build rapport between you and your customers. Displaying positive body language, proper volume and tone, and appropriate eye contact with customers are qualities of a great server.