Table of Contents
What is a cover letter?
A cover letter (also known as a covering letter or application letter) is a one-page document that introduces a job seeker's work history, professional skills, and personal interest in applying for a job. Hiring managers and recruiters use cover letters, paired with resumes, to screen applicants.
What's the purpose of a cover letter?
The purpose of a cover letter is to convince recruiters to give you an interview, and ultimately a job. As a job candidate, you'll be judged by how clearly and effectively you make your case for the role in your cover letter. Read on to find out how to write and what to say in a successful cover letter.
How can I make a cover letter?
Let us help you make a perfect cover letter. To get started, you can:
What should I say in my cover letter?
Here are 11 of the most critical things you should say in your cover letter:
1. Explain how you can solve the company's problems
You need to specifically address the company's needs, and how you'll help it achieve its goals. Whether your target company needs to increase sales, speed up production, get expert guidance, manage personnel, or has any other demands, you need to understand the reasons why it's hiring.
You can find out what companies need from the job description and requirements posted by the hiring manager. By addressing them, you'll immediately demonstrate that:
You're thoughtful, and can competently handle the company's problems
You're careful, and not simply spamming hiring managers with sloppy job applications
You're worth talking to — which is the purpose of your cover letter
Here's a good example of addressing the company's needs in a cover letter: this phone sales candidate frames himself in terms of his ability to start making the company money as soon as he's hired: 
It seems that [TARGET COMPANY] is looking for someone with prior telephone marketing experience, and can immediately increase sales without going through extensive training. My proven track record and aptitude for making cold calls would make me an instant contributor to your sales team.
2. Showcase your relevant work history — with hard evidence of your achievements
Next, it's time to argue persuasively why you're the right person to do the job.
Hiring managers will scour your cover letter for hard evidence that you can deliver on your promises. Use your recent work history and achievements to prove (with numbers) that you have the skills to get the job done. You can include any of the following evidence in your cover letter:
Professional achievements: did you exceed targets for production, sales, revenue, profit, customer satisfaction, or any other business objectives?
Professional praise: have you received compliments from management or colleagues for your work?
Professional awards: have you received awards, like Employee of the Month, for your work?
Here's how to write an effective cover letter paragraph that emphasizes relevant experience — the achievement-based evidence is bolded.
Duties at my previous company included making 60 cold calls a day to businesses and private individuals in order to solicit sales for goods and services. During my tenure, I implemented a new mobile strategy, reducing training expenses by 90% and increasing the close ratio by 10% on telephone sales within 3 months.
Include strong action verbs in your examples to further emphasize your strengths and grab the hiring manager's attention.
3. Work history a bit thin? Focus on your skills and academic achievements.
If you're just starting your career, writing entry-level cover letters can seem difficult because you don't have work experience. Fortunately, employers seeking young candidates don't expect them to have much work experience, if any at all.
If you're a student or entry-level candidate looking for:
Blue collar work: explain your relevant skill set, show your eagerness to learn, and prove your capacity to learn quickly.
White collar work: mention your relevant degree (or anticipated degree if you haven't graduated) and academic achievements.
Here's a great example of how a student might include their academic achievements in a cover letter:
"As a senior at UCLA in the English department, I have a wealth of experience in conducting research and compiling written reports and analyses of my findings. My time studying abroad in England allowed me to hone my interview, research, and writing skills, culminating in the approval of a 6,500-word thesis."
For more inspiration, check out our entry level cover letter examples:
4. Emphasize your relevant skills
You'll naturally emphasize most of your relevant skills while explaining how you can help solve the company's problems. But if any get left out, find a way to showcase them in another way. Here's an example of a job seeker including more skills in their closing paragraph.
"I'm confident that my proven track record of excellent work ethic, unparalleled attention to detail, and knack for executing high-performing email marketing campaigns will make me an immediate asset at Westward Strategies, and allow me to contribute to the team's success."
5. Choose a compelling pitch angle
Cover letters come in different flavors. While a general cover letter is what most job seekers like yourself need to apply for a job, there are other types of cover letters depending on the nature of your job search.
6. Politely — but directly — ask for a response
It may seem impolite, but directly telling the hiring manager that you're looking forward to hearing from them — and not hoping or wishing or praying to hear from them — is professional.
The fact is, you spent valuable time writing a well-crafted cover letter. Assume that the hiring manager owes you the professional courtesy of sending a reply.
In your cover letter closing, provide the hiring manager with your phone number, email address, or any other information needed to help them send you an invitation to interview.
"I've attached my resume, which further details my professional skills and education. I look forward to discussing how I can help [Target Company] in more detail in an interview. You can contact me at [xxx (xxx-xxxx)] or by email at [xxxx@gmail.com]."
7. Address the right person — not a Sir, Madam, or Whom it May Concern
The first step to making a good impression and coming off as a real, actual human being is to address your cover letter as though the receiver is also a real, actual human being. Avoid "To Whom It May Concern," "Dear Sir or Madam," and other such robotic greetings.
Take the time to find out who you should address. Check the company website, browse Linkedin, or even email human resources first to ask who's in charge.
8. Be personable — don't be too formal
A classic cover letter writing mistake is assuming that lengthy sentences with overly-formal lingo make you sound "professional." To instantly improve your cover letter's tone, try the following:
Use contractions, like"don't" instead of "do not"
Avoid clichéd words and phrases, like "dynamic," "thinking outside the box," and "synergy"
Choose simpler forms of words, like "helpful" instead of "advantageous"
Here's an example of an overly-formal approach, followed by a much more direct and personable approach.
It is with great interest that I apply for the open customer service position posted by your company on Indeed. I possess the requisite skill set to ably perform the customer service duties described in the job requirements.
I'm thrilled to be applying for the customer service position at [Company Name]. Having been a customer service representative for over 5 years at Walmart, I'm an expert at using Zendesk to manage and resolve customer inquiries and complaints.
9. Express your personality — but don't be too weird
It's optional, but your cover letter can include humor, passion, and creativity. It's also perfectly fine to write a no-nonsense cover letter.
No competent hiring manager will trash your application because you didn't tickle their funny bone, or make up a fake story about your deep love for customer service. Remember: a no-nonsense personality is also a personality — one that many people appreciate!
Whatever you do, aim for a natural-sounding approach and a light touch. While you shouldn't be afraid to let some of your unique personality quirks shine through in your cover letter, strike the right tone, and don't be weird.
Here's an example of a passionate opening line:
"As a quick-thinking online native who's obsessed (yes, obsessed) with the Scatterplot app, I was thrilled to see your listing for the Social Media Manager position at Scatterplot Entertainment Co."
10. Be bold — but don't brag
A strong cover letter conveys confidence. But don't cross the line between being bold and becoming a shameless braggart.
Follow this principle: if you're able to provide evidence for your claims (like that you're the best candidate for the job), put that evidence in your cover letter. With evidence, a bragging claim becomes a bold truth.
Be careful not to destroy your credibility by taking the wrong approach and tone in your cover letter. When writing your cover letter, you should never — under any circumstances — do the following:
Apologize for anything: Don't write a cover letter that sounds self-conscious and apology-filled. You get no bonus points for humility, and your words will probably come off as fake anyway. It doesn't matter if you have work gaps, deficits in skill or experience, or simply feel miserable, act like you deserve the job.
Bluster and brag: On the other hand, don't write a cover letter that sounds like you're a used car salesman who's desperate to make a sale. Nobody likes a smooth-talker who's clearly exaggerating.
"While my experience may be somewhat lacking, I have the passion and capacity to learn quickly."
"I can guarantee you've never met a harder worker than me. Once you meet me, it'll be obvious that I'm the man for the job — I'll make your business boom bigger than ever before."
11. Be honest — don't embellish
If you're tempted to stretch the truth about your experience, or worse, lie — don't. It seems easy to slip in that fake Professional Achievement award, or add one year to those six months of experience — after all, is anyone really going to check? The answer is yes, someone in human resources might do a background check.
Your lie could be discovered at a seriously inopportune time in your career, devastate your future prospects, and make you wonder why you did it at all. Because really, you don't need to embellish. You'll get a job with the experience you've got.
How should I format my cover letter?
A professional cover letter format has 200-350 words arranged in single space on a single A4 page. The font type should match any of these recommended fonts for your resume, and the font size should be no smaller than size 12. The cover letter's margins should be 1" – 1.5" on each side to make sure that it looks readable and professional.
The content should be formatted as shown in the example below, regardless of how long your cover letter is. (However, we recommend that you keep it short and write a short cover letter.)
Breakdown of effective cover letters
Contact Information – Include your first name, last name, phone number, and email address — and the hiring manger's, too.
Salutation – Greet the hiring manager by first and last name. Avoid writing "To whom it may concern" or "Dear Hiring Manager."
Opening Paragraph – Your cover letter opening should grab the reader's attention (in a good way).
Body Paragraphs – In the second and third paragraphs, showcase work experience, education, and skills that are relevant to the job description.
Action Request (Closing Paragraph) – To end your cover letter, tell the hiring manager to send you an invitation to attend a job interview.
Sign-off – Your cover letter closing should be "Sincerely," "Regards," or "Best Regards," then your first and last name.
To see how all these sections should be written on an actual cover letter, make sure to check out the example below: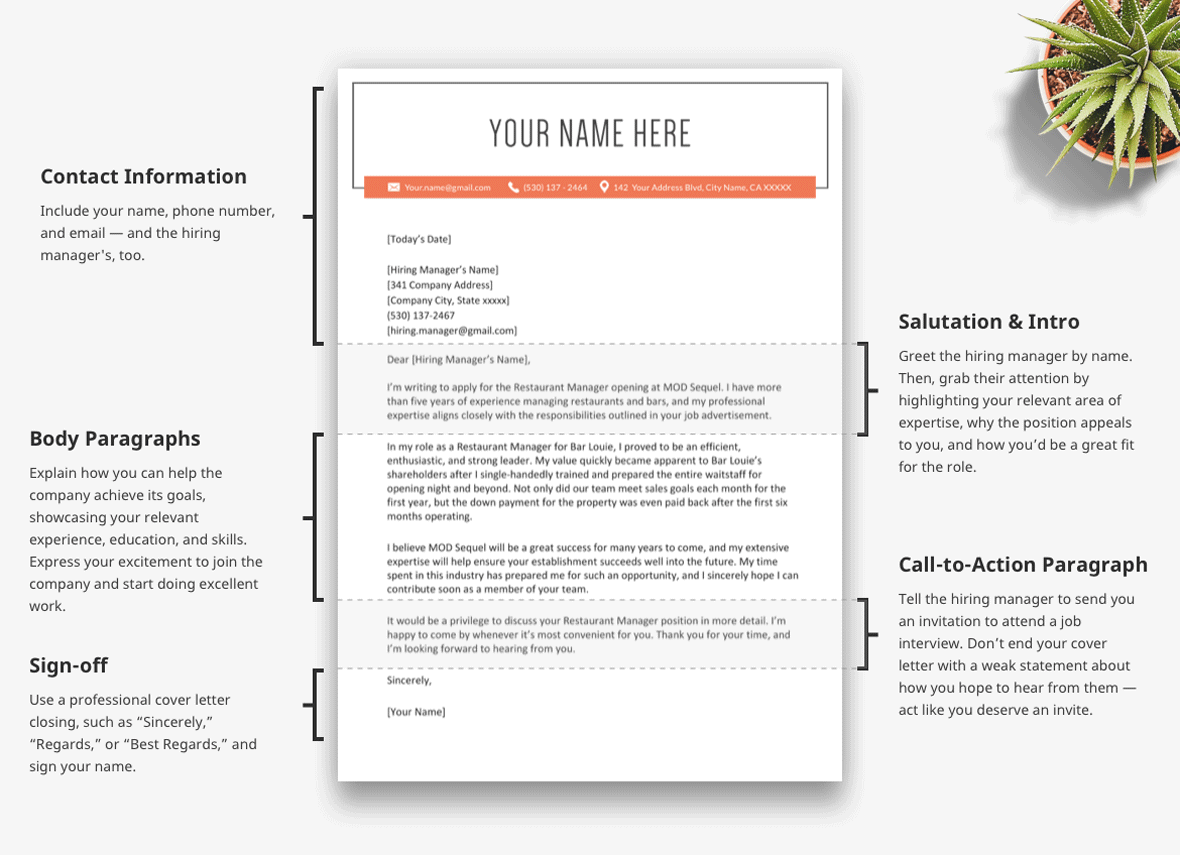 What does a good cover letter look like?
If you're not sure what a great cover letter should look like, we recommend viewing our downloadable cover letter templates (with generic text).
Or, you can view our library of cover letter examples by industry or type. There, you'll find cover letter samples with your job title that show you exactly how a proper cover letter in your industry should look, feel, and read.
Most Popular Cover Letter Templates
Over one million people have downloaded these cover letter templates — check out their matching resume templates.
Most Popular Cover Letter Examples
These are our 10 most popular cover letter examples — you can also take a look at their corresponding resume examples.
What NOT to do on your cover letter
You've brainstormed amazing cover letter content, arranged it perfectly, and are ready to hit the "send" button. But you're not quite done yet — make sure to finish up strong by following these cover letter tips:
Don't commit any of these 5 cover letter sins:
Writing a cover letter that's too long
Talking badly about your former company
Including former salary, or future salary expectations
Lying about or embellishing your work history
Including irrelevant information
Don't forget to proofread your cover letter
You might be sick and tired of cover letter writing after agonizing over each word and sentence, but you have to proofread it anyway.
Don't just run a spell check and scan the page for typos, as you're likely to miss mistakes due to your over-familiarity with the letter. Here are two quick tricks professional editors use to combat over-familiarity and make good edits:
Read it out loud: Doing this will force you to go over every word and punctuation, and also make it obvious when you've written a complicated sentence that's hard to read.
Put it in a different font: A new font forces your brain to grapple with something that looks new, and will help you notice mistakes you'd otherwise skim over and miss.
Don't forget to have someone else read it
Having someone else double-check your cover letter is a great way to improve it. Regardless if it's your spouse, best friend, or someone on the street, they can give you essential feedback about whether your letter is clear, and if it's well-argued. They'll also pick up on small grammar and spelling errors you've otherwise missed.
Don't send the same cover letter to every company
Your job hunt won't be successful if you're sending out the same template to every company, and just replacing names and addresses. While you might eventually land a job, make sure to give yourself a boost by spending some time on each cover letter, targeting them at specific jobs and job descriptions.
Never settle for a less-than-perfect cover letter
Many job seekers wonder: Are cover letters important, and do they matter? Does anyone read them? And if they are read, doesn't the resume have more influence anyway? The truth is that it depends on the hiring manager's personal preferences — some cover letters may go to waste, but most won't.
For the sake of your career, you should assume that writing a good cover letter is not optional. Remember, writing an awesome cover letter doesn't have to be an aggravating experience. Some of the best cover letters are a joy to read — so try to have fun writing yours.
Good luck!