What is a cover letter?
A cover letter, also known as a covering letter or application letter, is a one-page document that introduces a job seeker's work history, professional skills, and personal interest in applying for a job.
Although it might seem old fashioned in 2020, cover letters are still necessary.
The point of your cover letter is to expand upon the achievements in your resume, showcase your personality, and explain why you'd be a good fit for the company. Overall, your cover letter (paired with your resume) helps managers and recruiters screen your job application.
What to include in your cover letter
When writing your cover letter, you must use the following basic structure:
Introduction: Carefully written to grab the hiring manager's attention and explain why you want the job.
Body paragraphs: At least two paragraphs detailing your relevant education, skills, work experience, and suitability for the job.
Conclusion: A concise ending that reiterates your strengths, and asks the hiring manager to contact you (known as a call to action).
This cover letter writing guide will teach you how to write each of those sections step-by-step, with examples showing exactly what to say. You may need these additional resources to assist you, depending on what stage your cover letter is in:
If you're pressed for time, consider using a cover letter builder to finish the writing process in less than 15 minutes, or follow our sample cover letter template to quickly write a letter that works for most job applications. By the end of this guide, you'll have a perfectly formatted and persuasive cover letter that will look like this: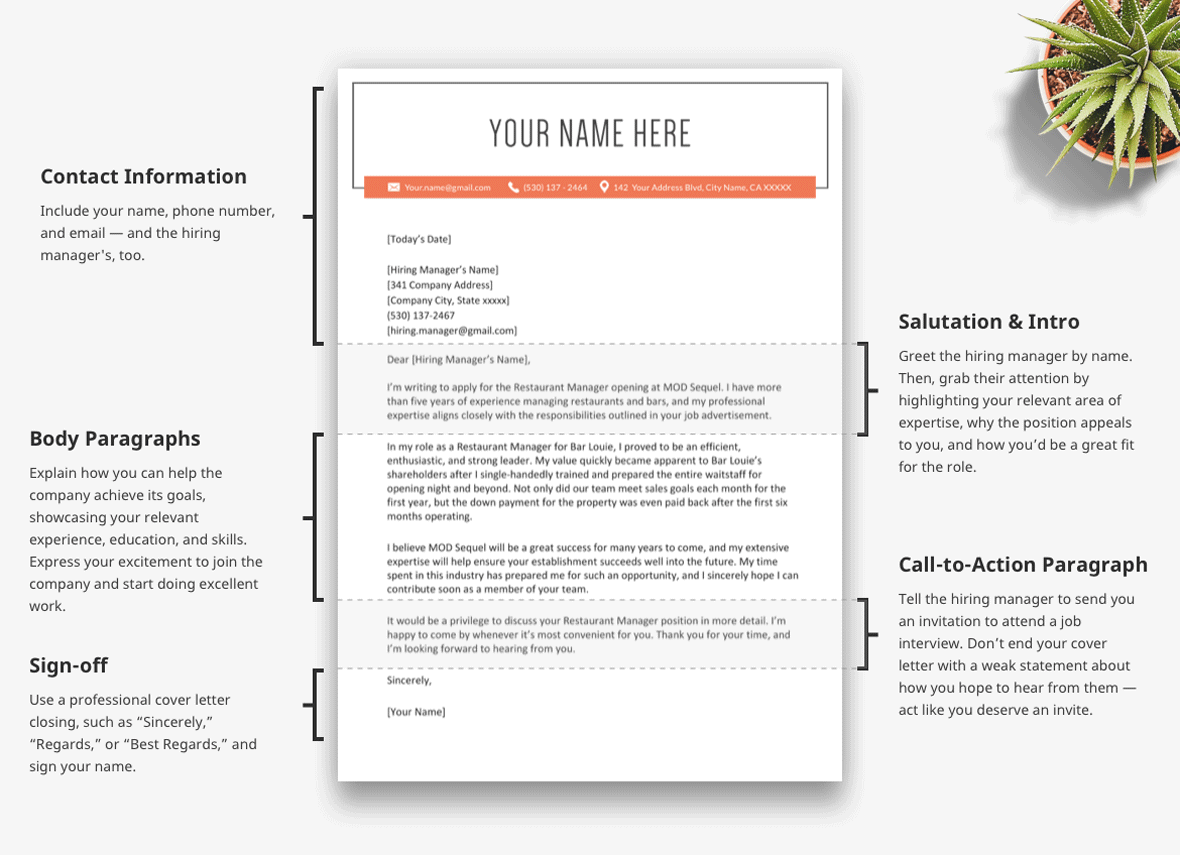 How to write the perfect cover letter
When it comes to writing a perfect cover letter, job seekers tend to have many questions. What should I put in my cover letter? How exactly should I say it? How much detail should I include? We answer all of those questions below.
Step 1: Put your contact details (and the employer's) in the header
Contact Details
At the top of your cover letter, you should type:
Your first and last name
Your email address (make sure it's professional, and not ridikulus_clownz@gmail.com)
Your phone number
Your mailing address (Optional)
Your Linkedin profile link (Optional)
Under your contact details, you should type:
Today's date
The first and last name of the person you're writing to, or the relevant department
The company's address
The company's phone number
The hiring manager or company's email address
Here's an example of how that could look, depending on the template you choose: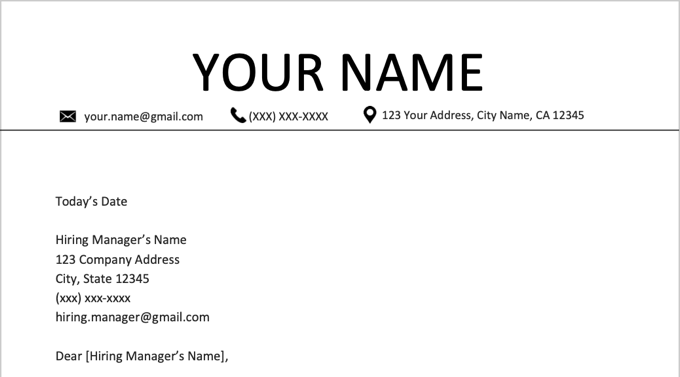 Step 2: Address the hiring manager by their name
Opening Salutation
Make a great first impression by addressing your cover letter to a real person using their name. Robotic and impersonal greetings like "To Whom It May Concern" or "Dear Sir or Madam" will come off as lazy and insincere.
Not sure who to address? Try checking the company website, searching Linkedin, or even calling or emailing human resources to ask. If you're still having problems addressing your cover letter, follow these tips:
If you're not certain about the recruiter's title (like Mr., Mrs., Ms., Dr., etc.,) you can drop it from your salutation. For instance, "Dear Jane Smith" is acceptable.
If you can't figure out who the recruiter is, you can guess. For instance, if you're applying for a marketing position, you can address the marketing director by name instead.
If you can't find anyone's name, you can address it to the department. For instance, "Dear Marketing Department" is acceptable.
Good examples of opening salutations
Dear Jane Smith
Dear Ms. Smith
Dear Accounting Department
Dear [Company Name] Recruiter
Step 3: Hook the hiring manager with a strong introduction
Intro Paragraph
Job seekers agonize over how to start their cover letters, but it's actually quite simple. A successful cover letter introduction must include the following:
Job position: The name of the position you're applying for
Company name: The name of the company you're applying for
Intention to apply: An enthusiastic announcement that you're applying for that position
So long as your cover letter's opening lines have those ingredients, you'll successfully hook the hiring manager into reading more. Here's an example of an acceptable cover letter introduction:
I'm thrilled to be applying for the open content marketing coordinator position at J&M Consulting.
However, we recommend that you make your introduction even more attention-grabbing by adding some personality, passion, or a major career highlight. You shouldn't be afraid to let some of your unique personality quirks shine through in your cover letter. But be sure to strike the right tone, and don't be weird.
Here are some examples of unique (but optional) cover letter introduction strategies you can use:
Option 1: Express your love for the company
It's been a lifelong dream of mine to become a character designer for Disney, which is why I'm so excited to apply for this open position.
Option 2: Highlight a past achievement
I'm a believer that small details make a big difference, and I made my last boss a believer too when I saved the company $60,000 per year simply by analyzing and questioning every line on a gigantic balance sheet. If Trulane Accounting is seeking an accountant who won't skip over the small stuff, I believe I'm the perfect candidate for this job.
Option 3: Express passion for your work
I'm excited to be applying for the social media position at Luxe Fashion. I'm what people now call an Extremely Online person, which is why I've been so successful at driving traffic and interest to my last company's social media feeds — and I'd love to do the same for your brand.
Step 4: Prove that you're the perfect candidate for the job
Body Paragraphs
Next, it's time to argue persuasively why you're the right person to do the job. To write these paragraphs well, and sell yourself as great candidate, remember three main points:
Be bold, but don't brag: A strong cover letter conveys confidence. If you're able to provide evidence for a claim (like that you're the best candidate for the job), put that evidence in your cover letter. But don't make wild and factless claims about your abilities.
Be honest, and don't embellish: Don't lie or even stretch the truth about your experience, as getting caught could devastate your career. It's not necessary anyway — you'll get a job with the experience you've got.
Don't include irrelevant information: Your cover letter should be tailored to the job and company you're applying for. Your cover letter (and resume) should respond to the job posting, directly referencing the skills and qualifications outlined by the recruiter.
Ready to start writing?
Writing tips (if you have some work experience)
Hiring managers will scour your cover letter for hard evidence that you're the perfect candidate you claim to be. Use your recent work history and achievements to prove (with numbers) that you have the skills to get the job done. You can include any of the following evidence in your cover letter:
Professional achievements:

Did you exceed targets for production, sales, revenue, profit, customer satisfaction, or any other business objectives?

Professional praise:

Have you received compliments from management or colleagues for your work?

Professional awards:

Have you received awards for your work, like Employee of the Month?
In the following examples, we've color-coded the achievements, praise, and awards with underlining to show you how to include each:
Duties at my previous company included making 60 cold calls a day to businesses and private individuals in order to solicit sales for goods and services. During my tenure, I implemented a new mobile strategy, reducing training expenses by 90% and increasing the close ratio by 10% on telephone sales within 3 months.
I've been praised by management for consistently executing email marketing campaigns that perform 20% higher than baseline. In 2019, I was awarded Employee of the Year for my efforts. With my skill set, I'd be a strong asset at Westward Strategies, and significantly contribute to the team's success.
Writing tips (if you don't have much work experience)
If you're just starting your career and have little or no work experience, writing an entry-level cover letter can seem difficult. Fortunately, employers seeking younger candidates expect them to be inexperienced. Hiring managers will assess your cover letter by looking for other qualities, such as:
Academic (and other) achievements: Do you have a degree (bachelor's, master's, or PhD?) Is your GPA above 3.5, and did you receive awards like cum laude, magna cum laude, summa cum laude? Did you land a scholarship? Did you complete a thesis?
Extracurricular activities:

Have you done any part-time work, or been involved in volunteering, student government, clubs, athletics, theater, or other activities? Do you pursue hobbies and interests?

Self-motivation and goal setting:

What are the short and long term goals you have, and how does the job you're applying for fit in with them?
Remember that any of the information you include should be relevant to the job you're applying for. For instance, your theater club experience will have no relevance for an accounting job, unless you were the treasurer. We've color-coded the following examples to demonstrate how you can weave your qualifications into an excellent entry-level cover letter.
I recently graduated summa cum laude (3.7 GPA) with a BS in Accounting from the University of Maryland. During my final two years there, I served as treasurer for the Student Government Committee, managing a $30,000 budget, developing internal controls and financial management policies, and providing accurate financial reporting. I'm excited to bring a significant amount of real-world experience to your entry-level role, and quickly prove my worth.
For more inspiration, check out our entry level cover letter examples for students:
Step 5: Close your cover letter with a request to interview
Closing Paragraph
When writing your cover letter closing, be polite, confident, and continue to sell yourself as a candidate. It's important to write your final paragraph as thoughtfully and strategically as the rest of your cover letter, so be sure to include the following:
Thank the hiring manager for reviewing your resume and cover letter
Concisely summarize why you'd be a good hire
Reiterate your excitement about the opportunity
Politely ask them to send you an invitation to interview
Here's an excellent cover letter closing example:
Thank you for spending time reviewing my application. I deeply believe that my skills and qualifications make me an ideal candidate for the 5th grade science teacher position at Ironside Academy. I'm extremely motivated to join your school, and look forward to discussing my candidacy in an interview.
Step 6: Sign off with a professional closing salutation
Closing Salutation
Sign off your cover letter with a professional closing salutation:
Use These 7 Professional Cover Letter Sign Offs
Sincerely
Best
Regards
Thank you
Respectfully
Kind regards
Best regards
Finally, make two spaces between the salutation, and type your full name. For some professional (but optional) flair, scan your written signature into your cover letter under your typed name.
Step 7: Review your cover letter
Now, it's time to make sure what you've written follows cover letter writing best practices. Ask yourself the following questions:
Did I use correct cover letter formatting?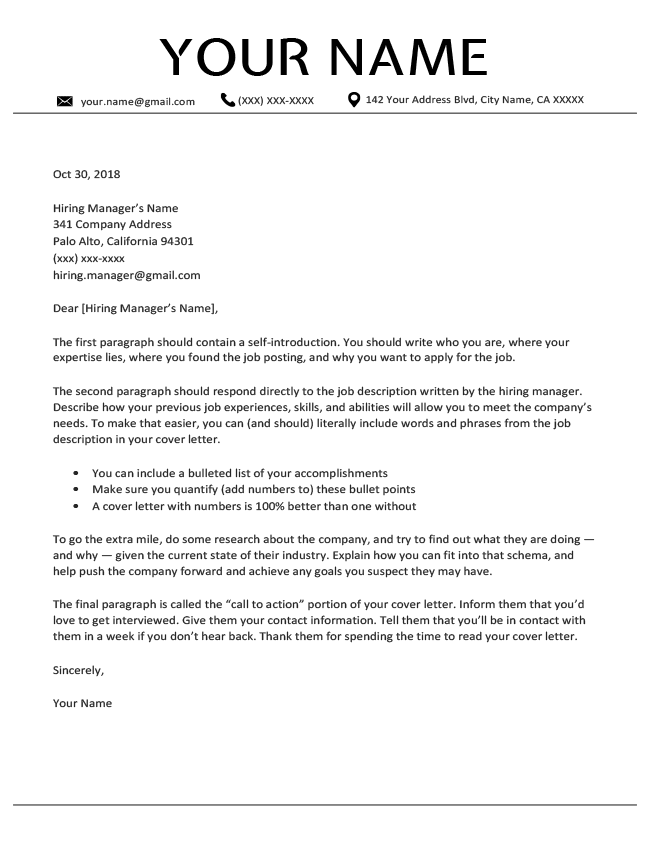 A professional cover letter format has 200-350 words arranged in single space on a single A4 page. The font type should match any of these recommended fonts for your cover letter, and the font size should be no smaller than size 12. The cover letter's margins should be 1" – 1.5" on each side to make sure that it looks readable and professional.
The content should be formatted as shown in the thumbnail on the left, regardless of how long your cover letter is.
(However, we recommend that you keep it concise and write a short cover letter.)
Did I write in a personable, and not overly-formal tone?
A classic cover letter writing mistake is assuming that lengthy sentences with overly-formal wording makes you sound "professional." In reality, it makes your cover letter feel stiff and hard to read.
To instantly improve your cover letter's tone, try the following:
Use contractions, like "don't" instead of "do not"
Avoid clichéd words and phrases, like "dynamic," "thinking outside the box," and "synergy"
Choose simpler forms of words, like "helpful" instead of "advantageous"
Here's a comparison between a personable writing style and an overly-formal one:
I'm thrilled to be applying for the customer service position at [Company Name]. Having been a customer service representative for over 5 years at Walmart, I'm an expert at using Zendesk to manage and resolve customer inquiries and complaints.
It is with great interest that I apply for the open customer service position posted by your company on Indeed. I possess the requisite skill set to ably perform the customer service duties described in the job requirements.
Did I remove unprofessional and unneeded information?
The following information makes your cover letter unprofessional, and may even invite discrimination from your potential employer. Delete any of the following:
Personal information, such as family, religion, sex, or gender
Salary information, such as former salary, or future salary expectations
Questions and inquiries, such as ones about company benefits or job expectations. If you need to know, ask in an email outside of your application, or during the interview process.
Info copy & pasted from your resume, such as bullet point sentences or skills lists. Weave your resume's information into your cover letter naturally, and expand on it.
Did I proofread my cover letter?
You might be sick and tired of cover letter writing after agonizing over each word and sentence, but you have to proofread it anyway.
Don't just run a spell check and scan the page for typos, as you're likely to miss mistakes due to your over-familiarity with the letter. Here are two quick tricks professional editors use to combat over-familiarity and make good edits:
Read it out loud: Doing this will force you to go over every word and punctuation, and also make it obvious when you've written a complicated sentence that's hard to read.
Put it in a different font: A new font forces your brain to grapple with something that looks new, and will help you notice mistakes you'd otherwise skim over and miss.
After you're done proofreading your cover letter, have someone else double-check it. They can provide essential feedback about whether your letter is clear and well-argued. They'll also notice small grammar and spelling errors you've missed.
Most Popular Cover Letter Templates
Over one million people have downloaded these cover letter templates. Each one has a matching resume template.
Most Popular Cover Letter Examples
If you're looking for even more guidance, you can learn from our 10 most popular cover letter examples. Each one has a corresponding resume example.
Never settle for a less-than-perfect cover letter
Many job seekers wonder: Are cover letters important, and do they matter? The truth is that it depends on the hiring manager's personal preferences. Some cover letters may go to waste, but most won't.
For the sake of your career, you should assume that writing a good cover letter isn't optional. Remember, writing an awesome cover letter doesn't have to be an aggravating experience. Some of the best cover letters are a joy to read, so try to have fun writing yours.
Good luck!
Cover Letter Writing FAQs