Should you include salary requirements in your cover letter?
No, you should not include salary requirements in your cover letter unless the job posting clearly asks you to include them. In most cases, salary negotiations occur after the hiring manager has offered you the job.
However, job postings sometimes do explicitly request you to include your salary requirements in your cover letter. Leaving out your salary expectations when you're asked to mention them hurts your job prospects because you didn't follow the job advertisement's instructions.
Here are three reasons why employers might ask you to include your salary requirements in your application:
To see how you value your experience and skills
To ensure your salary expectations are in line with the company's budget
To find out what kind of salary candidates are expecting for the position
Our free-to-use cover letter builder can make you a cover letter in as little as 5 minutes. Just pick the template you want, and our software will format everything for you.
How to politely mention salary requirements in a cover letter
Be realistic when outlining your salary expectations. If your salary requirements are too high, the hiring manager will pass over your application.
However, don't undersell yourself. Use your experience, skills, and certifications to argue for the best possible salary.
Here are three tips for politely detailing your salary requirements in your well-written cover letter:
1. Research what salary requirements are appropriate for the role
If your skills, qualifications, and experience are in demand, you may have an advantage when negotiating your salary. Research the job market first to determine the going rates for someone in your industry.
Thorough research will help you know if the recruiting manager tries to lowball you.
To find out what salary requirements are reasonable for your profession, level of expertise, and location, websites like the US Department of Labor, Salary.com, SalaryExpert.com, and PayScale provide calculators and charts.
Here are the main factors that affect your salary requirements:
Role
Your role has a large impact on how much you earn. An entry-level employee in any industry will start off lower than job seekers with experience, for instance.
If you have work experience relevant to the job you want, be sure to write about it in your cover letter before mentioning salary requirements.
Industry
Even for the same job, your industry affects your earning potential. For instance, administrative assistants working in federal jobs don't earn as much as administrative assistants working for a law firm.
Location
Your location also affects your paycheck. For instance, if you're applying for a job in San Francisco, you can push for a higher salary than if you were applying for the same job in Boise, Idaho.
If you're expecting to move to a new state or city for your next job, research the cost of living there first. Such research will help you determine if your expected salary is enough to cover your expenses. You can then include an appropriate salary request in your relocation cover letter.
2. Set a salary requirement that's on the higher end of your research
When submitting your salary requirements, never go beyond the highest salary your research turns up. Employers will exclude you from their pool of candidates if you set unreasonable salary expectations.
Instead, make a salary request that's within reason based on your results, but is on the higher end. Doing so gives you more room for negotiation, since it sets an anchor, and the hiring manager then has to justify giving you less.
Additionally, set an expected salary range rather than an exact figure (for instance, $55,000–$60,000). A range lets you set the minimum you're willing to accept, while the higher salary total is something you can target in negotiations.
3. Add your salary requirements to your cover letter
The last paragraph of your cover letter is where you should state your salary requirements. You've spent the rest of your cover letter describing why you're the perfect fit for the role, so now it's time to bring up money.
Don't let your salary requirements take up more than one or two lines. You can discuss your salary further after the interview, or in a counter offer letter if you're offered the job but the salary is less than you expected.
Short on time? Here's a TikTok checklist you should keep in mind when you need to touch upon salary expectations:
Here are some examples of job seekers politely including their salary requirements in their cover letter:
Cover letter salary requirements (samples)
Still unsure how to word your salary expectations politely in your cover letter? Have a look at these brief samples. We've also included an example of a full cover letter so you can see where to include salary requirements in your own.
Salary Requirements on an Administrative Assistant Cover Letter
Based on the local industry average for a professional of my experience level, I'm seeking a salary in the $65,000–$70,000 range.
Salary Requirements on a Customer Service Representative Cover Letter
After assessing the duties outlined in the job description, I would prefer a starting salary ranging between $47,000 and $50,000, not including benefits.
Nursing Cover Letter Salary Requirements
Based on my experience, certifications, and skill set, I'm hoping for a salary offer of $70,000–$75,000.
Salary requirement in cover letter (example)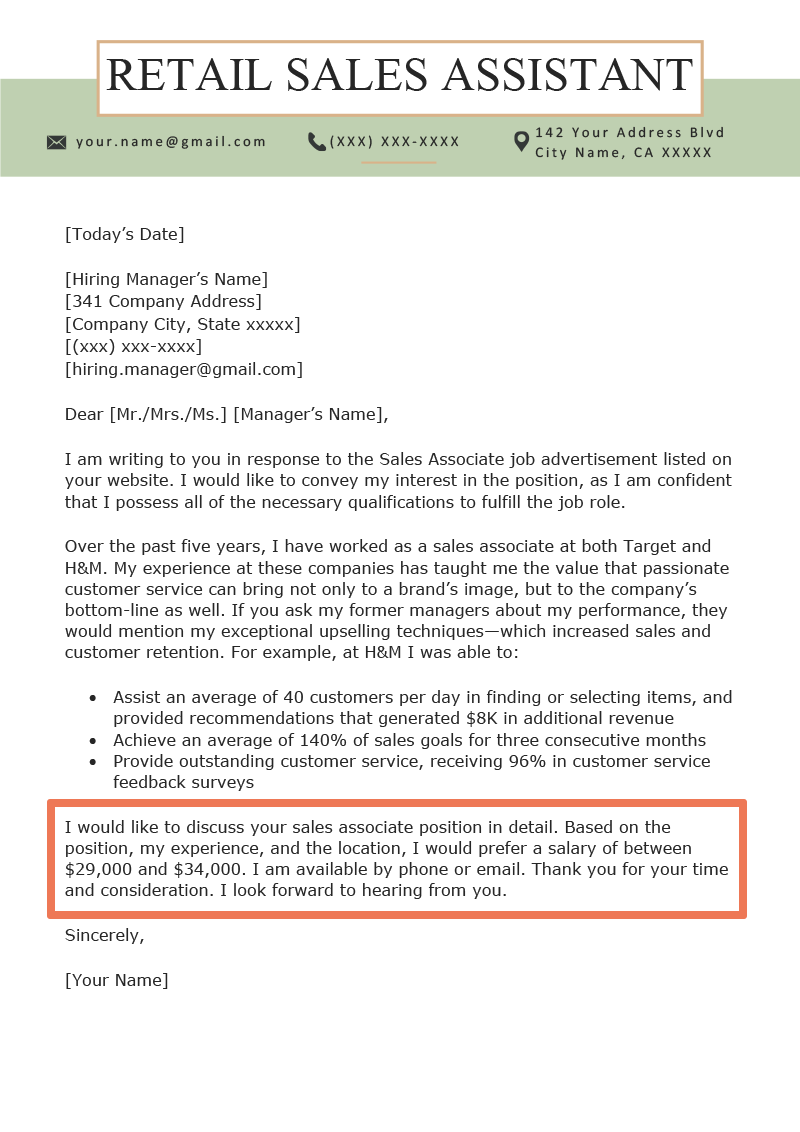 Salary Requirements on a Cover Letter (Text Version)
[Today's Date][Hiring Manager's Name][47 Company Address][Company City, State xxxxx][(xxx) xxx-xxxx][hiring.manager@gmail.com]Dear [Mr./Mrs./Ms.] [Manager's Name],
I am writing to you in response to the Sales Associate job advertisement listed on your website. I would like to convey my interest in the position, as I am confident that I possess all of the necessary qualifications to fulfill the job role.
Over the past five years, I have worked as a sales associate at both Target and H&M. My experience at these companies has taught me the value that passionate customer service can bring not only to a brand's image, but to the company's bottom-line as well. If you ask my former managers about my performance, they would mention my exceptional upselling techniques—which increased sales and customer retention. For example, at H&M I was able to:
Assist an average of 40 customers per day in finding or selecting items, and provided recommendations that generated $8K in additional revenue
Achieve an average of 140% of sales goals for three consecutive months
Provide outstanding customer service, receiving 96% in customer service feedback surveys
I would like to discuss your sales associate position in detail. Based on the position, my experience, and the location, I would prefer a salary of between $29,000 and $34,000. I am available by phone or email. Thank you for your time and consideration. I look forward to hearing from you.
Sincerely, [Your Name]