Knowing how to write a CV can be daunting, especially if you've never done it before. In this article, we'll show you what to include in your CV, how to properly format it, and give you several CV examples and CV templates to draw inspiration from.
The ideal format for a CV includes:
1 to 1.15 line spacing
½ to 1-inch margins
10.5 to 12-point font
Your CV format should also include a header with your contact information, a personal statement, relevant experience, education, and skills.
Our free-to-use cv builder can make you a cv in as little as 5 minutes. Just pick the template you want, and our software will format everything for you.
Best CV format for a job
The best format for a CV is the chronological format (also called reverse-chronological). This CV format lists your job history or relevant experience starting with your most recently-held position at the top.
To help you navigate formatting your CV, we'll break down the essential sections you need to include, plus some optional sections that may help you present your qualifications.
Here are the sections you should include in your CV:
1. Header
Your CV's header should include the following contact details:
Your name: format your name in bold text and set it in a larger font size than the rest of the text on your CV. Making your name stand out helps the hiring manager notice your application and then easily find it again.
Your mailing address: you can also choose to simply include your city and state.
Your contact information: be sure to use a professional email address. If you wish you can also include your phone number.
Online profiles: add links to relevant online profiles (such as LinkedIn) or portfolios to highlight your work.
Here's a sample CV header for a professor:
2. CV summary or personal statement
Just like a resume introduction, your CV should begin with a summary of your most important achievements and your professional goals. Think of this section as a way to introduce yourself to the hiring manager and get them curious about the contents of your CV.
Here's an example of a great CV personal statement:
If you're working on an extensive academic CV, you can skip this section and use the other CV sections to highlight your achievements.
3. Education
Format your CV's education section by listing all your degrees, following this format:
Your education section should always include your:
Institution name
Institution location
Graduation date
Degree title
Optionally, you can also include your GPA and honors if you're applying to graduate school or are especially proud of your achievements.
4. Professional experience
Start each heading in your work experience section with the name of the institution or company, followed by your job title and employment dates.
Under each heading, list your most relevant accomplishments — supporting them with hard numbers when possible — in a few bullet points.
Here's what a work experience section looks like when you use professional CV formatting:
5. Relevant skills
Use the skills section of your CV to highlight specific skills that are relevant to the position you're applying for.
Here's an example of how to format your skills on a CV:
It's a good idea to emphasize hard skills (like experience with certain software or technical skills) in this section, particularly if they're listed in the job description.
6. Optional CV sections
If you're making an academic CV or have many years of relevant job experience, there are other optional CV sections you can consider adding to your CV.
Additional CV sections include:
Teaching experience
Research
Publications
Grants & fellowships
Presentations
Conferences
Honors & awards
Certifications & licensure
Professional associations
Skills
References
While that's a lot of sections, keep in mind that they can be combined to make your CV more concise. For example, if you've only given one presentation and attended one conference, list them both under a "Presentations & Conferences" section.
Alternatively, if you have an extensive list of publications or research projects to include under a single section, you can split them into subcategories. For instance, publications can be divided under subheadings like books, articles, academic journals, etc.
For more tips and advice on putting together your academic CV, check out our video on writing the perfect academic CV:
Sample CV format: 4 good CV templates
If you're still not sure what your overall layout should look like, below we have two job-seeking CV and two academic CV examples to get you started.
To make sure your CV follows proper formatting, use any of the templates below to get started and adjust the content to fit your situation.
Job-seeker CV format example (entry-level candidate)
When you apply to jobs outside of academia and the sciences, write a CV that proves your qualifications in 1–2 pages.
This graphic design candidate uses internship experience to fill out a well-formatted CV for an entry-level position.
Job-seeker CV format example (experienced candidate)
As an experienced candidate, you may have enough relevant job experience to make a two-page resume. See how this electrical engineer formats their 10+ years of experience on a CV for a job.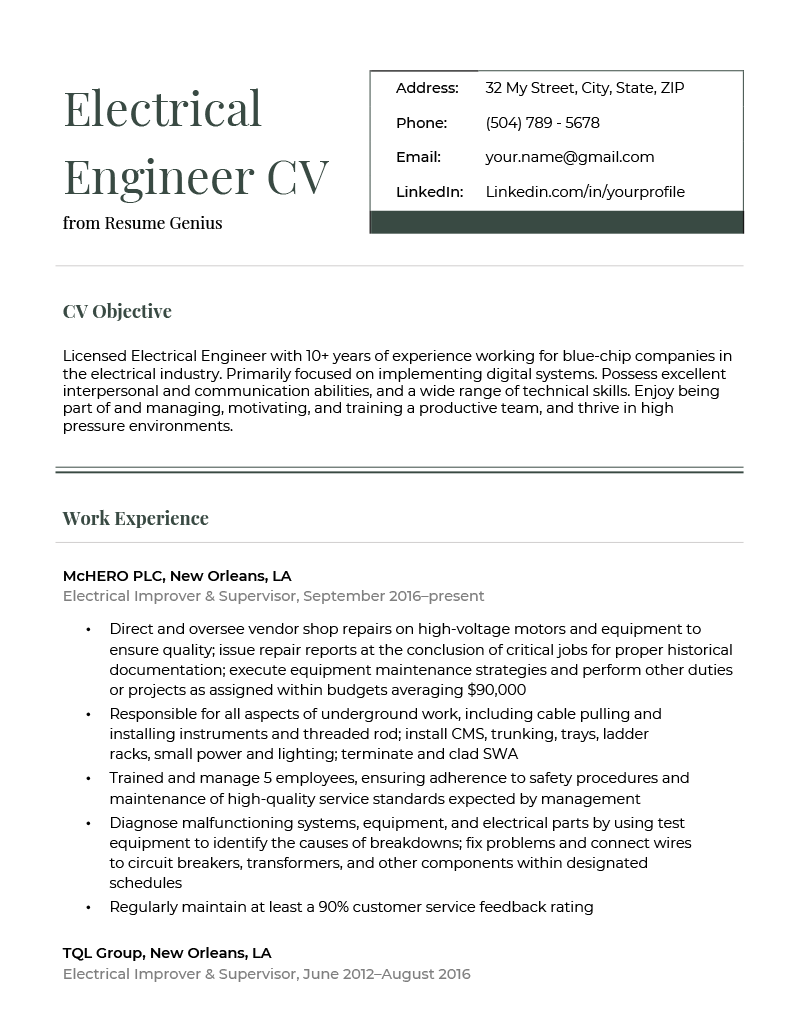 Academic CV format example (teaching-focused)
If you're applying to a university teaching position, you should use academic curriculum vitae formatting and highlight your teaching experience by listing it on the first page.
Here's an example of a teaching-focused academic CV: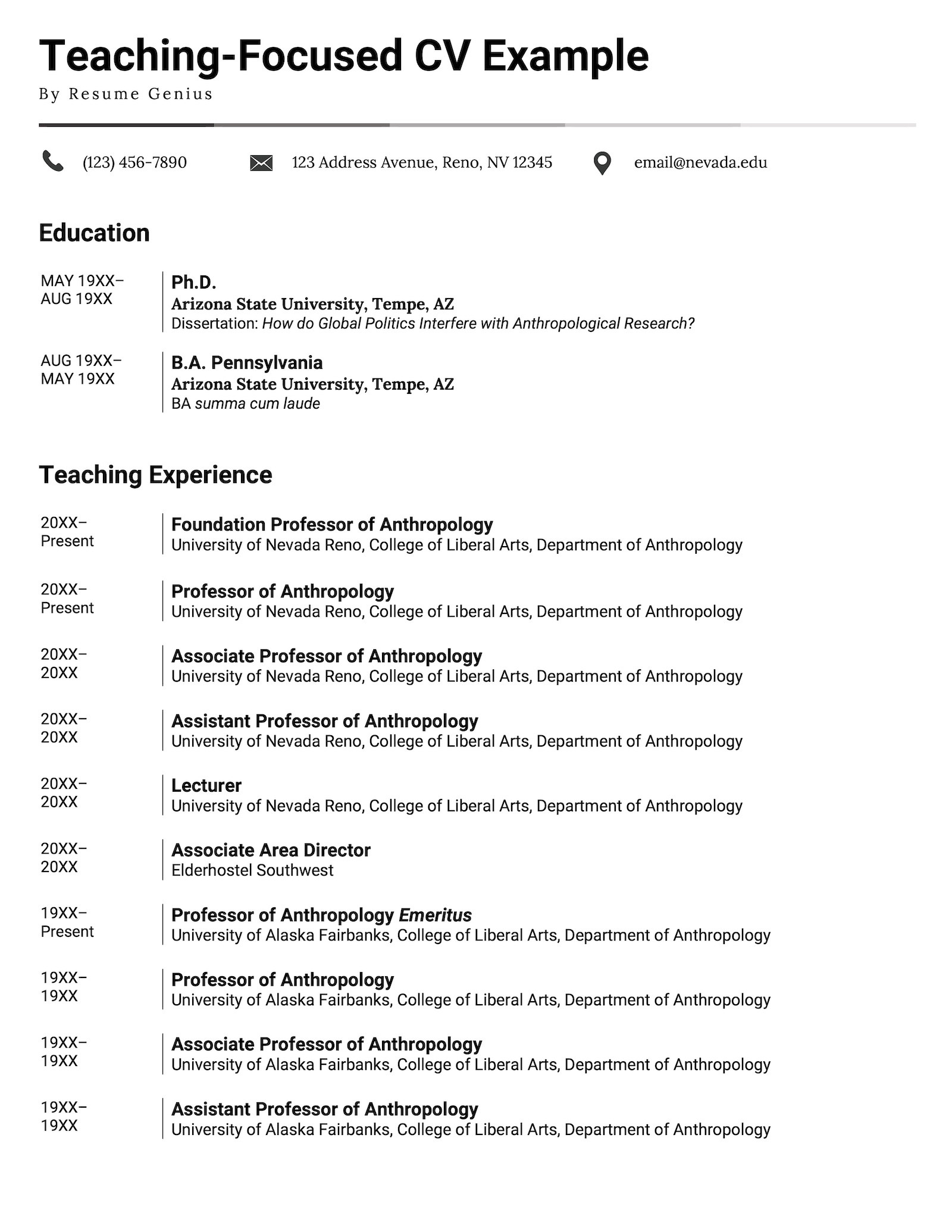 The sample is adapted from the original 24-page CV of Dr. G. Richard Scott, a Professor of Physical Anthropology at the University of Nevada with nearly five decades of experience. (Contact information and other details have been changed.)
Academic curriculum vitae format example (research-focused)
Are you applying to a research position at a university or a lab? Use academic CV formatting, but begin listing your research experience on the first page.
This sample rearranges Dr. Scott's information to emphasize his research experience. Follow this CV example to apply for an academic or scientific position:
How to format a CV
Now that you know the broad strokes of what your CV should look like, let's dive into the finer formatting details.
Here's how to set up your CV's formatting so it looks professional and easy to read:
Choose the best margins and font size for your CV
Attention to detail is important when it comes to formatting your CV. You want to make sure that the font size and style is simple and uniform so that the reader's attention won't be taken away from all of your academic achievements.
Here's how to set proper margins and font sizes on your academic or job-seeking CV:
Margins
Set your margins between ½" and 1" on all sides. Margins that are too big squeeze your information together, making your CV hard to read. Margins that are too small lead to less white space and give your CV a cluttered appearance.
Fonts
The best font size for an easy-to-read CV is between 10.5 and 12 points. If you need to shorten your job-seeking CV, using a 10.5 or 11-point font size is often the best choice.
The best fonts for resumes and CVs include simple, easy-to-read fonts like Cambria, Arial, Helvetica, and Georgia.
Choose the best file type for your CV
Submit your CV as a PDF whenever possible. Here's why:
PDFs preserve your formatting: If the hiring manager opens your CV in an old version of Word, there may be formatting issues that make it hard to read.
PDFs don't include red underlines: Word's spell-check function redlines words and phrases it doesn't know (e.g., names of people and places). When you save your CV as a PDF, the red lines disappear, making it easier to read.
Although it's usually best to submit a PDF CV, there are instances when you should send a Word file instead:
When the job posting specifically says to send a CV as a Word file, don't send a PDF. Always follow the employer's instructions.
When the employer uses applicant tracking software (ATS) to vet applications, submit your CV in Word format. ATS software is better at scanning Word documents than it is at reading PDFs.