Ever wonder if you should use a curriculum vitae (CV) or a resume when applying for a job?
The answer depends on where in the world you're located, and whether you're applying for a job in academia (i.e., at a college).
In the US, if you're applying to become a professor, lecturer, or research assistant, you'll need to submit a CV (or "academic CV").
For the vast majority of other jobs, you should submit a resume.
The Difference Between a CV and a Resume
CV, resume — are they the same thing, or is there a difference? In many ways, CVs and resumes are functionally the same. For instance, they both summarize your work experience and education, whether for hiring managers or a faculty hiring committee.
But there are several key differences. Let's run through them:
A CV is an in-depth look at your life's accomplishments, while a resume is a short summary of your most relevant achievements.
A CV is used to apply for academic roles or a graduate school program, while a resume is used to apply for all other jobs.
A CV grows over your lifetime as you add new information, while a resume should remain one or two pages long.
Now that we've provided clarification on the main differences between a CV and a resume, let's look at each document in more detail.
What Is a CV?
CV is an abbreviation for curriculum vitæ, which means "course of life" in Latin.
A good translation, considering CVs go into so much detail about your course of life and background. In fact, they often go on for multiple pages.
If you're writing an academic CV, you need to list:
every publication and dissertation you've written or contributed to
research projects you've participated in
all the conferences you've attended
previous academic positions you've held (and non-academic work experience)
honors/awards
academic qualifications, including GPA, major/minor, educational level (Bachelor, PhD) etc.
grants you've received
professional affiliations you hold (e.g., membership of the IEEE —Institute of Electrical and Electronics Engineers)
It's no wonder that a CV can run on for several pages.
CV Sample
This example academic curriculum vitae was written by a Professor of Anthropology who has been in the American university system for over 40 years. Note his many publications (and don't feel bad if the CV below is a bit longer than yours. He's been building it since the 1970s).
GRS Curriculum Vita

---
What Is a Resume?
A resume (or resumé depending on your preferred spelling) is a one- or two-page summary of your work experience, key skills, and job-related qualifications.
In contrast to a CV, a resume can be used more broadly. It's used to apply for all jobs outside of academia. So the majority of people applying for a job should learn how to write a resume rather than a CV.
The standard resume length is one page long. Your resume may run up to two pages if you have decades of experience or numerous skills to advertise, but for 98% of candidates, a single page is best.
Additionally, a standard chronological resume format focuses on your work history (including internships), with less attention paid to academic accomplishments.
Resumes also include a skills section, which lists the skills you've attained in previous roles. You should include plenty of resume skills to showcase your abilities — but make sure they're relevant to the job.
Another key difference from a CV is that a resume education section is much shorter. You only need to state your college, program name, and GPA (if it's high).
Resume Sample
This waiter/waitress resume sample shows how a typical resume should look: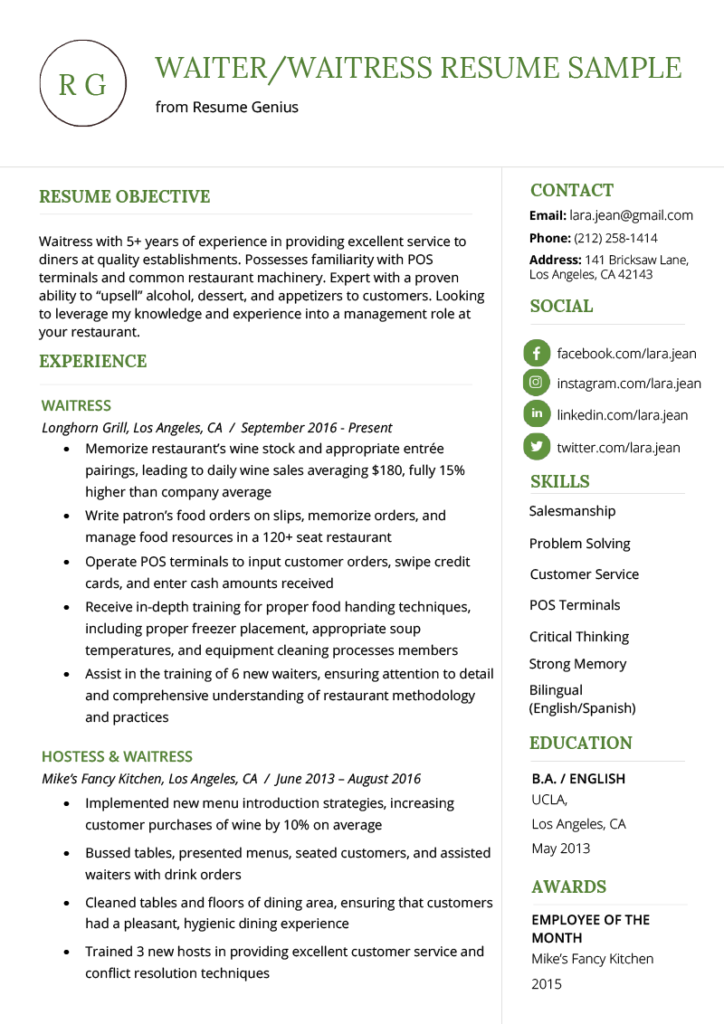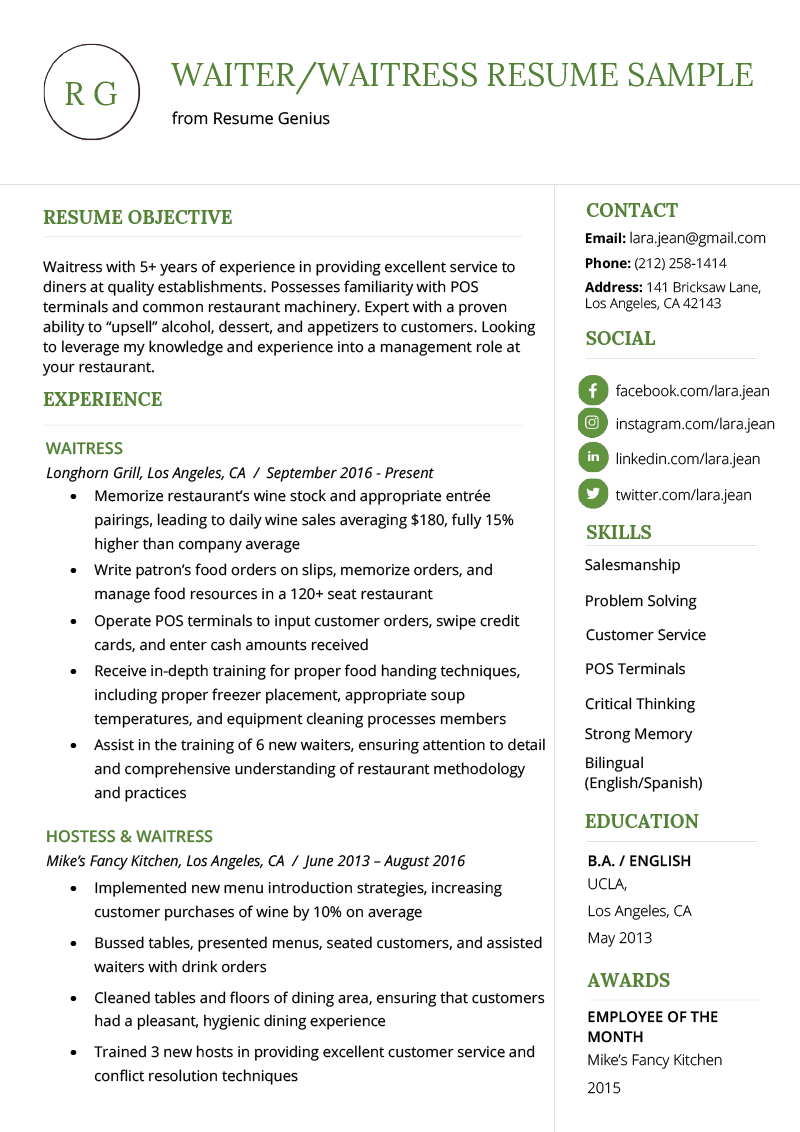 When to Use a Curriculum Vitae vs a Resume
If you're seeking a teaching or research position at a college, use a CV.
The hiring committee will need to know as much about your educational background as possible before making a decision, and the best way to communicate this information is with a CV.
For any other positions (within a college or elsewhere), your education is less important, so you should use a resume.
International Guide: Resume & CV and Their Different Definitions
Outside of the US, the word "resume" is generally swapped out for "CV." This has led to some degree of international confusion, which we're happy to clear up in this section.
UK and Europe
In most European countries, including the UK and Ireland, "curriculum vitae" denotes the short, one-page document you write for a job application. "Resume" is a rare term, but will still be understood by most hiring managers.
CVs for academic positions are also called "CVs" in Europe, but you might hear them called "academic CVs" since it makes the meaning clearer.
Canada
Canadian businesses tend to use "resume" in the same way as American companies, likely due to Canada's proximity to the US. A CV, similarly, is used to apply for academic posts.
Australia
In Australia, resumes and CVs are both used to apply for jobs. Resumes tend to be one page, summarizing the main highlights of your career, while CVs are around two to three pages and outline all of your work experience.
New Zealand
The phrasing in New Zealand is similar to that in Australia. A resume is usually one page, and a curriculum vitae is two to three pages long. Both are used to apply for jobs.
You might need to create both, since employers will either ask for one or the other.
An "academic CV" will be much longer, as in the US.
Takeaways
To sum up the differences between a CV and resume, in the US, a resume is a short, one-page document you use to apply for a job. A curriculum vitae is a specialized, multiple-page chronology of your professional and educational background, used primarily by academics.
Professors and lecturers who submit a CV outside of the US should call their document an "academic CV" to make clear what it is.
While we don't offer academic CV material, we do have professional industry-specific resume samples you can use to apply for a job in the US or abroad.
And if that sounds like too much work, you can create an excellent resume (or CV as it's called abroad) in roughly 5 minutes by using our free resume builder.