A personal statement on a resume or CV is a 2-3 sentence summary of your qualifications and career goals that goes under your resume header. A resume personal statement is also known as a:

Resume personal statements are often confused with:
personal statements on job applications, which you usually fill out separately on the application form
personal mission statements, which you write for yourself to establish your lifelong goals
personal statements for college admissions applications, which follow essay formatting and should be at least a few paragraphs long
Our free-to-use resume builder can make you a resume in as little as 5 minutes. Just pick the template you want, and our software will format everything for you.
How to write a personal statement for a resume
Your resume's personal statement should display your most relevant qualifications and express your professional goals.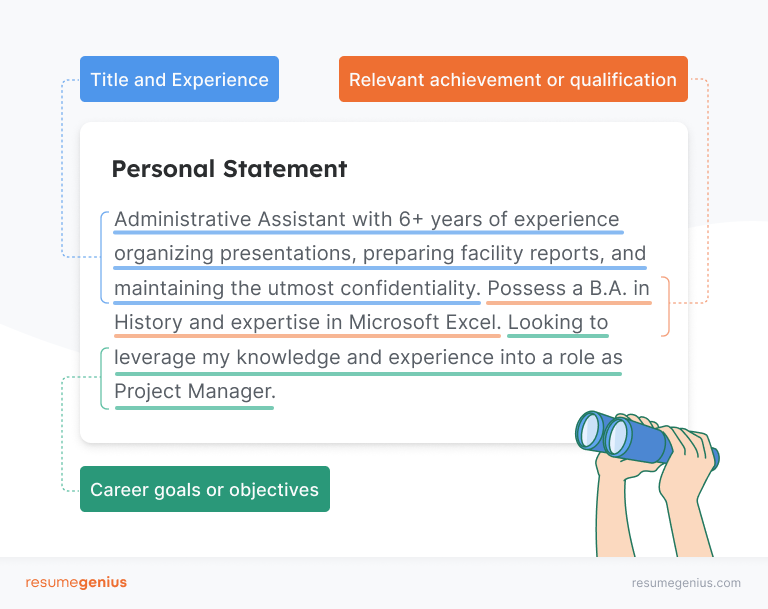 After the hiring manager notes your name in your header, their eyes automatically go to your personal statement. So ensure your most relevant resume accomplishments appear in your introduction using these guidelines:
1. Write it last
Although your personal statement goes near the top of your resume, you should write it last so you have a chance to think through which of your most important qualifications to feature in this section.
Once you've finished the other parts of your resume, compile your qualifications listed in your resume's work experience section, education section, and skills section. Then pick the best, most relevant accomplishments to emphasize in your personal statement. Be sure you don't restate them exactly in your personal statement, otherwise your resume might sound repetitive.
2. Start with your professional title
Open your personal statement with your professional title. If you wish, you can also add a resume-appropriate adjective before your title. For example, "Innovative Graphic Designer".
If you're working on a resume with no experience and aren't sure what title to use, here are some common entry-level options:
Use your college major: "Recent graduate with a BS in Communications"
List a relevant skill: "Confident communicator"
Reference a volunteer position: "Volunteer organizer"
Emphasize your work ethic: "Hardworking student"
Conversely, if you're an experienced professional with multiple titles, use the title most relevant to the job you want.
For instance, if you're an entrepreneur and CEO applying for a C-suite position, don't include "entrepreneur" in your professional title. Otherwise, your target employer may worry your focus would be divided between your work for their company and your side hustles.
3. Consider your audience
Tailor every word of your personal statement to your audience — the recruiter, hiring manager, and anyone else at your target employer who might read your resume. To get inside their minds and determine what they're looking for, carefully read the job description and note skills-based resume keywords.
Here's a sample telemedicine nurse practitioner job description with the keywords underlined:
What you'll do:
See patients via

telemedicine

using the platform provided by the practice
Provide excellent,

personalized patient care

according to the guidelines provided by the practice

Work with a care team

including a Health Coach to help patients improve outcomes and achieve their

health and wellness goals

Oversee medical staff

(including

Health Coaches and Medical Assistants

) and assign appropriate aspects of care accordingly
Provide mentoring to clinical staff
Participate in

patient care program development

Help

resolve patient inquiries and requests

Complete online charts

in an

accurate

manner
Follow organizational policies, procedures, and protocols
Represent Parsley Health in the local and broader community
If you were applying for the above position, this is what your resume's personal statement might look like:
Nurse practitioner with 5+ years' experience overseeing a team of health coaches and medical assistants. Developed a patient care program that provides personalized care and helps patients reach their health and wellness goals via telemedicine, and made maintaining accurate online charts easier for medical staff. Eager to wield proven telemedical expertise as a Telemedicine Nurse Practitioner at Parsley Health.
4. Finish strong
The closing sentence of your personal statement should:
summarize your best qualifications
express your goals for the position
offer value to the company
To impress the hiring manager, research the company and show how your skills fit the company's values and goals.
Here's a well-written final sentence for a personal statement:
Proven expertise and results in financial planning for rapidly growing companies are a perfect fit for your company as it undertakes aggressive international expansion.
Resume personal statement examples
Here are five good examples of professional resume statements:
1. Entry-level applicant
Even without formal work experience, the following candidate shows how they've gained skills in their field through interning, studying, and volunteering.
Recent graduate with a BS in Audio Engineering and 2+ years' experience interning at a local recording studio. Produced four EPs for friends' bands, with three tracks receiving 20,000+ plays on Spotify and YouTube. Confident expertise in Pro Tools and music equipment setup will translate to success as an Assistant Audio Engineer at your studio.
2. Experienced applicant
As a more experienced job seeker, you'll have plenty of relevant experience to choose from. See how this candidate selected their most impressive qualifications to feature in their resume personal statement:
Sales manager with over 10 years of experience training and supervising sales staff while planning and implementing sales strategies over a multi-state territory. Seeking to bring proven record in leading teams and launching successful marketing campaigns into a senior management position.
3. Nurse practitioner
This nurse practitioner emphasizes their nursing philosophy, accomplishments, and personality strengths in this personal statement:
Certified nurse practitioner with 5+ years of experience delivering compassionate care to patients. Instrumental in conducting patient assessment, physical examinations, and diagnostic studies. Eager to deliver high-quality, patient-centered health care as a Nurse Practitioner at [Hospital/Clinic].
4. Graphic designer
If the job you're applying for requires familiarity with specific tools and software, it's good to mention those in your resume's personal statement, as this candidate does:
Senior graphic design specialist with 6+ years of experience managing the complete design process, from conceptualization to delivery. Skilled with Adobe Creative Suite (Illustrator, Photoshop, InDesign), Microsoft Office, and web design applications (Dreamweaver, HTML). Able to stretch the boundaries of web design and digital storytelling to help your brand stand out.
5. College student
If you're still in school, you can use your personal statement to showcase awards, skills, and experience from your courses that have prepared you for the position you're applying for.
English major seeking to use research and writing experience in the role of Junior Research Associate at Wexford Inc. Awarded multiple honors based on merits and expected to graduate with a B.A. in English from UCLA in June 2023. Fast learning abilities, commitment to succeed, and relevant studies align perfectly with this position's listed requirements.
6. Software developer
In a field with a number of different specializations, you can use your resume personal statement to let employers know about your areas of expertise.
Detail-oriented Software Developer with 5+ years of experience specializing in frontend and backend development, data analysis, and web design. Highly proficient in various programming languages including JavaScript, Python, and HTML. Demonstrated ability to manage projects from concept to completion, and consistently meet project deadlines. Committed to creating user-friendly software and passionate about continual learning and growth.
7. Restaurant server
In a customer-facing role, such as a server, your personal statement is a good place to let hiring managers know what kind of customer experience you'll provide.
Restaurant Server with over 2 years of experience in hospitality. Known for my exceptional customer service and ability to handle high-pressure environments with tact and efficiency. Passionate about creating a memorable and high-quality dining experience for guests while ensuring the cleanliness and safety of the restaurant for both guests and staff.