Generate a professional resume summary instantly, or use our AI-powered summary generator to customize your own in 2 minutes.
What is a resume summary?
A resume summary is a brief statement at the top of your resume that summarizes your key work experience, accomplishments, and skills.
Most resume summaries are roughly three sentences long, and include the following information:
Sentence #1:  Your biggest selling points as a candidate, including how many years of relevant work experience you have.
Sentence #2: One or more specific accomplishments or skills from your career to show employers what they can expect from you if hired for their open position.
Sentence #3: Additional skills or certifications you think help separate you from other candidates, such as a related license or online certificate.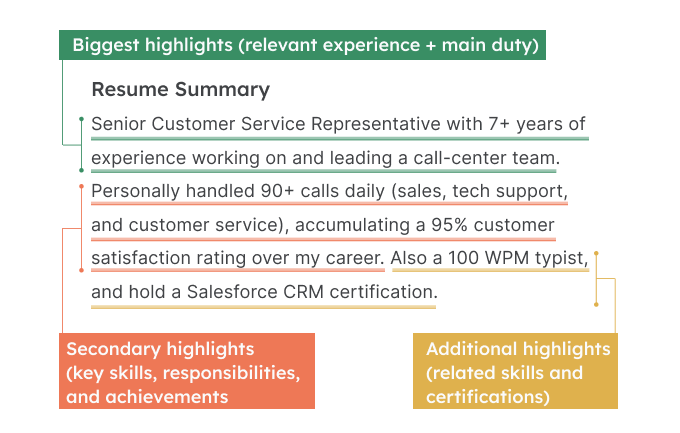 Why you should use a resume summary
You should use a resume summary because it's a great way to quickly highlight how qualified you are for a position. Most hiring managers only spend an average of six seconds reviewing your resume, so if it doesn't stand out to them – and fast – there's a good chance your application will be rejected.
Starting your resume with a summary helps show employers why you're worth interviewing, ultimately encouraging them to look closer at your application.
Additionally, a resume summary is the ideal place to show off your certifications or licensure that qualify (or better qualify) you for the job you want. If you can immediately communicate to employers that you have the basic qualifications for the position, you're a step closer to getting an interview (and job).
If you need some inspiration, try looking at sample resumes from your industry to get a better idea of how to summarize your relevant work experience.
Our free-to-use resume builder can make you a resume in as little as 5 minutes. Just pick the template you want, and our software will format everything for you.
Frequently asked questions about resume summaries
Here are a few common questions about resume summaries:
Can you say "I" in a resume summary?
No, you should avoid saying "I" in a resume summary. Your resume should always be written in implied first-person perspective (meaning you exclude first-person pronouns like "I" or "me"), and this includes your summary.
Employers value conciseness when reading your resume. Leaving out first-person pronouns helps save space and focuses each sentence squarely on the actions you took while at work, rather than who did what.
However, this isn't a strict rule. In some cases, you may want to use first-person pronouns on your resume. The goal of your resume is to communicate your qualifications as quickly and convincingly as possible, and sometimes you may need to use first-person pronouns to communicate something clearly.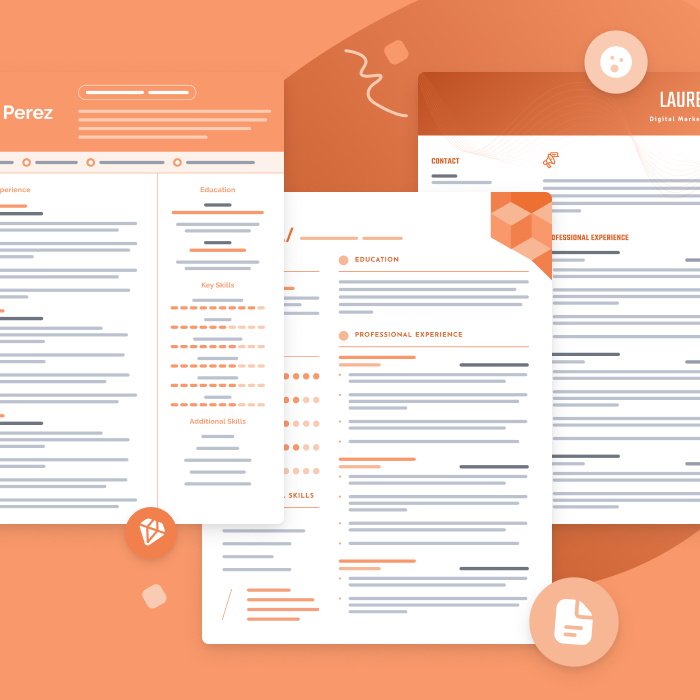 One of the best ways to make your resume is by filling out one of our free resume templates. All our templates are designed by experts and free to download for Microsoft Word or Google Docs.
How should I start my summary for my resume?
You should start your summary for your resume by highlighting your professional title, how many years of work experience you have, and your primary relevant work skill(s). This approach immediately gives employers a general idea about whether you're qualified for the job or not.
For example, if you're a marketing professional you should start your summary like this:
"Senior Digital Marketing professional with 3+ years of experience ideating and executing successful campaigns using a combination of SEM, SEO, and social media marketing."
Do you need a summary on a resume in 2023?
No, you don't need a summary on your resume in 2023 because it's not required for any job applications. However, including a summary will help you write a stand-out resume in an increasingly competitive job market.
Additionally, with our free resume summary generator it's easier than ever to add a summary to your resume, so there's no reason not to and get your resume started the right way.
But if you're worried you don't have enough experience to write a professional resume summary with our generator, don't worry. You can try starting your resume off with a job-targeted resume objective instead.