How to Make a Resume on Google Docs
Google makes it simple to access their default resume templates in Google Drive.
You can click this link to go directly to the templates gallery, and browse the full library of resume templates and Google Docs cover letter templates. However, it's also valuable to learn how to access the resume templates from Google Docs so you can explore them whenever you want.
Just follow the instructions below to access Google's full slate of resume templates:
Step 1: Open up a blank Google Doc in Google Drive
First, open Google Docs, and click "Blank" to open a fresh document.

Step 2: Click File → New → From Template
Then, go to "File" → "New" → "From template" to bring up the full list of Google Docs templates.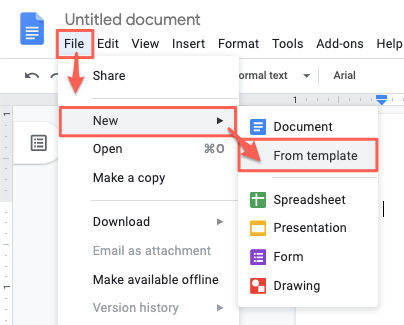 Step 3: Scroll down until you see "Resumes" and select your preferred template
Finally, you will see a full list of available templates. Scroll down, and you'll see the Google resume templates.
Note: if your Google account is associated with a company or educational institution, you may have to click the "General" tab before you can see all of Google's default templates.
It's that easy! If you don't see the "Resumes" category, keep in mind that you can only access them if your Google Drive display language is set to English. This can be done under "Language" in your Google Drive settings.
Step 4: Share the link to your resume with employers
A huge benefit of using Google Docs resume templates is that you can quickly and easily share your resume with potential employers, recruiters, or friends.
Just copy the link and paste it into an email. You can access the link sharing settings by clicking "Share" in the top right corner.
Make sure that the share link is set to "View Only", as you don't want the hiring manager to accidentally make an edit to your resume.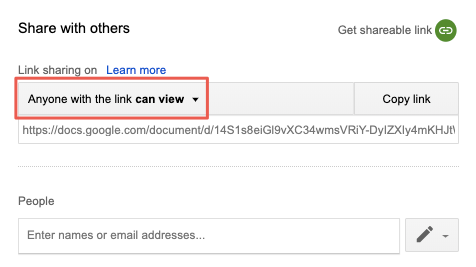 Google Docs displays the people currently accessing the document in the top right. So if two hiring managers were to see each other in the same document, it would be awkward (and may damage your chances of getting either job).
If you plan to send the same resume to multiple companies, make sure you create separate Google Docs — although you should always create a unique resume for each job you apply to.
5 Google Resume Templates
Google provides a small selection of free resume templates that you can access through Google Docs. Below you'll find the five default resume templates for Google Docs, as well as a description of what type of job seeker each template is best suited for.
1. Swiss Google Docs Resume Template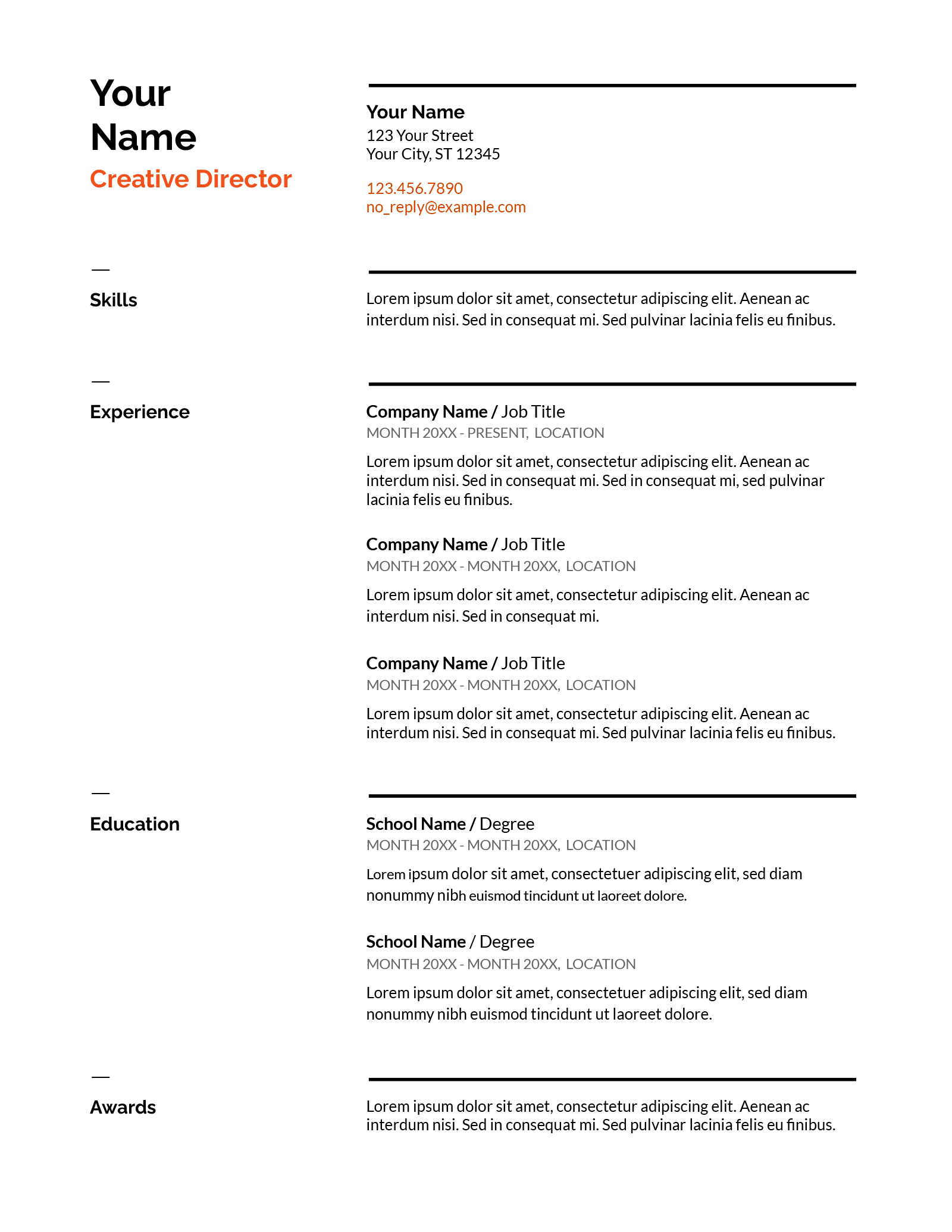 Featuring clean lines and a colorful resume header, this Google resume template is modern and hip. It's perfect if you're looking to give your application a contemporary edge.
Better yet, this template utilizes a skills-first resume format (typically referred to as a combination resume). By listing the skills section above everything else, this template helps highlight your relevant industry-related knowledge — making it ideal for candidates who are switching careers or applying to jobs with nontraditional work experience.
2. Serif Google Docs Resume Template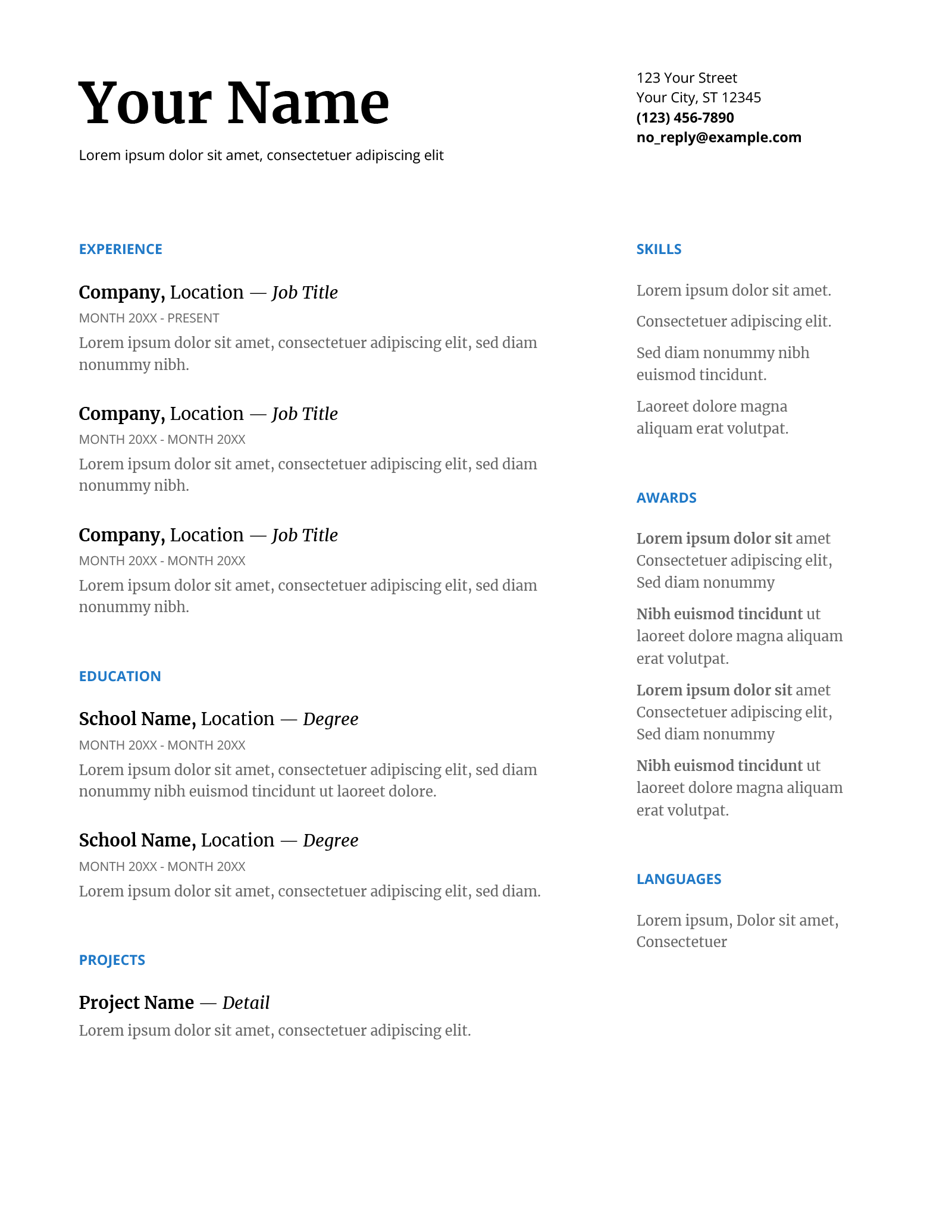 Minimal and professional, the "Serif" Google Docs resume template is ideal if you want to give your resume a stylish, corporate feel. The large header helps etch your name in the hiring manager's memory, guaranteeing that your application will leave a lasting impression.
Additionally, if you speak more than one language, the inclusion of a standalone "languages" section makes this the ideal template to showcase your linguistic skills.
3. Coral Google Docs Resume Template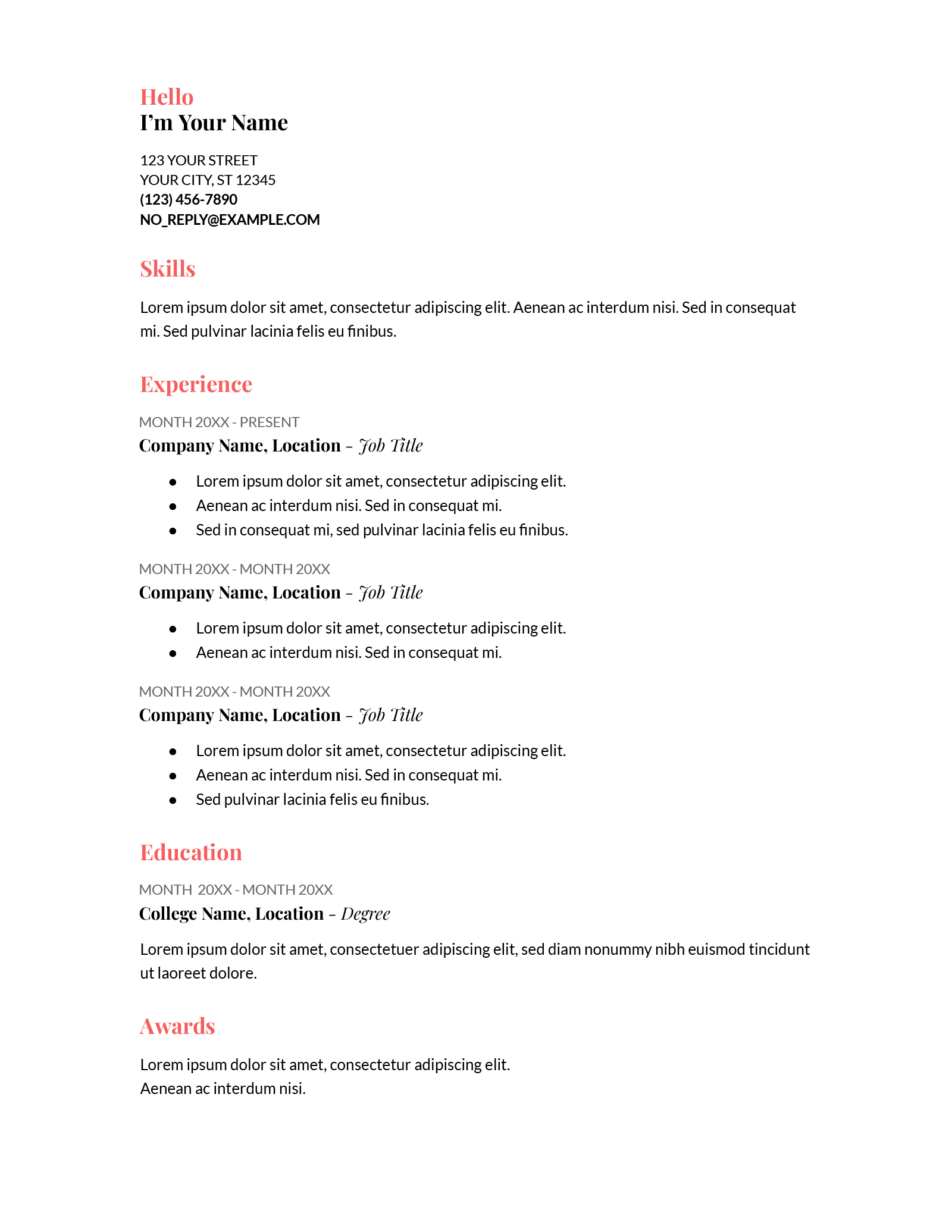 Want a resume that grabs attention and lets your personality show? Then the "Coral" Google resume template is perfect for you. Featuring a casual greeting at the top and bright orange headers throughout, this resume is sure to add a playful flourish to your application.
Use this template if you're applying for a position at a more casual workplace, such as a startup.
4. Spearmint Google Docs Resume Template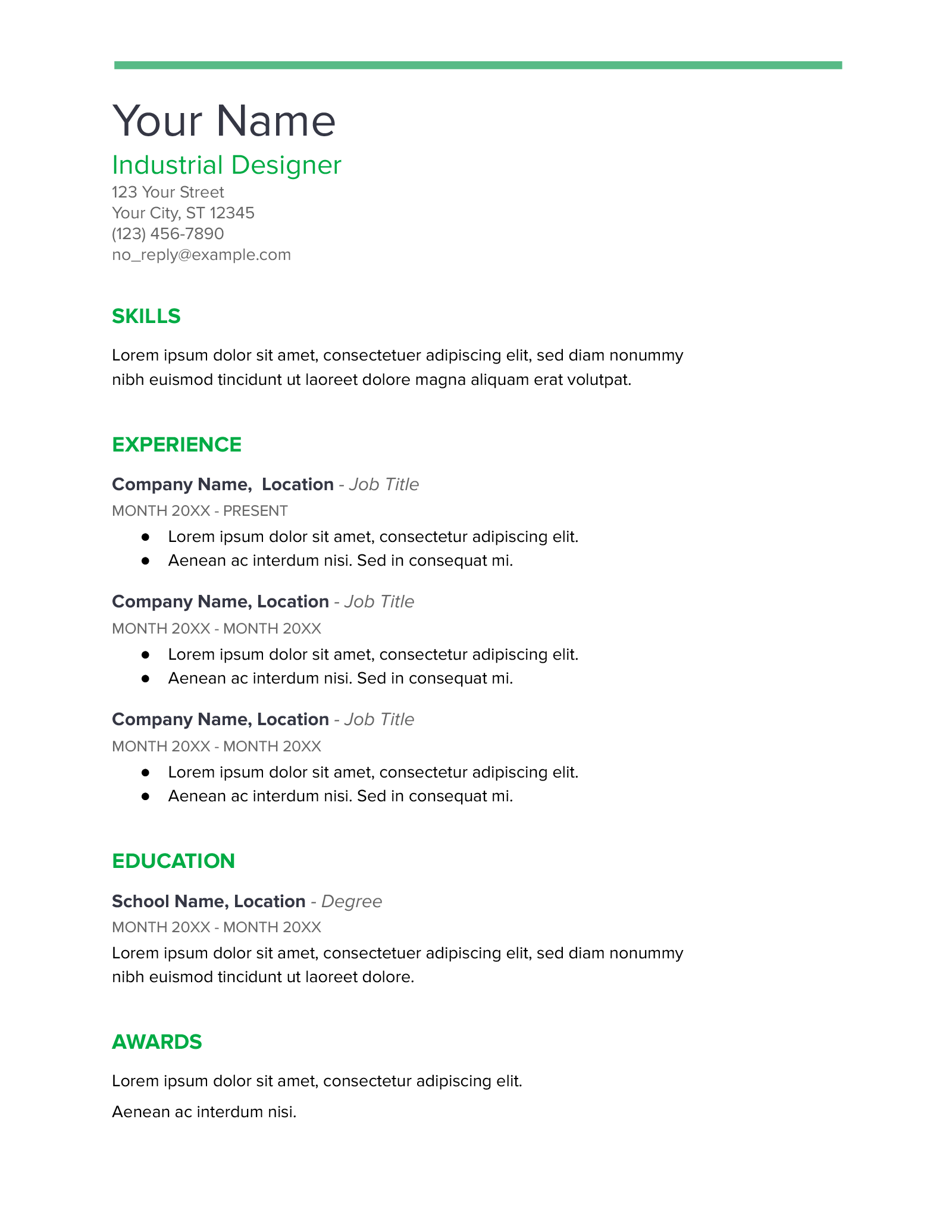 The "Spearmint" template is sure to grab the reader's attention. Its thick, colorful top border line accents the entire resume, and helps emphasize your name and job title.
This stylish resume template from Google Docs is the perfect choice if you want to make your name stand out and give your resume a crisp, contemporary feel. Not only that, but — similar to the "Swiss" and "Coral" designs — this template is formatted to highlight your professional resume skills.
5. Modern Writer Google Docs Resume Template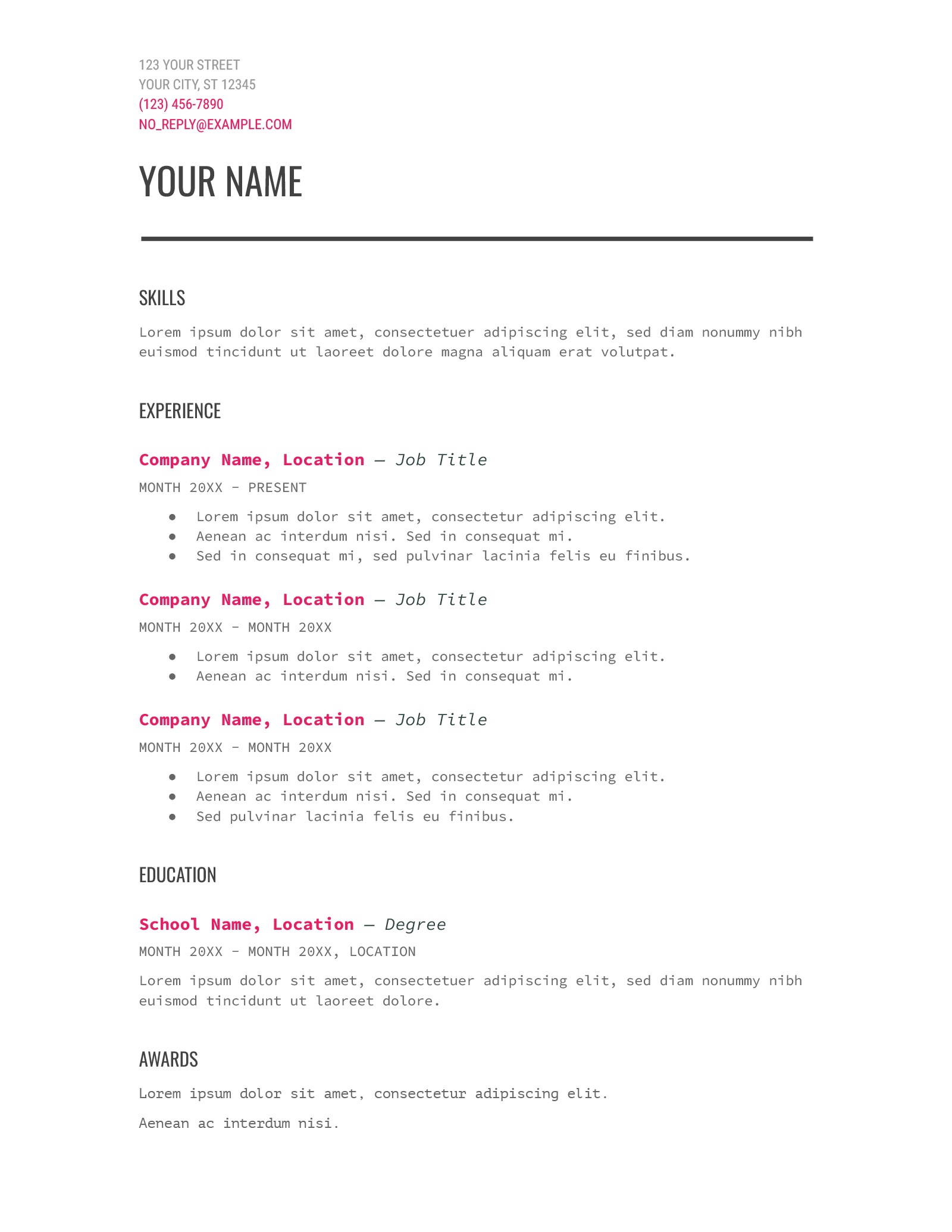 With its mix of fonts and splashes of bright color, the "Modern Writer" resume template for Google Docs comes off as both creative and technical. This template is ideal if you work in product design or tech, and want to give your application a unique appearance.
5 Custom Resume Templates for Google Docs
Looking for more options? We got you covered. Here are 5 more custom-made resume templates that are compatible with Google Docs:
1. Classic Resume Template
Featuring a no-frills header and a traditional layout, the "Classic" Google Drive resume template truly lives up to its name. Opening with a robust resume objective, this template allows you to quickly summarize your qualifications and set the tone for the rest of your resume.
Then, the horizontal line in the header cleanly breaks up your information and gives the hiring manager space to focus on your professional experience.
No matter what position you're applying for, you can't go wrong with this tried-and-true resume template.
2. Chicago Resume Template
Classy and refined, this resume template for Google Docs is the perfect choice if you want to give your application an executive feel. Each heading features a full-width horizontal line, nicely breaking up the page and guiding the hiring manager's attention to your relevant experience.
3. Harvard Resume Template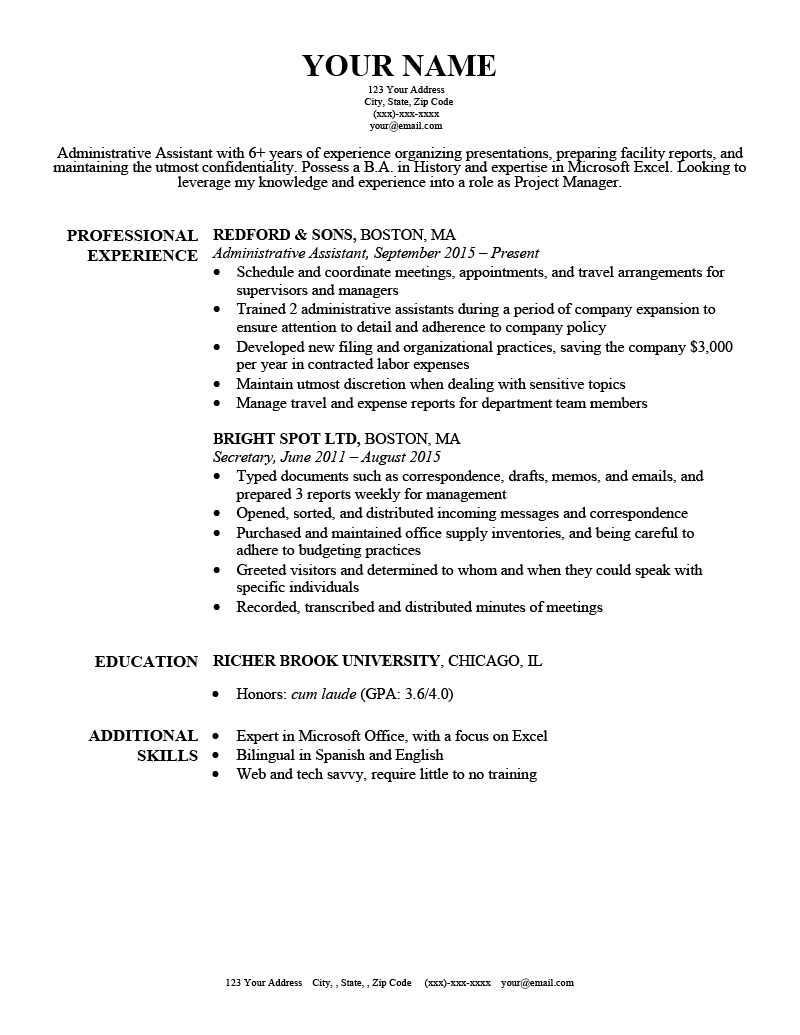 Are you looking for something simple and clean? The "Harvard" Google Docs resume template is your best choice. A crisp header and centered bullet points minimize distractions and put the spotlight right where you want it: your qualifications.
4. Dublin Resume Template
Featuring a space-efficient header and an elegant font, this Google Docs resume template adds a splash of playfulness to an otherwise serious design. This template is ideal if you need to add a little personality to your application without sacrificing professionalism.
5. Elegant Resume Template
Spacious and bold, this resume template for Google Docs shouts "elegance." The increased letter spacing and uncluttered design of each section allow the hiring manager to easily read through your qualifications and skills.
Looking to escape the blockier design of your typical resume template and help your application stand apart from the competition? This is the template for you.
We provide the previous five Google Docs-compatible basic resume templates for free to our readers.
Make the Perfect Application with Google Drive Resume Templates
Now that you know the best resume templates for Google Docs and how to use them, it's time to get your resume written and ready to go.
However, if you're looking to save time and effort, try our state-of-art resume builder to create your resume in just a few short minutes.
Simply select your template, enter your information, and in moments our software will give you a resume that is sure to impress even the most critical hiring manager.