5 Free Google Resume Templates
In 2020, making a great looking resume is easy — all you need is an internet connection and a Google account.
Google's impressive selection of pre-made resume templates for Google Docs is free and available online for its users. Simply download your favorite template and fill it in.
Below we list the five default Google Docs resume templates, with instructions on how to access them. You can also browse our free resume templates if Google doesn't have a style you want.
Click "Make a Copy" in the template's caption to pull up your own customizable version. Creating and editing your resume has never been easier.
1. Swiss Google Docs Resume Template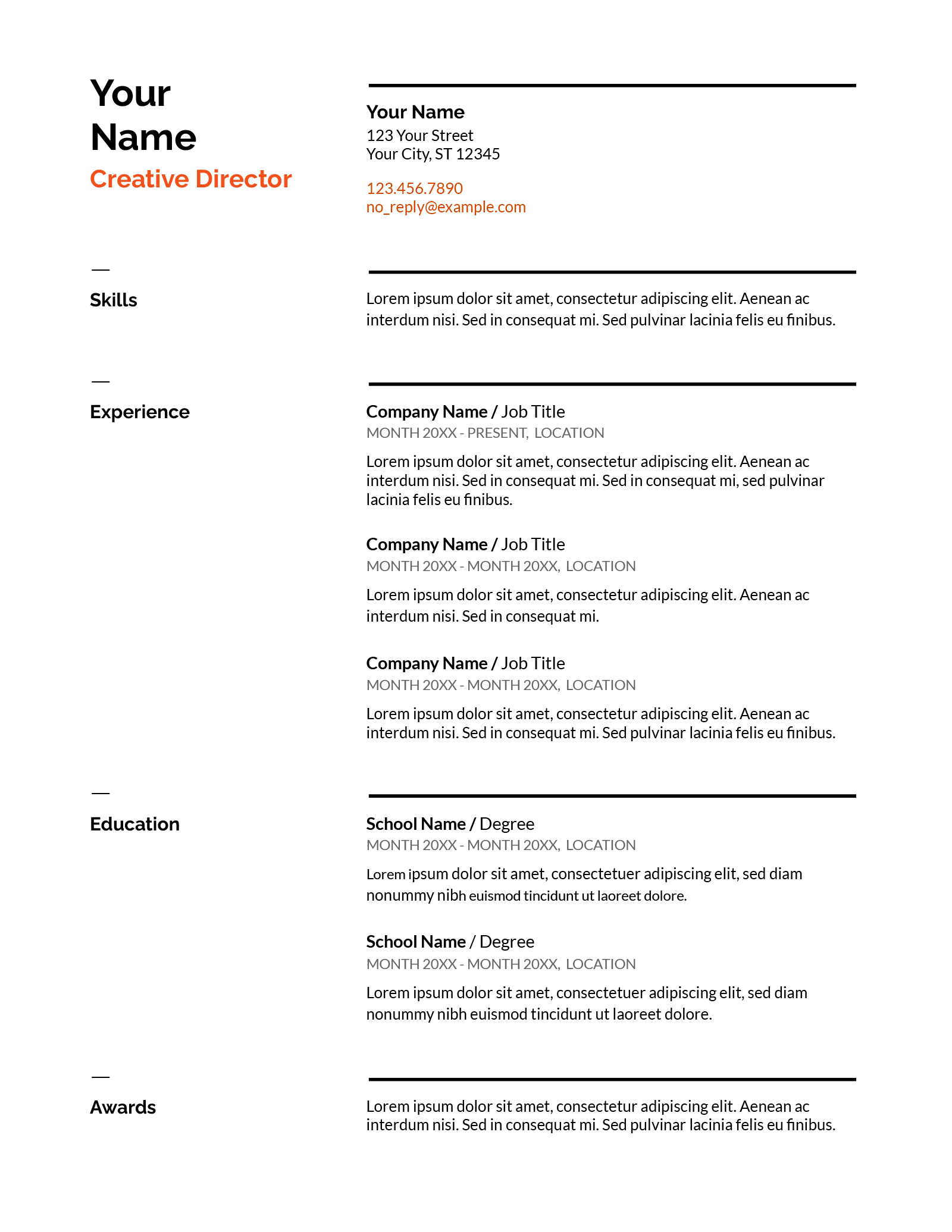 Accented by clean lines and a colorful resume header, this free Google Docs resume is modern and hip. It's perfect if your job search needs a boost, and you want to give your application a contemporary edge.
Better yet, this template uses a skills-first resume format (typically referred to as a combination resume). By listing the skills section at the top of the page, this template helps highlight your relevant industry-related knowledge — making it ideal for candidates who are career changers.
2. Serif Google Docs Resume Template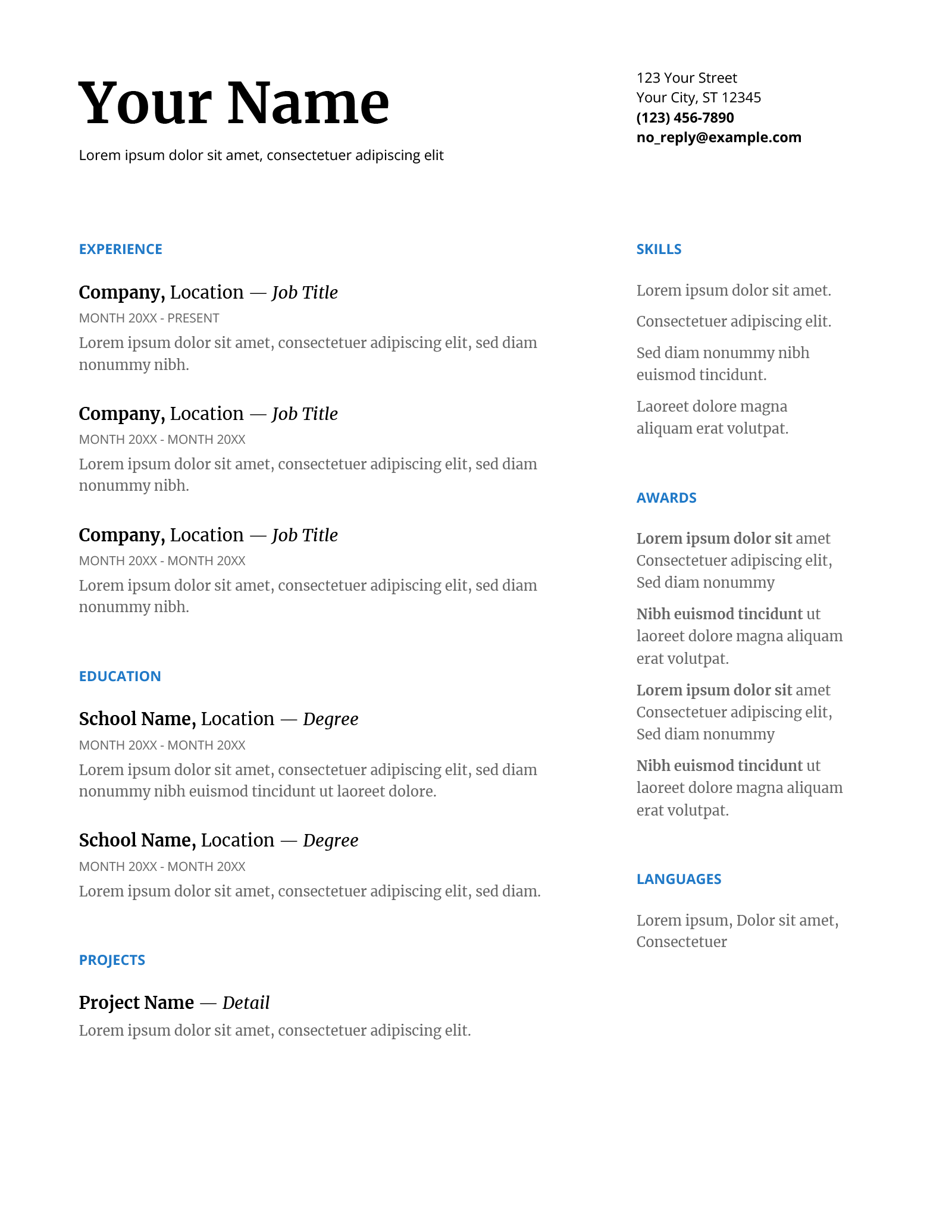 Minimal and professional, the "Serif" Google Docs resume template is ideal if you want to give your resume a stylish, corporate feel. The large header makes your name stand out improving the chance that your application leaves a lasting impression.
Additionally, if you speak more than one language, the inclusion of a stand-alone "languages" section makes this the ideal template to showcase your linguistic skills.
3. Coral Google Docs Resume Template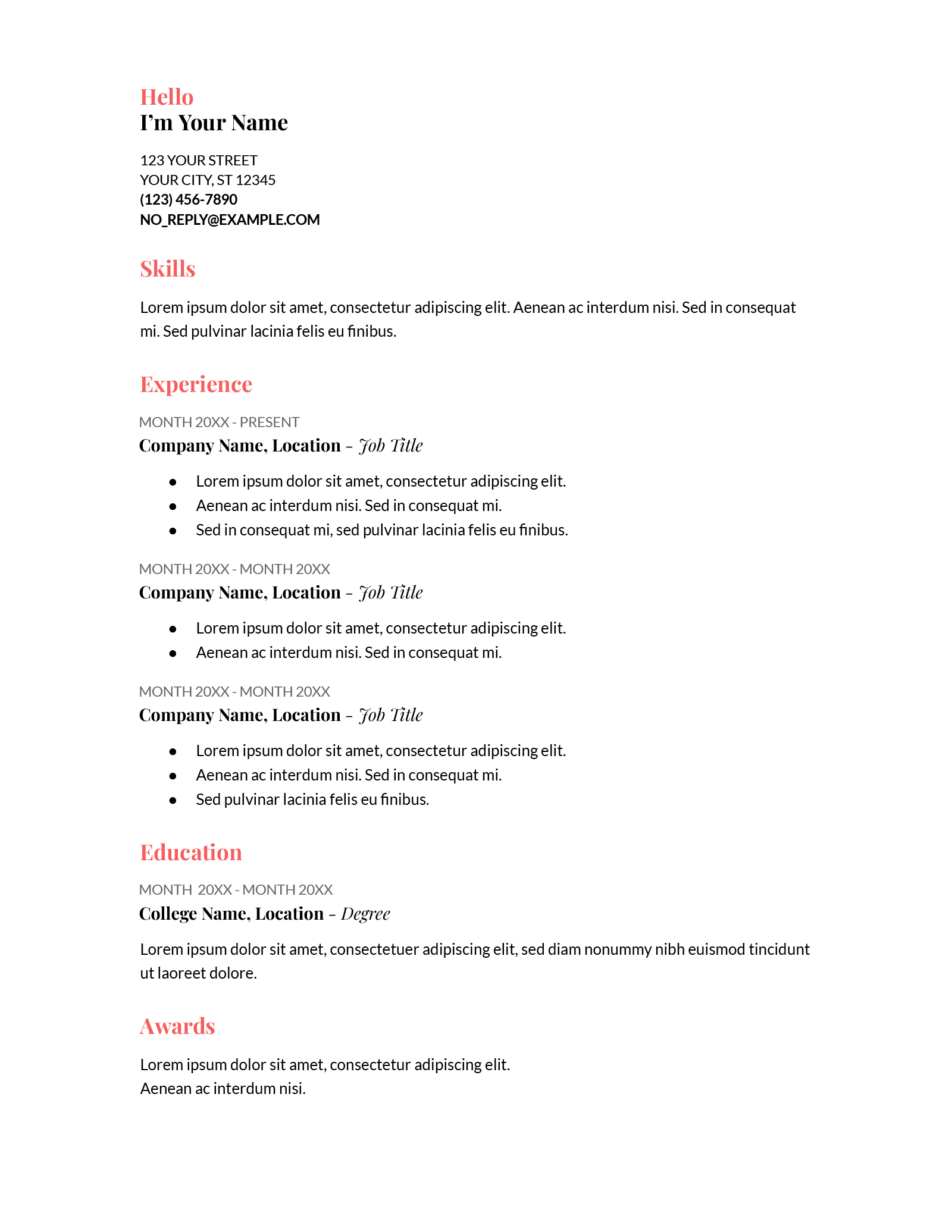 Want a resume that grabs attention and lets your personality shine? Then the "Coral" Google resume template is perfect for you.
Featuring a casual greeting at the top and bright orange headers throughout, this resume adds playful web design accents to your application. There's even space for a profile picture if you're set on including a resume photo.
Use this template if the job posting is from a startup, or the company seems to have a more casual workplace.
4. Spearmint Google Docs Resume Template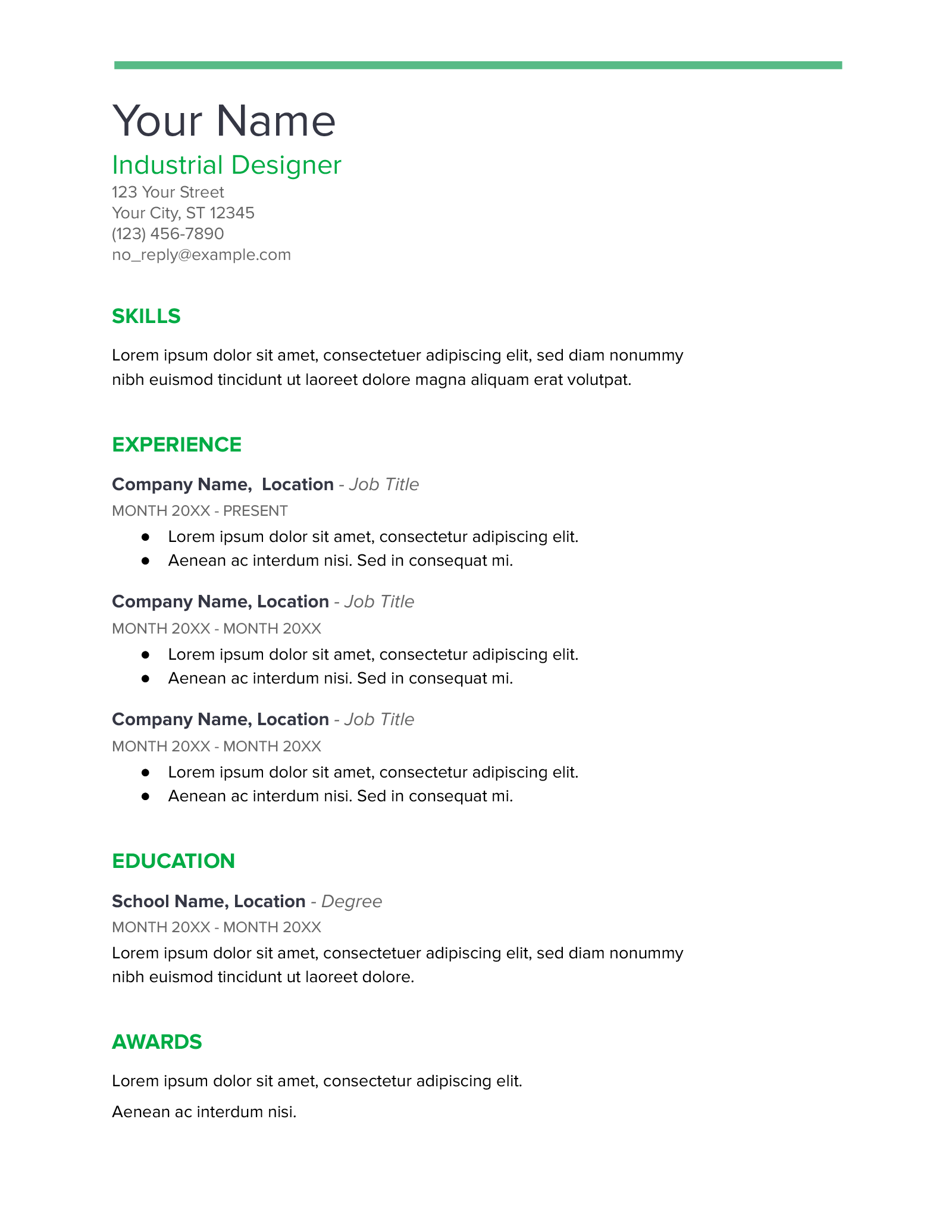 This stylish resume template for Google Docs is the perfect choice if you want to give your job application a crisp, contemporary feel. Just like chewing on a fresh piece of Spearmint!
Not only that, but — similar to the "Swiss" and "Coral" designs — this template is formatted to highlight your professional resume skills.
This Google Docs resume is also an excellent choice for job seekers in high school sending out multiple job applications.
With its strong resume header, neatly divided resume sections (like its robust education section), and overall pleasant color scheme, its aesthetic can help younger applicants on their job hunt when their experience is lacking.
5. Modern Writer Google Docs Resume Template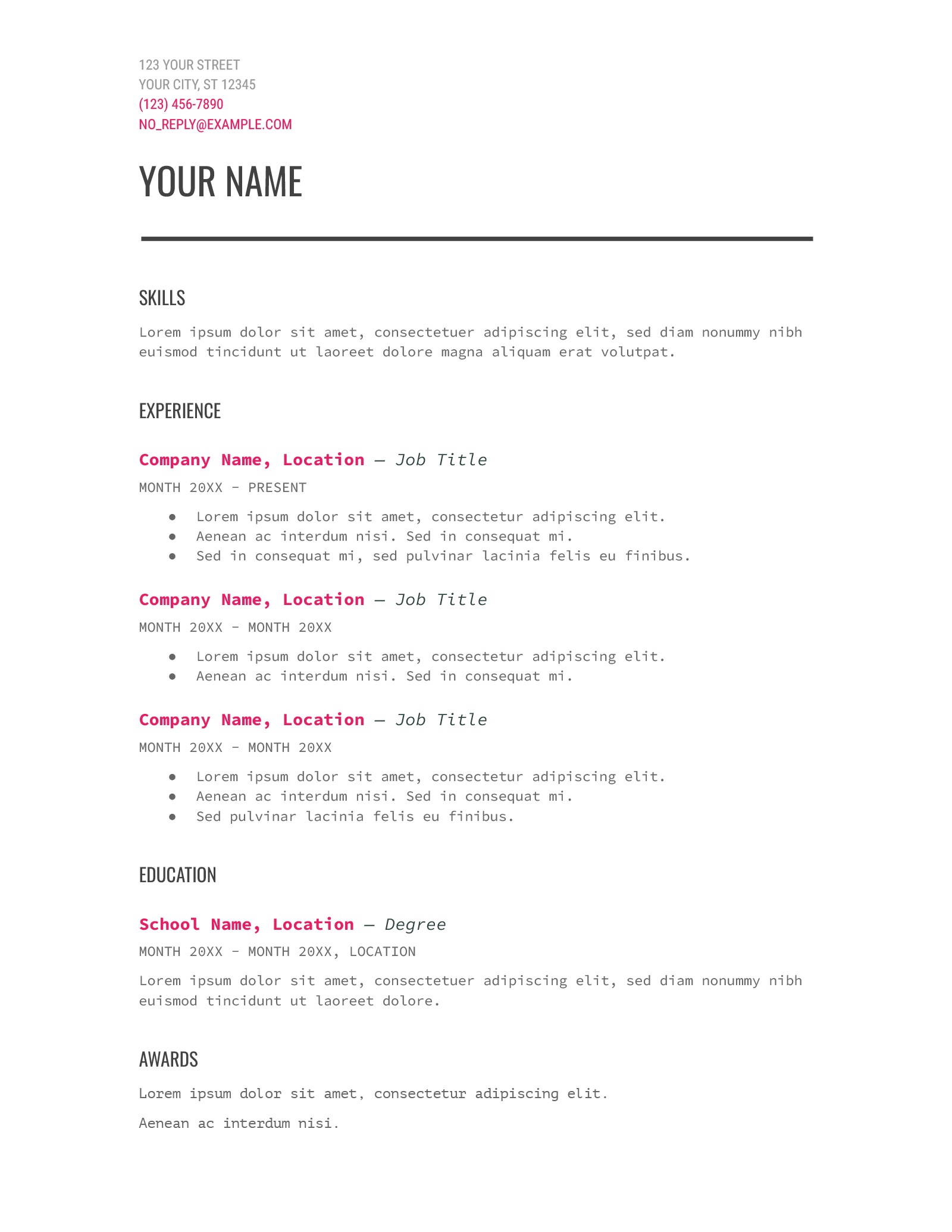 With its mix of fonts and splashes of bright color, the "Modern Writer" resume template for Google Docs comes off as both creative and technical.
This template is ideal if you work in product design or tech, and want to give your application a distinctive appearance.
How to Make a Resume on Google Docs
Google makes it simple to access their default resume templates in Google Drive.
You can click this link to go directly to the templates gallery, and browse the full library of templates and Google Docs cover letter templates.
However, it's also valuable to learn how to access these templates using your Google Drive account so you can explore them whenever you want.
Just follow the tips below to access Google's full slate of resume templates yourself:
Step 1: Open up a blank Google Doc in Google Drive
First, open Google Docs, and click "Blank" to open a fresh document.

Step 2: Click File → New → From Template
Then, go to "File" → "New" → "From template" to bring up the full list of Google Docs templates.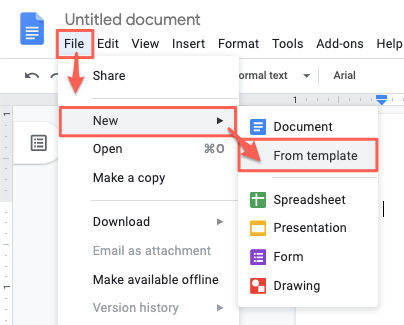 Step 3: Scroll down until you see "Resumes" and select your preferred template
Finally, a full list of the available templates in your Google Drive will appear. Scroll down, and you'll see the Google resume templates.
Note: if your Google account is associated with a company or educational institution, you may have to click the "General" tab before you can see all each Google Docs template.
It's that easy! If you don't see the "Resumes" category, keep in mind that you can only access resume templates from Google Drive if your display language is set to English. This can be done under "Language" in your Google Drive settings.
Step 4: Share the link to your resume with employers
A huge benefit of using Google Docs resume templates is that you can quickly and easily share your resume with potential employers, recruiters, or friends.
Just copy the link and paste it into an email. You can access the link sharing settings by clicking "Share" in the top right corner.
Make sure that the share link is set to "View Only", as you don't want the hiring manager to accidentally make an edit to your resume.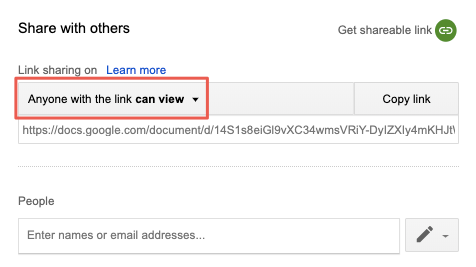 If you plan to send the same resume to multiple companies, make sure you create separate Docs in your Google Drive. It's best practice to create a new resume for each job you apply to, plus you'll avoid scenarios where multiple employers access your resume at the same time.
8 Custom Resume Templates for Google Docs
Looking for more options? We got you covered.
Check out these eight additional HR-approved resume templates. Each is compatible with Google Docs, and we've included links for you in the captions so you can instantly make your own. Simply download the file and upload it to Google Drive for editing.
Better yet, nearly all of these options include matching custom-made cover letter templates as well.
1. Classic Resume Template
Featuring a traditional layout and a modest resume color scheme, the "Classic" Google Drive resume template truly lives up to its name.
Opening with a strong resume objective, this template lets you quickly summarize your qualifications and set the tone for the rest of your resume.
Then, the horizontal line in the header cleanly breaks up your information and gives the hiring manager space to focus on your job experience.
No matter what position you're applying for, you can't go wrong with this reliable resume template.
2. Modern Resume Template
Looking for a stylish and modern resume template? This Google docs-compatible resume template can give your application that trendy, cutting-edge feel.
Additionally, this template's format features a sizeable section for your resume profile at the top, giving you plenty of space to shine a spotlight on your professional background. That makes it ideal for entry level candidates, or anyone else who needs to add more context to their resume.
3. Chicago Resume Template
Classy and refined, this resume template for Google Docs is the perfect choice if you want to give your application an executive feel.
Each heading features a full-width horizontal line, nicely breaking up the page and guiding the hiring manager's attention to your relevant experience.
This template is best used by experienced job seekers or anyone applying to a Fortune 500 company.
4. Creative Resume Template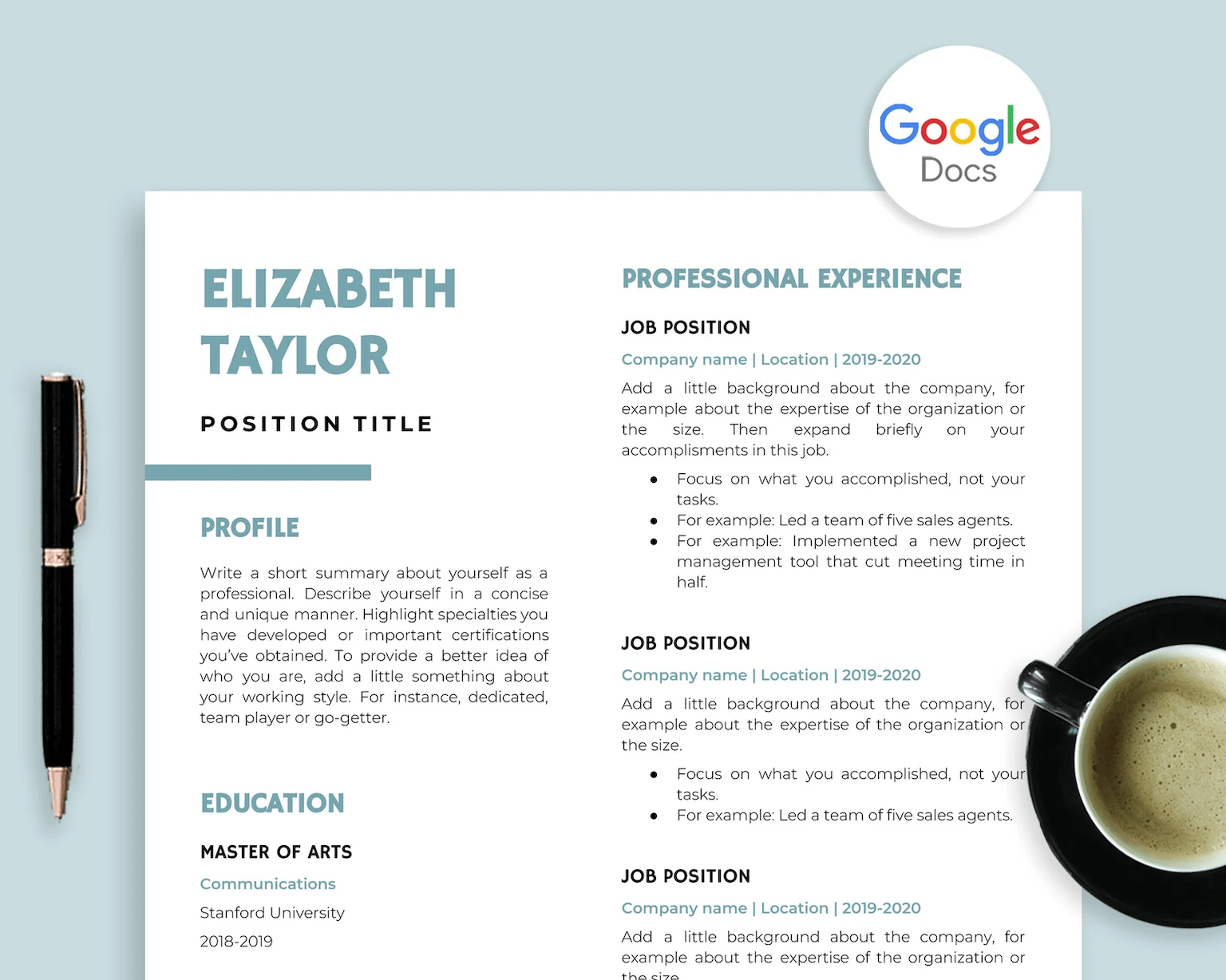 This fashionable Google Docs resume template is the perfect blend of personality and professionalism. Featuring a compact design and colorful headings, it's ideal for job seekers who want to make their applications stand out while still highlighting the full extent of their qualifications.
Better yet, this resume template comes packaged with a matching cover letter template, giving your application a consistently attractive design.
5. Harvard Resume Template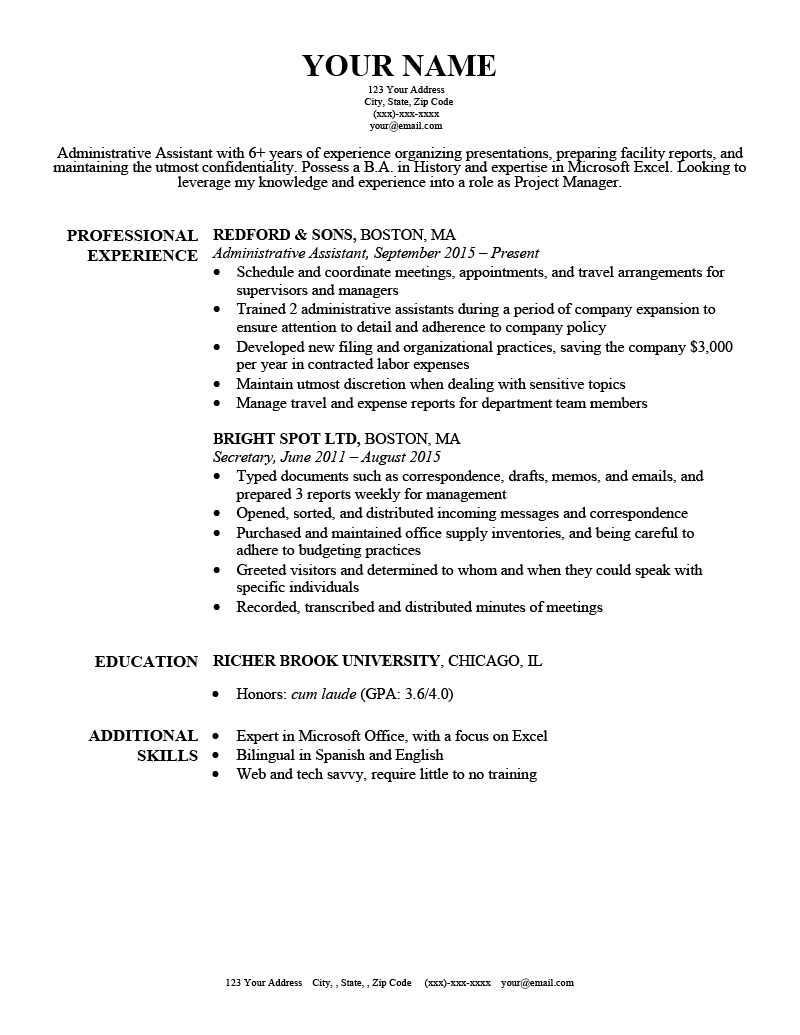 Are you looking for something simple and clean? The "Harvard" Google Docs resume template is your best choice.
A crisp header and centered bullet points minimize distractions and put the spotlight right where you want it: your qualifications and job experience.
6. Professional Resume Template
With a bold header and clean lines, this contemporary resume template has a confident feel — as if you're ready to take charge and get the job done.
The long experience section and sidebar for contact and education details makes this template ideal for experienced professionals who want to bring immediate attention to their accomplishments.
7. Dublin Resume Template
Featuring a space-efficient header and an elegant font, this Google Docs resume template adds a splash of playfulness to an otherwise serious design.
This template is ideal if you want to add personality to your application without sacrificing professionalism.
8. Elegant Resume Template
Spacious and bold, this resume template for Google Docs shouts "elegance." The increased letter spacing and uncluttered design of each section gives your application a sophisticated appearance, and helps visually emphasize your qualifications and skills.
Looking to escape the blockier design of a standard template and help your application stand apart from the competition? This is a great option.
Use a Google Drive resume template to perfect your application
Now that you know the best resume templates for Google Docs and how to use them, it's time to get your resume written and ready to go.
But first — don't forget your cover letter. Check out our free cover letter templates, or if you prefer to stick with Google, we also explain how to access Google Docs cover letter templates for your convenience.
And if you're looking to save time and effort, try our state-of-art resume builder.
Simply select a template from the template gallery and enter your information. In moments our software will build you the perfect resume — one that highlights your work history and pairs together with your cover letter to create an interview-landing job application.