In today's social media obsessed world, personal branding is no longer reserved for companies. Everyday people are taking their images into their own hands. A carefully chosen resume photo may be the latest step people are taking to further establish their personal brands.
So, is a resume picture an asset that job seekers should include on their resumes?
Or is it a job application faux pas that should be avoided at all costs?
Regardless of which side of the issue you're on, here are five questions you should ask yourself before putting your photo on your resume.
5 Questions to Ask Yourself Before Including a Resume Picture
1. What's the job you're applying for?
Consider what job you're applying for. Unless you're putting together a modeling or acting resume, your physical appearance won't (and shouldn't) figure heavily into your hireability.
Simply put, adding a resume photo won't help your employer better understand how you'd be suitable for the role. And since space on a resume is prime real estate, you're better off just leaving it out.
However, if the job is one where your appearance and friendly demeanor are assets, enclosing a resume picture becomes more appropriate. Including a resume photo may even convince hiring managers of your suitability for the job.
By providing hiring managers with your image, you give them more of your personality to consider outside of dry lines of text on a sheet of paper.
2. What's customary in your country?
While some employers expect applicants to include a resume photo, others won't even look at your resume because a resume picture is seen as an unprofessional and potentially risky addition to your resume.
One major reason why your employer might throw out your resume is to avoid being accused of discriminatory hiring practices.
Violating employment discrimination laws in many countries is a serious matter. An example of this is with the anti-discrimination employment laws in the United States. Companies such as Abercrombie & Fitch and Wal-Mart have faced large fines and damaged reputations as a result of discriminatory hiring practices.
What does this mean for you?
Long story short, you need to figure out if it's generally acceptable to include a resume photo in the country where you're seeking work.
Here are some countries that use resume pictures and some that don't:
Countries where resume photos are acceptable
China
Japan
South Korea
Philippines
Most European nations
Countries where resume photos are generally not acceptable
United States
Canada
Australia
United Kingdom
Ireland
The Netherlands
Sweden
India
Sources: Experteer, Kickresume, Jobstreet
3. What impression do you want to make?
Are you aware that most HR managers give each resume only about a 6-second look before discarding it?
Ask yourself: Do you really want the HR manager to spend those valuable six seconds distracted by your appearance?
Instead, direct the HR manager's focus towards your work experience and accomplishments, and impress them with your hard and soft skills.
4. What should a resume photo look like?
If you do decide to add a resume picture, make sure it gives the right impression.
Generally speaking, any picture you include should be professionally-taken, and clearly show what you look like.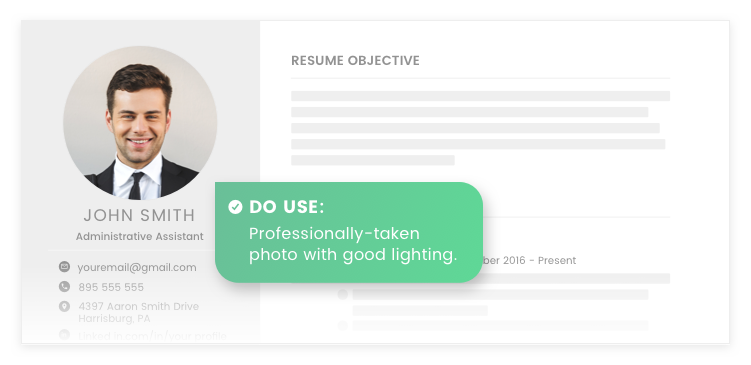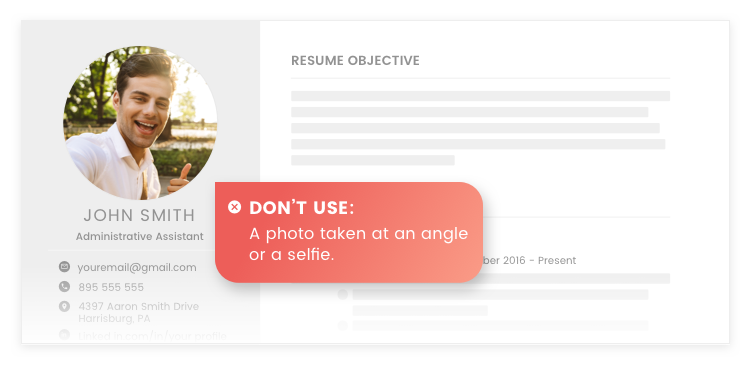 After all, this will be the hiring manager's first impression of you, so you don't want to look unprofessional or unreliable.
Using a selfie or otherwise unsuitable resume photo is common on bad resume examples, and is sure to get your resume discarded.
Professional Photo
Dos

and

Don'ts
Professionally-taken photo
Photo where you're facing straight toward the camera
Photo with good lighting
Photo where your face is clearly seen
Photo of you with a friendly smile
Photo where you're dressed business casual
Photo where your hair is neat and out of your face
Photo where you're wearing tasteful accessories
Selfie
Photo taken at an angle
Photo with bad or harsh lighting
Photo where your face is obscured
Photo where you look bored or unenthused
Photo where you're wearing inappropriate attire
Photo where your hair looks unkempt
Photo where you're sporting too many piercings, tattoos, or accessories
If the photo you want to put on your resume matches the "Do Use" criteria above, your resume picture may increase your chances at landing an interview.
5. Does using a resume photo or not really matter?
In today's increasingly digital world, does it really matter whether or not you put your picture on your resume? After all, unless you have a common name (or are an expert at masking your online presence), your social media profiles are only a short Google search away.
In short, the answer is yes – it does matter.
If it's common practice to keep resume pictures off your application documents, you should still stick to convention and exclude it.
By playing it safe, you won't accidentally come off as unprofessional or endanger your employer's reputation by mistake. And if your work history doesn't impress the hiring manager, you're probably better off working somewhere else where you'd be more appreciated.
Don't Want to Use a Resume Photo? – Two Other Options
Let's say that you decide to keep the photo off your resume, but you'd like to make your picture easy for prospective employers to access in the event they want to do so.
There are two key ways you can include your photo while you're applying for jobs that's still professional.
1. Attach Your Business Card
One way to skirt the rules of adding a photo directly to your resume is by paper-clipping your business card to your resume. Since some business card formats include a photo, attaching one to your resume is a great way to subtly factor your appearance into the hiring process.
This method is especially effective after meeting a potential employer at a networking event. The picture on your business card will help them remember you, potentially giving you an edge to be called in for an interview.
2. Provide a link to your LinkedIn or portfolio
If a prospective employer is going to check your social media for clues on what you look like, why not provide them with links to the most professional of your online profiles?
Provide a link to your LinkedIn profile or online portfolio directly on your resume. Both are likely to feature a professional profile picture of you, and you since you created them with job hunting in mind, you might as well leverage them.
Plus, if you have a good LinkedIn summary, your LinkedIn profile and online portfolio should create better impressions of you than your Facebook and Instagram accounts, which are more casual and may feature images of you you'd rather employers not see.
Final Takeaway
If you're wondering whether or not including a resume picture is a smart move for you, there are many considerations to take into account. Make sure it's appropriate for the position you want and the country you're in, and you should be fine.
Still confused on how to perfect your resume? Don't forget to check out our easy-to-use free resume builder or our professionally-written resume samples for some additional support.