No matter the reason, many people go through periods of unemployment over the course of their careers.
Fortunately, gaps in a resume aren't as much of a red flag as they used to be — an employment gap of six months to a year shouldn't raise any eyebrows.
But employers will likely still want to know the reason for your resume gap so they can gauge how committed you'll be to your new role.
Our free-to-use resume builder can make you a resume in as little as 5 minutes. Just pick the template you want, and our software will format everything for you.
Sample resume with gaps in employment
To maximize your chances of getting an interview, here's how to properly address resume gaps: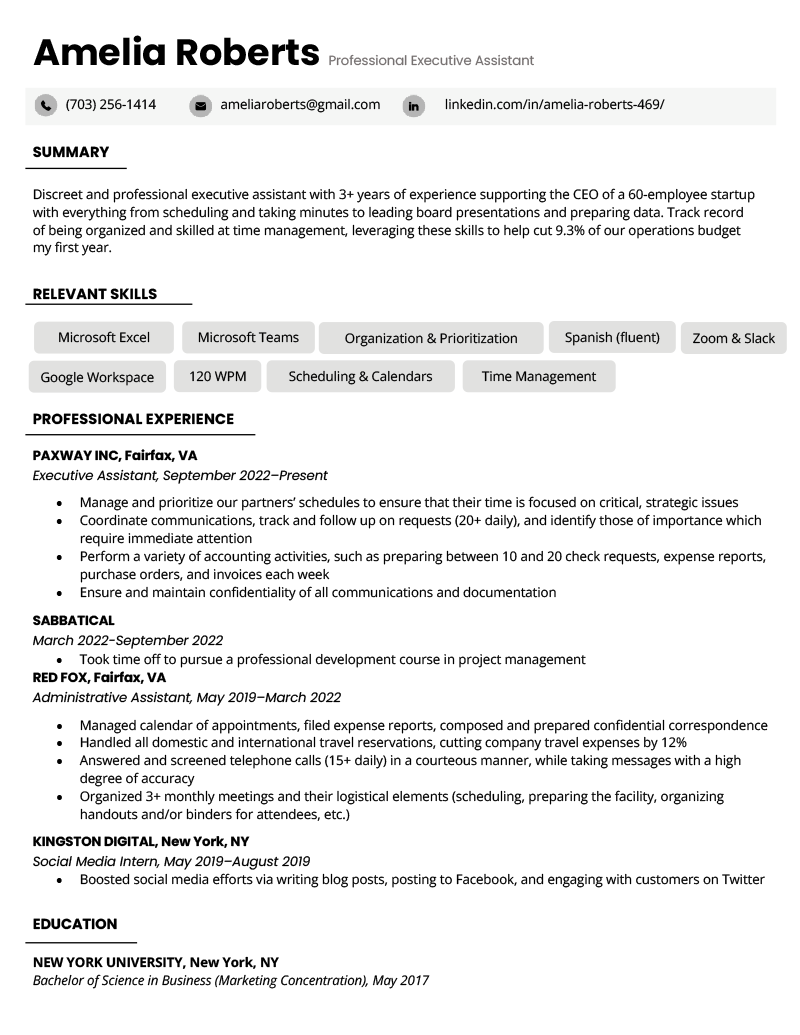 This candidate created a separate entry in their work experience section to explain a 6-month gap between two work experience entries. If you used your time off to invest in professional development, this is a great way to explain a gap in your resume.
But your situation might not be that straightforward — let's explore some other ways to explain an employment gap:
Use your cover letter to explain your situation
Unless you address resume gaps directly, a hiring manager might assume the worst.
Be up front from the start of your application by explaining career gaps in your cover letter. Write about your situation in positive terms.
For example, you can highlight how you used your career break productively by:
staying up to date with industry trends
upskilling
freelancing
Prepare to talk about your career gaps in an interview
Employers will ask about your resume gaps in job interviews. Prepare ahead of time by rehearsing your response, like in the example below:
Transparency is key. Explain why you took the time off and what you gained from the experience. Use the same good reasons for gaps in employment that you gave in your cover letter, but provide more details.
Own your decision. Instead of avoiding the topic, speak confidently about your career gaps. For example, replace phrases like "I didn't know what I wanted to do" with "I chose to take time off to grow personally and professionally"
Common reasons for employment gaps (and how to talk about them)
Whether in a cover letter or during an interview, you'll need to be prepared to discuss your resume gaps in a way that reflects positively on you.
Here's how to explain ten common reasons for a gap in employment:
1. Personal reasons
If you've experienced life-disrupting challenges like divorce or mental health issues, you may have difficulty sharing that sensitive information with a stranger. But avoiding the question can make you seem suspicious.
So prepare a straightforward explanation that you're comfortable sharing.
If you want the specifics of your situation to remain private, keep your answer brief, and use general terms like "medical reasons." Frame your career break in a positive way, and then steer the conversation back to your goals for the position.
2. Illness
Unexpected illness is a valid reason for a gap in employment. Any decent hiring manager will understand the need to take time off to recover.
If you're comfortable sharing, state what happened in simple terms. For example:
"I was diagnosed with breast cancer and took time off for treatment."
Then, bring the conversation back to the present, and explain why you've decided to re-enter the workforce. You could say something like:
"I've been in remission for a year, and I'm ready to renew my career."
3. Parenting
Did you step back from work to raise your children? You're not alone. During the COVID-19 pandemic, thousands of women dropped out of the workforce to care for their families.
If you're writing a stay-at-home parent cover letter, explain that you chose to focus your energy on your family during that time, and highlight any upskilling or freelance work you did while caring for your family. Then, explain why you're ready to get back to work. For instance, maybe your kids have grown up or you've hired extra help and are ready to focus on your career again.
4. Education
Showing continuing education on your resume makes you a more competitive candidate. Taking the time to add a new qualification to your name shows that you're a lifelong learner with up-to-date knowledge.
To explain a career gap caused by going back to school:
list any relevant modules and expertise you'll apply to your new role in your resume's education section
write about how you can transfer that expertise to the workplace in your cover letter
continue connecting your new skills to your target position in any job interviews you land
5. Travel
If you took time off to travel, explain how your time away expanded your perspective.
Center your response on the requirements of the position you're applying for — if possible, explain how life lessons you learned during your time traveling help you fit the position.
Also, emphasize that you're now prioritizing professional goals so employers know you won't get the travel bug again after 6 months.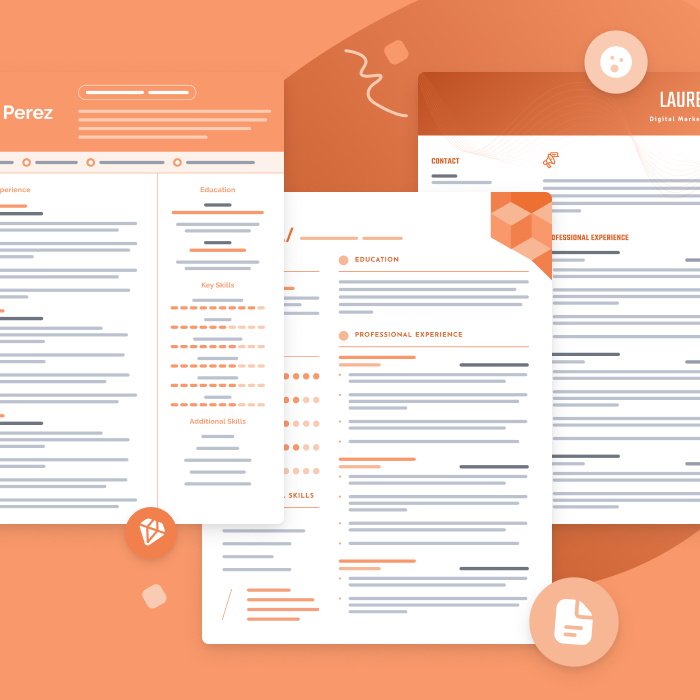 One of the best ways to make your resume is by filling out one of our free resume templates. All our templates are designed by experts and free to download for Microsoft Word or Google Docs.
6. Personal development
Maybe you took time off to reskill for a new industry, put more energy into a successful side hustle, or learn a new language.
Whether it's closely related to the job you're applying for or more of a passion project, you can frame this experience in a way that will make you even more desirable to hiring managers.
Take some time to think about what you gained from this experience and how it's prepared you to be a better version of yourself at work.
For example, you could say:
"I took some time off to invest in my professional growth by attending free courses to self-learn Python, which I'm excited to apply in this role."
7. Caretaking
Another common reason for taking time off work is caring for a sick or elderly family member or loved one. Simply tell hiring managers you were the sole caregiver for your loved one, but you're ready to return to work.
For example, in an interview, you might say:
"In 2022 my mother was diagnosed with a severe illness, so I took some time off to be her primary caregiver. It was a difficult period, but it made me more resilient and taught me very valuable problem-solving and organizational skills. Now my family's needs have changed, and I'm ready to bring these skills back to my career."
8. Volunteering
Are you passionate about giving back? Volunteering your time for a cause you care about is a sign of character strength, which is highly desirable to many employers.
When addressing time you took off for volunteering, be sure to explain why the cause matters to you and what you learned from the experience — come prepared with some takeaways that you'll be able to put toward your new role.
If it's applicable to the position you're seeking, you should include volunteer experience on your resume, either in a dedicated section or as an entry under your work experience section.
Here's how volunteering might look on a resume:
Volunteer Team Lead, Green Earth, Muriaé, Brazil
January 2023 – May 2023
Led a team that grew seedlings and planted over 5,000 trees in deforested regions

Organized community outreach programs to educate children and promote sustainable practices at local schools
9. Sabbatical
Sabbaticals aren't vacations, so your explanation should illustrate how you used your time productively.
List your sabbatical in your resume or academic CV's work experience section, and include any research you conducted or papers you wrote during your break. Importantly, note that you stayed abreast of industry knowledge by attending webinars or taking short courses.
10. Job searching
Searching for a new job can be challenging, even if you're giving it your all. If you've been unemployed for an extended period of time while actively looking for new work, you can emphasize that you've been selective in your job search.
Try saying something like:
"After leaving my last job, I decided to focus on finding a position that allows me to make a meaningful contribution and where I can grow professionally. I think [Company Name] could be a great fit because [explain what attracts you to the role].
How to fill in employment gaps on your resume
There are several ways to downplay gaps on your resume, such as using resume formatting to your advantage. Follow these resume tips if you have gaps in your work history:
1. Create a work-experience entry for lengthy gaps
If you've had a substantial work gap (anything over a year) add an entry to your resume's work experience section that fills up this space.
List the reason for your career gap as the header. Then add any relevant information, such as courses you took, volunteer work you did, or even virtual events you attended.
Here's an example:
GAP YEAR
Siem Reap, Cambodia, 2022–2023
Taught English to children aged 6–9

Volunteered at Phnom Penh Bear Sanctuary, performing various manual labor tasks
2. Omit months for short gaps
Disguise a short gap by listing only years in all the employment dates on your resume. For example:
SWEET VALLEY HIGH SCHOOL
English Teacher, August 2018–May 2020
MARCY ELEMENTARY SCHOOL
Assistant Teacher, December 2016–January 2018
SWEET VALLEY HIGH SCHOOL
English Teacher, 2018–2020
MARCY ELEMENTARY SCHOOL
Assistant Teacher, 2016–2018
Listing only the year makes a career gap less obvious. This strategy only works if your employment gap is less than a year in length.
Hiring managers are skilled at cross-checking dates, so you should still be ready to explain if they identify a gap and bring it up in your interview.
Frequently asked questions about resume gaps
Below are some frequently asked questions about resume gaps:
How bad is a gap in your resume?
How bad a gap is in your resume depends on how you explain the gap. For example, if it's clear in your resume that you spent six months out of the workplace taking a class to improve your professional skills, then a gap in your resume isn't bad. You can even list the skills you learned in that class on your resume.
If the reason behind the gap in your resume isn't clear, explain this period of unemployment in your cover letter. For instance, if you were laid off, explain that your company restructured. If you took time off to be a stay-at-home parent, state this clearly.
How do you explain employment gaps on a resume?
Here's how to explain employment gaps on your resume:
Use your resume summary to briefly explain why you weren't working during the gap
Highlight volunteer experience or independent projects you worked on during that time
Explain what you learned or gained during your employment gap
Provide a convincing cover letter that explains your employment gap
Having employment gaps on your resume isn't as bad as many job seekers think it is. Employers understand that there are many legitimate reasons why you might have gaps in your work history. As long as you explain those resume gaps, employers are unlikely to hold them against you.
For instance, any of the following examples are good reasons for gaps in your resume:
Caring for a sick family member
Raising a child or children
Going back to school
Being laid off from your previous job
Long-term health issues
Undertaking a personal project
What is the best resume format for gaps in employment?
The best resume format for gaps in employment is the functional format. This type of resume focuses on your skills, accomplishments, and qualifications rather than your work history, helping you downplay any employment gaps.
Unlike a chronological resume which has the experience section at the top, a functional resume begins with the skills section, making it an ideal choice for candidates with gaps in their work history.