What is relevant work experience?
Relevant work experience is any experience that helps qualify you for the role you want. Relevant experience can be gained from your job, education, or even hobbies. The important thing is that you picked up specific transferable skills through that experience that'll help you succeed in the new role.
Including relevant work experience on your resume is important because it shows hiring managers you've understood the requirements of the job and that your experience meets those requirements.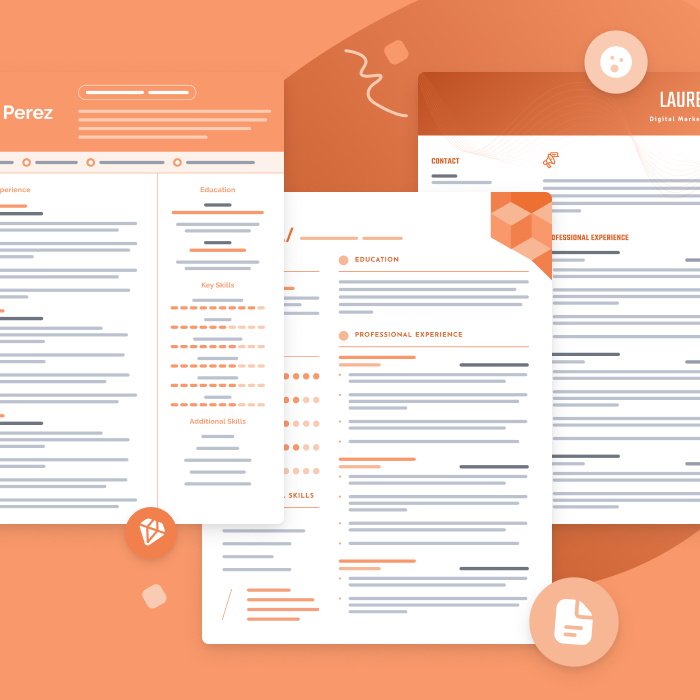 One of the best ways to make your resume is by filling out one of our free resume templates. All our templates are designed by experts and free to download for Microsoft Word or Google Docs.
How to format your work experience section
Equally important to choosing the right resume template and overall resume format is knowing how to structure your work experience section. Hiring managers need to be able to quickly verify that you have the experience they're looking for.
Follow these rules to make sure your resume formatting is correct:
Our free-to-use resume builder can make you a resume in as little as 5 minutes. Just pick the template you want, and our software will format everything for you.
List your previous job titles, employment dates, and company names
For each job you list in your work experience section, include the following information:
Job title(s)
Company name
Location of company (city and state)
Dates you were employed there
Three to five bullet points highlighting your achievements and job duties
Here's a template showing how your work experience should be formatted:
Company Name, City, State
Dates of Employment
Three to five bullet points describing your responsibilities while working this job
List your most recent work experience first
List your most recent work experience at the top of your work experience section, with less recent job titles below (just like how a resume-building software would automatically format such information).
The more recent the work experience, the higher it should be placed on your resume. Follow this format when you write your resume's work experience section:
Title 1
Company, City, State
Start Date-End Date
(Most recent work experience)
Title 2
Company, City, State
Start Date-End Date
(Second most recent work experience)
Title 3
Company, City, State
Start Date-End Date
(Third most recent work experience)
Listing your work experience chronologically on your resume shows hiring managers how you've progressed in your career, and lets them see how your skills have developed over time.
Here's an example of a work experience section taken from a police officer resume: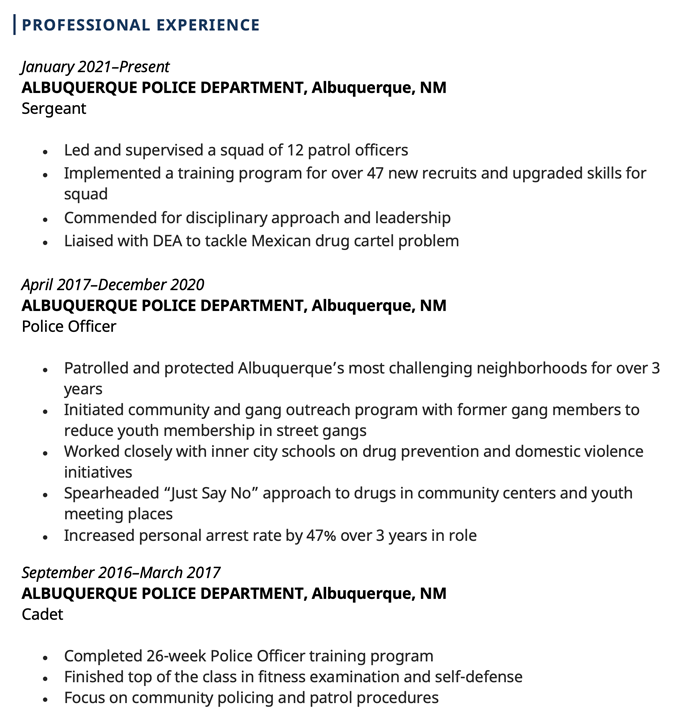 How to describe work experience on your resume
Once you know how to format your work experience on your resume, you need to describe that experience with bullet points that highlight your professional background and skill set. Here's how to write a resume that accurately reflects your experience:
Include achievements instead of responsibilities
Emphasize accomplishments on your resume instead of just listing job responsibilities. Accomplishments show you made positive contributions to your company's performance rather than simply met expectations.
Compare these examples of work experience bullet points to see how effectively listing achievements can strengthen your resume:
Implemented a system for tracking business leads that boosted sales by 47%
Tracked business leads
The first example is effective because it includes a number that gives the hiring manager an idea of how you'll perform at the job if they hire you.
Write bullet points for the job you want
While it might sound time-consuming, the work experience bullet points on your resume shouldn't be generic unless you're writing a general resume.
The content of your work experience section should be targeted to the job you want, with each bullet showcasing specific skills and experience related to the job opening.
You should also include keywords from the job description in your experience section. Including resume keywords, such as skills and qualifications that keep reappearing throughout the job ad ensures you address the hiring manager's requirements.
Begin each bullet point with action verbs
Starting at the 1:16 point, your Certified Professional Resume Writer, Eva Chan, explains why action verbs are so effective on resumes:
To expand on what Eva says, hiring managers see tons of resumes that start each bullet point with phrases like "responsible for" and "tasked with".
The problem with language like this is that it's passive and doesn't describe what you actually achieved at work.
Instead, you should begin your bullet points with descriptive resume action verbs that clearly show hiring managers what you got done in your previous roles.
Here are some examples of action verbs being used to effectively describe a job seeker's work experience:
Organized a work safety initiative that saved the company money on worker's comp
Developed new communications protocols that improved connectivity between the company and clients
Optimized product delivery logistics that accelerated order fulfillment for customers
Add numbers to your bullet points when possible
Use numbers to describe your work experience whenever you can (this is known as quantifying your resume), because numbers give hiring managers a better idea of what you can accomplish.
Anything that shows how you measurably improved performance should be included on your resume.
Examples of how to quantify your resume include talking about:
Clients acquired
Dollars saved
Customer satisfaction increased
Revenue generated
Customers served
Expenses reduced
Attrition rate decreased
Sales numbers improved
Here are some examples of work experience resume bullet points that include numbers:
10 Resume work experience examples
Customer Service Representative
Computer Company, LLC, Scottsdale, AZ
2016–Present
Supervised customer service training program that grew customer engagement by 35%
Implemented new office layout that enhanced communication between staff
Won Employee of the Year twice (2017 and 2019)
Earned highest performance ratings across 7 consecutive months for resolving customer problems
Developed more efficient filing system for customer records
Wellness Hospital, Boise, ID
2001–2014
Managed critically ill patients (20+ on my ward)
Directed new nurses' training program on practical ventilator function
Cared for 1,000+ patients in ICU and provided pre-operative care
Trained 15 team members to use Epic and Cerner patient management software systems
Children's Middle School, Billings, MT
2011–2018
Piloted reading initiative that expanded the average student's vocabulary by 140 words
Coordinated run–swim–bike events that raised $76,000 for local causes
Established after-school gaming initiative that cut students' screen time by 40%
Introduced SMART boards as Chair of Technology Committee
Led class to win Best Behaved awards 7% more often than colleagues
Minnesota Humane Society, St Paul, MN
2014-2019
Greeted visitors and provided tours of the shelter to prospective adopters

Conducted an average of 3 adoption appointments per day

Responded to enquiries via phone and email in a timely and professional manner

Helped increase adoption numbers by 25% by planning and participating in adoption events
Talat Market, Atlanta, GA
2019-Present
Build good customer relations and tend to all guests in a courteous, efficient manner.

Make sure that all 15 staff members adhere to company guidelines and state liquor regulations

Maintain a sanitary environment by keeping the bar and seating area clean throughout the day

Keep inventory of liquor, food and supplies and communicate with the F&B manager to ensure timely restocking

Create 3 signature drinks and updated the menu twice a year with alcoholic and non-alcoholic seasonal cocktails
Business Development Specialist
Brix Law, Portland, OR
2012-2016
Researched and drafted pitches, brochures and other materials for client meetings

Liaised with lawyers to create yearly submissions for 4 leading benchmarking publications

Maintained updated mailing lists and sent out newsletters and briefings

Prepared and sent out invitations for seminars, webinars and conferences. Followed up with participants after events, who reported a 98% average satisfaction rate
Whole Foods, Raleigh, NC
2018-2020
Provided efficient and friendly service to 100+ customers on a daily basis

Adhered to cash handling procedures as well as check, ATM and credit card procedures

Trained 10+ new cashiers, ensuring they followed established health, sanitation and safe work practices

Performed opening and closing duties, making sure each workstation was clean and properly stocked for the day
Manitowoc, WI
2017-2021
Planned and executed 30+ meetings, events and tradeshows with great attention to detail while staying within budget

Took the lead in negotiations and managed vendors throughout the planning process

Consulted with clients to ensure their requirements were met and came up with cost-effective strategies, saving clients an average of 8% in budget costs

Managed logistics including speaker coordination, transportation, agenda planning and event space
Louis Berger Services, San Jose, CA
2013-2017
Kept inventory and reduced monthly costs by $1000 by evaluating office supply needs

Liaised with building management for maintenance requests

Provided daily administrative support including answering incoming calls (60+/day), scheduling meetings, coordinating office activities and greeting visitors

Facilitated new hire onboarding in communication with management, IT and building security
Wellory, Brooklyn, NY
2018-2021
Contributed to a 15% increase in engagement across Facebook, Instagram and Twitter within my first 4 months at the company

Analyzed the company's existing social media strategy and provided recommendations to the marketing manager

Identified and reached out to 100+ influencers in the health and fitness industry regarding brand promotions and collaborations

Communicated with customers across platforms, responding to an average of 100 messages and comments per day