A clean and organized resume presentation doesn't stop at choosing the right resume format. Bullet points usually make up the bulk of the page, but knowing how to craft good bullet points when writing your resume can be confusing.
You need to know what information to include, how to present it, and where to put it.
Keep reading to learn how to write effective resume bullet points.
Our free-to-use resume builder can make you a resume in as little as 5 minutes. Just pick the template you want, and our software will format everything for you.
How many bullet points should you list per job on your resume?
Unless you're making a master resume, list between three to five bullet points per job. This should be enough to showcase your most relevant work experience while keeping your resume within the recommended length of one page.
Your resume doesn't need to go into detail about the ins and outs of every job you've ever had, because not every job duty you've held in the past will be relevant to the job you're applying for.
Instead, it should focus on the most relevant highlights of your career that demonstrate the skills on your resume and qualities that make you an ideal candidate for the position you want.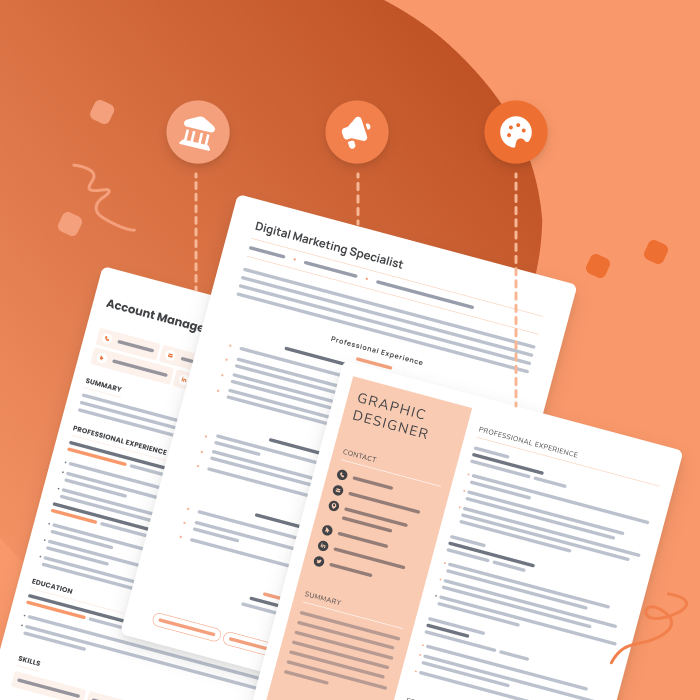 Not sure what your resume should look like? The best way to learn is by taking inspiration from resume examples written by other candidates in your industry.
Resume bullet points vs paragraphs
Hiring managers have limited time to spend on each applicant. If you write long paragraphs, the reader is more likely to skim through your resume and potentially miss important details.
Adding bullet points to your resume allows you to provide a concise overview of your professional and educational background, making your resume easier to read.
How to write resume bullet points
Resume Genius's in-house expert Eva Chan CPRW explains why bullet points are effective on a resume. Fast-forward to 21 seconds in to find out why:
Now you know why you should use bullet points, here's how to write strong bullet points for your resume:
Bullet points for your resume introduction
While most resume introductions, such as the career objective, consist of a 3-4 sentence long paragraph placed at the top of your resume, some types of introductions are well-suited for a bullet point format. These are:
The resume summary
When you write bullet points for your resume introduction you should:
Be concise – Use 3-4 bullet points to introduce yourself, your work background and your professional strengths
Highlight highly relevant information – Your resume introduction is the first thing a hiring manager sees, so the information you include in your bullet points should convince them to read the rest of your resume
Here's an example of how to write a bullet point for your resume introduction:

This example works because the candidate mentions how many years of experience they have and a couple of their greatest achievements.
Bullet points for your resume experience section
Writing bullet points for the experience section of your resume can be tricky. You have a limited amount of space to impress hiring managers, so you need to make sure each bullet point is impactful.
Follow these steps to write effective bullet points for your experience section:
Be specific – Talk about specific achievements instead of giving a general overview of your responsibilities
Use the right tense – Use the present resume tense when writing bullet points for your current job and the past tense for all other roles.
Focus on one achievement for each bullet point – Spotlight one career highlight in each bullet point to keep your resume organized and easy to read
Quantify your accomplishments – Add hard numbers to back up your claims and lend credibility to your resume
Use resume keywords – Incorporating resume keywords is a good way of ensuring the information you include in your bullet points is relevant
Bullet points for your resume skills section
Your resume introduction and experience section aren't the only sections of your resume where you can use bullet points
Depending on the resume template you choose, your skills section might also include bullet points.
Listing skills in the form of bullet points is a straightforward process. Like with bullet points in your experience section, they don't need to be complete sentences. A skills section written in bullet point format should look like this:
Write down one skill for each bullet point to prevent your resume from looking cluttered.
Bullet points for other sections of your resume
If you're adding additional parts to your resume (such as hobbies and interests), write them the same way you would write your skills section.
Bullet points in a projects section or volunteer section, on the other hand, need to be a little more detailed. Here's a good example:

Both of these bullet points effectively showcase one specific, quantified accomplishment.
Do you put periods after bullet points on a resume?
No, you don't put periods after bullet points on a resume because resume bullet points aren't typically written as complete sentences.
However, if you do use complete sentences on your resume, you should add periods.
Here are two examples that illustrate this point:
Doesn't use a period
Manage business development and domestic sales initiatives totaling $10M per year
Uses a period
My duties include managing business development and domestic sales initiatives totaling $10M per year.
The first example is a fragment of a sentence and doesn't need a period, while the second example is a complete sentence, so it needs a period at the end.
Whether you choose to write in full sentences or not is up to you. The important thing to remember is that when it comes to periods, consistency is key.
If the first bullet point of your experience section is a complete sentence with a period at the end, the rest of them should be written the same way.
Resume bullet point examples
Here are five more examples of bullet points on a resume:
Example #1

Example #2

Example #3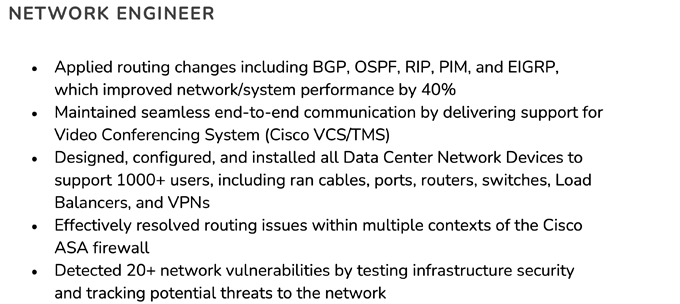 Example #4

Example #5