Many job seekers find writing a resume to be the most challenging part of their job hunt. However, it doesn't have to be a slog.
Creating a master resume is one of the most effective tricks to help you create a resume fast. In this article, we'll show you how to create a master resume the right way, and provide a helpful example of how to structure yours.
What is a master resume?
A master resume is a document that contains a complete list of your work history and all your accomplishments and skills. When you apply for a job, you can add or remove information from your master resume to easily create a tailored resume for that specific job.
Unlike a general resume which is used to apply for multiple different jobs, a master resume is used to keep a record of your professional achievements so you have them all on hand the next time you're writing a resume for a job.
Master resume example
To help you visualize what your master resume should look like, here's an example: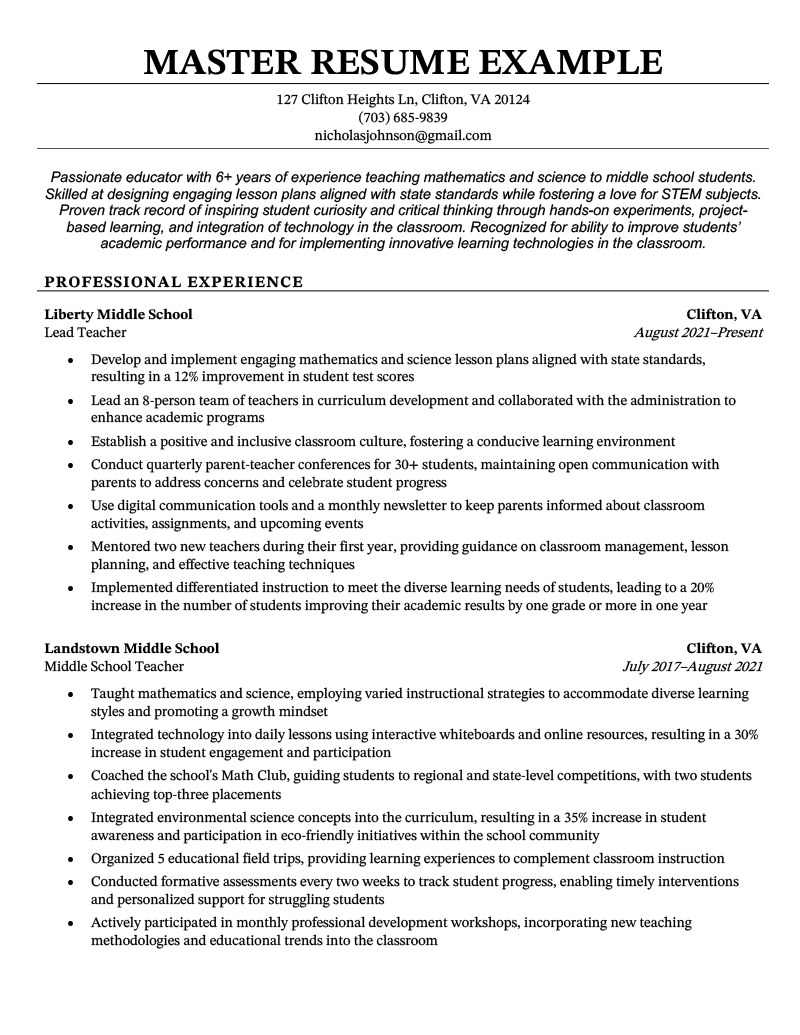 How to write a master resume
Here's how to write a master resume that saves you time when applying to jobs:
1. Evaluate your career goals
Before you sit down to write your master resume, take some time to evaluate your career goals and what type of jobs you're looking for. This will help ensure that the information you include on your resume aligns with your current objectives.
While a master resume should be comprehensive, adding information that isn't relevant to the kind of positions you will be applying for in the future will make it unnecessarily cluttered.
As a result, it'll be harder for you to quickly locate the information you need and tweak your master resume.
2. Use your most recent resumes for reference
You don't need to write your master resume from scratch. Instead, use the information listed on your most recent resume(s) and copy-paste the information you need to your master resume.
Keep in mind that if it's been years since you last wrote a resume, you'll probably have a lot of gaps to fill in on your master resume.
3. Add more bullet points than you normally would
On a regular resume, the recommended number of resume bullet points is three to five per job listed. This advice doesn't apply to master resumes, because you don't need to worry about keeping your document to the recommended resume length of one page.
Instead, add as many bullet points as you need to showcase all your professional achievements relevant to your field.
Once you apply to a job, you can just cut the bullets down to a more appropriate number.
4. List all your top skills
Typically, a resume should be tailored to a specific role by emphasizing skills found in the job ad. For your master resume, however, list all the skills you have that could help you land a job in the future.
This means that if you see yourself making a career change in the future or applying for a different job in the same field, you should include skills relevant for those roles too. Having a comprehensive list of your abilities will help make the resume writing process much smoother once you're ready to start your job hunt.
If you have a long list of skills, consider breaking it up into hard skills and soft skills to enhance readability.
5. Include additional sections
A traditional resume has an introduction, work experience, education, and skills section.
On your master resume, add additional sections so you have an overview of all your qualifications the next time you apply for a job.
Some examples of resume sections to include on your master resume are:
Certifications
Publications
Professional memberships
Languages
Projects
Awards
6. Update your master resume regularly
You never know when a job opportunity might present itself and you'll need a new resume. Updating your master resume regularly will ensure that you're prepared for such opportunities, and you won't have to spend as much time putting your application together.
Go over your master resume a couple of times a year to make sure the numbers in your bullet points are up-to-date and add any new accomplishments you've achieved since you last updated your resume.