What is a summary of qualifications?
A summary of qualifications is a type of resume introduction that focuses on your key career-related achievements. Placed at the top of your resume below your resume header, it should include four to six bullet points that highlight your most impressive accomplishments, skills, and experiences.
This type of resume introduction is known by several other names, such as:
Qualifications summary
Resume qualifications
Statement of qualifications
Skills summary
Our free-to-use resume builder can make you a resume in as little as 5 minutes. Just pick the template you want, and our software will format everything for you.
Who should use a summary of qualifications?
You should include a summary of qualifications if you're writing a resume as an experienced professional in your industry. That's because a summary of qualifications places your most relevant and impressive experiences, skills, and achievements at the top of your resume where hiring managers will immediately see them.
You can also include a summary of qualifications on your resume if you:
Possess high-level certifications related to your target job
Are able to demonstrate industry-specific skills 
A summary of qualifications is less appropriate if you have no (or little) work experience, or if you're transferring into a new industry. The only exception is if you've developed a wide range of skills and gained experience from other activities such as college studies, internships, volunteer work or extracurricular activities.
For instance, if you served in student government, you could write an effective summary of qualifications detailing your successes and the leadership skills you gained, as well as listing your academic achievements. Highlighting the right skills for your resume can make a difference in showing the employer that you're a good fit for the role.
Summary of qualifications examples
Here's an example summary of qualifications for an executive assistant of a major publicly listed company:

And here's a text version you can copy and paste:
Summary of Qualifications for Executive Assistant (Text Version)
Executive assistant with 10+ years of experience supporting CEO of [Company Name]
Oversee office budget of $47K per month
Slashed travel expenses by $7.4K by directly negotiating with service providers
Manage team of 17 administrative support specialists
Here are some additional qualification summary examples for popular industries:
Customer Service Manager
Manage team of 47 customer service representatives
Resolve 95%+ of customer complaints passed on from customer service representatives
Organize roster for 3 shifts working 24/7 with <1% mistake rate
Organized 4 annual training sessions on client relations, which led to 17% decrease in client cancellations
Accountant
Manage $1.5 mil. budget, with a 14.7% reduction in costs over 3 years
Supervise and organize a team of 7 junior associates, preparing training and ensuring they work at 100% efficiency
Analyze supply costs averaging $500K a month, and secured 4% discount from suppliers
Applied fluent Mandarin skills to source new, 17% less expensive service providers from Malaysia
Manager
Reduced staff turnover by ⅓ within my first year
Exceeded sales forecast by average of $10K over four years
Recruited, hired, and trained 47 new hires, developing them into productive and competent team members
Recognized as one of the Top 10 managers nationwide by headquarters
Teacher
Increased high-school graduates' GPA by an average of 0.5 within 1 year
Promoted to Director of Science within 18 months due to strong management and organizational skills
Trained 5 newly certified science teachers over 6 years
Provided support to 7 promising homeschool room pupils, 6 of whom were accepted into Ivy League colleges
Nurse Practitioner
Developed and maintained new EMR system, which increased efficiency by 17%
Provided critical care for an average of 74 patients per year post surgery
Mentored 11 new registered nurses to deliver exceptional standards of clinical care
Recognized as Florida's "Nurse Practitioner of the Year 2021" due to COVID-19 response
How to write a qualifications summary
Whether you're writing your summary of qualifications out manually or using a resume summary generator, there's certain information you should always highlight.
Your bullet points should be relevant to the job you're applying for, meaning your summary of qualifications should be different for every application you send out.
Carefully read the job description to see what the hiring manager expects from candidates and then use your qualifications summary to show them that your qualifications align with what they're looking for.
Here's an example of a visually appealing qualifications summary:

Here are some examples of details to highlight:
Years of experience
Successful projects
Awards and recognitions
Leadership positions
Make sure that each bullet point in your qualifications summary showcases new, relevant, measurable achievements from different parts of your career.
Take a look at these two examples:


In the first example, the candidate demonstrates their leadership skills and ability to improve sales numbers as well as their experience managing projects and organizing events. To add extra credibility to these achievements, they back up their claims with hard numbers.
The second example isn't as strong, because the candidate makes general, unquantified statements. Additionally, the second and fourth bullet point essentially say the same thing.
Another thing you should pay attention to is how your summary of qualifications looks on the resume template you choose. Each bullet point should fit on one line to make your resume clean and easy to read.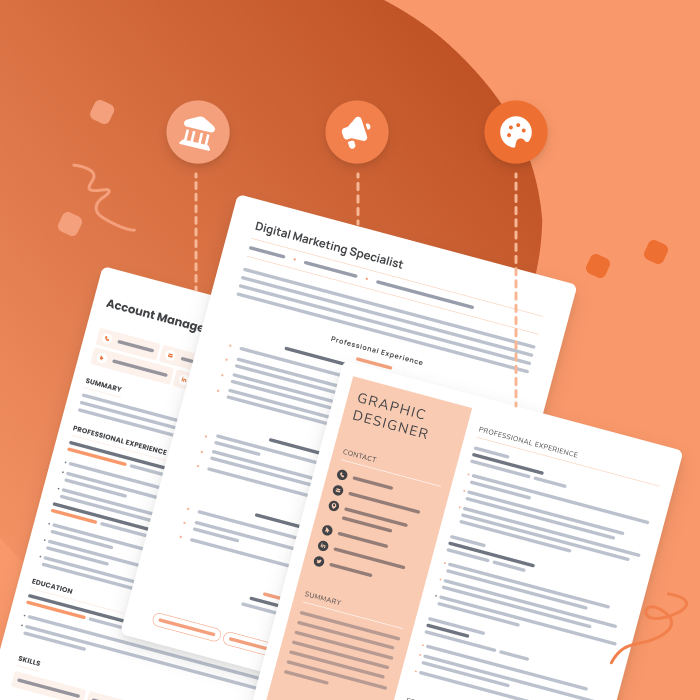 Not sure what your resume should look like? The best way to learn is by taking inspiration from resume examples written by other candidates in your industry.