1. What is a Summary of Qualifications?
A summary of qualifications (or qualifications summary) is one of four main resume introductions used by job seekers. The other three styles include the traditional resume objective, the concise but informative resume profile, and the statistics-heavy resume summary.
A summary of qualifications comprises four to six bullet points that highlight an applicant's crowning work achievements, skills, and experiences.
They're also known by several other names, so to avoid confusion we've listed them here for your convenience:
Summary of Qualifications Synonyms
Qualifications Summary
Resume Qualifications
Statement of Qualifications
Skills Summary
For many people, writing a summary of qualifications is the simplest way to increase their chances of landing an interview. That's because it shouldn't take long to assemble, and it will immediately boost your resume to another level if done well.
First, let's take a look at what they look like.
Four Statement of Qualifications Examples:
Why a Summary of Qualifications is so Effective
How is it that this particular resume introduction can improve your chances of getting an interview so dramatically?
Well, there are several reasons.
It's Fresh and Clean
Even in 2019, summary of qualifications are fairly unusual – generally being omitted in favor of the more standard resume objective.
Using one will give your resume a nice, tidy feeling (who doesn't love some nice, bullet points?). Hiring managers who've been deep-diving into job applications will appreciate your choice, and may even reward you with an interview.
It Highlights Your Potential Value
Having a statement of qualifications draws the reader's attention because it packs loads of valuable information into a small space. Plus, since such introductions shouldn't be filled with fluff, if yours is written correctly you'll instantly score points with the hiring manager.
At the end of the day, your resume must make a statement as to why you specifically are the best candidate for a job opening. This type of introduction achieves that beautifully.
It's Built to Appease ATS Software
Finally, a summary of qualifications gives your resume a higher chance of passing through Applicant Tracking System (ATS) software, which is used to screen out irrelevant candidates based on the content of their resumes.
In short, it allows you to put a higher concentration of relevant keywords and key phrases into your application, ensuring that it earns a "passing grade" and actually reaches human eyes.
2. INFOGRAPHIC: How to Write a Qualifications Summary
A qualifications summary is similar to a gem, and its structure is similar as well. For instance, gems have many different shining facets, and so do your skills and achievements. Presenting the best of each facet, combined into a unified whole, completes the gem.
Use this infographic as a guide for writing your own. Consider each category a facet of your gem. Try to think of examples from your work history that fall under each major heading.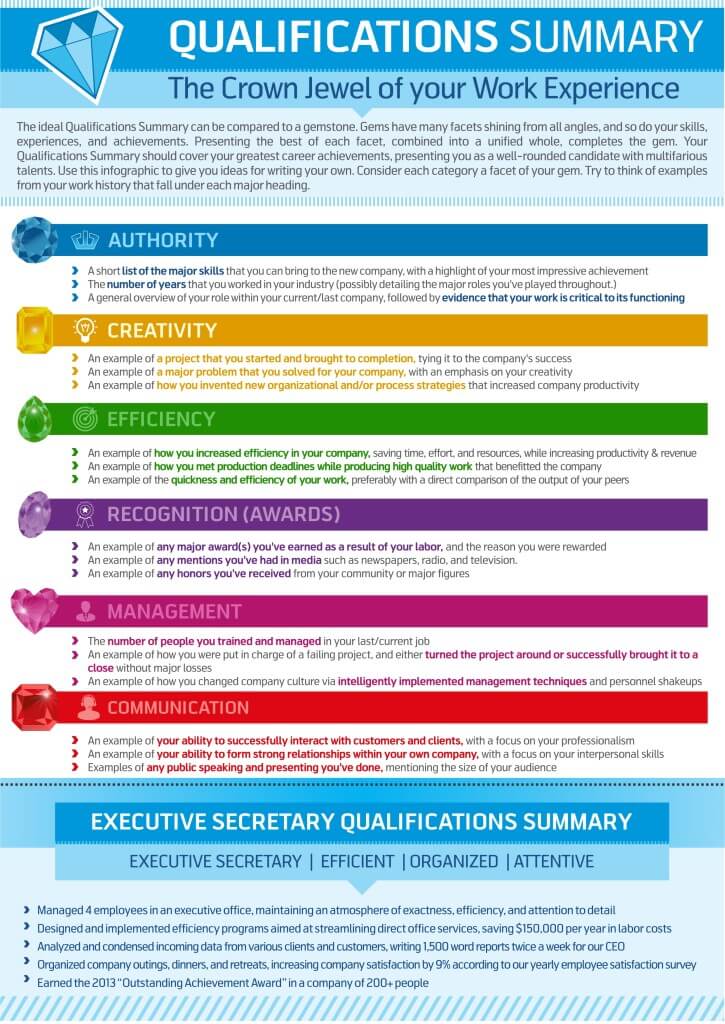 The key here is to take THE BEST examples from your work experience, and put them in the qualifications summary.
3. Summary of Qualification Examples (Text Versions)
To reiterate, a qualifications summary (which goes by several monikers) is a list of 6 bullet points displaying a range of your most impressive achievements. It acts as a skills summary that provides hiring managers a glimpse of what you bring to the table as a potential employee.
Furthermore, it's a powerful tool specifically designed to satisfy Applicant Tracking System software. By writing a qualifications summary, you can vastly improve your resume and stand out among the competition.
Here are two more examples (written out for your convenience) from different industries. One is written for an executive secretary, the other for a waiter. We chose these two industries based on their popularity across our website:
Executive Secretary Qualifications Summary Example
EXECUTIVE SECRETARY | EFFICIENT – ORGANIZED – ATTENTIVE
Managed 4 employees in an executive office, maintaining an atmosphere of exactness, efficiency, and attention to detail
Designed and implemented efficiency programs aimed at streamlining direct office services, saving $150,000 per year in labor costs
Analyzed and condensed incoming data from various clients and customers, writing 1,500 word reports twice a week for our CEO
Organized company outings, dinners, and retreats, increasing company satisfaction by 9% according to our yearly employee satisfaction survey
Earned the 2013 "Outstanding Achievement Award" in a company of 200+ people
Waiter Qualifications Summary Example
WAITER | CHARISMATIC – EFFICIENT – KNOWLEDGABLE
Managed a 3 table section totaling 25 seats in a fast-paced Italian diner, requiring quick thinking, efficient planning, and strong people skills
Leveraged a depth and breadth of wine knowledge to up-sell $150 in wine sales nightly on average, by explaining to customers ideal wine and entree pairings.
Consistently received 5 star reviews from an online rating system, with accompanying praising comments about my service
Alleviated customer disputes throughout the restaurant with strong communication and listening skills
Earned "Employee of the Month" six times in two years
4. Qualifications Summary vs Resume Objective – What's the Difference?
The difference between these two lies mostly in their length and form. Their purpose is the same: they are meant to give the hiring manager a quick understanding of how your skills and experience can help his/her company.
Resume Objective
The resume objective is a 1-2 sentence explanation of what would make you a strong candidate for the job. It provides a very general overview of your work experience and skills.
Here's a great example:
Hotel Housekeeping employee with over 9 years of experience in the provision and management of timely housekeeping service. Possesses a knock for achieving and maintaining elegance and a strong ethical foundation.
The problem with the career objective is that it's too short to properly convey your experience and ability.
Summary of Qualifications
You may be wondering, "Isn't a qualifications summary too long to hold the hiring manager's attention?" The answer is no. Despite being longer, it actually saves the hiring manager time because they don't have to sift through your work experience to find your true abilities. Essentially, you've done that work for them.
They'll show their appreciation by calling you in for an interview.
5. Qualifications Summary vs. Professional Experience – What's the Difference?
A common criticism of the qualifications summary is that it looks and feels like an additional professional experience section. However, there are major differences that should be pointed out.
Professional Experience
Written in reverse-chronological order
Explains finer details of each job
Gives the hiring manager a deeper understanding of your experience
Qualifications Summary
Presents a summary of your greatest achievements and qualifications
Written in any order
Does not include basic responsibilities and tasks
6. I'm A Student: Should I Write a Summary of Qualifications?
This will be controversial, but we say go for it — especially if you're a very productive and active student. If you're a student, what are the facets that you can show to a potential employer?
Critical/relevant coursework and your GPA
Greek life and club activities
Student government
Internship experience
Volunteer experience
Major academic accomplishments
Awards and honors received
Generally speaking, resume experts will insist that only professionals with years of experience under their belts should write a qualifications summary. I disagree for the following reasons:
No matter who you are, and what your age is, there are aspects of your experience and skill sets that qualify you over other candidates. If that were not true, everyone would easily find employment. Therefore, you should display your qualifications prominently.
The general format of a qualifications summary is objectively superior to a career objective, because it saves the hiring manager time and effort. There's no point in handicapping yourself just because you're not an experienced professional.
To be fair, there is a good reason that students are not encouraged to write a statement of qualifications, which I'll cover in the next section.
7. When Should You NOT Write a Summary of Qualifications?
You should avoid writing one if you are lacking in skills, experience, and activity. That is the primary reason that students are discouraged from writing a them – because yours is naturally going to look weak and fragile compared to a seasoned professional with substantial concrete experience.
If you fall into the category of unskilled, uneducated, and not active, you need not worry. There are other strategies that you can use to solidify your resume and convey your employability. You can get tips to do so by exploring our guide on how to write a resume.
8. Resume Genius' Resume Builder
If you're unclear about how to go about writing your summary of qualifications, we encourage you to try Resume Genius's comprehensive resume builder, which will help you write a resume in minutes.
Finally, if you want to write your own resume, consider downloading one of Resume Genius' free and professional resume templates and filling in the information yourself. If you need guidance, find a specific resume sample from your industry, and take inspiration from its bullet points and formatting.