Whether you're in management or want to be a valuable member of a team, leadership skills are important for nearly any job.
If you've led others in your workplace to success with your leadership skills, demonstrating this in your next job application is crucial.
Our free-to-use resume builder can make you a resume in as little as 5 minutes. Just pick the template you want, and our software will format everything for you.
What are leadership skills?
Leadership skills are the skills necessary to organize people around a common goal. This involves developing a plan, inspiring people to believe in that plan, and then seeing through its execution.
Like other conceptual skills, good leadership skills are essential for meeting individual, team, departmental, and organizational goals.
Here's a quick look at six essential leadership skills for your resume:
Highlighting strong leadership skills on your resume is a great way to show prospective employers that you'd be a great hire and are capable of excelling in a management role.  However, knowing how to properly display examples of your leadership skills on your resume isn't always easy.
To help you, below, we've included a list of 10 effective leadership skills and three additional tips for how to showcase them on your resume.
60+ effective leadership skills: list & examples
We've discussed a bit about what leadership skills are and gave you some quick examples. Now, here's an in-depth look at some common leadership skills employers look for and love to see among your resume skills.
Communication
Effective leadership starts with great oral and written communication skills. As a leader, you must make sure your team members understand collective and individual objectives, what's expected of them, and how to find help when they need it.
For example, a project manager must use communication skills to lead by ensuring that everyone working on a project understands what to do and when. They often have to coordinate between different teams and departments.
However, remember that effective communication is a two-way street, so you need also to be an active and attentive listener.
Here's a bullet point example of how to highlight this soft skill on your resume:
Liaison between clients and firm manager. Streamlined communication on project completion progress through app development, resulting in an increase in customer satisfaction by 25%
Additionally, here's a communication-related leadership skills list:
Communication leadership skills list
Public speaking
Active listening
Giving and receiving feedback
Presenting
Excellent non-verbal communication
Problem solving
Even the best leaders, teams, ideas, plans, and intentions don't always run smoothly. The ability to roll with the punches while remaining objective and positive is essential, as is a knack for charting the wisest course forward.
For example, effective leaders who see a project heading over budget must identify ways to cut costs without falling short of expectations, perhaps in a brainstorming session with their team.
Because problem solving often includes research and effort to develop solutions, all employers value problem solving and recognize its importance as a great leadership skill.
Here's a bullet point example of how to include your problem-solving leadership skills on your resume:
Coordinated with IT department to improve user functionality of e-commerce app, easing order processing and increasing annual company revenue by 10%
Additionally, here's a problem-solving-related leadership skills list:
Problem-solving leadership skills list
Flexibility
Creativity
Critical thinking
Analysis
Research
Evaluation
Delegation
When you manage people and projects, you must ensure all necessary tasks are completed by the deadline. You'll need to properly delegate workloads to keep your team productive, with realistic expectations on timelines needed to complete projects.
But smart delegating isn't as simple as handing out assignments; it also requires assigning tasks based on each team member's strengths and weaknesses.
For example, a good leader creating an ad campaign provides direction while assigning concept, design, copy, and other responsibilities to the most suitable people — without micromanaging or taking on too much themselves.
Here's a bullet point example of how to include your delegation-related leadership skills on your resume:
Managed team of 5 sales associates, assigning tasks and customer clients based on company needs and workloads
Additionally, here's a delegation-related leadership skills list:
Delegation leadership skills list
Organization
Strategic thinking
Forecasting
Scheduling
Attention-to-detail
Excellent oral and written communication
Giving & receiving feedback
Leaders often have to provide team members with positive feedback and constructive criticism. Knowing when to give feedback and how to receive it professionally and positively is an essential leadership skill.
Positive feedback is important to employees because it helps keep them productive, happy, and loyal. Constructive criticism is also necessary because it allows employees grow, perform, and advance in their careers.
Similarly, leaders should regularly seek feedback about what they're doing right and what they could do differently.
Here's a bullet point example of how to include your feedback leadership skills on your resume:
Held company-wide feedback and sharing sessions twice a month, developed solutions to employee complaints regarding health benefits and office work hours
Additionally, here's a feedback-related leadership skills list:
Feedback leadership skills list
Excellent written and oral communication
Conflict resolution
Interpersonal skills
Active listening
Empathy
Conflict Resolution
Conflicts can occur in all professional settings. A good leader knows that conflict undermines morale and productivity, and that even minor disputes shouldn't fester.
Effective conflict resolution is tricky to master, making it a great leadership skill for your resume. Being able to take a conflict and resolve it in a way where everyone involved feels that they were heard, understood, and shown respect is a valuable skill that any employer appreciates.
Here's an example of how to demonstrate your knack for conflict resolution on your resume:
Led and mentored a team of 10 retail associates. Resolved several disputes by facilitating team-building exercises and weekly meetings where employees could have dialogue and voice their opinions
Additionally, here's a conflict-resolution-related leadership skills list:
Conflict resolution leadership skills list
Active listening
Emotional intelligence
Teamwork
Professionalism
Mediation
Patience
Organization & time management
Being a leader means constantly juggling tasks, prioritizing deadlines, monitoring progress, and re-evaluating everything once completed, all the while supervising and managing employees.
Being a successful, strong leader means having excellent time management skills and organizational skills.
Here's a bullet point example of how to demonstrate organizational and time management skills on your resume:
Managed a team of 20 writers while remote working. Delegated tasks, ensuring publication deadlines were met during the pandemic. Exceeded 2020 annual writing-distribution goals by 20%
Additionally, here's an organization & time management-related leadership skills list:
Organization & time management leadership skills list
Planning
Financial forecasting
Decision making
Delegation
Flexibility
Attention-to-detail
Teamwork & motivation
Good leaders understand that they can't complete every project or task alone, which is why teamwork skills are essential. Knowing when and how to rally peers and ask for their help is essential for any good leader.
Great teamwork involves motivation. If your colleagues don't have high morale, they won't get their jobs done efficiently.
Good leadership skills also include knowing how and when to motivate your team to meet timelines and produce quality work through encouragement.
Here's a bullet point example of how to display your teamwork and motivational skills on your resume:
Led and mentored a team of 20 security guards. Held bi-weekly team-building sessions, encouraging members to express any concerns of security flaws with the group
Additionally, here's a teamwork & motivation-related leadership skills list:
Teamwork & motivation leadership skills list
Collaboration
Problem-solving
Constructive feedback
Organization
Delegation
Mentoring
Encouragement
Integrity
Integrity is often thought of as honesty, but it can encompass an extensive range of traits, such as being dependable and accountable for your actions. Leaders that display integrity at their workplace can make ethical choices while keeping a positive attitude – both of which are great examples for your team.
Because having a lack of integrity can lead to many negative traits in the workforce, it can be thought of as the foundation and glue that holds all other leadership skills on this list together.
Although demonstrating integrity on your resume is more difficult than other skills, it can still be done. Here's an example of how to showcase your integrity on your resume:
Mentored team of 5 nurses, ensuring patient care and quality of medical treatment were consistently upheld, while also respecting incoming hospital guests and immediately resolving any conflicts
Additionally, here's an integrity-related leadership skills list:
Integrity leadership skills list
Trustworthiness
Dependability
Honesty
Ethics
Accountability/Reliability
Confidentiality
Loyalty
Adaptability
No matter what your job is, problems can always occur that inhibit your ability to meet deadlines.
Adapting to unexpected situations and finding innovative solutions is essential for any leader, especially in today's quickly changing economy.
Here's a bullet point example of how to display your adaptability skills on your resume:
Transitioned to remote-based managerial work during the COVID-19 pandemic. Exceeded pre-agreed-upon 2020 sales targets through online training sessions and weekly team meetings designed to improve team member's sales techniques
Additionally, here's an adaptability-related leadership skills list:
Adaptability leadership skills list
Flexibility
Problem-solving
Technological capabilities
Calm under pressure
Organization
Strategic thinking
Technology skills
Leaders are in charge of driving innovation, growth, and maintaining efficiency. A big part of doing this successfully is knowing how to use technology to your advantage.
Leaders need to be tech-savvy, have the ability to use technology and software specific to their industry, and be familiar enough to train their teams on how to use it properly.
The easiest way to include your tech-savvy leadership skills on your resume is by listing them in your resume skills section. Additionally, if the technology is essential to your industry, consider highlighting your proficiency in your resume objective or resume summary.
Here's a bullet point example of how to showcase your technical skills in your resume's work experience section:
Trained fellow real estate agents on image editing software and social media management programs in support of the firm's 2020 store and employee expansion initiatives. Increased productivity and retention by 20% in 1 year
Additionally, here's a technology-related leadership skills list:
Technology leadership skills list
Zoom
Slack
Google Drive
Trello
Atlassian (Jira and Confluence)
Software troubleshooting
3 additional tips for showcasing your effective leadership skills
Now that you have a good understanding of 10 common leadership skills and how to display them on your resume, we have three additional tips for you to consider while writing your resume.
1. Discuss your leadership skills in your cover letter
Spend some time checking out some cover letter examples from other professionals in your industry. You'll see that they outline relevant personal details, experience, and skills that make the applicant an ideal fit for the job.
When applying for a leadership role, address your leadership experience and qualities in your cover letter.
You may only have this single chance to convince the employer that you understand how to be a successful leader and that you've filled that role in the past. That may mean in a previous or current position, as a volunteer, or in a school or sports organization.
Any opportunity to highlight your leadership abilities — especially recent and relevant experience — is worth including in your cover letter.
2. Quantify your leadership experience on your resume
While listing abilities like "exceptional problem solver," "good at delegating," and "highly organized" in your resume skills section is effective, it won't be enough to sell a hiring manager on your great leadership skills.
Know the old cliché about showing versus telling? Hiring managers and companies find it more valuable when you prove your leadership skill claims by quantifying your accomplishments on your resume.
You can quantify your accomplishments on your resume by adding hard numbers to your work experience bullet points, describing exactly how you've leveraged your leadership skills previously.
Here's an example of a quantified work experience bullet point detailing a manager's problem solving and conflict resolution skills:
Designed changes to office work schedule based on team's concerns during COVID 19, implementing a schedule that allowed work-from-home 2 days weekly. Increased productivity by 10% due to safe and satisfied workers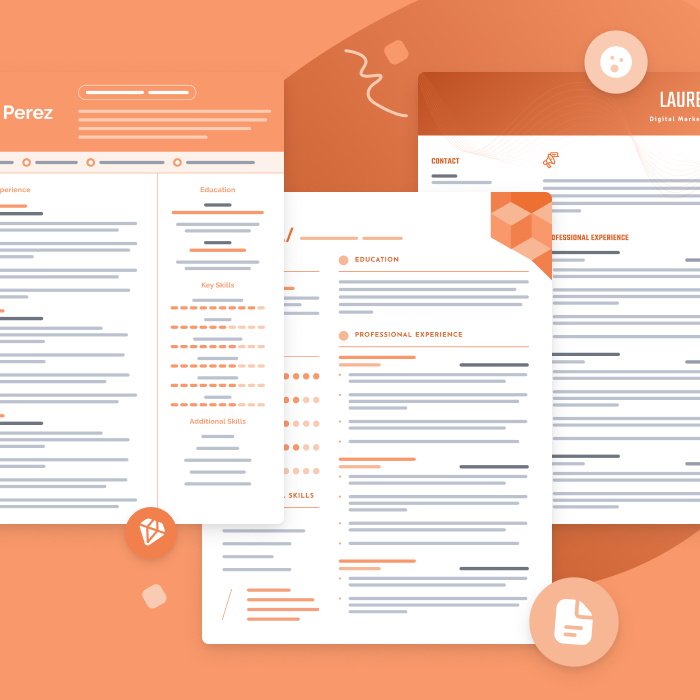 One of the best ways to make your resume is by filling out one of our free resume templates. All our templates are designed by experts and free to download for Microsoft Word or Google Docs.
3. Prepare to back up your claims in the interview
Many of the details you include in your resume will likely come up in your interview. As you write your resume, make sure to single out examples of leadership skills you can back up in person. Afterward, practice giving examples of your leadership skills with family or friends before your interview.
Remember, when you apply to a leadership role or highlight leadership skills on your resume, always count on being pressed for more details in your interview.