Organizational skills are essential for nearly any career (and for your personal life).
Being organized helps you meet deadlines, get work done, and know what you need to do to succeed.
In this article we dive into everything you need to know about organizational skills, including:
Our free-to-use resume builder can make you a resume in as little as 5 minutes. Just pick the template you want, and our software will format everything for you.
What are organizational skills?
Organizational skills are the abilities you need to keep track of all the details related to a project, delegate work effectively, and stay focused. If you're organized, you'll be able to use your resources efficiently and hit your goals more easily.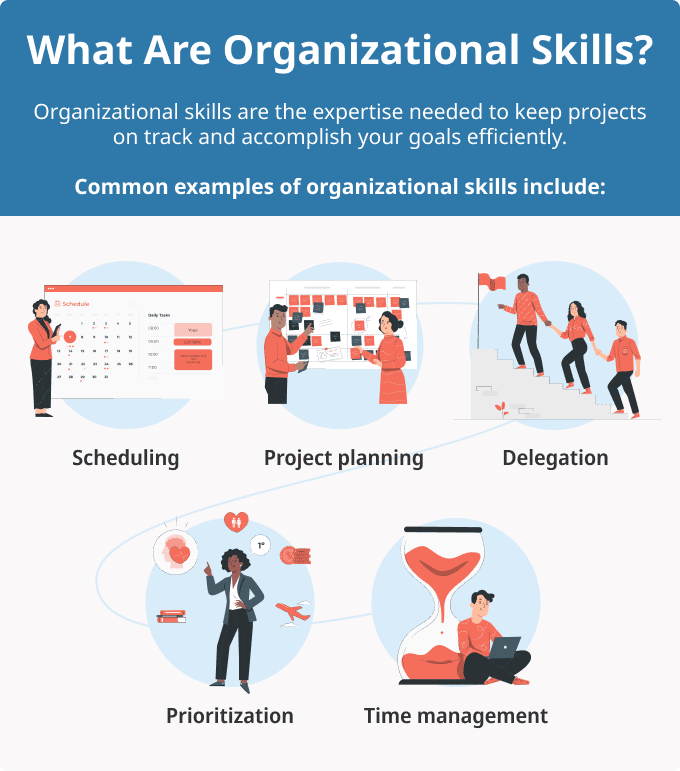 60+ organizational skills examples for work
We've neatly organized the most important organizational skills for your life and career in the following sections.
Include these skills on your resume to impress employers and show them you can be trusted to stay organized and complete tasks efficiently:
Physical organization
Physical organization skills are the abilities you need to keep the space around you organized.
Good physical organizational skills are important because having a tidy workspace helps you find what you need quickly and easily.
However, physical organization doesn't just refer to keeping your desk neat. Physical organization also includes your ability to maintain storage areas, files, or even an entire office.
Examples of physical organizational skills
| | |
| --- | --- |
| Filing | Record keeping |
| Resource management | Stock inventory |
| Note-taking | Supplies management |
| Office administration | Decluttering |
Digital organization
Digital organization refers to the skills you need to keep digital files organized. This includes your laptop, phone, tablet, and any online accounts you have.
With more companies embracing remote work, it's essential that you highlight your digital organizational skills on your resume to show employers that you're able to work efficiently whether in-person or online.
Examples of digital organizational skills
| | |
| --- | --- |
| File management | Project management software (Trello, Jira, etc) |
| General computer skills | Knowledge of Microsoft Office Suite and Google Drive |
| Email inbox management | Wiki creation |
Mental organization
Mental organization skills refer to your ability to stay focused and efficiently tackle problems.
Strong mental organizational skills like multitasking skills and time management skills are important for nearly any job because they help you develop strategic solutions to problems and stay focused.
Examples of mental organizational skills
| | |
| --- | --- |
| Analytical thinking | Problem-solving |
| Attention to detail | Research |
| Self-motivation | Strategic planning |
| Multitasking | Goal setting |
| Memory | Perceptiveness |
| Introspection | Quick thinking |
| Time management | Lateral thinking |
Scheduling
Scheduling is an essential part of being organized, whether at work or in your daily life.
Keeping track of when things need to happen, where you need to be, and what you need to do helps keep your work moving smoothly.
Additionally, scheduling is important because it ensures you have time to handle any unexpected issues in your work, rather than scrambling for last-minute solutions.
Project planning
To plan and see a project through to completion you need to keep track of many different moving parts, from personnel to supplies and more.
Being able to plan out and execute projects efficiently requires excellent project manager skills and organizational skills.
Here are some organizational skills related to project planning that you should showcase on your resume, especially if you're a project manager or marketing manager:
Project planning skills to list on your resume
| | |
| --- | --- |
| Decision making | Time management |
| Dedication | Self-management |
| Initiative | Trustworthiness |
| Coordination | Integrity |
| Self-motivation | Dependability |
Prioritization
It's easy to get caught up working on unimportant projects at work. Knowing what to prioritize and why is an essential soft skill to have, because it helps you meet your deadlines and effectively use your time.
Being able to prioritize well is especially important if you're working any fast-paced job. Prioritization helps you keep everything running smoothly, and allows you to identify and address problems and bottlenecks in your work.
Delegation
Being organized isn't just about keeping things tidy, it's also about knowing when you need help.
Knowing how to delegate tasks to your team or your coworkers lets you keep up with your work and ensures that your projects don't end up being rushed.
Additionally, being good at delegation means you know who the best person for a particular task is, and how to communicate your expectations to them.
Delegation is a particularly important organizational skill if you're in a manager position or need to develop your leadership skills.
Time management
Time management skills are an essential part of being organized. Managing your time effectively is important for success in any career because it helps you meet deadlines and reach your goals.
Being good at time management means you're able to give yourself the time you need to finish tasks properly and aren't spending too much time focusing on nonessential details.
Time management is an important organizational skill because it helps you stay on task when your job gets hectic.
Teamwork
A well-organized team is the foundation of any successful company.
With strong teamwork skills, you can collaborate with others, break up work efficiently, and reach your goals with as few issues as possible.
Here are some important teamwork-related skills to include on your resume that showcase your organizational abilities:
Teamwork-related organizational skills examples
| | |
| --- | --- |
| Active listening | Confidence |
| Conflict management | Patience |
| Mediation | Listening |
| Communication | Diplomacy |
| Empathy | Respect |
| Negotiation | Friendliness |
| Empathy | Idea exchange |
How to highlight organizational skills on your resume
Now that you know some of the most important organizational skills for your career, show employers you have the abilities they're looking for.
Here's how to make a resume that highlights your strong organizational skills:
1. Determine the specific skills required for the job
While general organizational skills are useful for most jobs, don't just list all the organization-related skills you can think of on your resume.
First, it's important that you identify the specific skills that the job you want is looking for. If you know exactly what's expected of you when applying for the position, you can make your resume look like a perfect fit and catch the attention of the hiring manager.
Start by taking a look at the job ad for the position. If you're applying for a role that requires strong organizational skills (ex. you're writing an administrative assistant resume), the hiring manager will list the exact expertise they're looking for in the "Responsibilities" or "Requirements" sections.
Take a look at this job listing for an administrative assistant position: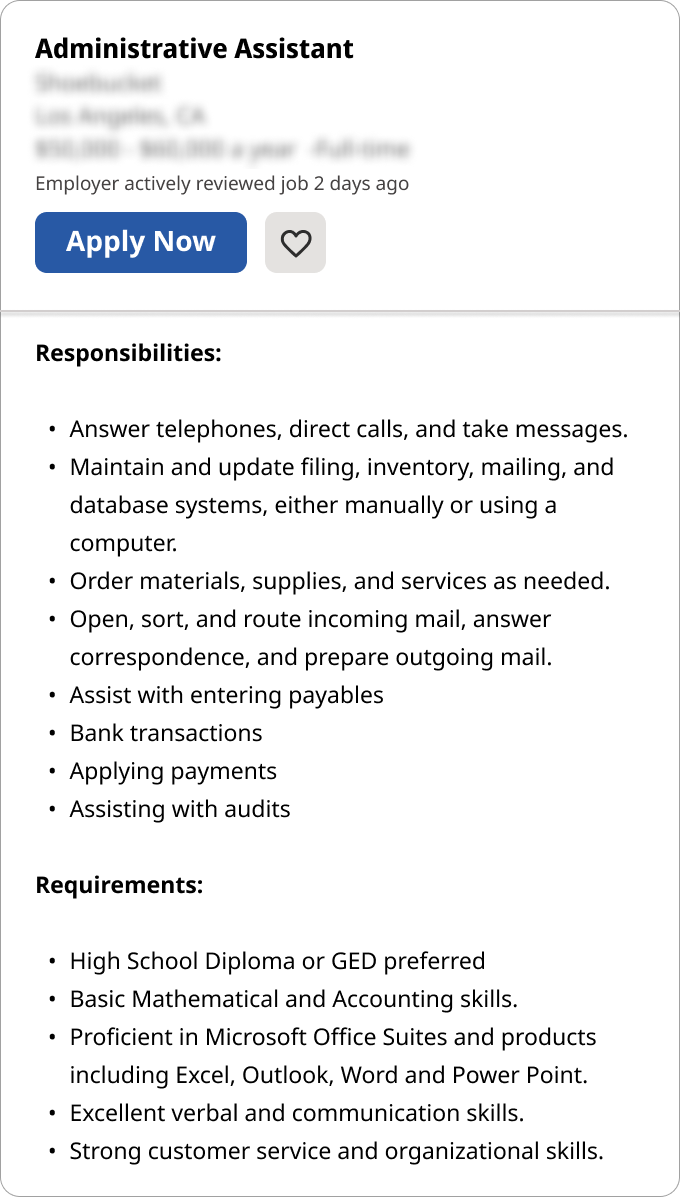 Notice that the ad lists specific organization-related administrative assistant skills such as filing, inventory management, data entry, and supplies management.
If you were applying for this job, you would highlight these particular skills throughout your resume to demonstrate that you're qualified for the position.
Before sending out a job application, always carefully read the job listing to make sure your resume directly addresses the responsibilities listed in the ad. Don't let your job hunt fail before it even begins.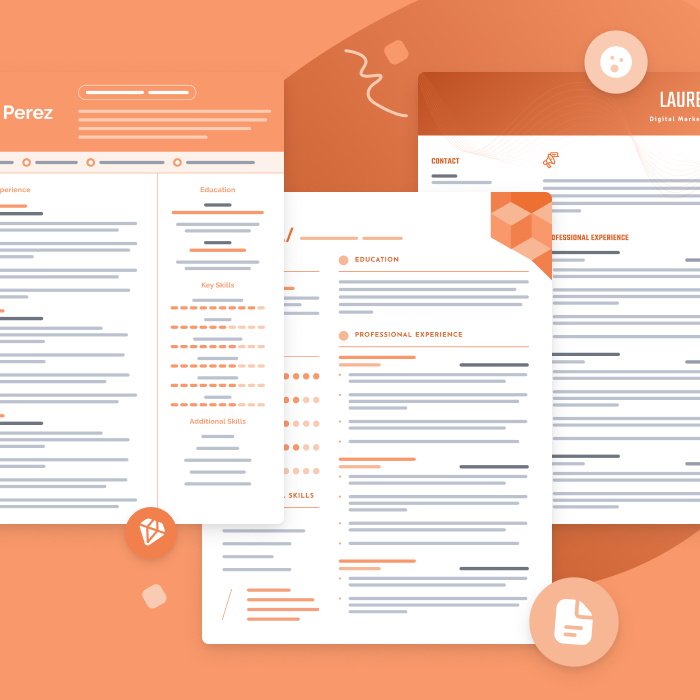 One of the best ways to make your resume is by filling out one of our free resume templates. All our templates are designed by experts and free to download for Microsoft Word or Google Docs.
2. Include relevant organizational skills in your work experience section
Once you've identified specific organizational skills needed for the job, it's time to highlight them on your resume.
The most effective way to highlight your skills is by working them into your work experience section. Whereas your skills section is more of a list, your experience section provides an opportunity to describe how you've actually put your organizational skills to work.
Think of times you've used your organizational skills to achieve a goal at work. Include these examples as bullet points on your resume.
Here's an example of how to highlight organizational skills in your resume's experience section:
3. Add extra skills to your resume skills section
The simplest way to showcase your organizational skills to employers is by listing them in the skills section of your resume.
While not all organizational skills are good additions to your skills section (it wouldn't make sense to list "good memory" on your resume), some are perfectly acceptable to list without elaborating further.
For example, file management or scheduling are both organizational hard skills that make great additions to your skills section if they're relevant to your career.
Here's an example of how to list your organizational abilities in your resume's skills section:

How to develop strong organizational skills
Worried that your organizational skills need some work? Here are a few strategies to improve your organizational skills:
1. Try apps designed to help you stay organized
If you struggle with organization, technology can make your life easier by doing the organizational work for you.
There are countless apps for iPhone, Android, macOS, and PC designed to help you schedule, take notes, stay focused, and much more.
Here are some of the most popular organization apps available in 2023:
2. Read up on developing good organizational habits
Want to develop strong organizational skills for life? Then you need more than a few apps.
Fortunately, there are plenty of books that are proven to help you develop long-term organizational skills. Many of these books provide strategies and methods to stay on task and keep track of what you need to do.
Here are some great books that we recommend for improving your organizational skills:
3. Watch videos on how to develop organizational skills
If reading a book seems like too much of a commitment, there are also plenty of videos available online that provide useful tips for improving your organizational skills.
Here are some short videos to help you develop your organizational skills and have a more productive career:
Tip to Structure Your Day
Personal development author Brian Tracy provides some quick strategies to structure your day more effectively, starting from the moment you wake up.
7 Things Organized People Do That You (Probably) Don't Do
This video by YouTuber Thomas Frank offers 7 tips for staying organized and streamlining your workflow.
Thomas Frank's YouTube channel features many other videos explaining how to develop strong organizational skills, including guides on how to organize your computer files or your physical documents.
How To Make Time for Everything
YouTuber The Bliss Bean breaks down some helpful tips for creating a more effective schedule and get more out of your day – whether in your personal life or at work.