Whether you're a recent graduate, have little to no work experience, or have been with the same company for years and are now ready for a change, here's what you need to do to perfect your job hunt and land the position you want:
7 job hunting tips
Not sure how to begin a new job search? No problem. Here's a step-by-step breakdown of what you need to do to secure your target job:
1. Think about your career goals
Before you start a new job search, you need to carefully think about your career goals.
Start by creating a five year plan. Think about where you want your career to be in five years. For example, do you see yourself in a management position, are you happy with your current role, or do you want to change careers?
Additionally, think about your educational background. Many jobs require a bachelor's degree, but you can access some of the highest-paying jobs without a degree if you have vocational training.
Once you have an ideal position in mind, consider what skills, qualifications, and experience you need to develop to get that position.
Mapping out your career goals ensures that your job hunt is targeted and productive. Your five-year map helps you best understand what type of jobs you should be applying for.
2. Make or update your resume
One of the most important steps in any job hunt is making a resume that highlights your strengths. A stand-out resume will help convince employers to hire you.
If you already have an old version of your resume sitting around, update it according to the latest resume trends, pick a resume format that highlights your strengths, and make sure all your work experience is up-to-date.
But if you have no work experience, you'll need to make a resume from scratch.
Writing a resume can take a lot of time. Fortunately, there's more than one way to do it:
Use an online resume builder to do the work for you (this is the fastest method)
Download a free resume template and fill it out with your information
Pay for a professional resume writing service
Design and write a resume yourself using Microsoft Word or Google Docs
No matter how you decide to make your resume, it should always include the following information:
Optionally, you can also add sections for your hobbies and interests, personal projects, or volunteer work.
If you're not sure what your completed resume should look like, here are two professional resume examples you can use as inspiration.
The example on the left is more creative, and is appropriate for industries like graphic design or digital marketing, while the sample on the right is highly formal — ideal for jobs in traditional industries like law or finance: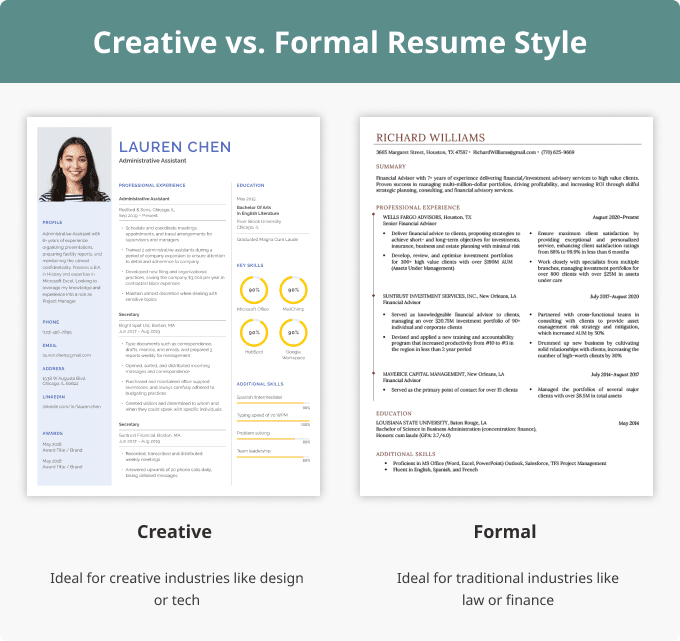 Additionally, if you haven't been on the job market for the past few years, you should update your resume to emphasize any skills that make you well-suited for remote working environments.
For example, consider highlighting your knowledge of computer skills like Slack, Trello, or Google Hangouts to show employers that you've adapted to the most recent trends in the job market.
If you're applying for a job in academia, make sure your academic CV includes all your relevant academic experience. To make formatting each section a breeze, choose a pre-formatted CV template.
3. Research companies or organizations you're interested in
Once you've polished your resume, it's time to actually begin job hunting.
But the perfect position isn't going to fall into your lap. To get the job you want, you need to carefully research companies, firms, and organizations that you're interested in working for.
Be selective in your job search. Instead of applying to as many jobs as possible, apply to jobs that you're genuinely interested in. This way you have time to tailor your resume and cover letter and make sure your application is polished.
Start by thinking about the basic details of the job you want. Consider:
where you want to work – are you looking to relocate, are you okay with commuting, do you want a fully remote position?
what types of positions you're interested in – what industry do you want to work in, are you looking for a management position or something entry level?
why you want to work – what motivates you at work? Are there specific companies that have a vision, set of business ethics, or overarching goals you share?
After you've got a picture of the types of jobs you're looking for, start your search by using some of the many job boards available online, such as:
Additionally, if you're looking for a specific type of job, try using a specialty job board like:
As you conduct your job search, take note of any positions you're interested in and their requirements.
If you find a job that looks good but you don't know much about the company, do some Googling. Find out more about its business, company culture, and history. A good place to start on most company websites is the "About Me" page (if it has one) or looking up reviews on Glassdoor.
Doing some basic research on companies helps you decide which positions to apply for and gives you an advantage when sending in your application. Your research efforts should even pay off during interviews because they can give you a better idea of what employers are looking for.
4. Write a convincing cover letter
Found a few jobs you want to apply for? Now's the time to start writing a cover letter for the job.
If you're applying for a salaried job, you'll likely be required to submit a cover letter with your application.
Even if the job description doesn't mention a cover letter, you should still write one. Your cover letter is the perfect opportunity to pitch yourself as a candidate. Not only that, but most employers will respect that you went beyond what was required for the application.
The total length of your cover letter should be about one page (or 250 to 400 words). The content should include a concise overview of why you're interested in the specific position you're applying for, and what makes you qualified.
A good cover letter should also include the following information:
Your name and contact details
The hiring manager's name and contact information
An opening paragraph explaining your background and how you found the role
Two to three body paragraphs highlighting your relevant accomplishments
An explanation of why your qualifications make you a good fit for the role
A conclusion paragraph thanking the hiring manager for their time
A formal sign-off and signature
Here's an example of a cover letter written by an entry-level candidate that's tailored for a specific role: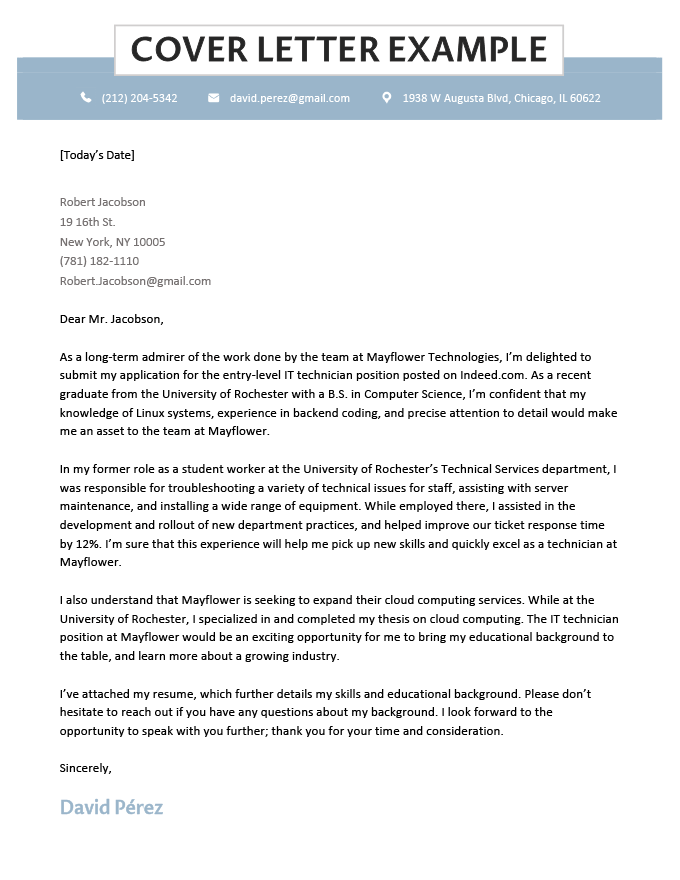 Don't have time to write a tailored cover letter for every job? Try writing a general cover letter and filling it in with a few specific details every time you send out an application.
5. Tweak your resume for the job you want
Most job hunters think that once they've made their resume, that's it – you can just send the same copy to every employer.
While you can do this, it's not the best way to get a job. If you want to stand out from other applicants and improve your chances of landing your target position, you need to tailor your resume for the role.
Chances are, if you're on a job hunt you're applying to a variety of different positions. And each comes with its own requirements and qualifications. Including the right skills on your resume can help set you apart from the competition.
For example, look at the job requirements for these two different social media manager positions: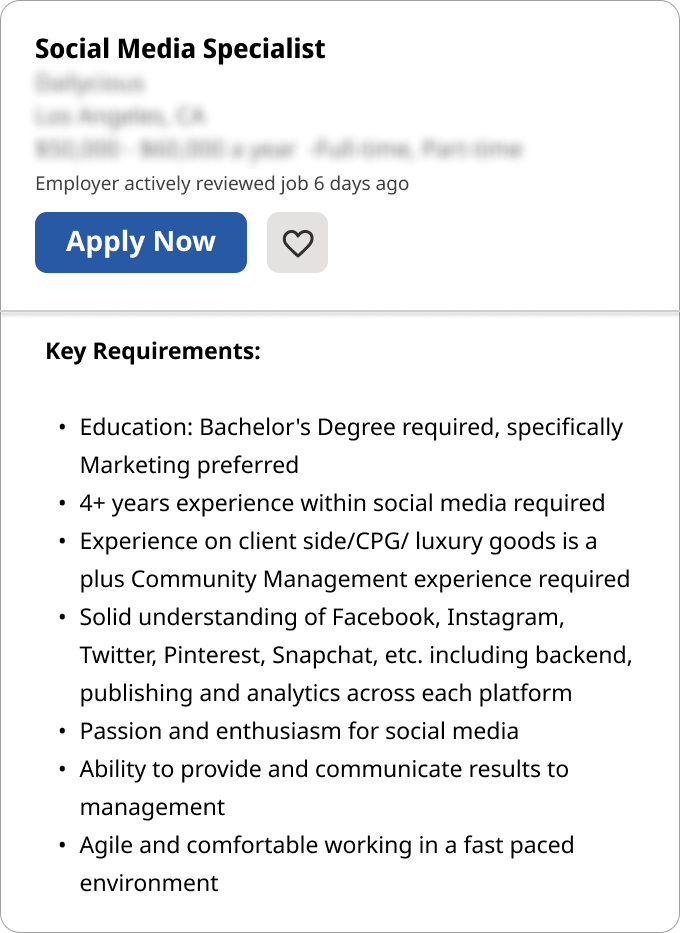 This company's ideal candidate has experience in luxury goods and community management. Additionally, they're looking for someone who has experience in analytics for a broad range of social media platforms.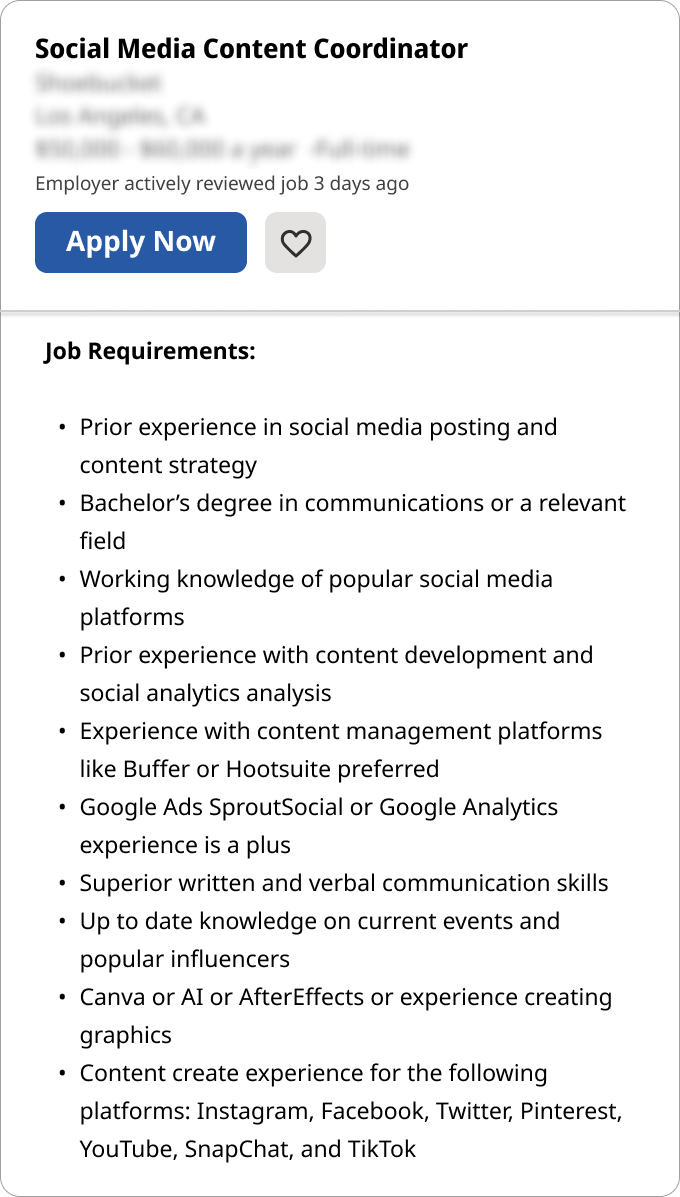 In contrast to the previous job ad, this company is looking for a candidate who's more specialized in developing and writing content, rather than community management.
Additionally, the job advertisement specifically mentions wanting a candidate who's experienced with TikTok, Canva, and AfterEffects – software that the other company doesn't mention or require.
Bottom line: while both these companies are looking for a social media marketing candidate with a moderate amount of experience, their requirements are very different. If you were to submit a generic resume to both these companies, you probably wouldn't appear qualified for either position.
When you're conducting your job hunt, take note of each job's requirements. Adjust your resume to highlight the unique skills, experience, and interests the hiring manager is looking for.
These adjustments make you come across as the perfect candidate for every job you apply for, and improve your chances of getting called in for an interview.
6. Apply to each job thoughtfully
When you're job hunting, it's tempting to send out as many applications as possible and see how many employers respond.
While this approach might make sense at first, sending out tons of applications every day is a good way to burn yourself out. Plus going the bulk applications route also makes it more likely you make a mistake during the job application process.
Instead, apply to just two or three jobs that you're strongly interested in every day.
As you apply for each job, go through and ask yourself the following questions to make sure every part of your application looks professional and is free of mistakes:
Questions to ask yourself when you apply to jobs:
Is your contact information accurate?

Does your resume fit on one page (or two pages if you're highly experienced)?

Does your cover letter fit on one page?

Does your resume include all the necessary sections?

Does your cover letter include all the details employers are looking for?

Is your information easy to read (fonts are above 10pt, text doesn't look too crowded)?

Is the design of your resume and cover letter appropriate for the position you're applying for?

Does your application address the requirements stated in the job ad?

Are your cover letter and resume free of typos and grammatical errors?

Is all of your information clearly formatted and professional?
Additionally, if you're emailing your resume, carefully read over your email to make sure it's appropriately formal, double-check your resume and cover letter are properly attached, and verify that there are no mistakes in your application.
7. Prepare for interviews
After you've sent some job applications out, you should hopefully be receiving interview invitations.
Interviews are the last thing standing between you and the job you want, so it's essential that you do everything you can to ace them.
Prepare in advance by:
If you're not sure how to prepare your interview answers, employ the STAR method. This technique works by breaking down your responses into four parts (Situation, Task, Action, and Result) to help you focus on your achievements at work.
Additionally, when preparing your clothing for the interview, think about how formal the position is.
If you're interviewing for a position at a laid-back startup, then business casual attire is appropriate. However, if you have an interview at a law firm, you should dress more professionally (a suit and tie for men or a business suit/dress and jacket for women).
Send a "thank you" email
Finally, you should send an interview follow-up email to the person who interviewed you to thank them.
Be sure to send your email within 24 hours of your interview, while you're still fresh in their mind.
This gesture communicates to the employer that you're sincerely invested in the job, and helps them remember your application (plus it's just a polite thing to do).
Here's an example of a formal thank you letter after an interview: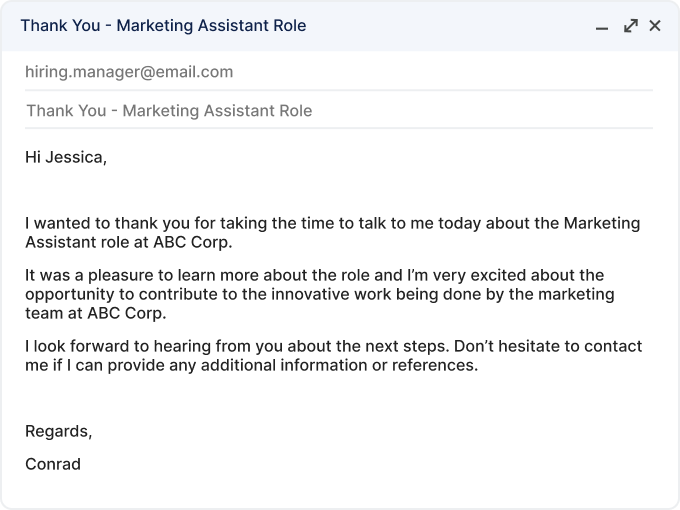 Additional job hunting strategies
Besides following the steps above, use the following job hunting methods during your job search:
Expand your professional network
Going to networking events is an excellent way to establish professional relationships that could lead to your next job. Statistics show that networking is one of the best ways to identify new job opportunities, and up to 85% of positions are filled through connections.
If you don't live in a big city and are struggling to find events in your area, look up virtual networking events.
Reach out to recruiters
A recruiter can assist you with everything from putting together a convincing job application to preparing for job interviews.
Additionally, recruiters have access to a wide network of employers and are well-versed in the hiring process, so they can act as a valuable resource during your job search.
Because they know what different organizations are seeking when screening candidates, they can match you with a company that looks for employees with your particular skill set.
Attend job fairs
If you're just entering the workforce, attending job fairs can help you get your career started.
As someone looking for their first job, being able to speak to representatives from dozens of companies across several industries is a great way to get a clearer idea of what opportunities are out there.
Show up prepared with a list of questions to ask employers to ensure you make the most out of the event.
You can also write a checklist of things to bring to your first job fair to avoid the risk of running out of resumes to hand out or having to leave early because you spilled coffee on your shirt.
Update your LinkedIn profile
One of the easiest steps you can take to maximize your chances of job search success is to update your LinkedIn profile.
Make sure your most recent work history is on there and write a professional bio that showcases your strengths and achievements.
When employers search for candidates with your qualifications and your profile shows up, they're more likely to reach out to you if you have a compelling profile.