As if applying for a job wasn't scary enough, companies have recently started making the process even spookier by creating ghost jobs.
But what are these spectral job ads doing online, and is there any way you can stop them from haunting you?
The answers you seek are below:
Our free-to-use resume builder can make you a resume in as little as 5 minutes. Just pick the template you want, and our software will format everything for you.
What are ghost jobs — and are they on LinkedIn?
Ghost job posts are ads for roles that aren't actually open. And they're more common than you might think, showing up on all the best job boards.
In a recent survey of 1000+ managers by Clarify Capital, 10% of respondents said they'd had a job opening up for half a year or more.
I did some basic investigating to see how many ghost jobs are on LinkedIn and found what appear to be 1.7 million+ job postings older than 30 days in the US alone (at the time of this writing).
That's a lot of potential ghost jobs.
Employers leave these dead-end job postings online so they can:
create the perception that their company is growing
keep an eye out for talent that's too good to pass on
attract qualified applicants in case a current employee leaves or a role opens in the future
collect LinkedIn followers and emails for mailing lists
Clearly, populating the internet with ghost jobs benefits employers. Job seekers, on the other hand, are negatively impacted by these faux positions.
Properly responding to a job ad requires a lot of time and effort. You may have to fill out a long form that asks you to list out details for every job you've held in the last 10 years — even though those jobs are already in your resume's work experience section.
Then you have to make your resume again, tailoring it to the company and role. And you need to write a cover letter that shows you've researched the company and understand how your hard and soft skills fit the job requirements.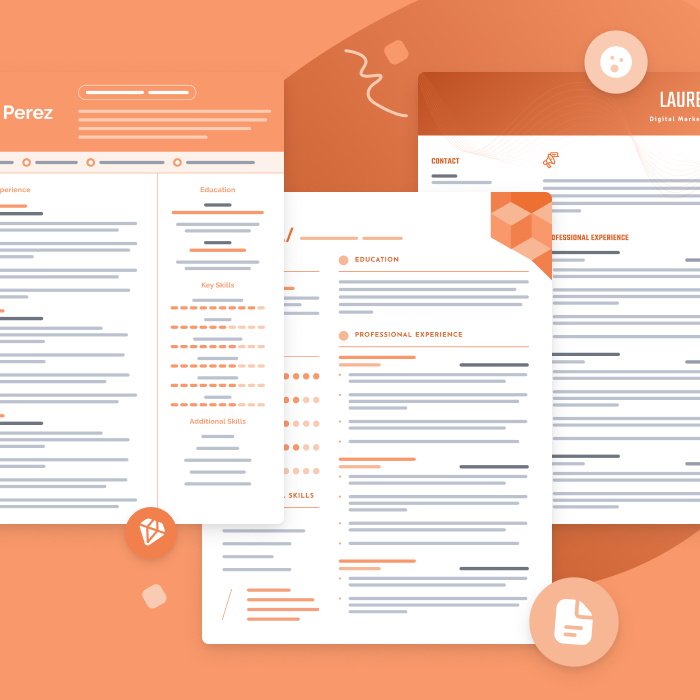 One of the best ways to make your resume is by filling out one of our free resume templates. All our templates are designed by experts and free to download for Microsoft Word or Google Docs.
However, while it is unfair of companies to treat applicants this way, the truth is that such treatment goes both ways. Job seekers and employees routinely collect job offers to start bidding wars over their talents or negotiate for promotions and pay raises at current jobs.
Turnabout is fair play.
So instead of fuming about the unjust existence of ghost jobs, the best thing to do is to learn how to spot and bust them.
How to avoid being haunted by ghost job posts
Follow these 4 steps to exorcise ghost jobs from your employment search:
1. Check the date
When you're applying for jobs, always start by checking the date it was posted. The longer the job has been open, the more likely it is to be a ghost job. But at what length of time should your hackles rise?
There's no set amount of time, but a good indicator is how long it takes companies to fill a position. Per Business Insider, that length of time is about 1.5 months on average.
So, if a job has been up for around 2 months or more, there's a good chance it's a ghost posting.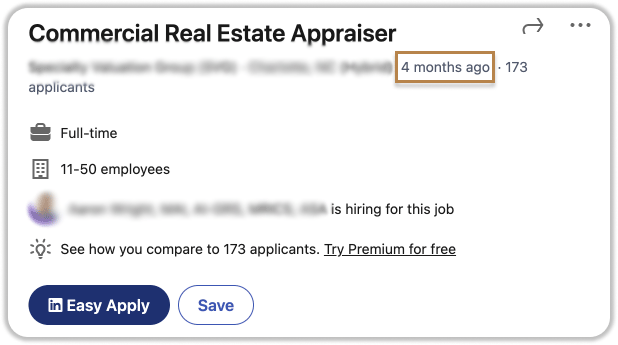 But you shouldn't automatically discount every job that's been up for a long time. The company may be having legitimate problems finding qualified candidates, and you could be the applicant they're seeking.
In that case, do a little digging before you spend time applying. Start by checking the company's website:
2. Cross-reference the company website
An easy way to check the veracity of a role you find on a job board is by looking for the position on the company's website.
Many companies maintain job opening pages on their websites that advertise their available positions. You may find there that the role you want is no longer open, which means the employer either:
forgot to remove their post from the job board
is intentionally leaving the job post up outside their website to create the illusion of company growth or collect data
But if the job you want is still open on the employer's website, proceed to the next step before applying:
3. Research the employer's social media
When a job is still open on a company's website, it still could be a ghost posting. So do a little more online sleuthing before you apply.
Simply scroll through the company's social media feeds, looking for any indication of whether they're still hiring for the role you want.
Employers that are actively hiring sometimes post about their job openings on their online profiles. And companies often welcome their new hires in social media posts — especially on LinkedIn.
You can even see whether you have any LinkedIn connections who work at the company. If you feel comfortable doing so, send them a message inquiring politely about whether they're still hiring.
4. Contact the company directly
Still haunted by the feeling that your target role is a ghost job ad after researching? Then it's time to reach out to the company's HR department.
Message the hiring manager on LinkedIn, send a short email, or make a quick phone call to ask about the job opening. You could even visit the company's office to hand them a copy of your resume.
Don't worry about whether or not you're bothering them. If the job is open, they'll be happy to help you apply. And if it's a ghost job, the company has set itself up to be contacted by ghost job hunters!
In the end, there's nothing to be scared of when you encounter possible ghost jobs. Just keep an eye on the job ad posting dates, check the company's website and social media, and — if necessary — contact the employer directly.
Now get out there, bust those ghost job posts, and you'll be introducing yourself in an interview in no time!