What's a targeted resume?
A targeted resume is a resume that emphasizes qualifications that are relevant to a specific job. You need to write a targeted resume for each job you apply for because doing so:
helps your application get past applicant tracking systems (ATS), which reject resumes that don't match job requirements
shows hiring managers how your skills and expertise make you a perfect fit for the role
increases your chances of landing an interview
Read on to view targeted resume examples, download a targeted resume template, and learn how to write a resume tailored to a specific job.
Targeted Resume Examples & Template
Whether you're looking for targeted resume examples for inspiration or a targeted resume template you can fill in, we've got you covered with our:
1. Targeted Resume Example for Applicants Without Experience
Even if you don't have any professional experience, you can make a targeted resume by describing your job-relevant:
Here's an ad for an entry-level graphic designer job (we used italicized, bold, and colored underlines to indicate the information applicants should target in their resumes):
Seeking a talented graphic designer to design various digital and printed materials as a Designer I for Mama's Cookies. Please submit a portfolio or your work along with a resume and cover letter that explain how you meet the following requirements:
Detail-oriented, capable of working independently and as part of a team, and comfortable with receiving feedback

Expert-level Photoshop, Figma, and Microsoft Office skills, and comfortable with using Zoom, Slack, and other tools to communicate with remote coworkers

Previous experience designing food-related content is preferred
And this is an example of a resume with italicized, bold, and colored underlines to show how the applicant tailored their content to the job ad above: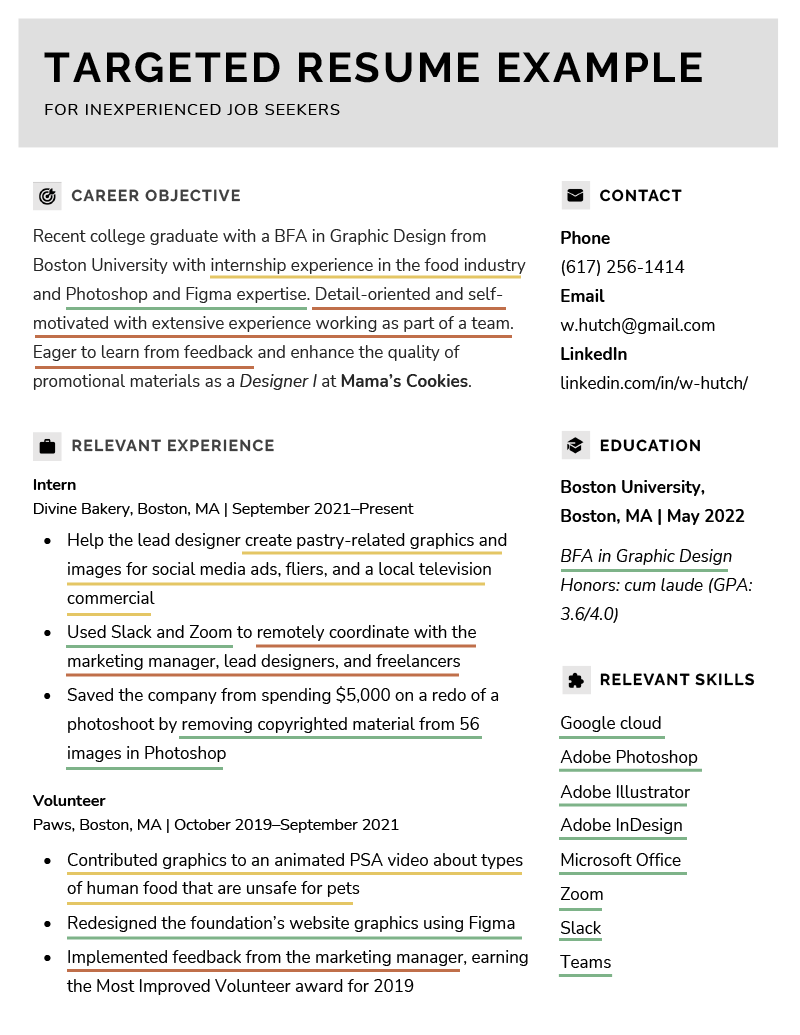 2. Targeted Resume Example for Experienced Workers
This is an ad for an open marketing position that requires an experienced professional — note the resume keywords and phrases in bold, italicized, and colored underlines:
Top Tech is accepting applications for its open Marketing Manager position. To be considered for an interview, applicants must have:
a creative and collaborative mindset with at least 4 years of marketing experience and the desire to keep up-to-date with industry trends

proficiency in managing both digital and physical-space marketing content across various platforms and mediums

expertise in using data analytics to increase sales and overall brand awareness
Now here's a targeted resume written for the above job, with colored underlines and bold/italicized text showing how the applicant emphasized their job-specific information: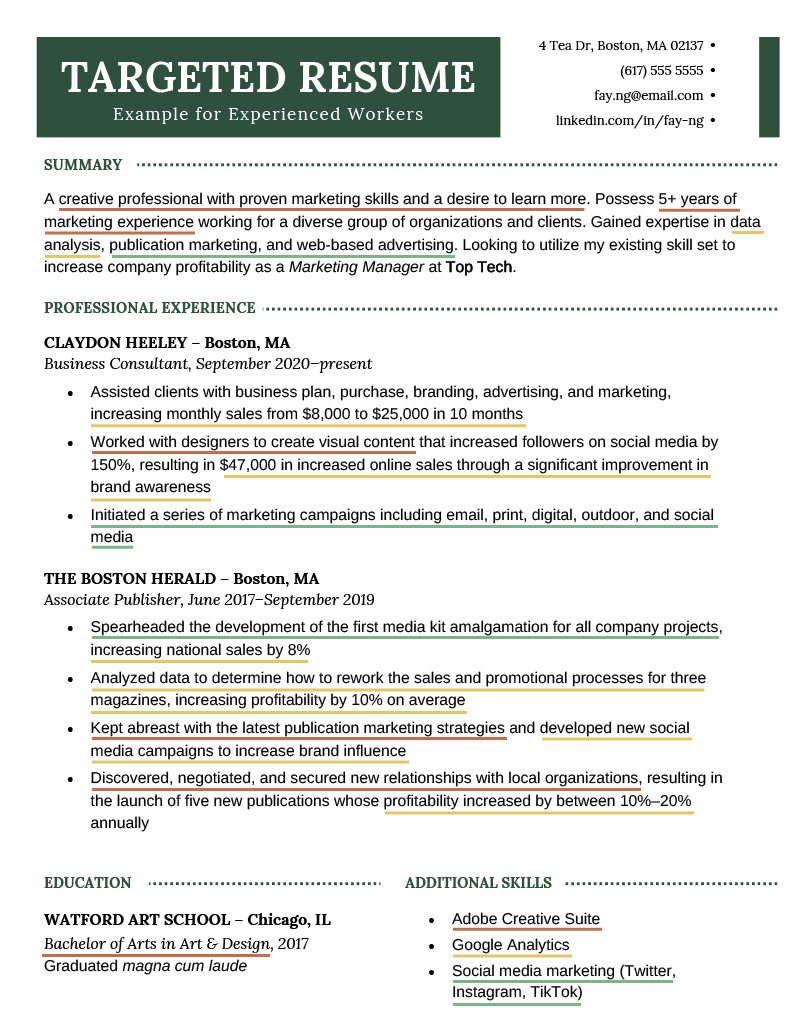 3. Targeted Resume Template
Below is a targeted resume template you can use to customize your resume to each job you apply for. You can download it as a Word document or copy the text version to paste into your preferred text editing program: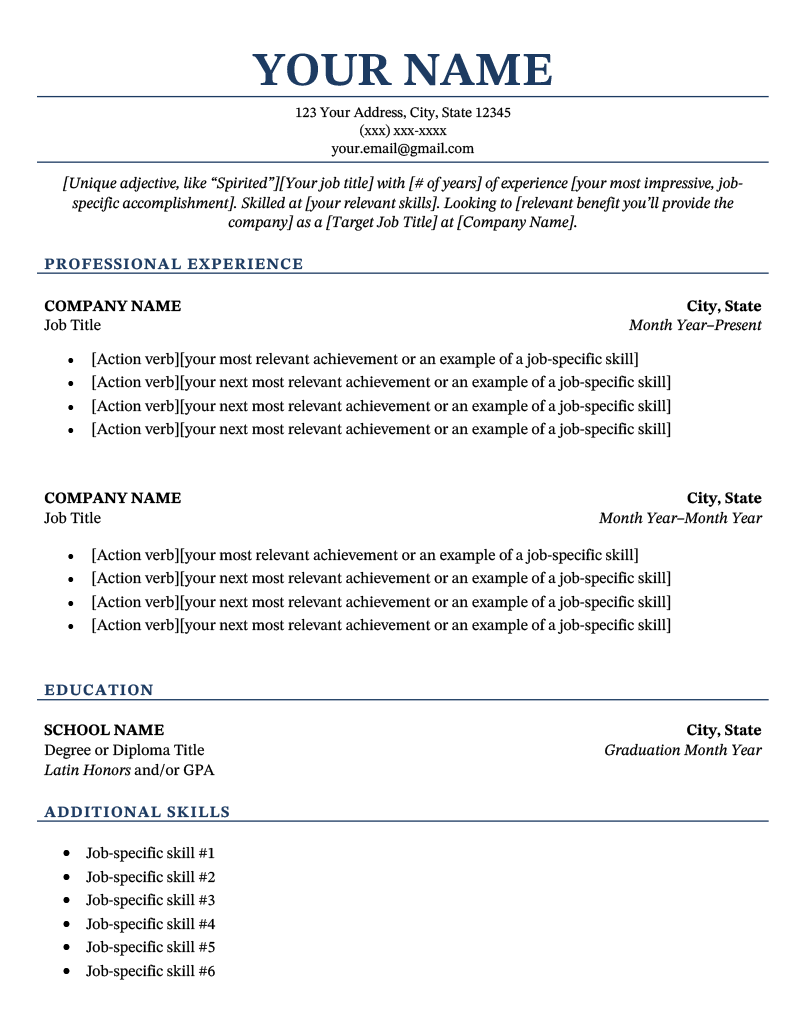 Download Targeted Resume Template for Microsoft Word
Targeted Resume Template Text Version (Copy/Paste)
Your Name
123 Your Address, City, State 12345 | (xxx) xxx-xxxx | your.email@gmail.com
Summary
[Unique adjective, like "Spirited"][Your job title] with [# of years] of experience [your most impressive, job-specific accomplishment]. Skilled at [your relevant skills]. Looking to [relevant benefit you'll provide the company] as a [Target Job Title] at [Company Name].
Professional Experience
Company Name | City, State
Job Title | Month Year–Present
[Action verb][your most relevant achievement or an example of a job-specific skill]
[Action verb][your next most relevant achievement or an example of a job-specific skill]
[Action verb][your next most relevant achievement or an example of a job-specific skill]
[Action verb][your next most relevant achievement or an example of a job-specific skill]
Company Name | City, State
Job Title | Month Year–Month Year
[Action verb][your most relevant achievement or an example of a job-specific skill]
[Action verb][your next most relevant achievement or an example of a job-specific skill]
[Action verb][your next most relevant achievement or an example of a job-specific skill]
[Action verb][your next most relevant achievement or an example of a job-specific skill]
Education
School Name | City, State | Graduation Month Year
Degree or Diploma Title
Latin Honors and/or GPA
Additional Skills
Job-specific skill #1
Job-specific skill #2
Job-specific skill #3
Job-specific skill #4
Job-specific skill #5
Job-specific skill #6
How to write a targeted resume
Here's how to tailor your resume to your target position:
Carefully review the job description to see which skills and qualifications are needed for the role
Note the skills-based keywords and phrases in the job ad (you could write them down or copy the job ad and highlight them in your word processor)
Describe how you've used the skills the company needs to produce good results in all your resume sections, using the exact keywords and phrases from the job description