What are transferable skills?
Transferable skills are skills that are useful for many different jobs across various industries. Examples of common transferable skills include communication skills and basic office skills (like using Microsoft Office Suite).
Unlike other skills, transferable skills aren't associated with a particular profession. Adding them to your resume will boost your chances of getting invited for an interview, regardless of if you're applying for an entry-level job or you're aiming for a managerial position.
Our free-to-use resume builder can make you a resume in as little as 5 minutes. Just pick the template you want, and our software will format everything for you.
10 transferable skills to list on your resume
Here's a list of top transferable skills to add when writing a resume in 2023:
1. Communication
In most industries, communication skills are a must-have. Whether you're a manager leading a team or a call center representative helping customers resolve issues over the phone, being able to effectively get your message across is going to be crucial to your success in the role.
Besides verbal communication, communication skills also include digital and written communication, as well as body language. While the myth that body language makes up 93% of communication has been busted, learning how gestures, tone of voice, and posture can be used to convey a message can help you become a better communicator.
2. Computer skills
It's not just web developers and software engineers who use computer skills on a daily basis. Most employers expect you to possess at least a basic understanding of Google Docs and Microsoft Office Suite.
Additionally, many companies that adopted work from home policies during the pandemic plan on keeping them. In fact, more than 25% of North American professional jobs are predicted to be remote by 2023.
As a result, computer skills such as familiarity with video conferencing and collaboration tools like Zoom, Slack, Trello, and Teams will continue to be relevant in the future and are transferable to office work in any industry.
3. Time management
Time management skills are highly sought after by employers because they make you a more reliable employee.
If you can be trusted to finish your work on schedule, get back to clients in a timely manner, and competently juggle multiple daily tasks, time that would otherwise be spent on micromanagement can be spent in more productive ways.
4. Writing
There's more to being a good writer than using a spellchecker and being aware of the difference between "their" and "they're". Knowing how to adapt your writing style depending on your audience, understanding how structure can improve readability and being able to write different types of content is equally important.
Author, journalist, and blogger are obvious examples of professions that require solid writing skills. However, even if you don't belong to one of these categories, your career can benefit from you spending a bit of extra time honing your writing skills.
Here are some examples of some different tasks you might need to use your writing skills for:
Reports
Grant proposals
Marketing materials
Instruction manuals
Newsletters
Emails
5. Teamwork
While the term "team player" is one of those overused buzzwords that hiring managers see every day, demonstrating your ability to work in a team is still essential for nearly any job. Just make sure to provide specific examples that show why you're good at teamwork.
True team players contribute to the success of the entire group by supporting each other, working together towards a common goal, and treating each member of the team as an equal.
If you need a reason to include teamwork as one of your transferable skills on your resume, when surveyed, 86% of employers said that they take teamwork skills into consideration when they decide who to promote.
6. Research
From finding out what customers want to growing a business, research skills are important across many industries.
Giving hiring managers evidence of what you've achieved by applying your research skills in the past will give them an idea of how you can contribute in your new role, if hired.
Here are some more examples of other ways research skills can be used at work:
Finding new business opportunities
Identifying areas of improvement
Gaining insight on competitors
Developing new strategies
Discovering ways to increase productivity
Evaluating employee satisfaction
Analyzing sales performance
7. Leadership
Leadership skills are required for managerial roles, but it's not just managers who should highlight them on their resumes.
Even if you're not in charge of a team, being able to delegate work, motivate people, and quickly make sound decisions makes you a strong candidate for many different types of jobs.
Additionally, in case of an emergency or if something unexpected happens while the manager is away, you can be relied on to step up and take control of the situation.
Some examples of jobs where leadership skills are an asset include:
Teacher
Paramedic
Social worker
Police officer
Camp counselor
Event planner
Flight attendant
8. Language skills
If you speak more than one language, don't forget to mention it on your resume. Even if foreign language skills aren't typically required in your field of work, they could give you an advantage over other applicants, especially if you're in a customer-facing role.
You'll be able to provide better service to non-English speaking customers, and if you're dealing with clients or business partners overseas, they may feel more at ease interacting with someone who speaks their mother tongue.
Language skills are also great for networking purposes. If you've taken the time to learn a second language, chances are you've also developed greater cultural awareness which can help facilitate connections with people from different backgrounds.
9. Problem solving
No matter what job you have, you're going to run into challenges. Knowing how to approach these challenges and find a unique solution using your problem solving skills is essential to your career success.
Whether you'll need to sort out technical difficulties or adapt to changing customer demands, problem solving skills will allow you to navigate unexpected situations with ease.
10. Conflict resolution
Conflicts in the workplace are a common occurrence, be it between colleagues with different visions for a project or due to a disagreement between an employee and a customer.
It's difficult to avoid conflicts completely, but if you can show hiring managers that you're able to remain calm during high-tension situations and can help to mediate to prevent a situation from escalating, you'll be seen as a valuable asset.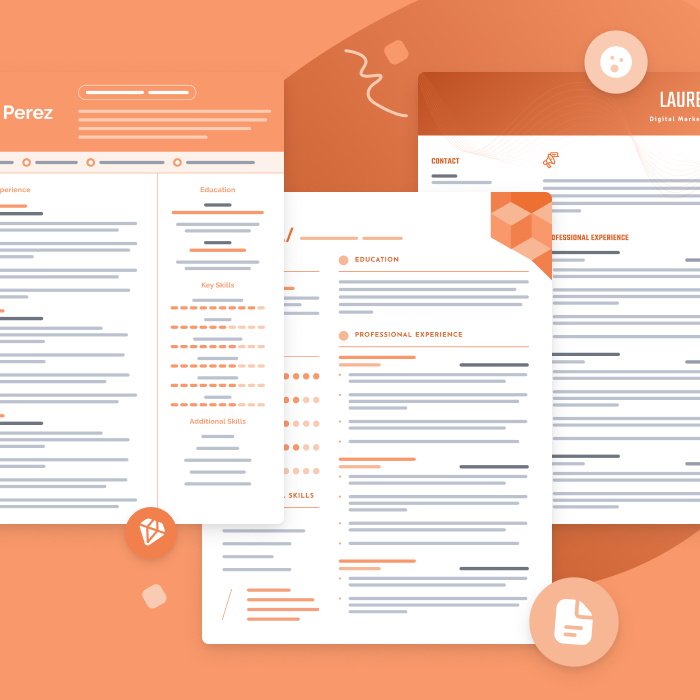 One of the best ways to make your resume is by filling out one of our free resume templates. All our templates are designed by experts and free to download for Microsoft Word or Google Docs.
How to highlight transferable skills on your resume
There are three opportunities for you to draw attention to your transferable skills on your resume. These are:
In your resume objective
The first thing you want a potential future employer to know about you, is that you fulfill the basic requirements of the job.
Determine what skills to put on your resume for the position you're applying for by looking for clues in the job description and on the company website.
Then, include these in your resume objective. Here's an example of transferable skills highlighted in a resume objective:

In your experience section
When you list transferable job skills in the experience section of your resume, add hard numbers to make your bullet points more impactful. For example:

This bullet point highlights the candidate's research skills while also explaining what they achieved by applying those skills at work.
In your skills section
It may be tempting to list as many skills as possible to show hiring managers that you're qualified for the role. However, it's better to focus on the specific transferable skills you'll be using for that job.
Here's an example of a skills section on a barista resume that highlights several of the candidate's relevant transferable skills:
Find out how to include transferable skills on your resume with our video below, where our career expert Eva breaks down how to write a strong skills section:
Why are transferable skills important?
Picking up transferable skills makes you a more well-rounded employee, giving you more to offer future employers and improving your employability.
If you're evaluated against a candidate with similar education and professional experience, but you've got additional language skills or can prove that you're a great person to have on a team, you'll likely get the job over the other candidate.
Possessing transferable skills will also prepare you for potential career changes, because you'll be more prepared for the role even if you lack some of the other skills or experience important for the position.