Employers are always looking for candidates with strong interpersonal skills because they can bring great social contributions to the workplace.
In this article, we'll tell you what interpersonal skills are and why they matter. Then we break down 10 key interpersonal skills you need for success and show you how to include them on your resume.
Table of contents
What are interpersonal skills?
Interpersonal skills are the set of skills we use to interact and communicate with others.
We demonstrate interpersonal skills whenever we engage with people around us, and they determine our ability to build relationships and work with others.
Having good interpersonal skills is a key professional strength that can set you apart from other candidates. Interpersonal skills can improve your ability to do well in interviews and build productive, long-lasting relationships in your personal and professional life.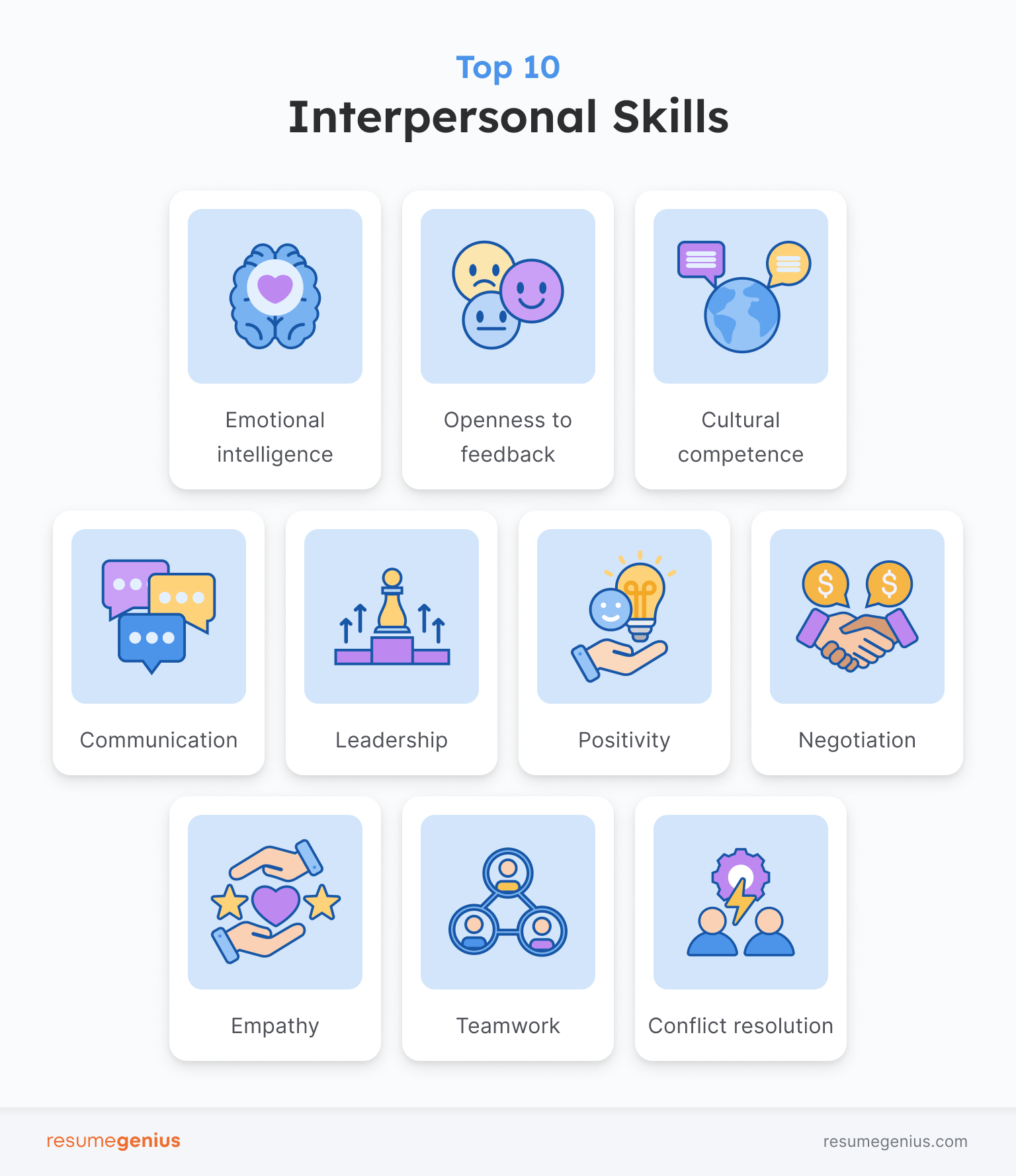 Our free-to-use resume builder can make you a resume in as little as 5 minutes. Just pick the template you want, and our software will format everything for you.
Why are interpersonal skills important?
When you're applying for jobs, it's easy to focus on all of your hard skills and forget about the importance of including soft skills like your interpersonal abilities. When you're figuring out what skills to put on your resume, remember to include a combination of both.
Strong interpersonal skills are a key indicator of success in a working environment. Benefits can include, for example, the ability to:
Cooperate with teammates to solve difficult problems
Build collaborative relationships with colleagues
Understand and meet the needs of clients and customers
Effectively lead and manage others
On the other hand, lacking interpersonal skills can lead to miscommunication or misunderstandings with coworkers or management that have the potential to lead to bigger conflicts.
Improving your interpersonal skills can help you to foster a harmonious workplace, mend any relationships that are disruptive to your ability to work effectively, and free up your time and energy to focus on doing your best work.
Here are 10 key interpersonal skills to include in your resume:
Interpersonal skills list
The following interpersonal skills are important for excelling in your career and all make great additions to your resume.
1. Emotional intelligence
Employees with strong emotional intelligence are able to relate to others and maintain a level head in the face of emotionally-charged situations. They are adept at managing social dynamics and ensuring that those around them feel heard, seen, and understood.
Emotionally intelligent employees are particularly effective in customer-facing roles as well as collaborative positions and make great leaders and managers. This skill, however, is beneficial in any and every job and holds a timeless appeal for employers.
Here are some qualities that contribute to emotional intelligence:
Self-awareness
Social awareness
Perceptiveness
Thoughtfulness
Consideration for others
Self-management
Empathy
Active listening
2. Communication
Communication is an essential interpersonal skill to demonstrate to employers. Any job that involves team-based collaboration or deals directly with customers or clients requires effective communication skills.
Here are three additional communication-related skills to highlight on your resume:
Verbal communication
Your ability to verbally communicate with others is a key interpersonal skill no matter what kind of work you do. From performing well in interviews to giving quarterly presentations or even just connecting with coworkers, you're going to need to verbally communicate at some point.
Using your verbal communication skills can have a major impact on your ability to build strong relationships and achieve your career goals.
Active listening
Active listening is a crucial skill in any position that requires you to work with other people. Actively listening to others allows you to connect with them, demonstrates that you understand what they're communicating, and opens the door to effective collaboration and problem-solving.
Strong listening skills are particularly beneficial in positions where understanding and responding to the needs of customers and clients determines your success, like those in customer service or sales.
Digital communication
Today digital communication is becoming a primary mode of communication in the workplace, even between team members sharing an office. Whether you're writing emails or talking to coworkers on Slack, you'll need to demonstrate an ability to communicate professionally over digital mediums.
3. Reliability
Reliability encapsulates your work ethic and the ability to see things through to the end. Simply being on time for work every day puts you on the fast track for promotion, and always fulfilling promises is a key way to earn social capital in the workplace.
Although reliability is a beneficial interpersonal skill for any job, it has added value for tradespeople in industries such as plumbing or construction. Arriving on time and completing high-quality work goes a long way in earning a solid reputation and repeat customers.
Few other industries benefit as much as the trades from recommendations and positive word-of-mouth between friends and neighbors.
4. Leadership
Leadership is an interpersonal skill that sets candidates apart from their peers. Employers are always looking for motivated and capable employees who can inspire others and take charge when work needs to be finished.
Leadership involves not only delegating and strategizing, but also getting the most out of every employee and helping everyone feel like they're making valuable contributions to the organization.
Here are several leadership skills for your resume:
Communication
Adaptability
Delegation
Motivation
Problem solving
Conflict resolution
Patience
5. Positivity
Candidates and employees who demonstrate positivity are much more likely to find success in a position and be well-liked at the company.
Positivity is especially important for positions that involve customer service or managing client relations, because positivity can be infectious and easily influence your ability to make a sale or close a deal.
Employers value positivity because positive employees tend to focus on the good in a situation, and are more likely to believe that good outcomes can be achieved. Positive employees are also more motivated and pursue tasks with enthusiasm.
6. Negotiation
Negotiation is not only the act of buying or selling goods, but any interaction where you engage another person in a discussion in an attempt to come to a shared agreement.
Negotiation skills are particularly important for those working in industries like law, sales, business, or politics. However, negotiation skills can come in handy in any position.
Here are several skills that will make you a better negotiator:
Emotional intelligence
Communication skills
Strategizing
Planning
7. Openness to feedback
No company wants to hire a stubborn or closed-minded employee, so it's important to show that you're receptive to feedback.
Being open to feedback is especially useful in entry-level positions, when you lack professional experience and are learning valuable industry-specific skills on the job.
Some skills that help cultivate openness to feedback are:
Flexibility
Active listening
Humility
Open-mindedness
Adaptability
It's not just important to be open to feedback, you also need to be skilled at applying that feedback to yield desirable results
8. Empathy
People at work gravitate towards those who are capable of showing empathy and relating to their colleagues on a personal level.
You can display empathy at work in a variety of ways. For example, you could lend an ear to a colleague experiencing problems in the company or step in to support a project when unforeseen difficulties strike.
Empathy is especially effective if you work in education because students are better able to grow, learn, and thrive in environments that are emotionally supportive.
Some empathy skills to highlight in your resume are:
Perceptiveness
Emotional intelligence
Cultural sensitivity
Active listening
Compassion
9. Teamwork
Modern workplaces often require that employees rely on each other in some capacity and are willing to support others when called upon.
Effective teamwork involves knowing when leadership is required and when it's important to be supportive.
Candidates should put extra focus on their capacity for teamwork if applying for a role in an industry like software development, which requires a large number of people to work together to complete a single project.
Use the word "we" instead of "I" when describing group accomplishments in your cover letter to emphasize a team-minded attitude in your job application.
Here are some teamwork skills to showcase on your resume:
Delegation
Negotiation
Cooperation
Creativity
Idea exchange
Listening
10. Conflict Resolution
Employers want to hire employees that can manage their own relationships in the workplace, rather than requiring the involvement of management or HR.
If you're able to demonstrate good conflict resolution skills then it's more likely you'll be considered for leadership or managerial roles.
To be good at conflict management, you must be a strong communicator. It's important to be able to listen to all parties in any given conflict and to understand the basis for the disagreement. Only after fully understanding this can steps be taken to reach an agreement.
Here are some skills that aid in conflict resolution:
Nonverbal communication
De-escalation
Mutual respect
Negotiation
Cultural sensitivity
Compromise
Stress management
Humor
How to properly showcase interpersonal skills in your resume and cover letter
Now that you know the importance of interpersonal skills, we'll show you how to put them on your resume.
There are three main ways to highlight skills on your resume:
Including them directly in your resume skills section
Showcasing them in your professional experience bullet points
Put them in your resume objective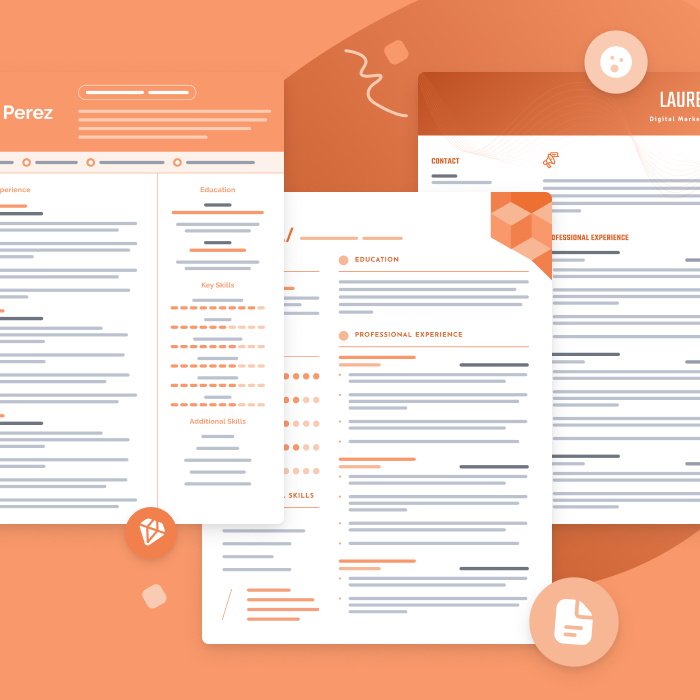 One of the best ways to make your resume is by filling out one of our free resume templates. All our templates are designed by experts and free to download for Microsoft Word or Google Docs.
1. Include them in your resume skills section
Interpersonal skills are difficult to measure, which makes them difficult to include as simple bullets in your resume skills section.
Take a look at the following examples:
Excellent Leadership Abilities
Good Communication Skills
Skilled at Negotiating
While the use of these resume adjectives may make these abilities seem impressive at first glance, when a hiring manager reads them it's unclear what abilities you actually have. Just writing "leadership" is too vague to communicate what your qualifications are to employers.
To properly highlight your interpersonal skills you need to be more specific.
For example:
Advanced Management Abilities
Superb Public Speaking and Content Writing Skills
Expert at Contract Negotiation
By adding specifics, you give your skills more context and help the hiring manager get a better understanding of your actual abilities.
That being said, it is still essential to prove your interpersonal skills by showcasing how you have used them in past jobs.
2. Showcase them in your professional experience section
The best place to include interpersonal skills on your resume is in your work experience section. Your bullet points enable you to showcase your abilities through action rather than by simply listing them.
Take a look at the two following examples that highlight various interpersonal skills:
Leadership and Teamwork:
Led a 6 person

marketing team

in the development and implementation of 3 new marketing strategies, resulting in a 12% increased market share
Communication and Active Listening:
Transcribed daily meeting minutes

and

communicated important points to 3 top executives

, ensuring smooth business operations
Notice that in the above examples the candidate not only communicates their abilities, but also proves they've used them to achieve results. This creates a much stronger statement that'll win over any hiring manager looking for those skills.
To effectively showcase skills on your own resume, follow these three steps:
Study the description of your target job and identify which interpersonal skills the employer values most.
Think about what you've achieved in previous positions that demonstrates those abilities.
Use these skills and achievements to create strong, accomplishments-oriented bullet points.
If you're struggling to highlight your interpersonal skills on your resume,  our AI-powered resume builder can automatically generate experience bullet points for you.
3. Include them in your resume introduction
Your resume introduction can also be a powerful place to highlight your interpersonal skills. To start your resume, choose one or two of the interpersonal skills that you most want employers to know about.
For example, if you're applying for a counseling position and want to highlight your conflict resolution skills, you should write something like this for your introduction:
Licensed Independent Social Worker and MSW graduate with 8+ years of experience. Specialize in crisis intervention, providing mediation and de-escalation techniques in conflict situations as well as anger management services in follow-up sessions. Exceptionally skilled in negotiation and stress management. Seeking to use conflict resolution experience to help clients at Priority Health.
How to improve your interpersonal skills
Interpersonal skills are an integral part of being successful at your job. However, if you don't feel that you have naturally strong interpersonal skills, there are many ways to improve them.
Here are a few ways to go about working on enhancing your interpersonal skills:
Ask for feedback
If you aren't quite sure what skills you need to work on, one of the best ways to find out is to ask others for feedback. Be sure to ask someone whose opinion you trust and respect, and who knows you well.
Once you've received some feedback on what interpersonal skills you could improve on, think of specific ways you can practice those skills.
For example, if someone tells you that your digital communication skills need work, one way to improve might be to do some reading on professional email best practices or Slack etiquette, and then start employing the tips you find.
Practice your communication skills
How you communicate is a huge part of your interpersonal skills, and everyone can stand to improve their communication skills in some shape or form. Pick one to three areas to focus on and then decide how you want to go about improving them.
If you want to work on your presentation skills but have a fear of public speaking, you can come up with a plan to start small. For example, resolve to work up the nerve to make a small announcement at the next team lunch. Build up from there.
Perhaps a good next step would be to ask if you can make a small contribution to a colleague's presentation. By taking small steps like this you can gradually build your confidence and develop your skills without getting overwhelmed.
Set specific relationship-building goals
One of the biggest reasons to work on your interpersonal skills is to improve your relationships. If you have specific relationships in mind that you want to nurture, whether with a colleague or a boss, it's worth thinking about what about the relationship needs improvement and which interpersonal skills will help the dynamic.
For example, if you and a coworker don't see eye to eye on a joint project you're working on, this is the perfect opportunity for you to work on your communication skills. Practice actively listening to your coworker to understand where they're coming from.
If you can come to understand their core concerns, you might find you have more room for negotiation and compromise than you thought, and it may strengthen your relationship in the process.