To make the best impression on the hiring manager, use your resume to showcase your relevant experience and demonstrate that you have the skills needed to be a nurse. Let's take a look at how to build a high-quality nursing resume with the necessary skills, so you can position yourself as an ideal candidate.
Looking for a quick, informative video? Our Career Expert Chloe summarizes how to write a resume for a nursing position that showcases top nursing skills so you can stand out to healthcare employers.
Our free-to-use resume builder can make you a resume in as little as 5 minutes. Just pick the template you want, and our software will format everything for you.
To build on Chloe's advice, here are some of the most valuable nursing skills for your resume:
Essential Nursing Skills for Your Resume
As a nurse, it's essential that you possess not only the medical knowledge necessary to care for patients, but also the personal qualities that make you excellent at this type of care.
To show employers you have all the required expertise, your nursing resume needs to highlight a variety of hard and soft skills, as well as the skills relevant to your area of expertise.
Not sure what to include? No problem. Here are some of the most valuable nursing skills for your resume:
Nurse hard skills for your resume by level & position
One of the first things your resume should highlight are your clinical nursing skills and techniques that showcase your experience in a medical setting.
Clinical nursing skills include the ability to adhere to hygiene standards, properly make a hospital bed, take a patient's blood pressure, and give an injection.
Highlight these hard skills on your nursing resume to show your experience and capacity to fill the role.
Each nursing position requires a unique skill set that varies by experience level and specialty. We've broken down key skills by nursing role below.
1. Nursing assistant skills
As a nursing assistant, you will report to RNs who work closely with doctors to provide patient care. Your ability to follow directions and care for patients is a priority for employers, so emphasize your record as a committed employee.
The following nursing assistant skills should also be displayed throughout your resume:
A thorough understanding of HIPAA and privacy policies
Ability to take and record vital signs
Experience in patient care, including feeding, bathing, and dressing
2. LPN skills for resume
Licensed practical nurses (LPNs) provide patients with basic nursing care, and must be supervised by registered nurses.
You must be able to demonstrate basic patient care skills such as:
Performing patient care through monitoring and assessment, checking vital signs, and providing hygiene and wound care
Maintaining documentation and records as well as use of computer systems
Knowledge of CPR
Administering prescribed medications, experience with blood withdrawal and intravenous therapy
3. Registered nurse skills
As an RN, you're expected to be a communications hub between doctors, patients, families, and CNAs. It's a supervisory role, so you must display leadership experience.
A strong resume should include these registered nurse skills:
Ability to oversee CNAs and organize many patient charts
Coordinate patient care and educate patients and families about medical conditions
Knowledge to perform and evaluate diagnostic tests
Ability to work directly with patients, families, and doctors
Experience dressing wounds, administering medication, and aiding doctors in medical procedures
Most RNs have a specialty and work in a specific field. For example, RNs can work as ambulatory nurses, critical care nurses, oncology nurses, rehabilitation nurses or educators.
RNs also work across a wide range of facilities, from being traveling nurses to working in prisons or long-term care facilities. The skills you include in your RN resume should target the role you're applying for.
4. Nurse practitioner skills
While RNs need an associate's degree, a nurse practitioner (NP) must have a master's degree. Due to their higher education level, the responsibilities of an NP are greater. If you're an NP, you must be prepared to make decisions and work with patients independently.
Nurse practitioners should also include these skills on their resumes:
Experience diagnosing illnesses and prescribing medications
Knowledge of preventive care strategies
Understanding of chronic diseases and how to manage them
Ability to work independently in a clinical setting
5. ICU Nursing Skills
Working in the ICU can be taxing — it requires monitoring many patients at the same time. If you're aiming for a job in the ICU, organizational skills should be listed on your resume.
In addition, these ICU nursing skills should be included:
Experience working in a team-based environment
Ability to evaluate multiple patients and respond as needed
Ability to communicate crucial information to families
Technical skills required in the ICU, including tracheostomy care, insertion of central lines, administration of IVs, and assessing neurological activity
6. ER Nurse Skills
The emergency room (ER) can be a hectic setting, so you need to show that you're prepared for the physical and emotional toll of being an ER nurse.
Many of the skills listed above are also necessary for ER nurses.
However, you should specifically include these ER nurse skills on your resume:
Ability to stay calm and collected in fast-paced environments
Experience navigating sensitive situations (e.g., abuse and mental disorders) with care and
compassion
Willingness to advocate on behalf of your patients
Ability to cope with difficult situations
Important soft skills for nursing
There are several essential soft skills to list on a nursing resume. These are skills that you'll need as a nurse, regardless of your level or position, and relate to your ability to interact with colleagues or patients.
Here are five of the most essential soft nursing skills for your resume:
1. Time management
In a hospital setting, time is precious — a few minutes can make all the difference to a patient's health and well-being.
Time management skills are necessary for all types of medical staff, but particularly for nurses. Medications, drips, and evaluations are required at timely intervals, and employers are always on the lookout for punctual applicants.
2. Professionalism
Professionalism is an important quality in most fields, but it's among the most essential skills needed to be a nurse.
That's because when you work with new patients each day, you'll find yourself in situations that are uncomfortable or unfamiliar. In all instances, you must remain a professional and respect your patients and their loved ones.
3. Leadership skills
Nursing is a team-oriented profession, so your resume should emphasize your leadership skills by citing relevant experience. Specifically, employers want to see examples of your ability to lead a team.
On your resume, describe situations in which you displayed strong leadership skills as a nurse, be it in an educational or clinical setting. Be specific by including the number of people you led and your achievements as a leader.
4. Critical thinking
Each day brings unique challenges for a nurse. To keep up with the continuous flow of patients, you must be able to think on your feet.
The ability to make logical, reason-based decisions is crucial for nurses. That's why critical thinking skills are important in the nursing profession.
On your resume, outline a situation in which your critical thinking skills helped you find a solution on the spot — and if possible share what you learned from the results.
5. Communication Skills in Nursing
Effective communication skills are important for nurses, as you will need to accurately convey important details to doctors and support staff while being prepared to discuss sensitive matters and translate technical medical language into plain English for patients and their families.
You should use your resume to specify the types of people you have experience communicating with, including superiors, peers, and patients.
How to list nursing skills on your resume
Now that you know what nursing skills to highlight, it's important to know how to list skills on your resume effectively.
There are three main places to showcase nursing skills on your resume:
Resume introduction
Writing a strong resume introduction gets a hiring manager's attention right away, and offers them a quick overview of your qualifications.
Here's an example of how to include skills in a CNA resume objective, with skills in bold:
Reliable certified CNA with 7+ years of experience caring for elderly and vulnerable adults. Exceptionally skilled at working with bedridden, memory-impaired, and physically challenged patients. Compassionate and a good verbal communicator with excellent interpersonal skills. Discreet and respectful of confidentiality in all dealings with patients and staff.
Inserting CNA skills in your resume introduction quickly gives employers a good idea of your capabilities and personality, and gives them confidence that you're qualified to step into a nursing position.
Work experience section
The work experience section of your resume lets employers know that you have relevant nursing experience and shows them what roles you've performed before.
Your work experience section also provides the perfect opportunity to showcase how you put your skills to work.
You should include any technical skills that an employer lists in the job description, as long as you have the experience to match.
Look at this excerpt from an operating room nurse job posting:
You perform skin tests, immunizations, phlebotomy and the initiation of peripheral venous access
To demonstrate to the hiring manager that you're skilled in this area, you can target this point in your work experience section by simply including the skills mentioned. Here's an example:
Performed regular skin tests, immunizations and phlebotomy
It's easy to include hard skills in your work experience, but you can demonstrate soft skills with your experience, too.
For example, instead of listing "leadership" in your skills section, you can include experience that demonstrates this skill in your work experience:
Led and supervised 5 CNAs, delegating tasks and ensuring that all work was performed according to hospital standards
Skills section
An additional skills section is typically included in any resume template. If you have specific nursing hard skills you'd like to showcase, you can turn this section into a technical skills section. If you want to show off your transferable skills, you can use a relevant skills section instead.
You should list three to nine nursing skills in this section. Each one of them should strengthen your qualifications and make you a more attractive candidate.
Using a balanced mix of hard and soft skills will show employers that you're a well-rounded candidate capable of handling all the demands of a nursing role.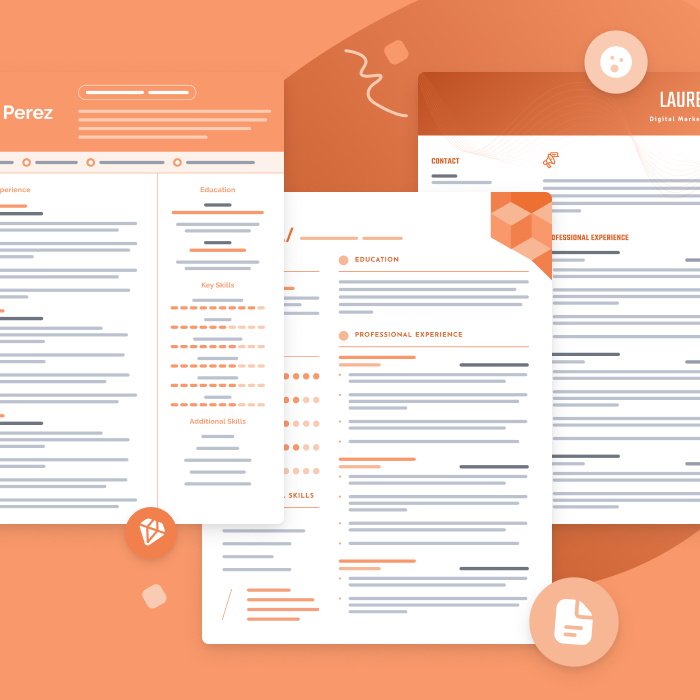 One of the best ways to make your resume is by filling out one of our free resume templates. All our templates are designed by experts and free to download for Microsoft Word or Google Docs.