Working as a sales associate requires a wide range of abilities. Passion and exceptional people skills will help you maintain a positive mindset in this fast-paced industry, and the ability to switch between tasks quickly will enable you to serve customers better.
Some workplaces require specific knowledge to get hired, but most sales associate skills are transferable from other industries.
Read on to learn to which sales associate skills employers are looking for, and how to include them on your resume.
Our free-to-use resume builder can make you a resume in as little as 5 minutes. Just pick the template you want, and our software will format everything for you.
9 key sales associate skills
Whether you're trying to get a promotion or you're looking for a new job, make sure you've got these nine important sales associate skills to reach your career goals.
1. Customer service
As a sales associate you'll be working directly with customers, which makes excellent customer service skills vital to your overall success. Having a positive attitude and being able to understand customers' needs will keep patrons, and by extension your boss, happy.
How you treat your customers directly affects your sales numbers and the success of the business you work for. Research shows that 81% of people will choose a business again if they receive good customer service. This means that if you excel at creating a positive customer experience, your company will benefit as a result.
2. Communication
Whether you're interacting with customers or coworkers, clear and effective communication skills are crucial in building strong relationships.
Verbal communication skills will help you build rapport with customers as you discuss the pros and cons of different products and answer any questions they may have, so mention these when you write a resume for a sales job.
Written communication skills can also help you with workplace duties. As a representative of the company, it's important that you're able to express yourself clearly in writing if your job duties include corresponding with customers via email. As a retailer it's likely you'll also be doing email marketing, so strong written communication skills will be a valuable asset.
3. POS systems
If you're already in the industry, then you've likely used a point of sale (POS) system before. Being able to operate such technology is one of the most important computer skills for retail sales associates to have because it's tied to your efficiency in the workplace.
On any given day a sales associate may need to use a POS system to process electronic transactions, track down information for customers, or assess what items might be in need of restocking.
4. Mathematics
Even in today's age of technology and automation, basic math can save you a lot of time and energy. Whether it's a customer asking you about discounts, or a stock inventory task you've been asked to handle, being able to calculate numbers quickly and accurately is a useful sales associate skill to have.
5. Organization
From tracking customer preferences to organizing window displays, organization skills touch upon many parts of being a successful retail associate.
For example, having an organized and documented inventory saves time and money. Plus, efficiently organizing contact information into a POS system (or even manually) can help your company track its customers.
6. Multitasking
The retail environment can often be stressful, and you never know what unique challenges each day will bring. You'll need to be able to give product recommendations while restocking shelves, keep an eye out for shoplifters while managing the register, and clean up a mess while answering questions from customers.
Whether you happen to be understaffed for the day or it's Black Friday, having great multitasking abilities will allow you to manage multiple tasks at once without becoming overwhelmed.
7. Product knowledge
Knowing how to be a good sales associate means developing thorough brand awareness, learning your store inside-out, and keeping up with the latest industry trends. Your comprehensive product knowledge should allow you to help customers make informed choices, which will ultimately bring in more business.
8. Active listening
Hearing someone speak and truly listening to what they have to say are two completely different things. Active listening means engaging in the conversation using body language, as well as thoughtful questions and comments.
In retail, active listening is a great skill to have for two reasons:
It'll allow you to understand your customers better, thereby making you able to give them more individualized service.
Customers will feel like they're being prioritized, improving their overall shopping experience and impression of your business.
9. Persuasion
As a sales associate, you need to be able to sell all sorts of products. Some products will fly off the shelves, but others may require a little help. This is why the ability to persuade people is one of the most valuable skills needed for retail.
Being persuasive doesn't mean being pushy. You don't want to make customers buy something that they'll later regret, you want to encourage them to buy something they'll truly be able to use and enjoy. This is one of the best ways to attract repeat customers and increase overall sales.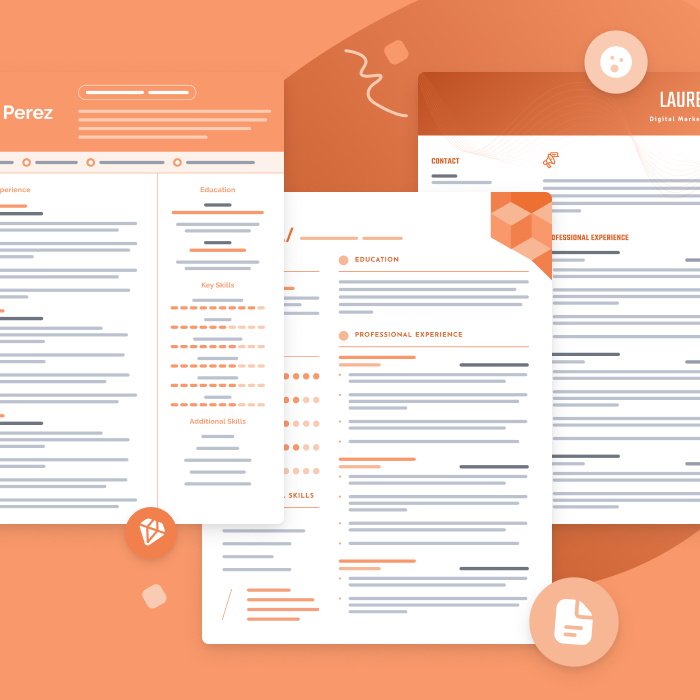 One of the best ways to make your resume is by filling out one of our free resume templates. All our templates are designed by experts and free to download for Microsoft Word or Google Docs.
3 ways to highlight your sales associate skills
Ensuring you consistently demonstrate your most relevant skills throughout the application process is crucial to impressing hiring managers — especially ones in retail who might receive dozens of applications for each position.
Follow these tips to convince employers you possess the sales skills it takes to succeed as a retail sales associate:
Spotlight your sales associate skills on your resume
There are three opportunities for you to draw attention to your resume skills:
Your introduction – Mention a couple of the skills you've picked up throughout your career that make you a great sales associate.
For example:

Your experience section – Write impactful bullet points by quantifying your experience rather than simply listing your job duties.
For example:

Your skills section – Pick a resume template that allows you to measure your skills. Only list skills relevant to the position you're applying for.
For example:

Include your retail sales associate skills in your cover letter
While your resume should give a brief overview of your skills and experience, your cover letter is your chance to go into more detail about why you're a great candidate. To make use of it effectively, match your cover letter to the job ad by looking for keywords to target. For example, one of the duties listed in the job description might be:
Demonstrate sales and customer service results in a fast-paced environment
In this case, your cover letter should focus on your sales related abilities and how you used your customer service skills to improve the customer experience at your last job.
Prove you possess essential skills for a sales associate in your interview
The interview is your last chance to leave a lasting impression on hiring managers. Improve your chances of getting a call back by preparing answers to the most common job interview questions.
To help you ace your interview, here's a TikTok featuring examples of three sales associate interview answers:
If you've already thought about why you're a great candidate and how your skills will benefit the company, you're less likely to get flustered and start rambling. Instead, you'll be able to use the interview to your advantage and show off the skills that made you successful in your previous sales associate positions.