Collaboration skills are essential in the workplace. Being able to collaborate well helps you contribute to a team's creativity, teamwork, productivity, and overall success.
In this guide, we'll teach you how to impress hiring managers with your collaboration skills. Here's what we'll cover:
What are collaboration skills?
Collaboration skills are the abilities and attributes that help you work with others toward a shared goal, and are essential for successful teamwork, communication, and problem-solving in the workplace.
Collaboration skills examples
In a competitive job market with many similarly-skilled candidates, it can be your soft skills like collaboration that set you apart, so let's dive into some good examples of collaborative skills.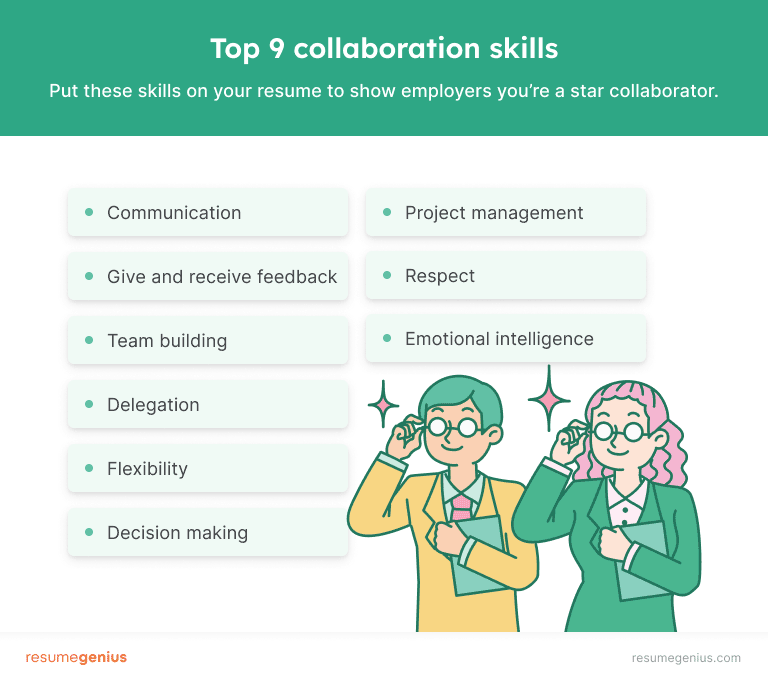 Here are the top nine collaborative skills to show off in your application:
1. Communication
The foundation of effective collaboration is communication. To collaborate well with a team, you need to be able to listen to and understand others as well as express your thoughts and ideas clearly.
Depending on your workplace and role, you might need to focus on different forms of communication. For example, an office manager might spend a lot of time writing informative and thorough internal documents and participating in meetings, while a nurse will spend a lot of time speaking with patients one-on-one and making sure that all records are up-to-date and accurate.
Figure out what kinds of communication you'll need to master in a new role and showcase those in your application. Here are some examples:
Active listening
Verbal communication
Written communication
Presentation skills
Nonverbal communication
Negotiation
2. Ability to give and receive feedback
If your team wants to see meaningful progress, then honest feedback is incredibly important.
Picture this: your manager decides to transition the team to a new work management platform, but unfortunately, the adjustment isn't going as smoothly as expected. In this situation, the team's feedback becomes invaluable to collaborating effectively.
By sharing insights on what is and isn't working and suggesting improvements, the team can work together to integrate the new system effectively, improving workflow for everyone involved.
The ability to give constructive feedback and receive it gracefully is essential for fostering a collaborative environment where team members can continuously improve and learn from each other.
3. Team building
Team building is a collaboration skill that involves creating a supportive team culture, fostering trust, and encouraging cooperation among team members.
While team building usually evokes images of trust falls and awkward company events, there are lots of ways you can contribute to team building at work.
Here are some examples of ways you can show off team-building skills:
Volunteering for collaborative projects that bring different departments together.
Starting peer learning sessions, where colleagues present on topics of interest and share their knowledge.
Starting fun work traditions (like "Pink Wednesdays")
Initiating coffee chats or walking meetings as a more informal way to discuss work with colleagues
4. Delegation
Good delegation is important for the functioning of any team. If you're collaborating with people, assigning tasks and responsibilities appropriately empowers each member to contribute their strengths to the team's goals.
Demonstrate your ability to delegate by describing any projects you led, and how you effectively distributed each task to bring about team success. Here's an example of how you might discuss your experience in an interview:
"As a project manager for a product launch, I took a unique approach to delegation by considering individual interests beyond their designated roles. For instance, I assigned technical development tasks to programmers with expertise in different areas, fostering efficient problem-solving and knowledge sharing, and assigned marketing strategy to marketers while inviting tech-savvy colleagues to contribute innovative ideas on leveraging digital platforms. I noticed that engagement was greater throughout this project than in past projects, and have since continued to factor in employee interests when delegating."
5. Flexibility
When you're collaborating on a team, things are almost certain to change – timelines get pushed back, priorities get redefined, and requirements shift. Being flexible is what allows you to stay open and readily adapt to any changes, which is something employers love to see.
Here are some experiences that highlight your flexibility:
Learning new skills
Implementing new software or technology
Adapting to remote or hybrid work while maintaining productivity
Collaborating on an evolving project
Taking on multiple roles or diverse projects
6. Decision making
Decision making is a critical part of any project. In a collaborative process, decision making involves consulting team members, gathering different perspectives, and collectively reaching a consensus that reflects the best interests of the team.
Decision making shows employers that you're able to reach an agreement and take initiative, which makes their lives easier.
Here are some examples of bullet points that help capture your decision making skills:
Led a cross-functional team through the decision making process for a complex project, soliciting input from stakeholders with diverse backgrounds and integrating their perspectives to achieve a unanimous consensus on the project's direction
Demonstrated strong decision making abilities in fast-paced environments by promptly analyzing critical issues, consulting with team members, and implementing effective solutions that resulted in a 15% reduction in project turnaround time
Utilized a data-driven decision making approach to assess market trends and competitor analysis, enabling the team to make informed strategic choices that led to a 25% increase in customer engagement
7. Project management
Where there's a collaborative project, there's project management. As a collaboration skill, project management involves planning, organizing, and coordinating team efforts to achieve project objectives efficiently.
If you can show employers that you have project management skills, they'll be more likely to consider you for leadership roles. Here are some elements of project management to include in your application:
Initiation and planning: Defining the project's objectives and scope, conducting research, and creating a project plan.
Execution: Coordinating resources, assigning tasks to team members, and ensuring that the project stays on track to achieve its goals.
Monitoring and controlling: Monitor progress and compare actual performance with planned targets, using data to identify deviations and take corrective actions.
Risk management: Assess risks and develop response plans.
Quality management: Define quality standards, perform quality checks, and address any issues that arise during the project.
Project closure: Finalize all project deliverables, conduct project evaluations, capture lessons learned, and deliver the results.
8. Respect
Respect is an essential collaboration skill that involves treating team members with consideration, valuing their contributions, and appreciating diverse perspectives. Mutual respect among colleagues creates a positive work environment and encourages team members to offer their ideas and feedback.
You can show employers that you're respectful by:
Using professional language
Acknowledging the contributions and achievements of others
Expressing gratitude for your mentors, managers, or colleagues
Demonstrating efforts to promote diversity and inclusion
Highlighting respectful and courteous communication with clients and customers
9. Emotional intelligence
Employers know that candidates with high emotional intelligence will make great collaborators because they're more likely to be in tune with what others are thinking or feeling.
Here are some experiences that demonstrate your emotional intelligence:
Empathetic leadership: Mention times you supported your team members' well-being, or worked to understand their goals and interests so that you could provide them with engaging opportunities.
Customer service: Let employers know how you demonstrated empathy, patience, and effective communication in client- or customer-facing roles.
Mentorship or coaching: Describe how you provided guidance, emotional support, and encouragement to help others achieve their goals.
Relationship building: The ability to create lasting relationships is a powerful asset and a good tell that you're emotionally intelligent and understand the needs of others.
How to showcase collaborative skills in an application
According to a recent survey on the most in-demand skills we conducted, 48% of hiring managers responded that soft skills are a must-have, while 28% said that a candidate's soft skills are even more important than their hard skills.
That means it's essential to demonstrate a strong blend of hard and soft skills in your application. Here are our top tips for showcasing collaboration in your application:
Highlight relevant collaborative projects on your resume: Use your work experience section to emphasize specific projects or experiences where you collaborated with others. Specify what role you played, the outcomes you achieved, and the skills you used.
Use concrete examples in your cover letter: Describe a successful collaborative project you worked on and how your contributions positively impacted the team's performance or project outcomes, using quantifiable achievements when possible.
Mention cross-functional collaborations: Discuss any experiences that involved working with colleagues from different departments or teams in your application, and emphasize how you were able to facilitate teamwork that led to a successful outcome.
Ask former colleagues or bosses for a recommendation on LinkedIn: Showcasing actual references from colleagues or supervisors will serve as a strong testament to your abilities.
Bonus tip (for the interview): During the interview, use the STAR method (Situation, Task, Action, Result) to describe specific examples of how you've collaborated at work. Explain the challenges you faced, the actions you took to collaborate effectively, and the positive results you achieved as a team. Illustrate how your collaborative skills align with your target company's values and help contribute to a positive work environment.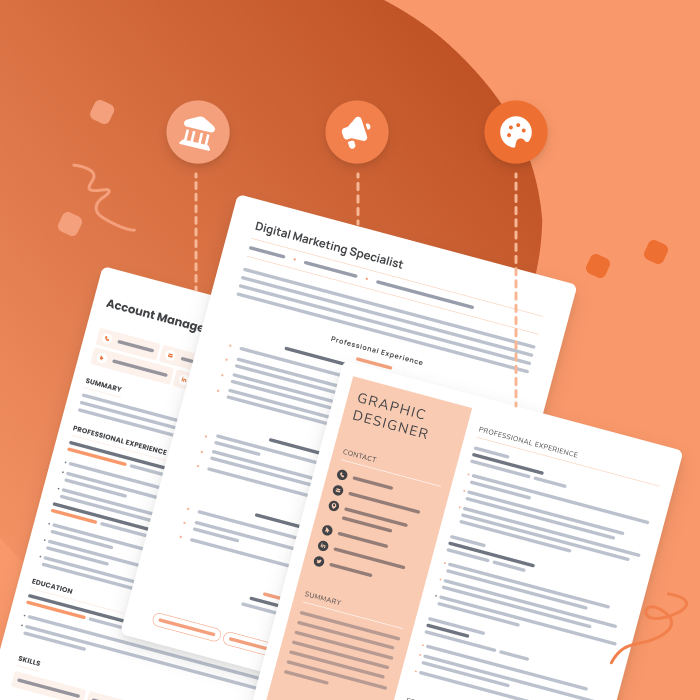 Not sure what your resume should look like? The best way to learn is by taking inspiration from resume examples written by other candidates in your industry.
How to foster your collaboration skills in the workplace
If you're looking for ways to grow your collaborative skills, we've got you covered. Here are four ideas you can implement at work to get recognized as a star collaborator:
Initiate informal collaborative activities: Take the initiative to organize gatherings in more casual settings, like lunchtime discussions or cafe work sessions, where colleagues from different departments can interact and share ideas.
Volunteer for cross-departmental projects: Let your manager know that you're interested in working on cross-departmental projects. Cross-functional initiatives provide the opportunity to encounter diverse skill sets, foster teamwork, and expand your professional network.
Offer support and expertise to colleagues: Be proactive in offering help and sharing your expertise with colleagues. Your willingness to support others will contribute to a positive, collaborative atmosphere.
Engage in active listening and empathy: Making an effort to understand your colleagues' perspectives, concerns, and ideas, and respond with respect and consideration, will build trust and enhance collaboration.
Frequently asked questions about collaboration skills
Still have questions? Check out our answers to some of the most common questions about collaboration skills below.
How does collaboration demonstrate professionalism?
Collaboration demonstrates professionalism by showcasing an individual's ability to work and communicate with others in a respectful, cooperative, and curious way. When employees actively collaborate, they show dedication to achieving common goals and contributing to a harmonious work environment.
Why are collaboration skills important?
Collaboration skills are important because they foster teamwork, creativity, and problem-solving, which in turn lead to improved productivity and a healthy and positive work culture.
When employees collaborate effectively, they can pool diverse skill sets and perspectives that drive innovative solutions and create better outcomes for the organization.
How can I improve my collaboration skills?
You can improve your collaboration skills by:
Actively participating in meetings
Using active listening to improve communication with colleagues
Asking for (and graciously accepting) feedback
Expressing interest in different viewpoints and encouraging diversity
Engaging in team-building activities
Taking on cross-functional projects
Participating in workshops or training
How do I say I have good collaboration skills?
Instead of saying you have good collaboration skills, demonstrate them by emphasizing the active role you've played in team accomplishments. Highlight instances where you contributed creative ideas, and worked alongside colleagues to achieve shared objectives. Here's an example:
"As a marketing specialist, I actively worked with the sales team to align marketing strategies with customer needs. Through these collaborative efforts, we achieved a 30% increase in lead generation and a 20% growth in sales."