When you apply for a marketing job, one of the first things employers look for is that you have the right skills for the role. While entry-level marketing jobs are attainable for most college graduates, moving up as a marketer at any company requires experience and skills.
We can't help you with the experience part. But we can show you key marketing skills to add when you write your resume to make it more likely to land you an interview.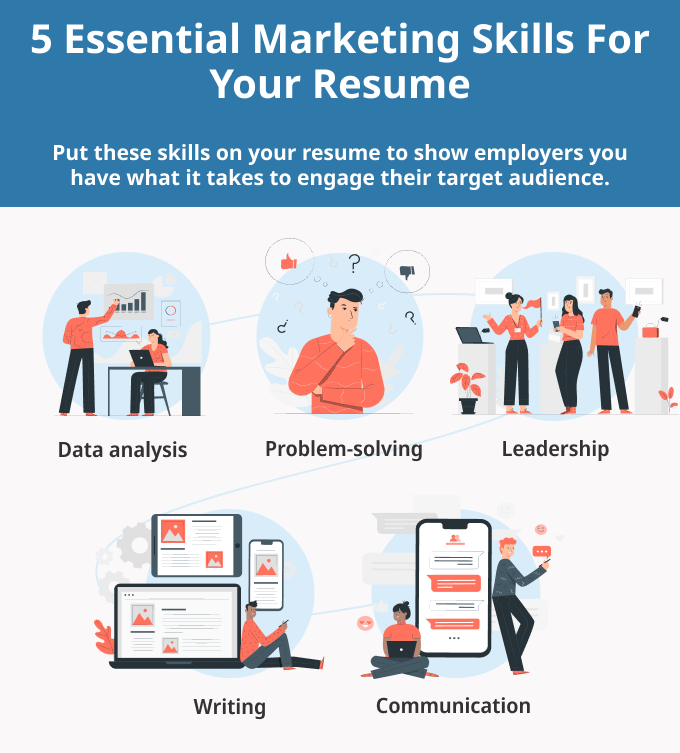 What are marketing skills?
Marketing skills are the specific sets of knowledge, abilities, and experience that marketers use to successfully plan and execute marketing strategies.
These skills can include everything from ideation and communication to analysis and planning, as well as the ability to motivate others in your organization to support those efforts.
Our free-to-use resume builder can make you a resume in as little as 5 minutes. Just pick the template you want, and our software will format everything for you.
5 marketing hard skills for your resume
Let's look at some of the top skills to highlight when writing your marketing resume:
1. Google Analytics
It's hard for entrepreneurs and businesses to avoid the internet, especially with the pandemic having pushed many brick-and-mortar establishments online. E-commerce is growing significantly with no signs of slowing down anytime soon.
Marketing requires substantial research and analytical skills, and Google Analytics (GA) is at the heart of both for digital marketers. Being able to use and understand GA is one of the most important skills for marketing today.
The best part is that Google will teach you how to use Google Analytics and even provide certification for free.
2. Email Writing
Writing emails well is another critical marketing skill. Whether you're reaching customers, relaying information to coworkers, or even contacting webmasters on other websites, being able to effectively communicate via email ensures you'll never be far from work.
While writing doesn't come naturally to everyone, it's a skill that can be improved with practice. Where better to start than Orwell's "Politics and the English Language" essay or taking an online course from a popular e-learning provider like Coursera or Udemy?
3. Software Competency
Most forms of marketing require familiarity with a wide range of software to meet the ever-changing needs of businesses and customers, like the following:
If you're not sure what type of software skills an employer expects of you, look at the job description for hints. Most of the time, hiring managers will directly say what they want.
Still not sure what hard skills you should highlight on your resume? Try targeting computer skills because many are applicable to marketing positions.
4. Technical Skills (Coding, Automation)
In addition to software knowledge, many marketing jobs require certain technical skills.
Knowledge of HTML, CSS, CRM tools, and even Microsoft Excel/Google Sheets is a huge plus for your career (and your resume).
5. Project Management
To effectively manage your team's time and resources, you'll need to have solid project management skills. This includes everything from setting up meetings and goal-setting to planning marketing campaigns, managing budgets, and tracking progress.
Fortunately, there are many online tools to streamline your project management needs like monday.com or Asana. Not all project management tools are created alike, however, and you'll need to decide which tool suits your team's needs and work style best to be efficient.
6 soft skills for your marketing resume
While hard skills are essential for the day-to-day of any marketing job, soft skills help you excel in your role and integrate better with your team.
Here are six important soft skills for your marketing career:
1. Communication
Nothing is more important for marketers than effective communication. Whether it's verbal or written, communication skills can help you get your point across — not only to your target audience but also to your coworkers and manager.
Being a great communicator also means being able to explain complex ideas in simple terms. Whether you're writing online content or giving a presentation to clients, expressing yourself clearly and in easy-to-understand ways is crucial as a marketer.
2. Creativity
Popular culture and technology change every day. Coming up with fresh ideas that grab (and keep) an audience's attention is key for any marketing professional.
You never know what kind of challenges will pop up while working either. An employee who can think up creative solutions is invaluable to a marketing department and is exactly the kind of candidate that employers want.
3. Adaptability
If you work in email marketing, search engine optimization (SEO), or social media advertising, you understand the importance of adaptability. Your company may be on top one day, but then Google tweaks its algorithm and the whole marketing department is left scrambling.
Being able to quickly deal with unexpected problems, adopt new technology, and abandon outdated practices is essential for the modern marketing professional.
If you can demonstrate that you're adaptable and have the digital marketing skills to handle issues as they arise, hiring managers will be rushing to interview you.
4. Organization
Marketing teams have to perform a huge range of tasks, such as juggling correspondence, maintaining relationships, analyzing data, finishing technical tasks, and addressing creative issues.
For example, if you're writing a product manager resume you'll need to describe your technical management skills on top of market analytical skills.
That's why employers love candidates who are organized and never let a hectic day get the better of them. Mention the number of different tasks you regularly deal with on your resume and you can easily demonstrate your organizational skills.
5. Prioritization
Marketers work in a variety of roles. On any given day, a marketing professional could be responsible for creating strategies, assessing analytics, conducting research, writing (and/or editing) copy, and organizing efforts between teams.
It comes as no surprise then that excellent time management skills are an invaluable part of a marketer's responsibilities.
Being able to quickly decide what needs attention and then acting is one of the most coveted skills for marketing, especially if you're a manager (or an aspiring one).
6. Storytelling
To effectively reach your target audience and cut through the noise, marketers need the ability to write compelling stories that resonate with customers. This includes being able to write everything from ebooks and whitepapers to social media posts and creating videos and web content.
Being able to tell stories that resonate with people can help you build trust and connect with potential customers on a deeper level, which can help develop brand loyalty.
How to put marketing skills on a resume
Whether you're a seasoned marketer or a recent college graduate looking to get into the field, you'll need to highlight marketing skills in line with the job description.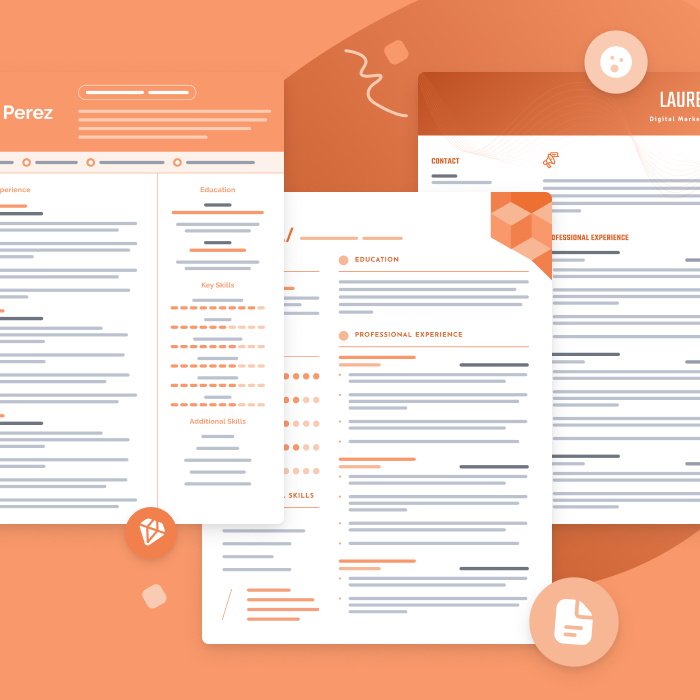 One of the best ways to make your resume is by filling out one of our free resume templates. All our templates are designed by experts and free to download for Microsoft Word or Google Docs.
The best way to create a solid marketing resume that effectively showcases you're the right candidate for the job is by highlighting the right skills in your resume summary and resume work experience section:
Impress with a hard-hitting resume summary
The first thing a hiring manager's going to see on your resume is your resume summary. Keep them reading by sticking to essential information like:
Your years of experience
Critical marketing skills from the job description
Your most notable professional achievement
Here's an example of a strong resume summary on a marketing coordinator's resume with essential information bolded:
Marketing Coordinator with 4+ years of marketing experience with a track record of executing successful digital, social media, and traditional marketing campaigns. Offering expertise in direct mail, event coordination, execution of customer marketing programs, channel marketing, online and digital advertising, email marketing, public relations, and social. Developed and executed email campaigns that boosted sales by 60% in under a year.
Not only does a solid resume summary convey what kind of professional you are, but it also gives the hiring manager an idea of what you can bring to the table if hired.
Use hard numbers in your work experience section
You've impressed a potential employer with your resume introduction, it's time to provide concrete examples to illustrate your responsibilities and achievements. But don't just list tasks you did, show what kind of results you've gotten with hard numbers:
How much money did you save your company?
How many projects did you manage simultaneously?
How many people did you successfully lead on a team?
Let's look at the following example of a marketing manager's resume introduction to see how hard numbers help you show the kind of results you can achieve and convince a hiring manager you have what it takes to fill the role:
Marketing manager with 6+ years of experience in home appliances and cosmetics environments. Proven record in managing product launches that increase brand awareness and sales. Personally recruited and trained 30+ marketing and sales specialists, improving overall sales targets by 24%, and directed the launch of 12 new product lines with total annual revenue of $1.3 billion.
How to write a marketing resume skills section
Making sure your resume skills section features top marketing skills from your current job (or the one you're applying to) is critical to show you're a qualified candidate at a glance.
Specifically, showcasing how you used your skills and expertise in everyday situations is an effective way to strengthen your resume.
While a compelling marketing skills section should clearly show your hard skills, you should demonstrate your soft skills throughout your resume in your work experience section. You want to show the hiring manager that you're both competent and well-rounded.
If you're unsure what specific skills the hiring manager is looking for, look at the job description. HR managers aren't trying to hide anything from you. They'll list the exact expertise they're looking for in the "Requirements" section of the job ad.
Here's an example from a senior digital media performance strategist job opening pulled from Indeed (hard skills are noted in green, soft skills in blue):
By skimming this job description, we can see that this company is seeking someone with a good balance of hard and soft skills: someone with great analytical skills, communication skills, and an eagerness to learn and teach (all soft skills), but also able to use Google Marketing Platform, Google Analytics, Data Studio, Search Ads 360, Facebook Business Manager, as well as specific Microsoft products.
Tailor your resume based on the content of the job description (just be honest), and you will get interviews. To do this, make sure you take keywords from the job ad that overlap with your own skills and qualifications. Doing so will ensure that your resume positions you as an ideal candidate.
For example, a tailored skills section to the above job description would feature the following:
Resume skills example tailored to the job description
Microsoft Office Suite 

Microsoft Teams 

Planner

Google Marketing Platform 

Google Analytics 

Data Studio

HTML

Analytical skills

Communication skills
Remember that no two marketing resume skills sections will look alike. When applying to a different job, make sure you include those essential keywords in a new resume each time and be honest about your qualifications. While it may take some extra time, your objective isn't to send out a generic resume but to catch the hiring manager's eye and snag that interview.