Marketing is a competitive and constantly changing industry.
While entry-level jobs are attainable for most college graduates, moving up as a marketer at any company requires experience and a robust skill set.
We can't help you with the experience part. But we can show you several of the most essential marketing skills needed to further your career.
We'll even show you how to include marketing skills in a resume if you're hunting for industry jobs.
Let's get to it.
1. 10+ Key Marketing Skills
1. Communication Skills
Nothing is more important to marketing than effective communication. Whether it's verbal or written, communication skills can help you get your point across — not only to potential customers, but also to your coworkers and manager.
Being a great communicator also means being able to explain complex ideas in simple terms. Clarity of expression is crucial for anyone working in marketing. If you struggle with communication, it's a good time to improve.
2. Creativity
Popular culture, technology, and the market change every day. Coming up with fresh ideas that grab (and keep) an audience's attention is key for any marketing professional.
You never know what kind of challenges will pop up while working either. An employee who can think up creative solutions is invaluable to any marketing department, and is exactly the kind of candidate that employers want.
3. Google Analytics
As a marketer, it's hard to avoid the online world these days. There's simply too much money being poured into the internet.
Marketing requires substantial research and analytical skills, and Google Analytics (GA) is at the heart of both for digital marketers. Being able to use and understand GA is one of the most important skills for marketing in 2019.
The best part is that Google will teach you how to use Google Analytics (and even provide certification) for free.
4. Adaptability
Especially if you work in email marketing, search engine optimization, or social media advertising, the rules of the game are constantly shifting. Your company may be on top one day, but then Facebook tweaks its algorithm and suddenly the whole marketing department is left scrambling.
Being able to quickly deal with unexpected problems, adopt new technology, and abandon outdated practices is essential for the modern marketing professional.
If you can demonstrate that you're adaptable and have the digital marketing skills to handle issues as they arise, any hiring manager worth their salt will be scrambling to interview you.
5. Organizational Skills
Marketing teams are often up to their necks with various tasks. They have to juggle correspondence, maintain relationships, analyze data, finish technical tasks, as well as address creative issues. To say that it can be hard to keep up is an understatement.
That's why employers love candidates who are organized and never let a hectic day get the better of them. Mention the number of different tasks you've dealt with on a regular basis on your resume and you're sure to become a stronger marketer.
6. Email Writing
Writing emails well is arguably one of the most important marketing skills today. Whether you're reaching customers, relaying information to coworkers, or even contacting webmasters on other websites, if you can effectively communicate via email, you will never be far from work.
Writing doesn't come naturally to everyone, but it's a skill that can be improved with practice. Where better to start than Orwell's "Politics and the English Language" essay?
7. Prioritization
Marketers wear many hats. On any given day, a marketing professional could be responsible for creating strategies, assessing analytics, conducting research, writing (and/or editing) copy, and organizing efforts between teams.
Time management skills are invaluable.
Being able to quickly decide what needs attention and then acting is one of the most coveted skills for marketing, especially if you're a manager (or an aspiring one).
8. Software Competency
Most forms of marketing require familiarity with a wide range of software. From data analysis and basic web maintenance to managing spreadsheets, certain programs and tools are integral for the modern marketer.
For instance, being versed in Google Adwords and Display Campaigns is important for paid online marketing. MailChimp and Constant Contact are powerful tools for email marketing. SEMRush, WordPress, and Ahrefs are huge for search engine optimization.
If you're not sure what type of software skills an employer expects of you, look at the job description for hints. Most of the time, hiring managers will outright state what they want.
9. Technical Skills (Coding, Automation)
In addition to software knowledge, many marketing jobs require or are boosted by having a certain set of technical skills.
A basic knowledge of HTML, CSS, CRM tools, and even Microsoft Excel/Google Sheets is a huge plus for your career (and your resume).
Additional Marketing Skills
The expertise you need to successfully land an interview will always depend on the job. Here's an extensive list of valuable marketing skills that you should work on (if you haven't mastered them yet):
Writing advertising copy
Soliciting feedback from customers
Cutting costs
Problem solving
Personable
Website management
Social media outreach
Video production
Data visualization
Campaign management
Photoshop knowledge
Editing
Social media publishing
UX design
Storytelling
Financial analysis
Consumer research
Statistical analysis
2. How to Write a Marketing Resume Skills Section
This section is primarily targeted at job seekers, but even if you have a job already — it never hurts to keep that resume updated.
To effectively demonstrate your skills for marketing on your resume, you must spread them throughout your application.
Specifically, showcasing how you used your skills and expertise in everyday situations is an effective way to strengthen your resume.
That means working your skills into your:
Experience section
A compelling marketing resume skills section should also include a good mix of hard skills and soft skills. You want to show the hiring manager that you're both competent and well-rounded.
Last, if you're unsure what specific skills the hiring manager is looking for, try combing through the job description. Recruiters aren't trying to hide anything from you. Use the job description to your advantage.
Here's an example from a senior digital marketing manager job opening pulled from Indeed (soft skills are noted in green, hard skills in blue):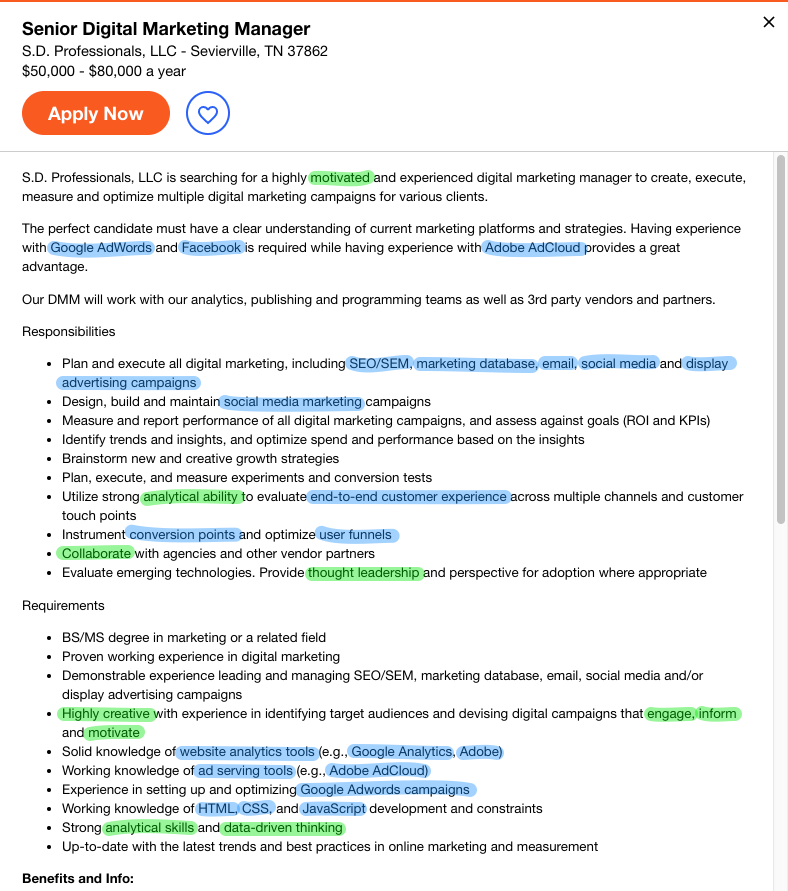 By skimming this job description, we can see that this company is seeking someone who is creative, motivated, and analytical (all soft skills), but also able to use Google Analytics, HTML, CSS, as well as social media and display advertising.
Tailor your resume based on the content of the job description (just be honest), and you will get interviews.
3. Conclusion
Skills for marketing encompass many areas, and it's difficult to master them all. Find your own strengths and master them, and improve on your weaker areas to become a stronger marketer, and a stronger applicant when on the job hunt.
Looking to build a marketing resume that lands more interviews? Try making one with our state-of-the-art resume builder. Or if you simply want to improve the appearance of your resume, our free resume templates can help you out.
Good luck on the job hunt!