Need tips on how to write a resume that stands out and proves you have the compassion and patience necessary to take care of children? Include these top child care skills on your child care resume:
1. Child development knowledge
If you've studied the fundamentals of child development, say so on your resume.
For instance, if your target job requirements include recognizing developmental milestones, show employers that you're familiar with common theories like the Montessori method.
You can also describe how you've used your child development knowledge to:
help children develop with age-appropriate activities like putting together puzzles
keep accurate records of a child's progress
identify any developmental concerns — physical or social — so they can be addressed early on
keep up-to-date with the latest in developmental research
2. Empathy
As a child care worker, you have to understand children's needs, give them support, and help them to express their feelings.
Emphasize the following child care resume skills to highlight your empathy:
Conflict management
Cultural sensitivity
Active listening
Patience
Emotional awareness
Calm and gentle demeanor
3. Infant care skills
Parents are wary of leaving their newborns with others. So show the hiring manager at the daycare or preschool you're applying to that you have expertise in infant care.
Prove you're equipped to care for infants by listing relevant certifications on your resume, along with other hard skills like:
taking infants' temperature, and vitals
routine hygiene and feeding
soothing techniques (like swaddling)
knowledge of safe-sleeping protocols
4. Interpersonal skills
When you work in child care, you regularly interact with people, including:
You'll interact with children in an age-appropriate way, establishing clear rules but also knowing how to have fun.
You'll give parents regular updates on their children.
If you work at a daycare or school, you'll communicate and coordinate with other child care workers.
Show that you're a good communicator on your resume by listing interpersonal skills like:
positivity
a good sense of humor
leadership
sensitivity and compassion
communication
respect and professionalism
teamwork
5. Energy and focus
Children have tons of energy, so you'll spend most of the workday on your feet when you work in child care. Tasks like carrying infants or chasing toddlers are physically exhausting.
Child care also requires good mental focus. Accidents can happen anytime, so you'll need to be on high alert even when you're tired.
Show that you're an energetic, focused person by adding these skills to your child care resume:
Physical fitness
Self-control
Patience
Ability to monitor multiple children at one time
6. Teaching skills
Impress employers by showing how you can help educate kids.
Include skills like:
sourcing age-appropriate toys or materials
designing interactive learning activities
encouraging children to explore their curiosity
preparing children for formal schooling
helping older children with homework
7. Problem-solving skills
Problem-solving ability is key when dealing with disobedient children. Outline any discipline or reward systems you've used to keep children in line.
Here are other problem-solving skills to put on your child care resume:
Time management skills
Organizational skills
Quick and confident decision making
Logical thinking
Innovation
8. Basic health knowledge
While you don't need medical qualifications to be a child care worker, you should have enough know-how to create a safe environment for kids.
You should be able to identify unusual symptoms, administer child-safe medication, and act responsibly during emergencies. You also need to prepare nutritious food, encourage outdoor play, and reduce screen time.
Mention these health care skills on your resume:
Medical certifications (CPR, first aid, and AED)
Training in child safety regulations
Knowledge of food safety and nutritional needs
Caring for children with special needs
Our free-to-use resume builder can make you a resume in as little as 5 minutes. Just pick the template you want, and our software will format everything for you.
How to put child care skills on your resume
Once you've determined the child care skills you'd like to highlight, it's time to put them on your resume. Here's how: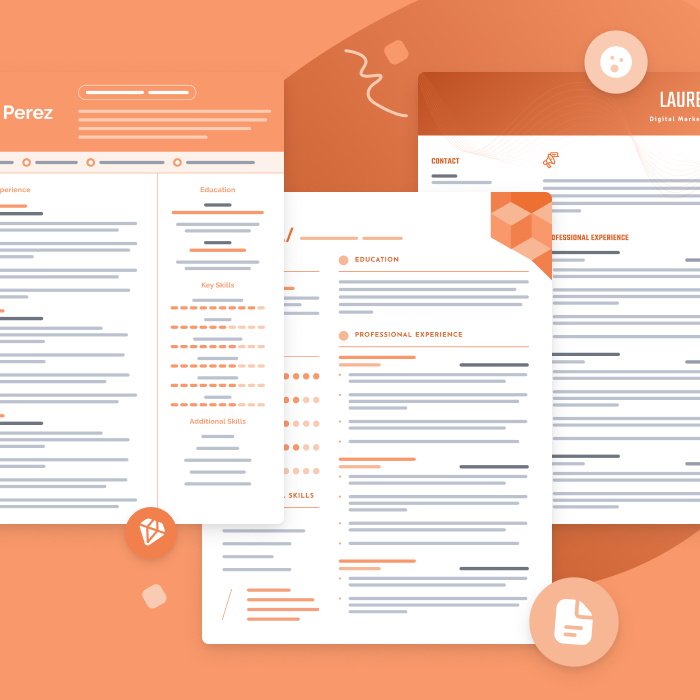 One of the best ways to make your resume is by filling out one of our free resume templates. All our templates are designed by experts and free to download for Microsoft Word or Google Docs.
1. Make your child care skills shine with data
Support your resume skills with hard numbers. Your resume will stand out to hiring managers if you include specific evidence of your abilities.
Give precise data about the ages and numbers of children that you cared for in previous positions. Where you can, provide statistics about any accomplishments on your resume.
Here are two versions of an example work experience entry for a child care resume. The first version is plain and unimpressive, but the second version describes relevant skills with numbers and examples that will grab the hiring manager's attention:
Supervised young children every day
Wrote reports about the children
Disciplined children
Supervised 15 children aged 4–7 every day
Wrote detailed weekly reports on child behavior and development
Introduced a rigorous discipline method, reducing tantrum incidents by 45%
2. Put your child care skills all over your resume
Add your child care skills to the following 3 parts of your resume:
Resume objective
Grab the employer's attention with a resume objective that spotlights your abilities. Summarize your most relevant experience and child care skills, using skills-based resume keywords from the job ad to target the hiring manager's interest.
Here's an example of a well-written objective filled with relevant child care skills:
Dedicated child care provider with 5+ years of experience caring for children aged 2–5. Specialize in creating fun and stimulating learning activities and implementing effective daily routines. Certified in CPR, PT, and nutritional science, and passionate about promoting healthy habits for kids.
Work experience section
You should also put your skills in your resume's work experience section. By doing this, you can prove how you'll transfer your skills to the job in a compelling way.
Here's an example of a child care worker linking soft skills to real-life examples in their resume:
CATERPILLAR EARLY LEARNING CENTER, Flint, MI
Child Care Provider, January 2017–July 2019
Implemented creative daily outdoor programs to promote physical fitness and holistic wellness
Prepared 3 nutritionally complete, child-friendly meals daily while adhering to food hygiene protocol
Guided young children to developmental milestones, including potty training and instruction in basic manners
Skills section
List any relevant skills that didn't fit into the rest of your resume on the skills section of your resume.
Include a mix of hard and soft skills, formatted as a list, like this:
Additional Skills
Computer skills (Microsoft Office, Google Calendar)
Fluent in English and Spanish
Obsessed with learning about child psychology