In recent years, job-seekers and hiring managers alike are facing challenges amid an increasingly competitive job market. Experts attribute these challenges largely to post-pandemic effects and cultural shifts that have rocked the workforce, according to our study on HR trends for 2023.
To stand out against the competition, you'll need to demonstrate that you have both the technical abilities to navigate daily tasks and the soft skills to grow in the position when you write a resume and cover letter for an HR role.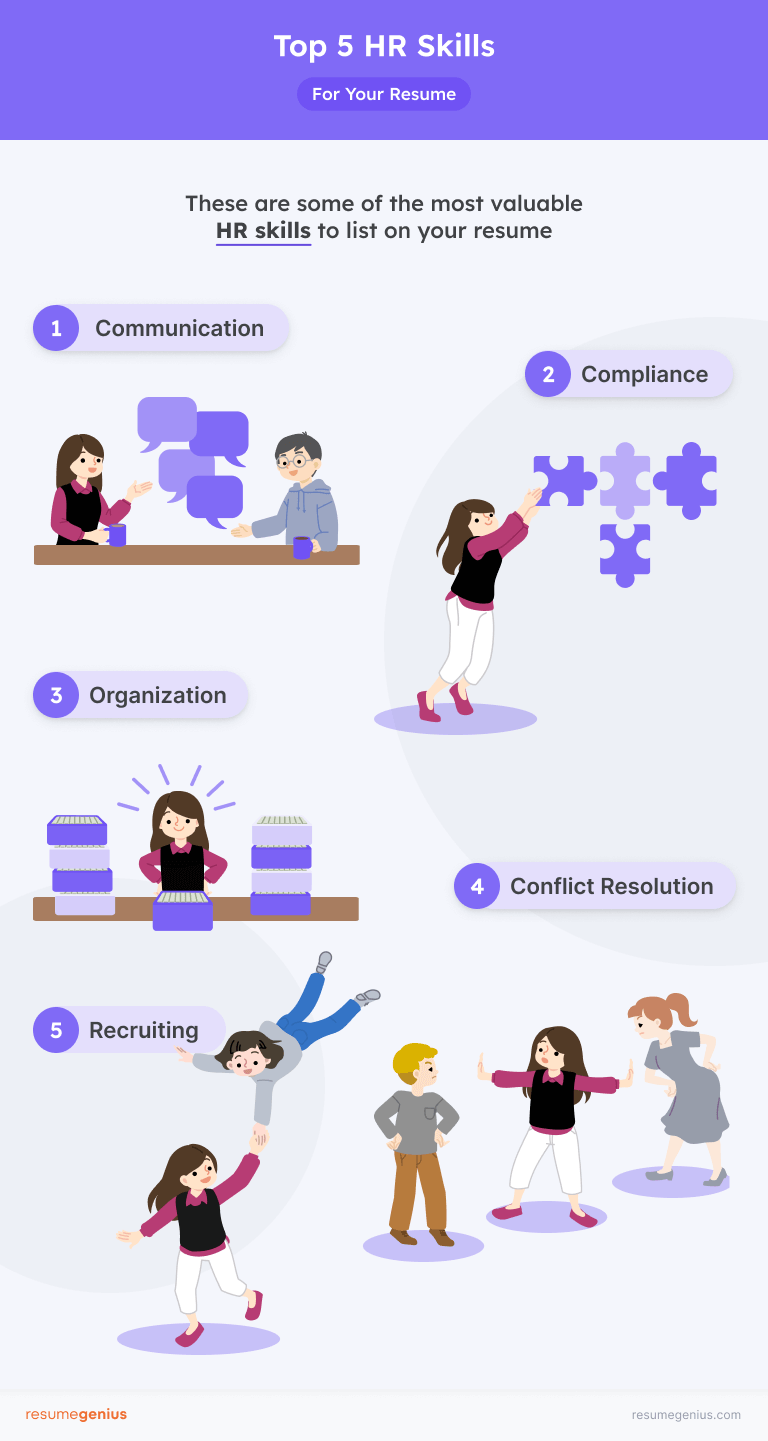 Below, you'll find the most valuable skills for different types of HR professionals, plus examples of how to emphasize them in the work experience section of your resume.
Our free-to-use resume builder can make you a resume in as little as 5 minutes. Just pick the template you want, and our software will format everything for you.
Recruitment
An essential function of HR is to recruit and onboard new talent. In a competitive job market, you must have the skills to attract and retain talented employees so your organization can grow.
Consider the following skills for your HR resume:
Recruitment-related HR skills
Negotiation
Paperwork processing
Interviewing
Recruitment strategy
Temporary staffing coordination
Video conferencing software (Zoom)
Social media networking (LinkedIn)
Applicant tracking systems (ATS)
Background check coordination
Onboarding
How to highlight recruitment skills on your HR resume:
Collaborated with management to revise job description language and update recruitment strategy, resulting in a 40% increase in qualified candidate submissions, and ultimately, 3 open positions filled in 2 months.
Compliance
One of the most important parts of an HR professional's responsibilities is ensuring compliance with federal, state, and local labor laws. This includes interpreting and explaining laws to employees, keeping up to date with changes in legislation, and updating company policy when necessary.
Use some of these skills to highlight your compliance expertise:
Compliance-related HR skills
Knowledge of labor laws
Wage/hour tracking
Employee benefits administration
Discretion
Leave processing and supervision
Integrity
Legislative monitoring
Documentation
Disciplinary action
Employee handbook creation/upkeep
Report generation
Disability program administration
How to highlight compliance skills on your HR resume:
Ensured compliance with EEO by auditing [Company Name]'s recruitment strategy and making recommendations for more inclusive hiring practices, resulting in a 32% increase in employees from diverse groups hired and retained in one year.
Interpersonal Skills
As an HR professional, you'll need excellent interpersonal skills to handle some of the more sensitive aspects of the job.
To show hiring managers you can build strong relationships in the workplace, consider including some of these skills on your resume:
Interpersonal HR skills
Empathy
Cultural sensitivity
Active listening
Collaboration
Adaptability
Emotional intelligence
Compromise
How to highlight interpersonal skills on your HR resume:
Organized highly personalized workshops for small groups of employees and used empathetic leadership to collect feedback, resulting in a 54% improvement in self-reported employee satisfaction in one year.
Employee Relations
To maintain a healthy workplace environment, HR professionals must be able to assess company culture and make recommendations for improvement where appropriate. They must also be prepared to resolve conflicts, uphold company policy, and handle disciplinary action if issues arise.
Demonstrate your ability to maintain a thriving workplace by emphasizing some of the following on your resume:
Employee relations-related HR skills
Employee retention
Mediation
Employee training
Performance management
Workplace policy enforcement
Feedback
De-escalation
Workplace safety promotion
Problem-solving skills
Fact finding
Conflict resolution
Stress management
Workplace culture development
How to highlight employee relations skills on your HR resume:
Employee relations experience
Conducted a workplace safety training series that resulted in a 42% reduction in workplace injuries.
Administrative Skills
Hiring managers want to see that you're familiar with some of the software and administrative functions that will be part of your daily routine in HR.
Show them you're ready to dive right in by demonstrating your experience with these relevant skills:
Administration-related HR skills
HR software (Workday, monday.com, etc.)
Organizational skills
Prioritization
Payroll processing
Time management skills
Goal setting
Email etiquette
Data entry
How to highlight administrative skills on your HR resume:
Administration experience
Used excellent organizational skills to restructure data collection and maintain a more accurate HRIS database, leading to a 25% reduction in audit discrepancies.
Target the right HR skills on your resume
To make your HR resume more effective, first read the job description of the target position carefully. Figure out what HR skills the company is looking for and which of those skills you exhibit in your work. Then, emphasize them on your resume.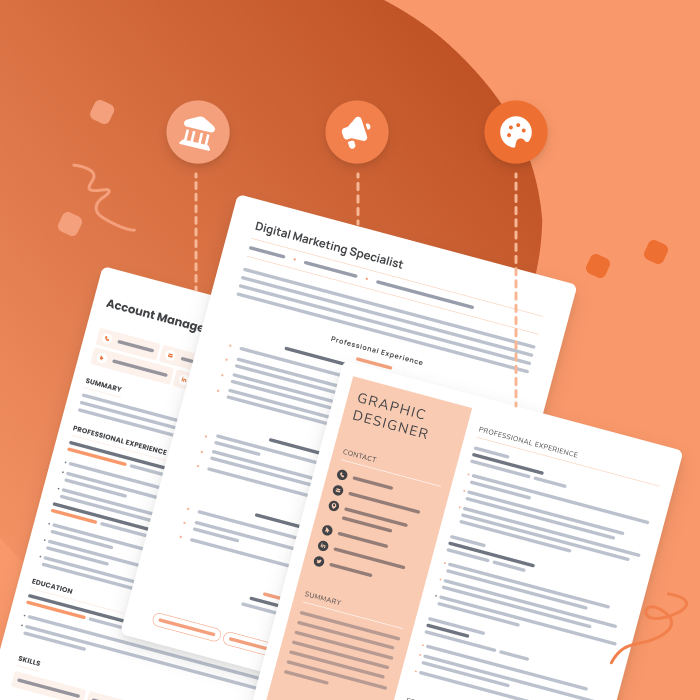 Not sure what your resume should look like? The best way to learn is by taking inspiration from resume examples written by other candidates in your industry.
You can convince hiring managers you're qualified by backing up claims with specific examples of how you used these skills at work. And if you mention what result you achieved by applying those skills, it's even better proof of your qualifications.
Once you've perfected your resume content, make your application stand out with a stunning resume template and a matching cover letter template that you can download and use for free.