Even in the era of LinkedIn, AI tools, and online applications, a well-prepared resume remains essential for advancing your job search.
Whether you're seeking top talent or aiming to make a lasting impact with your job application, our in-depth research below explores 26+ key resume statistics of 2023.
We cover important aspects like the best resume format, how recruiters behave, and other factors that impact hiring decisions.
Resume formatting statistics (length, font, and designs)
Let's take a closer look at recruiters' and hiring managers' resume formatting preferences during the screening process:
1. Recruiters are 70% more likely to prioritize two-page resumes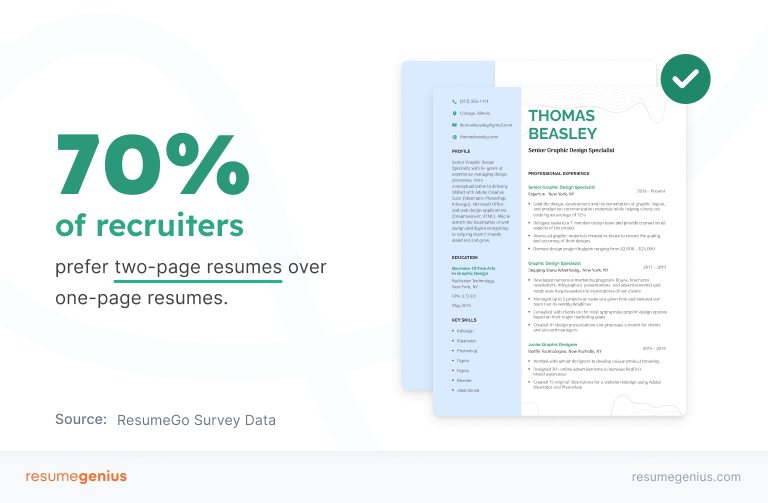 In a study involving a hiring simulation of 482 professionals, ResumeGo discovered that recruiters are 2.3 times (or 70%) more likely to prefer someone who submits a two-page resume over someone with a similarly qualified one-page resume.
This preference also grew stronger when hiring for more senior positions, as recruiters reported favoring two-page resumes for experienced professionals. Peter Yang, CEO of ResumeGo states:
"In many cases, strong candidates, who do have more experience, write two-page resumes so hiring managers may have developed a subconscious link between strong candidates and longer resumes."
This surprising insight challenges the long-standing belief that a single-page resume is always the best choice. However, Yang notes that one-page resumes are still suitable for less experienced individuals:
"If your resume is naturally a single page or you're an entry-level worker who doesn't have a lot of relevant experience or skills yet, there's no need to add for the sake of lengthening the resume. Rather, the research suggests, if you have more experience and need a longer resume, you don't need to cut it down to a single page. You can paint a more complete picture of yourself."
2. 93% of all resumes include one or more action-oriented phrases
Did you know that 93% of all resumes list at least one action-based word or phrase?
KickResume found that impactful, purpose-driven language like action verbs and power words help job seekers highlight their ability to deliver results.
Their survey also revealed that 33.5% of resumes successfully met the criteria for the ideal range of maximum impact, which included adding between 10 and 20 action verbs.
3. 63% of recruiters prefer receiving resumes tailored to the open position
Based on survey findings, 63% of recruiters want applicants to customize their resumes to meet their target job's specific requirements and expectations (MarketSplash).
In fact, recruiters prioritize targeted resumes that specifically address more than half of the job posting's requirements. So, taking the time to customize your resume for each application could help you secure that coveted interview.
4. 1 in 4 hiring managers spend less than 30 seconds looking at a resume
Nearly a quarter (24%) of hiring managers spend between six to a maximum of 30 seconds skimming through a resume to determine a candidate's suitability for a job (Zippia).
Within this fleeting timeframe, leaving a positive impression on your resume is a must with moving forward in the hiring process.
5. Recruiters notice resumes with a clear, simple layout, an overview at the top, and legible fonts
Zippia's survey data reported that recruiters are more likely to notice resumes that:
use a clear and uncomplicated layout
begin with a concise resume profile
use easily readable resume fonts
Also, applicant tracking systems (ATS) scan resumes for keywords and readability, so if your resume design is visually appealing but lacks clarity, it may not advance further in the hiring process.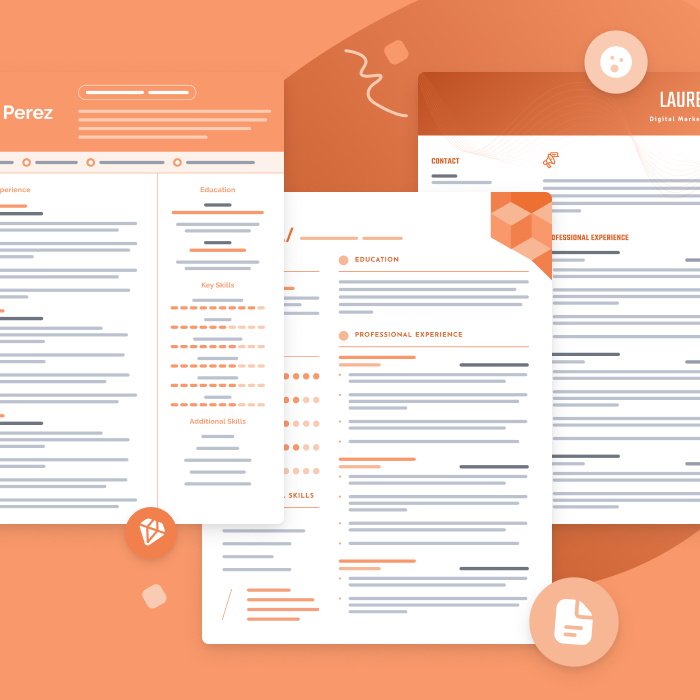 One of the best ways to make your resume is by filling out one of our free resume templates. All our templates are designed by experts and free to download for Microsoft Word or Google Docs.
6. Arial is the most commonly used resume font
A beloved classic, Arial was voted the most popular resume font in a 2023 survey of hiring managers (StandoutCV USA).
Job seekers favored Arial for its clean and professional appearance, making it a solid choice to create a visually appealing resume.
7. Over 40% of recruiters are put off by excessive design
Interestingly, more than 40% of recruiters are turned off by resumes with overly flashy design elements (e.g., multiple colors or graphics, a distracting background, hard-to-read fonts)
Zippia's survey findings revealed that recruiters emphasized the importance of simplicity and readability, suggesting that job seekers should focus on a clean, professional format that's easy to navigate and stands out for all the right reasons.
Resume section statistics (objectives, work and additional sections, skills)
Are all the sections of a resume equally important? Read on to find out.
8. The most common additional resume section is "Languages"
In 2023, including a "Languages" section on resumes is a popular trend, with a 34% likelihood of it appearing on one (Zety).
Notably, the top five foreign languages listed on resumes are:
Spanish (5.7%)
French (4.1%)
Arabic (3.6%)
Hindi (2.9%)
German (2.8%)
9. Only 37% of resumes include a "Resume Objective"
A significant majority of job seekers choose not to include a specific objective statement at the beginning of their resumes.
While including a resume objective isn't mandatory, note that it can still be a useful tool for concisely highlighting your:
years of experience
key skills
career goals
reasons for applying to a company
10. Not including your professional skills is as damaging to your resume as a one-year employment gap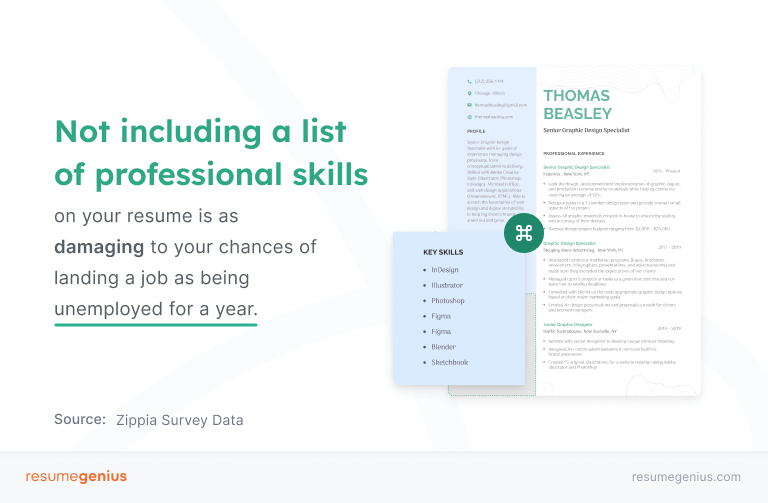 Zippia survey data revealed that neglecting to include a list of professional skills on your resume can have a similar negative impact to being unemployed for a year. Hiring managers surveyed at Career Builder also noted that 77% of employers consider soft skills to be highly important.
Recently, Resume Genius's 2023 skills survey found that 48% of hiring managers prefer candidates who list a blend of both technical and soft skills, highlighting the growing recognition and value of a well-rounded skill set.
11. Hiring managers spend 67% of their screening time examining a resume's work experience section
When it comes to reviewing resumes, hiring managers primarily focus on work history and career progression, dedicating 67% of their attention to this section (MarketSplash).
Considering the limited time hiring managers spend on each resume mentioned earlier (between six and 30 seconds), presenting your resume's work experience section in a clear, impactful way should take priority.
12. Hard skills are the focus for 88% of hiring managers when reading resumes
Resume Genius's recent survey on in-demand skills of 2023 revealed that an overwhelming 88% of full-time hiring managers prioritize a candidate's technical expertise and job-specific abilities when reviewing resumes.
While soft skills continue to hold importance, the data emphasizes a need for resumes to strike a balance between a job seeker's soft and hard skills.
Resume statistics for recent graduates
Whether you're joining the workforce this year or planning your future as a current student, here are some key resume trends to help you stay informed:
13. Problem-solving skills are a high priority for 86% of employers hiring recent graduates
Students and recent graduates should be aware that over 60% of employers look for problem-solving and teamwork abilities on resumes, with 86% of them considering problem-solving skills as their top priority (NACE).
NACE's job outlook survey also found that over 50% of employers place a high value on their candidates having:
a strong work ethic
analytical/quantitative skills
written communication skills
technical skills
14. Given equal qualifications, employers lean towards candidates with any form of internship experience
Employers prefer candidates with internship experience when comparing them to equally qualified candidates for job openings (NACE).
Whether the internship experience is with the employer's organization or at another relevant organization, it's considered a highly influential factor in the hiring process.
15. Only 37% of employers use GPA as a screening tool
Using GPA as a job candidate screening tool has significantly declined in recent years. 
Back in 2019, nearly 75% of respondents intended to screen candidates based on seeing the GPA on their resume. However, in this year's survey, only 37% of respondents plan to do so.
NACE suggests that employers are reevaluating their initial screening methods due to the growing number of qualified candidates and recognizing that relying solely on GPA may harm efforts to promote an inclusive workforce.
16. Industry employers highly value involvement in career or major-related student organizations on resumes
Being involved in career or major-related student organizations holds considerable weight among employers.
Based on survey findings, the top five activities that industry employers value are:
work experience
internships
involvement in career or major-related student organizations
research with a mentor
Resume and job hunting statistics
Here are several statistics to help you understand the current resume and job search landscape:
17. Less than 10 out of 250 applicants receive an interview
On average, a single online job posting attracts 250 resumes, making it challenging for applicants to stand out unless they have a well-written, customized resume (Glassdoor).
To further emphasize how competitive the job market can be, a 2023 CareerSidekick study revealed that most employers typically interview fewer than 10 candidates for a given position, meaning only 2–3% of applicants will receive an interview opportunity.
18. Resumes with typos or bad grammar lead to immediate disqualification
Resumes with typos or bad grammar are immediately rejected by a significant majority of hiring managers (77%).
Because employers expect resumes to demonstrate professionalism and attention to detail, any errors suggest they were being careless in their work and create a negative first impression.
Based on a study by MIT Sloan, job seekers with over 99% accurate spelling in their resumes were hired almost three times more frequently in their first month. By contrast, candidates with less than 90% spelling accuracy had only a 3% chance of getting hired within the same timeframe.
19. Almost half (45%) of job seekers don't create a cover letter along with their resume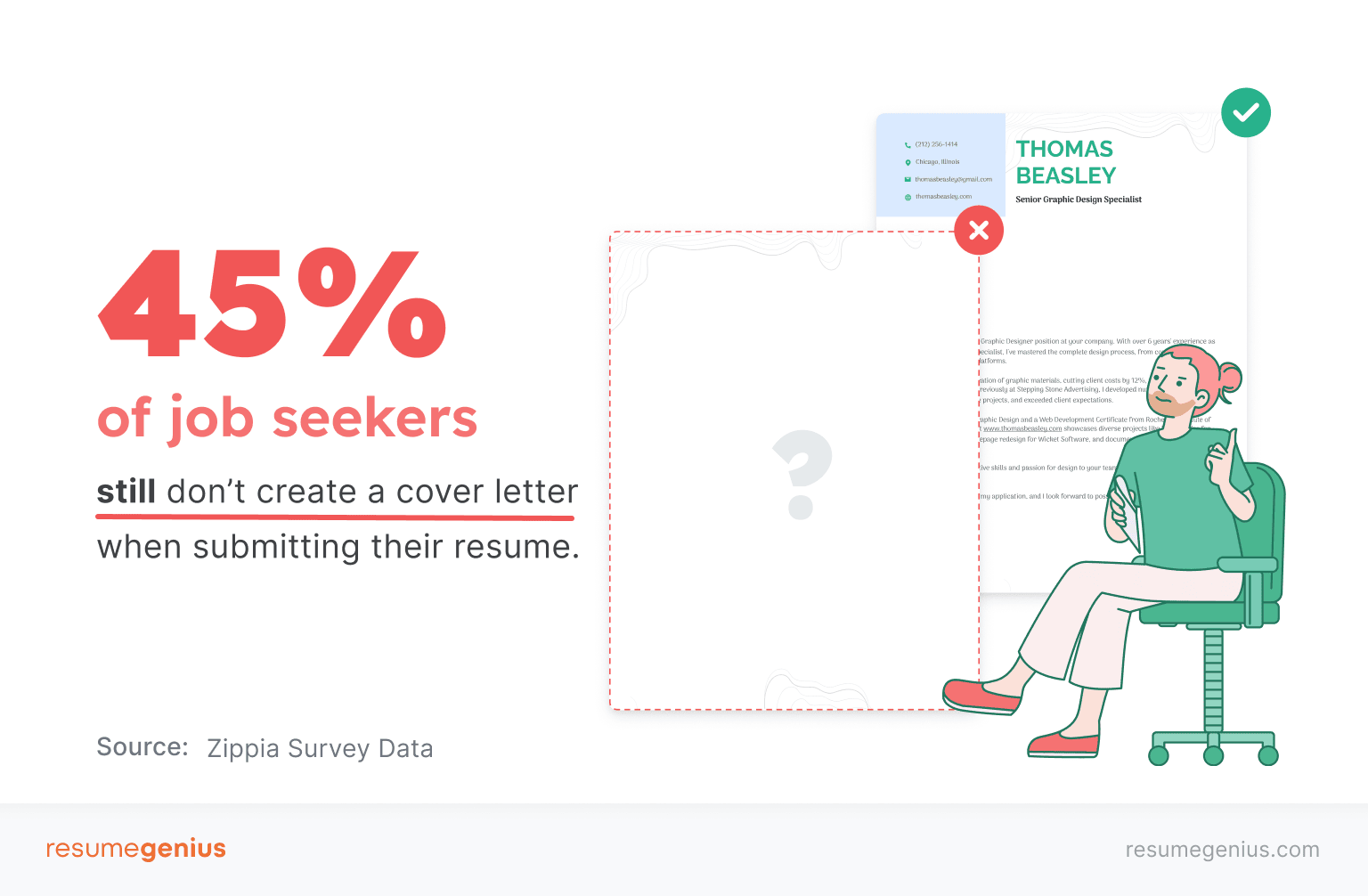 A majority of recruiters (78%) express a preference for applicants to include a cover letter with their resumes. Also, 87% of hiring managers indicate that they always read cover letters during the evaluation process (ResumeGo).
However, since a considerable portion of job seekers (45%) don't send a cover letter when submitting their resumes, it's worth considering these statistics and the potential benefits of including a cover letter when applying for a job.
20. 79% of hiring managers today are willing to hire candidates with career gaps
Based on a LinkedIn study, resume gaps are no longer seen as a negative, signaling a shift in attitudes towards breaks in work history.
This attitude shift is attributed to different factors such as the rise of millennials in the workforce, the impact of the COVID-19 pandemic, and the recent tech layoffs. The Great Resignation (a trend resulting from the pandemic) has also led to more selective job seekers and employers providing more workplace flexibility.
As a result, companies are adopting new perspectives and normalizing career gaps (as evident from platforms like LinkedIn) where options to include career breaks and reasons for gaps on resumes are now available.
Resume social media statistics (LinkedIn, email addresses, talent searching)
The role of social media in recruitment and candidate evaluation is rapidly expanding, with more recruiters and employers turning to these platforms.
Let's take a closer look at these emerging trends:
21. 80% of recruiters incorporate social media into their strategy
In a social recruiting survey, participants who were asked about their recruiting strategy considered social media to be:
"Essential" – (20%)
"Fairly important" – (60%)
"Slightly important" – (17.5%)
"Not important" – (2.5%)
Recruiters who participated in the survey reported to being the most active on LinkedIn (100%), along with using Facebook (64%) and Twitter (3%) to seek out potential candidates (Agency Central).
22. 35% of employers reject resumes with unprofessional email addresses
Having an unprofessional email address can significantly hinder your chances of securing a job opportunity, as reported by 35% of employers (The Motley Fool).
23. 54% of employers reject candidates based on their social media profiles
Having an outstanding resume doesn't guarantee job success if your social media profiles don't measure up.
In fact, a social recruitment survey conducted by Zippia revealed that 54% of employers have rejected candidates based on their social media presence, and that discovering any inappropriate content or behavior can stop them from moving a job seeker forward in the hiring process.
Predicted trends for resumes beyond 2023
Read on to learn about the latest statistics and resume trends of this year:
24. Job seekers with AI-assisted resumes have an 8% higher likelihood of getting hired
MIT Sloan's study recently found that AI-assisted resumes boost job seekers' chances of getting hired. Based on this study, job applicants who received algorithmic assistance with their resumes were 8% more likely to be hired than those without help.
The popularity of AI-generated applications in resume writing also led to 7.8% more job offers and 8.4% higher wages for job seekers. The authors' findings suggest that AI writing assistance (like using ChatGPT to write your resume or making a ChatGPT-generated cover letter) can be a valuable tool for both applicants and employers, improving resume quality and enhancing hiring processes.
25. Resume builders are becoming increasingly common for creating resumes from scratch
Resume builders are becoming a popular choice for job seekers to create an entirely new resume.
According to surveyed customers, 88.2% of Resume Genius users use a resume builder to create a brand new resume rather than upload a pre-existing one, suggesting that job seekers find value in the resume-building process and prefer to start from a blank slate.
Our free-to-use resume builder can make you a resume in as little as 5 minutes. Just pick the template you want, and our software will format everything for you.
26. Employers look for adaptability, curiosity, creativity, and flexibility in new hires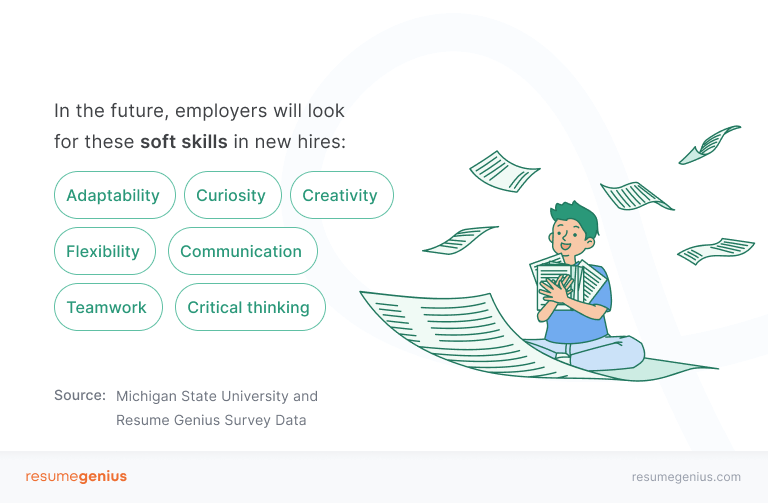 Employers responding to 2021 and 2022 surveys from Michigan State University (MSU) state that they look for these new hires who are adaptive, curious, creative, and flexible.
In another 2023 NACE survey, traditional, "one-and-done" degrees are no longer enough, and soft skills will become even more critical as we adapt to rapid changes in science, technology, and the digital economy. As one employer from the study notes:
"You can learn from many experiences that, on the surface, may seem insignificant. [Applicants should] think thoughtfully about how [they] present [their] resume and not be afraid to expand upon these learnings."
References
About Resume Genius
Since 2009, Resume Genius has merged innovative technology with up-to-date industry expertise to simplify job hunting for people of all backgrounds and experience levels.
Its easy-to-use resume builder and wide range of career resources like free resume templates, cover letter samples, and resume writing guides can help you jumpstart your job hunt. Whether you're preparing for an interview or need a CV template for a career change, Resume Genius is ready to make your application competitive in a constantly changing job market.
Backed by a professional team of dedicated career advisors and HR experts, Resume Genius's ultimate mission is to guide job seekers with finding fulfilling work and reaching their career goals. Are you ready to join the millions of other job seekers who've used Resume Genius to land their dream job?