A resume profile (or professional profile) is a brief, three to four-sentence resume introduction placed at the top of the page. Creating a punchy introduction is a key step to writing a resume that impresses hiring managers because it provides them with a concise summary of your background, most relevant skills, and accomplishments. It can, but doesn't need to, be tailored to each job you apply to.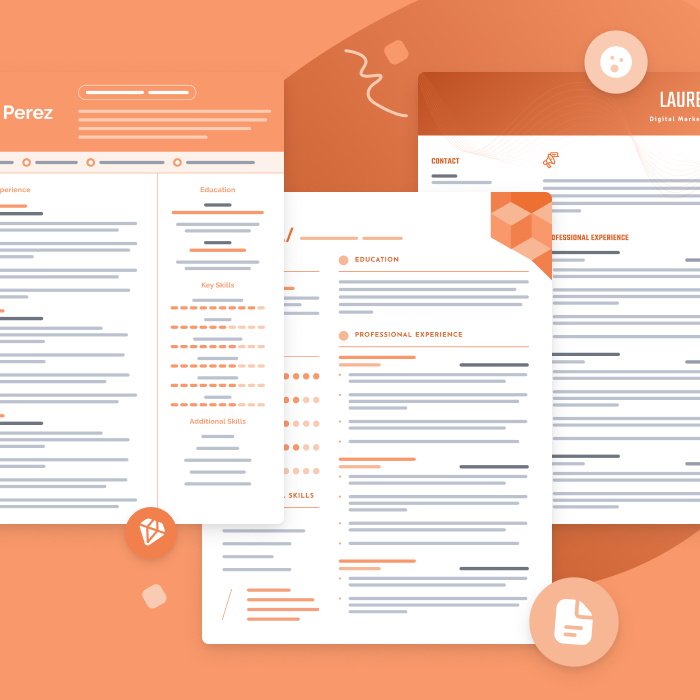 One of the best ways to make your resume is by filling out one of our free resume templates. All our templates are designed by experts and free to download for Microsoft Word or Google Docs.
How to write a profile for a resume
A good professional resume profile immediately grabs an employer's attention and convinces them that you're the ideal candidate for the job.
To start off your resume profile, give it a section title such as "professional profile", "professional summary", or simply "profile".
Then, decide if you want to write your profile in paragraph form or using a short bulleted list.
No matter which format you choose, your profile should include an introductory sentence, one or two sentences highlighting your skills and achievements, and a concluding statement of your career goals.
Here's an example showing the two different ways to format a resume profile:
In paragraph format:
Digital Marketer with 5 years of experience in marketing, social media, and branding across the music, media, and entertainment industries. Spearheaded an overhaul of my previous job's website conversion tactics, leading to a 9% increase in revenue over 6 months. Have onboarded and trained several new employees, who have all gone on to make significant contributions to the company. Seeking employment opportunities at forward-thinking companies, allowing me to implement innovative strategies and increase revenue and brand growth.
In bullet format:
Digital Marketer with 5 years of experience in marketing, social media, and branding across the music, media, and entertainment industries

Spearheaded an overhaul of my previous job's website conversion tactics, leading to a 9% increase in revenue over 6 months

Trained and onboarded several new employees, who have all gone on to make significant contributions to the company

Seeking employment opportunities at forward-thinking companies, allowing me to implement innovative strategies and increase revenue and brand growth
What to put in a resume profile
Include these four elements in your profile statement to best capture how qualified you are:
Our free-to-use resume builder can make you a resume in as little as 5 minutes. Just pick the template you want, and our software will format everything for you.
1. Years of experience or education
Your first sentence should introduce who you are, your current job title, and how many years of experience you have in your field. Leading with your experience helps grab the reader's attention by immediately proving you meet the basic requirements for the position.
If you're a student or recent graduate writing a resume with no experience, don't worry. Simply mention what you're studying and any extracurricular activities, relevant coursework, or volunteer experience you have. You can still come across as a capable candidate even if you don't have formal work experience.
Here's how the first sentence of a profile on a resume might look for an experienced accountant:
Certified public accountant with 5+ years of experience in ledger processes and account reconciliations.
In contrast, check out the first sentence of this resume profile statement for a recent graduate:
Recent graduate of the School of Accounting at James Madison University, with in-depth knowledge of corporate financing and operational accounting.
2. Major accomplishments
The next sentence(s) in your resume profile should highlight some of your most impressive professional accomplishments and skills. This is the most important part of your profile section, because it provides a convincing reason for why you're suited for the position and why employers should hire you.
Be sure to quantify your achievements wherever possible using  hard numbers (such as dollar amounts or percentages) to illustrate their positive impact on the business.
Here's an example of what the middle section of a resume profile should look like:
Managed a $350,000 budget at my previous position, with a 15% reduction in costs over two years. Conducted in-depth risk analysis, helping to guide the company toward 20% annual growth.
3. Industry-relevant skills
In your next sentence, you should showcase any skills you have that are relevant to the position.
If you're unsure what the best skills for your resume are, start by doing some research on the most valuable or in-demand job skills for your industry.
If you're changing careers and don't have any relevant skills yet, consider transferable skills that will help you immediately contribute to the company in a new position. Additionally, if you have any relevant certifications or licenses, mention them in this part of your profile.
Here's an example of what this part of a resume profile looks like:
Possess comprehensive knowledge of database software and strong oral communication in English and Spanish.
4. Career goals
Your final point should state your current career goal or what kind of position you're looking for.
This part is especially important when posting your resume on LinkedIn, as it helps recruiters see what type of work aligns with your background and interests.
When writing this last sentence, make sure you specify whether you're looking for an entry-level, mid-level, or managerial opportunity.
Here's an example of a good resume profile conclusion sentence:
Seeking a Managing Accountant role to pursue my passion for helping growing businesses implement informed financial strategies.
The candidate specifies what kind of position they're looking for and offers the hiring manager some insight into their professional goals.
Professional resume profile examples
Here are 15 professional resume profile examples formatted in both paragraph and bullet format to give you a better idea of what your own profile should look like:
Example 1: Administrative assistant resume profile
Administrative Assistant with 6+ years of experience assembling flawless presentations, preparing facility reports, and maintaining the utmost confidentiality
Developed new filing practices at my previous job, saving the company ~$2,500 per year in labor expenses
Possess comprehensive knowledge of Microsoft Word, Excel, and Outlook
Seeking a Senior Administrative Assistant position to continue my career in administration.
Example 2: Food service resume profile
Waitress with 2 years of experience delivering excellent customer service and maintaining strict food safety standards. Implemented new menu introduction strategies at my current job, increasing customer purchases of wine by 10% on average. Assisted in the training of 6 new waiters, ensuring restaurant methodology and practices. Frequently praised for excellent service and knowledge of wine pairings. Looking for a position as a waitress at French restaurants in the Bay Area.
Example 3: Janitor resume profile
Janitor with 7+ years of experience handling the maintenances of hotels and schools
Restored HVAC system at my previous employer, saving the hotel +$50,000 in repair costs
Specialize in working with teams to achieve institutional efficiency goals and have proven knowledge of safety regulation
Looking for a full-time janitor position in the Baltimore metro area
Example 4: Customer service resume profile
Customer service representative with over 4 years of experience in account administration and telephone sales. Expert at designing and implementing sales strategies. Possess excellent customer service, sales, and communication skills. Implemented a new sales strategy, cutting training expenses by 90% while increasing close ratio by 10% within a 3-month window. Seeking to leverage my customer service skills to land a position as a managing customer service representative.
Example 5: Student resume profile
Senior computer science student at Arkansas Tech University specializing in Game Design
Designed a multiplayer adventure game intended to encourage players to develop collaboration and problem solving skills while unraveling a mystery. The game currently has a rating of 4.8/5 stars
Skilled in storytelling and proficient in 3Ds Max, Blender and Unreal Engine
Looking for an internship to continue developing my skills and begin my career as a Game Designer
Example 6: Graphic designer resume profile
Creative and versatile graphic designer with 6 years of experience in developing visually compelling marketing materials for print and digital media. Proficient in Adobe Creative Suite and skilled in various design techniques such as typography, layout, and branding. Strong attention to detail with a passion for delivering high-quality work that meets client expectations. Seeking a challenging graphic design role that allows me to contribute to innovative projects and grow as a professional. 
Example 7: Event planner resume profile
Detail-oriented event planner with 4 years of experience in organizing over 30 successful corporate events, conferences, and trade shows, some with upwards of 500 guests. Expertise in vendor management, logistics, and budgeting. Strong interpersonal skills and a proven ability to manage multiple projects simultaneously while maintaining the highest level of quality. Looking to secure a full-time position as an event planner to further develop my skills and create memorable experiences for event attendees.
Example 8: Data scientist resume profile
Expert in statistical analysis, data mining, and predictive modeling with 6 years of experience

Proficient in Python, R, SQL, and data visualization tools such as Tableau and Power BI

Track record of transforming raw data into actionable insights for data-driven decision making, resulting in a 13% increase in operational efficiency in my previous role

Seeking a data scientist role to apply my skills and drive business growth with data-driven decisions
Example 9: HR manager resume profile
Dedicated human resources professional with 10 years of experience managing all aspects of HR functions including recruitment, employee relations, and performance management. Proven ability to design and implement HR policies that align with company goals and promote a positive work culture, which led to a 25% reduction in employee turnover rate. Excellent communication skills with a focus on conflict resolution and employee retention. Pursuing an HR manager position in a forward-thinking organization to help create a thriving company culture.
Example 10: Content writer resume profile
Skilled content writer with 4 years of experience in creating engaging, SEO-optimized content across various niches

Authored over 200 well-researched and keyword-optimized articles, contributing to a 10% increase in organic traffic

Excellent research, grammar, and editing skills, with a keen eye for detail

Looking for opportunities to write high-quality content on a freelance or contract basis
Example 11: Healthcare administrator resume profile
Efficient healthcare administrator with 8 years of experience in managing day-to-day operations of medical facilities. Demonstrated expertise in streamlining workflows, improving patient satisfaction, and maintaining regulatory compliance. Strong leadership skills with a focus on team building, staff development, and fostering a patient-centric environment. Seeking a full-time healthcare administrator position where I can achieve operational excellence and enhance the overall quality of patient care.
Example 12: Construction manager resume profile
Over 10 years of experience in managing residential and commercial construction projects

Successfully completed over 50 projects with an average budget of $3 million, consistently meeting project completion goals while staying in budget. 

Strong expertise in project estimation, budgeting, and Spanish language.

Looking for a construction manager position that allows me to continue developing my expertise by taking on large-scale and high-budget projects
Example 13: Project manager resume profile
Experienced project manager with a background in managing complex, cross-functional projects within tight deadlines. Over 7 years of experience in leading teams, allocating resources, and ensuring on-time project delivery, resulting in 95% of projects completed on-schedule. Proficient in Agile methodologies and skilled in risk management, budgeting, and stakeholder communication. Seeking a challenging project manager position where I can drive project success and organizational growth.
Example 14: Teacher resume profile
Passionate and dedicated educator with over 7 years of experience teaching diverse student groups and subjects. Expertise in creating engaging lesson plans that cater to different learning styles and promote critical thinking, problem-solving, and active participation. Committed to continuous professional development and staying current with best practices in education to ensure the highest level of student success. Seeking a full-time teaching position that enables me to inspire and support students to become stewards of their communities. 
Example 15: Social media specialist resume profile
2 years of experience in managing social media platforms, including Facebook, Instagram, Twitter, and LinkedIn

Proficient in social media strategy and analytics tools, contributing to a 35% growth in followers and a 20% increase in engagement in my previous role

Skilled in creating compelling content and visuals that align with brand identity

Looking for a social media specialist role that allows me to leverage my skills to create high-quality social media content and contribute to brand awareness and engagement.