Recently, the historically booming tech sector announced several hiring freezes and growth slowdowns, which in turn caused mass job cuts and waves of uncertainty.
The result? More than 256,100+ employees at tech companies across 55 US cities lost their jobs.
Using data compiled from several authoritative sources (Layoffs.fyi, Layoffs Tracker, Crunchbase, and TechCrunch), we've produced a heat map to highlight how many people have lost their jobs and which cities have been hit hardest by the recent layoffs.
This interactive heat map above:
is divided into the four US regions (labeled blue for the West, orange for the Midwest, pink for the South, and purple for the Northeast)
helps you see the number of layoffs and affected cities when hovering over each area
lets you scroll or click the plus-minus button so you can zoom in and out of various regions
Which US cities were most affected by the layoffs?
As illustrated above, a staggering 600+ companies laid off employees in 2023. And in particular, 40% of layoffs were from the San Francisco Bay Area, one of the world's most prominent tech hubs.
We've compiled the latest layoff numbers from this past month below:
July 1 to August 31, 2023 Tech Layoffs (Snapshot)
The number of tech layoffs continues to mount, with another 22,800+ layoffs solely occurring from July 1 to August 31, 2023.
As of August 31, 256,100+ US tech employees have been laid off from more than 600+ companies.
The layoffs have affected 17 industries in the last two months, with the highest number of job cuts happening in the healthcare industry (5,400+ layoffs).
The Western region of the US was the most severely affected as workers faced 11,760+ job cuts from 39 companies from July 1 to August 31.
Ohio-based, quick delivery firm Getir laid off 2,500 employees this August.
Healthcare company CVS Health also laid off 5,000 workers in August at its Rhode Island location.
Telecommunications giant Telus is slashing 6,000 jobs from its workforce in Vancouver, Washington.
How many layoffs occurred since the start of 2023?
Notably, 38% of all job losses occurred in January 2023.
As the tech industry prepares for further job cuts, we've gathered the most recent layoff statistics below in this data visualization:
The layoff data trackers also reported these numbers:
| Month | Number of Layoffs |
| --- | --- |
| January 2023 | 89,600+ |
| February 2023 | 33,650+  |
| March 2023 | 37,000+ |
| April 2023 | 18,350+ |
| May 2023 | 35,570+ |
| June 2023 | 9,210+ |
| July 2023 | 13,010+ |
| August 2023 | 22,800+ |
Which US region faced the most layoffs in tech?
Here are other data figures related to the job cuts per region in 2023: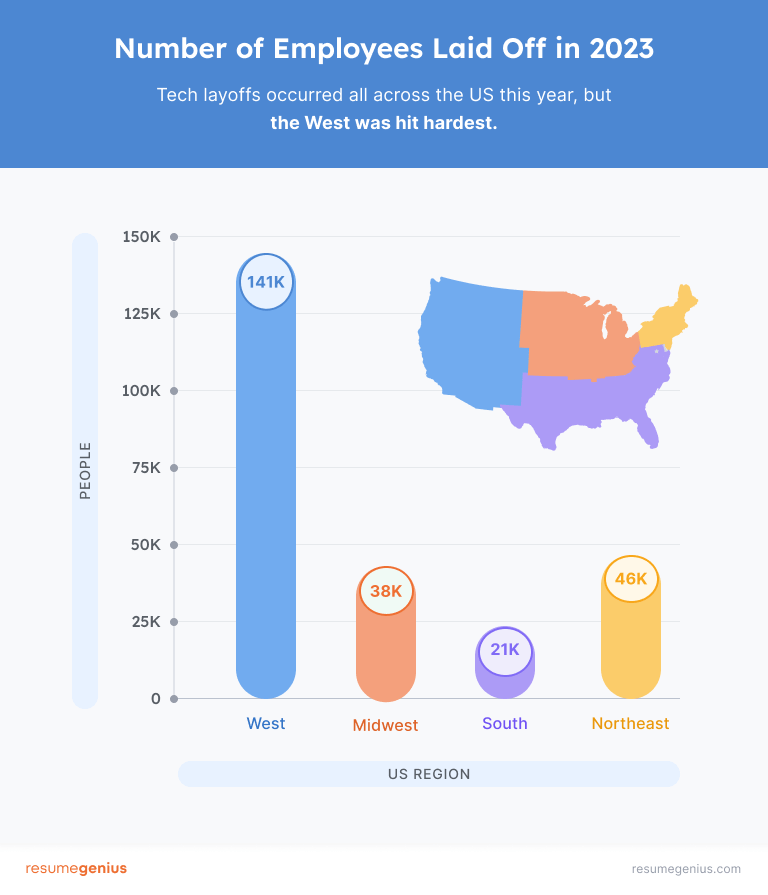 Over 148,500 people faced layoffs from 357 companies in the Western region of the US
47,200+ tech employees were laid off in the Northeast from 156 companies
76 companies in the Midwest laid off 38,500+ employees
More than 21,800+ tech workers were laid off from 61 companies in the South
Which industries have laid off the most people?
Several industries in the tech world dealt with substantial changes in 2023.
The logistics industry was the most severely affected out of all the industries, totaling 13% layoffs.
Below are other industry-specific statistics compiled from our data:
The healthcare industry made up 11% of the job dismissals, coming in second place for the highest number of layoffs by industry
The third highest number of layoffs was in the finance industry, making up 10% of the job cuts
The education, robotics, and social sectors were the least affected at 0.7% layoffs
Who was the most affected by the tech job cuts?
Using data from LinkedIn's Economic Graph and 365 Data Science, here's a closer look at the impact of tech job cuts, with numbers reflecting up to June 2023:
27.8% worked in HR and talent sourcing
22.1% of software engineers were impacted
Marketing roles followed with 7.1%
Customer service constituted 4.6%
PR, communications, and strategy roles accounted for 4.4%
Product managers are especially feeling the pressure
LinkedIn's Workforce Confidence Index survey of 5,000 participants highlighted roles that felt more anxiety about potential layoffs and budget reductions, especially in relation to new product launches:
Product managers – 46%
Quality assurance roles – 40%
Marketing positions – 39%
Finance roles – 37%
Information technology (IT) jobs – 37%
Female workers in tech are taking a hit
Marking a change from the usual male-dominated landscape, Axios reported that according to an analysis of 3,404 workers by Layoffs.fyi, women made up 45% of the laid-off employees.
High-income earners fear a loss of income
Although reports of job losses in tech and financial sectors decreased in recent months, Morning Consult's Income Inequality Index indicates an elevated level of anticipated loss of earnings.
In August 2023, 21.2% of high-income individuals anticipate more pay losses. In contrast, only 14.5% of those with low incomes and 7.8% with middle incomes feel the same way.
A closer look at the tech giants' job losses
Below is a breakdown of 365 Data Science's distribution of layoffs across positions at major tech companies (Twitter, Amazon, Meta, Microsoft, Google):
Twitter (300 laid-off employees)
Software engineering – 23.7%
Marketing – 12.7%
PR, communications, and strategy – 9.3%
Customer success – 8%
HR and talent sourcing – 4.7%
Other – 41.7%
Amazon (257 laid-off employees)
HR and talent sourcing – 37.4%
Software engineering – 28.8%
Program management – 5.8%
Quality assurance (QA) – 3.1%
Data science – 2.7%
Other – 22.2%
Meta (208 laid-off employees)
HR and talent sourcing – 29.8%
Software engineering – 18.3%
Marketing – 10.1%
PR, communications, and strategy – 4.8%
Data analysis and data science – 4.3%
UX design – 4.3%
Other – 28.4%
Microsoft (142 laid-off employees)
HR and talent sourcing – 39.4%
Software engineering – 13.4%
Program management – 7%
Cloud and data centers – 6.3%
Marketing – 3.5%
UX design – 3.5%
Other – 26.7%
Google (102 laid-off employees)
Software engineering – 35.3%
Program management – 16.7%
HR and talent sourcing – 15.7%
Customer success – 4.9%
Product management – 3.9%
Marketing – 2.9%
Sales – 2.9%
Other -17.7%
HR and recruiting professionals faced the most layoffs — but bounced back
Since October 2022, HR specialists and recruiters bore the brunt of the ongoing layoffs, constituting 27.8% of the laid-off workforce. However, over half (52%) of this group secured new positions by March 2023.
According to 365 Data Science's tech layoffs aftermath analysis reflecting figures up to the end of June 2023, other working groups who found employment again include:
UX design specialists – 47% transitioned into new roles
Customer success roles – 42% achieved new job placements
Data scientists – 39% successfully found new avenues
Marketing professionals – 38% adeptly navigated the shifting job landscape
Certain job industries feel more secure
Some fields showed more resilience in the face of job uncertainty. As reported by the LinkedIn Workforce Confidence Index and Business News Daily, professionals in these areas appeared to have less to worry about in terms of job stability:
Accounting – 26%
Military or protective services – 25%
Community and social services – 25%
Administration – 23%
Legal – 22%
Companies get creative to avoid more layoffs
It's not uncommon for companies to explore alternative cost-cutting measures before resorting to layoffs, especially during economic downturns.
Apple
For instance, Apple announced it'd be cutting its corporate retail department by an unspecified amount of roles. However, employees are encouraged to reapply for other positions within Apple — and potentially at a lower rate.
Apple CEO Tim Cook also voluntarily cut his annual pay rate, with his previous $98.7 million compensation dropping to $49 million this year.
Salesforce
Cloud-based platform Salesforce has also been exploring various cost-cutting strategies ever since laying off 10% of its staff in January 2023. These tactics include using third-party salespeople, decreasing the number of sellers assigned to each deal, and emphasizing monthly sales targets for employees.
Strategies to reduce the possibility of employee layoffs
For other companies, alternative measures to reduce expenses may include:
delaying or reducing bonuses and other forms of compensation
pausing or slowing down hiring, including not filling open positions
cutting back on employee benefits, such as travel allowances or special sick leave
offering voluntary early retirement programs to eligible employees
encouraging or requiring employees to take unpaid leave or reduced hours
decreasing production or operational costs by leveraging AI tools
implementing rotating work schedules to reduce labor costs
Predictions and possibilities for the rest of 2023
Are more job layoffs on the way? Most economists think so.
Yet even with the layoffs, employees and job seekers maintain a strong position in the current U.S. economy.
As noted by the Bureau of Labor Statistics's July 2023 news release, there are 5.5 million individuals searching for work, which is significantly less than the 10.1 million job vacancies available.
NABE 2023 survey
According to 48 economists who completed a survey by the National Association for Business Economics:
58% of the respondents envision a recession sometime in 2023
33% of them expected a recession to begin in the April–June quarter
21%, or one-fifth of the economists, think a recession will start in the July–September quarter
Also, with tech giants such as Amazon, Netflix, and Facebook already cutting off thousands of jobs in the past few months, other organizations will likely follow suit.
However, the number of layoffs in tech still doesn't mean everything is hopeless this year.
August's labor market insights
The Bureau of Labor Statistics (BLS) reported that the unemployment rate went up to 3.8%,  which was 0.3% higher than in July.
At the same time, the private sector created 177,000 new jobs in August, according to the ADP National Employment Report. However, TheStreet.com notes that this is a big drop from the 371,000 jobs added in July.
These developments could impact HR departments, possibly leading to hiring difficulties, especially for crucial positions, as companies work to carefully manage their budgets. In particular, this situation may result in frustration among hiring managers tasked with making the most of limited resources.
An increase in non-tech-related jobs
In spite of the layoffs in the tech sector, the US has witnessed substantial growth in employment opportunities across multiple industries in 2023. For instance:
In July 2023, health care added 63,000 jobs, compared with the average monthly gain of 51,000 in the prior 12 months
Over the month, job growth occurred in ambulatory health care services (+35,000), hospitals (+16,000), and nursing and residential care facilities (+12,000)
Social assistance added 24,000 jobs and individual and family services added 19,000 jobs in July
Based on the above information from BLS's Employment Situation Summary, finding jobs in non-tech-related sectors or lesser-known tech companies is still possible. Alternative opportunities for tech workers might look like:
What tech professionals and HR experts have to say
Navigating a layoff isn't easy, but it's key to approach the situation with a strategic mindset and a positive outlook.
"A layoff is really nothing to be ashamed of, especially as it's happened to millions of people," says Margaret Buj, Principal Recruiter at MixMax.
Travis Lindemoen, founder of job matching platform Enjoy Mondays, agrees that taking a layoff personally is counterproductive, often stemming from broader business decisions or market conditions beyond one's control.
He says that as difficult as it may seem, "View a layoff as an opportunity for self-reflection and personal growth."
Be patient and resilient in the face of layoffs and rejections.

- Margaret Buj, Principal Recruiter at MixMax
If the layoff was due to external factors like restructuring or downsizing, clearly communicating these reasons to potential employers can prevent misinterpretation.
Lindemoen suggests, "Highlight how you've transformed these experiences into valuable learning opportunities and maintain a positive attitude during interviews."
Buj recommends professionals to focus on furthering their personal and professional growth and presenting these results to employers.
"Don't forget to highlight any courses, certifications, or workshops you've completed since the layoff to demonstrate a commitment to staying current in your field and an eagerness to learn new skills," she says.
For tech professionals affected by layoffs, Lindemoen advises a skill set reassessment in light of evolving markets and technologies and notes that tenure in a particular industry doesn't always dictate future success.
Instead, he recommends engaging with online communities such as Stack Overflow and GitHub to "showcase technical projects worked on outside of your day job and explore different roles or industries." He believes these side projects may lead to freelancing or contract positions, enriching one's employability down the line.
Lindemoen also points out that attending industry conferences is a superb way to stay informed about current trends while networking with potential employers, recruiters, and mentors who can provide valuable guidance on new opportunities.
View a layoff as an opportunity for self-reflection and personal growth.

- Travis Lindemoen, Founder of Enjoy Mondays
Buj adds, "Career transitions take time and effort. Be patient and resilient in the face of [layoffs] and rejections. Each step you take, no matter how small, contributes to your progress."
About Resume Genius
Since 2009, Resume Genius has merged innovative technology with up-to-date industry expertise to simplify job hunting for people of all backgrounds and experience levels.
Resume Genius's easy-to-use resume builder paired with a wide range of free career resources like resume templates, cover letter samples, and resume writing guides can help anyone improve their job hunt. Supported by a team of dedicated career advisors and HR experts, Resume Genius's ultimate mission is to guide job seekers toward fulfilling work and help them reach their career goals.
For media queries or concerns, please contact us.