We've compiled statistics from various reputable sources to help job seekers and hiring managers alike better understand the work landscape in 2023. Our HR statistics cover the following areas:
Job Search Statistics
From job seeker demographics to hiring logistics in 2023, we provide data below that spans the job search process.
General job search statistics
The US workforce (individuals aged 15–65) is expected to shrink by 3.2% between 2026 and 20361.
Approximately 5.2 million people currently want a job (as of December 2022)2.
An average of 27 people applied for a single job posting in 2021, down from 53 applicants per job posting in 20203.
In 2022, 2.5% of US workers changed employers per month. This is an average of 4 million people per month switching jobs4.
1 in 5 workers say they're somewhat or very likely to look for a new job in the next 6 months4.
37% of workers believe finding a new job will be somewhat or very difficult4.
Of people who left their job in the first quarter of 2022, 34% were at a new job, 18% were unemployed and looking for work, and 48% were out of the labor force (not looking for work) when surveyed the month following their departure4.
23% of respondents have switched industries since the pandemic began5.
46% of workers surveyed in 2022 reported having reskilled for a new industry in the past year5.
In 2022, 41% of workers planned to have a second income source/side hustle5.
60% of respondents cited needing money as the top reason for their side hustle, compared to 23% of respondents who primarily consider their side hustle a passion project5.
Who is looking for a new job?
In the first quarter of 2022, an average of 2.9 million women and 2.5 million men entered the labor force per month4.
29% of workers who report having poor or fair personal finances (compared to 15% who report having a good or excellent personal financial situation) searched for a new job in 20224.
Black and Hispanic workers had a 3.1% rate of job changing per month in 2022, compared to white workers at 2.2% and Asian workers at 2.1%4.
Workers with less than a high school diploma were the most likely to change their jobs in 2022, changing at a rate of 3.5% per month, compared to high school graduates at 2.8% and workers holding at least a Bachelor's degree at 2.1%4.
45% of workers who currently have low job security (compared to 14% of workers who have high job security) looked for a new job in 20224.
Workers aged 16–24 were the most likely to change their jobs in 2022 compared to other age groups (at 4.4% per month). The next group most likely to change jobs was 25–34 year olds at 2.8%. The group least likely to change jobs was workers over 65 at 1.4%4.
The groups of workers most likely to be actively seeking or planning to look for a new job in 2022 worked in tech (53% of tech workers), manufacturing (49%), education (48%), and retail service (46%)5.
Why are people searching for new jobs?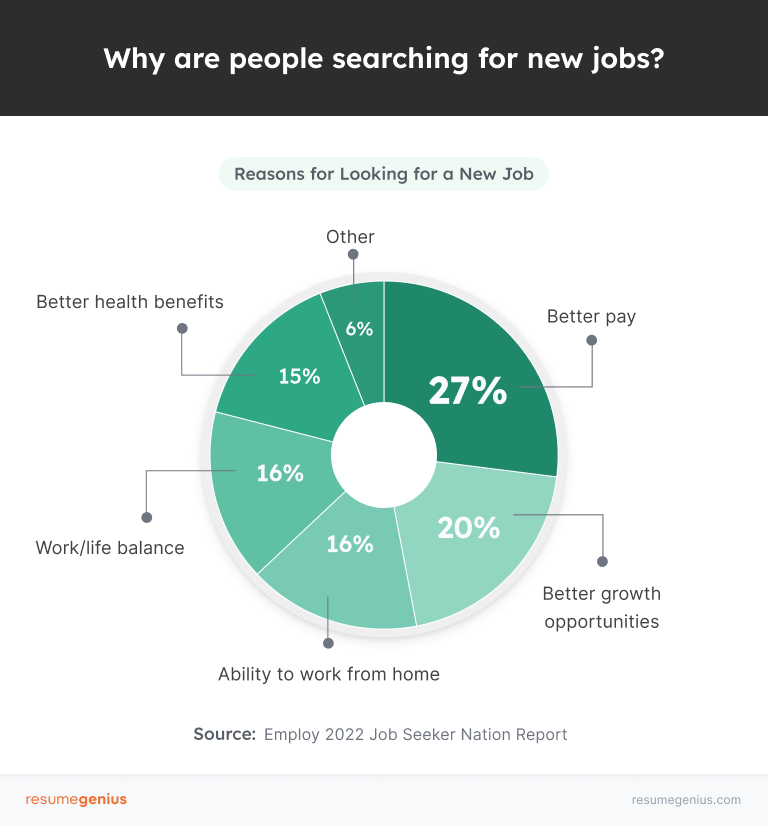 27% of job seekers cited compensation as the top reason they're looking for a new job. And 20% said they're looking for a new job for better growth opportunities. Other top reasons for finding new work include flexibility to work from home (16%), work/life balance (16%), and health benefits (15%)5.
The percentage of job seekers aged 25–54 citing higher pay as the reason for their job search was nearly double that of the second highest reason (~30.5% higher pay vs. ~16% wanting to change their career path)1.
From April 2021 to March 2022, the median worker who changed employers saw a 9.7% increase in their pay from a year earlier while the median worker who stayed with their same employer saw a 1.7% decrease in their pay4.
The job search process
Workers named the top three pain points during the job search5:
available jobs were too low-paying (46% of respondents)
not getting any interviews (42%)
non-responsive hiring managers (35%)
Other job search frustrations included5:
difficulty finding the right jobs to apply for (31%)
the stress of the overall job-seeking process (28%)
being judged by algorithms instead of hiring managers (28%)
deceiving job descriptions (27%)
a lack of jobs in their preferred profession (26%)
20% of survey respondents said that writing and updating job materials was the most frustrating aspect of their job search5.
Workers find job openings through online job boards (59% of respondents), friends (46%), social media sites like LinkedIn and Facebook (39%), employer career sites (33%), professional connections (25%), and career fairs (23%)5.
The most used job boards in 2022 were Indeed (52% of respondents), LinkedIn (17%), Facebook (9%), and CareerBuilder (6%)5.
32% of Gen Z job seekers do their job searching with a mobile device or app (compared to 22% across all age groups)6.
Recruiting Statistics
The Great Resignation underscores one of the biggest challenges in recruitment: mismatched expectations between employers and employees. These statistics will help you — no matter which side of the interview table you're on — to better understand and manage recruitment in 2023.
Recruiting challenges
While 58% of US recruiters are confident they'll find the right candidates for open positions, 36% and 5% of US recruiters are somewhat confident or not confident, respectively6.
9 of 10 employers report struggling to fill positions because of a skills gap6.
29% of employers believe that the skills gap between the roles to be filled and the applicant pool increased in 2022 over the previous year6.
34% of recruiters for white-collar jobs struggle to find applicants with matching skills6.
Employers report that the top hard skills applicants struggle to match are information technology (IT) skills and strategic planning. The top soft skills gaps are in teamwork and communication6.
In 2022, different industries faced various recruiting challenges. A key challenge of the technology sector was assessing WFH productivity. The leisure and hospitality industry struggled to filter through increased applicants. The finance and engineering sectors faced an updated candidate pool6.
To recruit qualified applicants among stiff competition, companies plan to make roles more flexible (37% of companies), increase benefits and perks (35%), offer skills training (32%), and increase salary and wages (32%)6.

Younger generations are more distrusting of employers.

On average, 24% of workers are skeptical about the promises companies make regarding job expectations, benefits, and culture. Millennials (workers aged 25–34) are the biggest skeptics of companies' promises at 28%. Next most skeptical is Gen Z (aged 18–24) at 26%. Skepticism decreases with age, as only 20% of workers aged 55–67 expressed doubts about company promises6.
Employers and candidates don't match on their top priorities. In order of importance, candidates were most looking for salary protection/fair compensation, bonuses, healthcare benefits, flexible work schedules, and PTO in 2022. In contrast, employers were most advertising healthcare benefits, then PTO, flexible work schedules, remote work flexibility, and salary protection/fair compensation6.
While 44% of employers are prioritizing remote flexibility, only 24% of job seekers are looking for it6.
Recruitment from the hiring manager's perspective
The top 3 hard skills employers want are IT, strategic planning, and operations skills6.
The top factors that made applicants stand out in 2022 were their interview presence, their relevant work or internship experience, and how well their skills matched the role6.
Almost half of employers (46%) no longer consider job hopping to be a red flag when screening applicants6.
46% of employers viewed gaps on a resume as acceptable (rather than a red flag) in 2022, compared to 38% of employers who thought so in 20216.
Living outside the company's geographic area shifted from a red flag to acceptable for 42% of employers in 2022, compared to 38% of employers who held that opinion in 20216.
50% of employers think candidates need to articulate their skills better6.
A college degree is not as important as it once was — employers ranked a college degree as the 8th most important factor that makes a candidate stand out in 2022 (down from 7th most important in 2021)6.
How well an applicant did in their classes is also becoming less important to employers. Hiring managers ranked GPA/grades as the 12th most important in 2022 (down from 10th in 2021) among factors that make applicants stand out6.
Employers say the most effective resources for finding candidates for their last 3–5 hires include6:
personal connections (34% of employers)
job board postings (29%)
candidates' online profiles (28%)
networking (27%)
posting on a career site or the company's site (27%)
resume database searches (24%)
42% of employers believe that flexible work arrangements give them a recruiting advantage and help them retain talent6.
The number of US job postings on Indeed offering signing bonuses in July 2022 (5.2%) was more than triple what they were in July 20191.
Recruitment from the job seeker's perspective
Job seekers want employers to stop taking into account applicants' social media (37% of respondents), resume gaps (35%), and cover letters (31%)5.
33% of job seekers wish employers wouldn't ghost them5.
19% of respondents said they've ghosted an employer during the hiring process5.
Workers' top conditions from employers include higher compensation (67% of respondents), flexibility and autonomy (49%), and long-term job security (47%)5.
Also important to workers are5:
praise, respect, and recognition (39% named these as what they most want)
100% remote work (31%)
promotions (26%)
learning and development opportunities (26%)
Up from 38% of respondents in 2021, 53% of respondents in 2022 said compensation was a top consideration in deciding to accept a job offer5.
In 2022, respondents reported the top reasons for declining a job offer in the past 12 months as compensation (38% of respondents), location (27%), and no flexibility to work remotely (22%)5.
Compared to 2021 when 58% of respondents said they'd decline a job offer due to unclear or no pandemic protocols, only 14% of respondents said they'd do so in 20225.
Workers in different industries have different top values5:
56% of tech workers want flexibility and autonomy (9% higher than other industries)
55% of manufacturing workers want long-term security (9% higher than other industries)
52% of healthcare workers want praise, respect, and recognition
71% of workers felt comfortable negotiating their salary in 2022 (an increase of 19% from 2018)5.
The recruiting process
85% of Fortune 500 companies don't have an optimized job application process5.
Only 30% of applicants who start applications with Fortune 500 companies finish their applications5.
In 2022, the top reasons candidates had a positive experience with recruiters were attributed to an easy to schedule interview (52% of respondents), an easy job application process (51%), and great communication, such as prompt feedback (47%)5.
Other top reasons for a positive recruiter-candidate experience included5:
a short hiring process (35% of respondents)
no cover letter requirement (25%)
good explanation of the company's values, vision, and culture (23%)
89% of employers recruited virtually in 20226.
19% of employers prefer virtual to in-person interviews6.
Young recruiters are the biggest proponents of virtual interviews, with 61% of Gen Z recruiters preferring virtual interviews (compared to 26% of Millenial, 13% of Gen X, and 6% of Boomer recruiters)6.
45% of employers say candidates ask about health and safety protocols in 20226.
75% of Gen Z recruiters communicate with candidates by email vs. 50% that do so via text message6.
Of candidates who've scheduled a job interview with a recruiter over text message, 56% said they prefer texting over email or phone communication5.
37% of job seekers have had a screening or interview via video call5.
Of the job seekers who've interviewed over video, 59% preferred a video call over a phone call or an in-person interview5.
Down from 44% in 2020, 28% of candidates in 2022 preferred recruiters to contact them by email5.
Up from 25% in 2020, 28% of candidates in 2022 preferred recruiters to contact them by phone5.
22% of workers have interacted with a chatbot during the recruiting or interview process. Of those, 63% believe the chatbot improved the experience5.
Remote Work Statistics
While incidence of remote work has decreased since the start of the pandemic, it hasn't completely gone away either. These statistics paint a picture of where remote work is heading in 2023.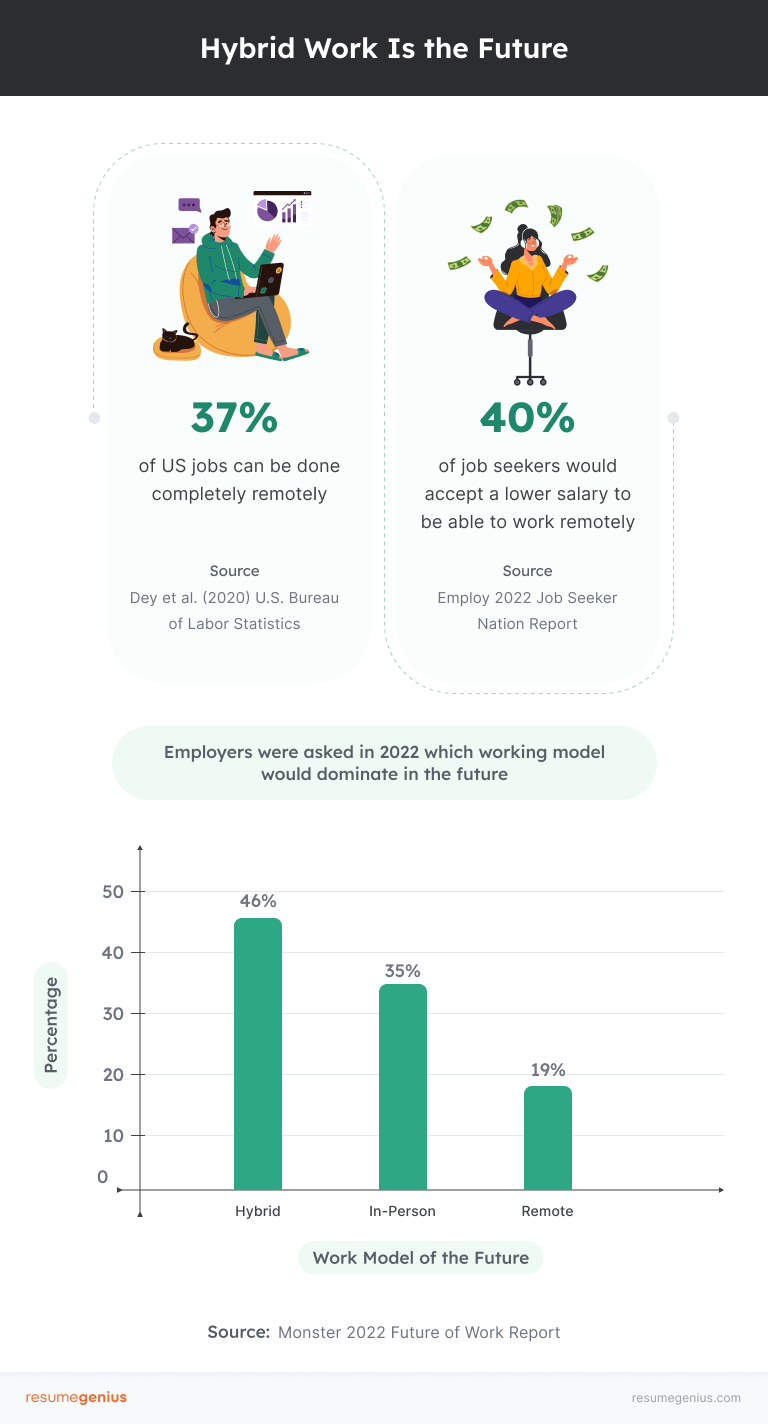 Employee views on remote work
When asked about their ideal work situation5, workers wanted:
fully remote work (30%)
in-office work only (26%)
hybrid work with time spent 50/50 in-office and remote (21%)
the flexibility to decide when and where to work (14%)
to be remote 1–2 days per week (10%)
40% of job seekers would accept a lower salary to be able to work remotely5.
More women than men are motivated by remote work when searching for a new job. A total of 16% of female job seekers aged 25–54 want a remote job, compared to 11% of same aged male job seekers1.
The status of remote work in 2023
32% of companies surveyed in 2022 said they were likely to expand hybrid and remote work in the coming year7.
In 2022, 39% of workers were fully in-office, 25% were fully remote, and 16% were hybrid5.
In the US, 46% of employers think hybrid work is the future while 35% of employers think work will be fully in-person and 19% believe work will be fully remote in the future6.
Approximately 8.6% of US job postings in 2022 were remote, compared to 2.9% in 20191.
Marketing job postings offering remote work more than tripled between 2019 and 2022 (7.1% in September 2019 vs. 27% in September 2022)1.
37% of US jobs can be done completely remotely8.
51% of companies survey employees on their preferences for remote work7.
62% of companies provide training for managers on how to support remote and hybrid employees7.
84% of companies ensure remote and on-site employees receive the same company updates7.
17% of companies track outcomes, such as promotion and attrition rates, for remote and hybrid employees7.
Employee Engagement Statistics
By examining statistics surrounding worker satisfaction and mental health, managerial styles, and pay, we can see that workers want and need employers to do more for their employees.
General employee engagement statistics
86% of people reported to Indeed that how they feel at work impacts how they feel at home1.
Low engagement costs the global economy US$7.8 trillion per year9.
Globally, 21% of employees feel engaged at work9.
33% of workers in the US and Canada feel engaged on the job9.
Management
43% of employees say their manager shows interest in their employees' careers7.
50% of employees say they have a manager who makes sure employees get credit for their work7.
60% of employees say their manager gives them helpful feedback7.
53% of employees have managers who encourage respectful and inclusive team behavior7.
62% of employees have managers who check on employees' personal well-being7.
38% of employees have managers who make sure their employees' workload is manageable7.
Worker satisfaction and mental health
35% of workers report that they have good work/life balance5.
31% of workers report that their employer provides clear communication, and 24% of workers say they get continuous performance feedback5.
40% of employees report an increased workload due to high employee turnover at the end of 2021 and going into 20225.
65% of workers believe it takes less than 1 month to determine if a new organization is a good culture fit5.
In 2021, 44% of employees surveyed from around the world said they experienced stress the day prior to being surveyed9.
50% of workers in the US and Canada reported feeling stressed for much of the day prior to being surveyed9.
In 2022, 82% of workers surveyed reported experiencing burnout at their current job10.
Employees who experience consistently high levels of burnout are 23% more likely to visit the emergency room9.
63% of workers say the pandemic has caused them to pay more attention to their mental health5.
48% of workers feel comfortable disclosing their mental health challenges to leadership and/or HR5.
Worker Compensation
Only 37% of workers think they're paid a fair amount5.
51% of US and Canadian workers said they're living comfortably on their present income in 20219.
60% of US workers reported a wage increase over the previous year (2022 vs. 2021) when they changed employers, compared to 47% of US workers who reported a wage increase but stayed with the same employer4.
56% of workers with an increased workload due to high employee turnover were not compensated for their extra work5.
28% of workers surveyed in 2022 reported asking for a raise in the past year. Of workers who asked for a raise, 72% received a pay increase5.
Work benefits and perks
22% of workers report that their employer provides wellness offerings5.
35% of workers report that their employer provides flexible work arrangements5.
Down from 53% in 2021, 40% of workers in 2022 reported that their employer offers mental health benefits and resources5.
Workers expect their job to provide5:
healthcare (66% of respondents)
a 401k program (49%)
401k matching (40%)
bonuses (40%)
paid family leave (39%)
remote work (32%)
mental health resources (30%)
The percentage of US job postings advertising retirement plans, health insurance, and paid time off approximately doubled between January 2019 and May 20221.
35% of respondents said their employer doesn't offer learning and development opportunities5.
The most common development opportunities employers offer are5:
paying for continuing education (27% of employers)
tuition reimbursement (23%)
compensation for conferences (20%)
reimbursement for tools and software (17%)
succession planning (16%)
one-on-one mentoring (14%)
45% of companies have budgets for team bonding activities7.
Quitting Statistics
In 2021, an average of 2.5 million women and 2.1 million men per month left the labor force4.
In any given month in 2022, an average of 53% of women who separated from their last job (compared to 43% of men in the same situation) ended up leaving the labor force4.
The US unemployment rate as of December 2022 is 3.5%2.
1 in 3 workers would quit a job without having another job lined up5.
1 in 3 new hires would leave a job during the first 90 days5.
Of people who left a job within the first 90 days, 41% did so because the day-to-day role was not as expected, 35% attributed leaving to a bad experience, 34% said company culture was not as expected, and 32% left because of unsatisfactory leadership5.
35% of workers who asked for a raise and were denied ended up leaving their job as a result5.
References
Indeed & Glassdoor. (2023). Indeed & Glassdoor's Hiring and Workplace Trends Report 2023. https://www.glassdoor.com/research/app/uploads/sites/2/2022/11/Indeed-Glassdoors-2023-Hiring-Workplace-Trends-Report-Glassdoor-Blog-1.pdf
U.S. Bureau of Labor Statistics. (2022). The Employment Situation — December 2022. News Release, U.S. Bureau of Labor Statistics. https://www.bls.gov/news.release/empsit.t01.htm
Echevarria, D. (2022). How many applicants do you really need to make one hire? https://www.careerplug.com/blog/applicant-to-hire-ratio-benchmark/
Kochhar, R., Parker, K., and Igielnik, R. (2022). Majority of U.S. workers changing jobs are seeing real wage gains. https://www.pewresearch.org/social-trends/2022/07/28/majority-of-u-s-workers-changing-jobs-are-seeing-real-wage-gains/
Employ. (2022). 2022 Job Seeker Nation Report: Dynamic Motivations of Modern Workers. https://web.jobvite.com/rs/328-BQS-080/images/2022-12-2022JobSeekerNationReport.pdf
Monster. (2022). The Future of Work. https://media.monster.com/marketing/2022/The-Future-of-Work-2022-Global-Report.pdf
McKinsey & Company. (2022). Women in the Workplace 2022. https://wiw-report.s3.amazonaws.com/Women_in_the_Workplace_2022.pdf
Dey, M., Frazis, H., Loewenstein, M.A., and Sun, H. (2020). Ability to work from home: evidence from two surveys and implications for the labor market in the COVID-19 pandemic. Monthly Labor Review, U.S. Bureau of Labor Statistics. https://www.bls.gov/opub/mlr/2020/article/ability-to-work-from-home.htm
Gallup. (2022). State of the Global Workplace 2022 Report: The Voice of the World's Employees. https://www.gallup.com/workplace/349484/state-of-the-global-workplace-2022-report.aspx
Tay, R. (2022). Why a 4-day work week won't decrease burnout (survey data). https://resumegenius.com/blog/career-advice/4-day-work-week-burnout