What is vocational school?
Vocational school is a place that teaches job-specific skills and acts as an alternative to a traditional four-year college program. Vocational schools include trade schools and technical schools, and they feature accelerated programs that lead to industry credentials rather than four-year degrees.
Vocational training isn't for everyone, but it's a worthy option if you're unsure about attending a university. We've compiled data on the current state of the college system and explored the following topics to show you how to find a rewarding career without a four-year degree:
Table of contents
The state of the 4-year college system in 2023
If you have a clear career path that involves formal education, then attending a university is a great option. But going to college isn't always the best choice, especially if you're unsure what you want to do in the future.
In fact, recent studies found that the happiest segment of the workforce is employed in jobs that don't require formal education.
We're not suggesting that you skip university on a whim, but here are three reasons college may not be for you:
1. College costs are rising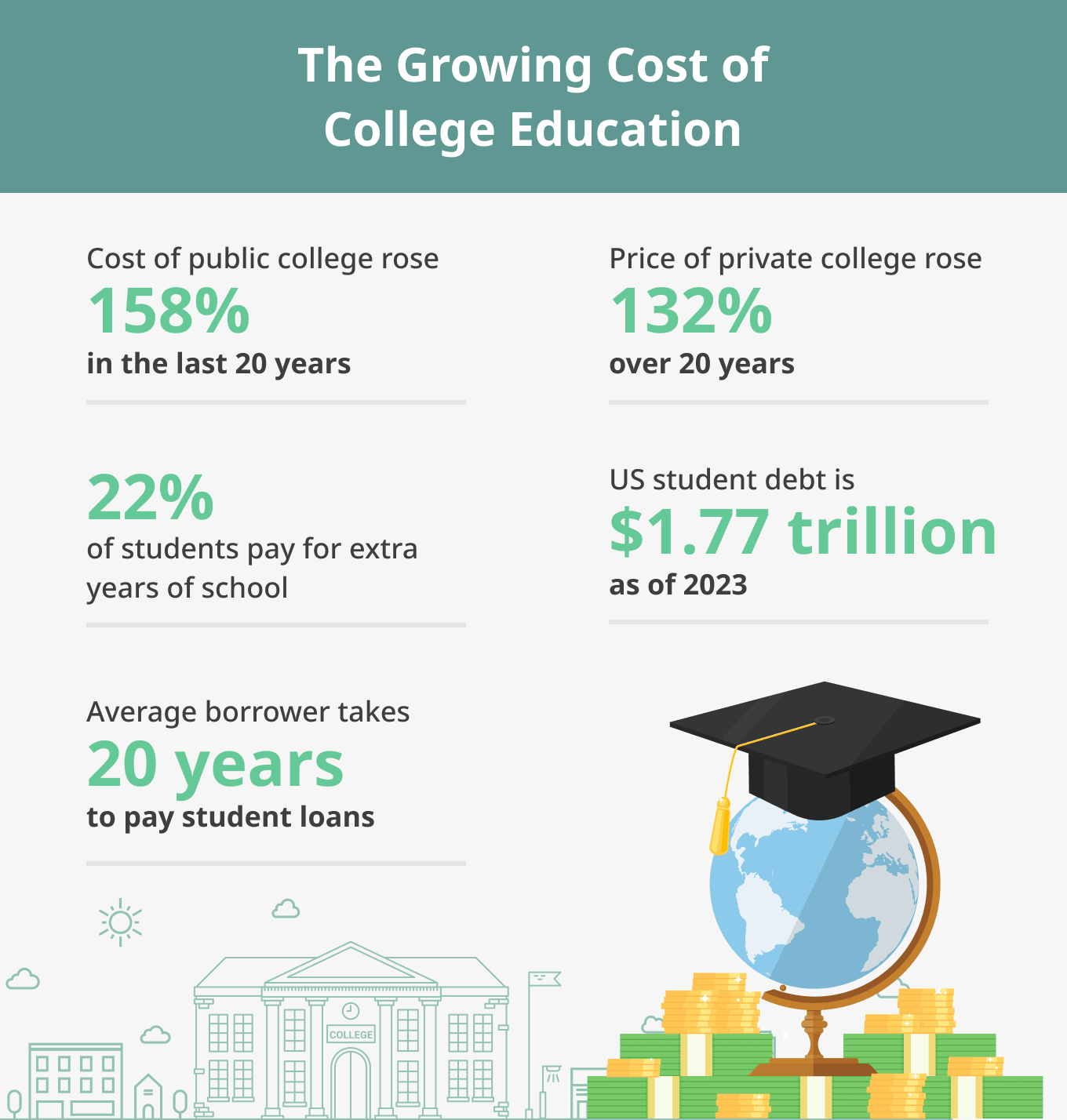 Going to college can be really expensive, especially for out-of-state and international students with few or no scholarships. And every year the cost of higher education increases:
Per CollegeBoard, the average price of public, in-state college in 2021–2022 was 1.6% higher than it was in 2020–2021.
A 1.6% difference doesn't seem like much, but the money spent elsewhere adds up. According to the National Center for Education Statistics (NCES), "Between 2008–09 and 2018–19, prices for undergraduate tuition, fees, room, and board at public institutions rose 28%, and prices at private nonprofit institutions rose 19%, after adjustment for inflation."
Additionally, 19% of college students pay up to 150% of their degree's value by taking up to six years to complete what's supposed to be a four-year degree.
The growing costs of college tuition, books, and room and board have produced the following college-related debt statistics:
All that student loan debt is forcing many graduates to live with their parents and keeping them from buying houses and having children.
2. College costs time as well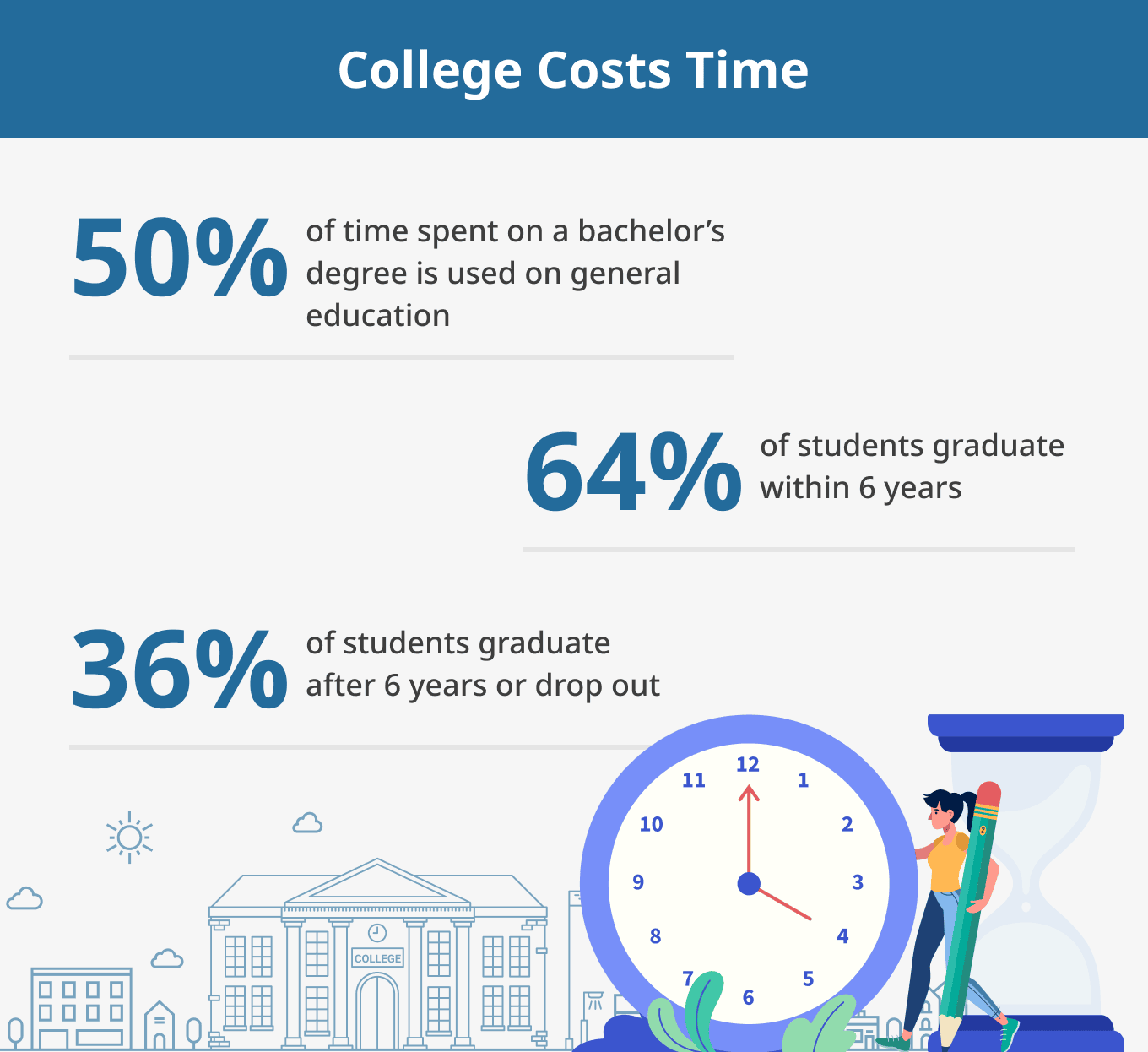 Bachelor's degrees are meant to be four-year endeavors, but only 62% of students who enrolled in college in 2012 graduated within six years. The other 38% of students either took longer than six years to graduate or dropped out.
If you have an unfinished degree, it can still be an advantage to list it in the education section of your resume. Effectively listing an unfinished degree on a resume can give you an edge over the next candidate.
Even if you finish your degree within four years, you'll spend half of your time studying general education credits  — 101 classes like math, psychology, and English — that are mostly unrelated to your major.
Such a well-rounded education is valuable. However, the average US college class costs $1,677, and many students can only afford to invest in courses that lead directly to employment.
3. A college degree doesn't guarantee you a good job
While many college graduates quickly land work in fields they're interested in, a degree doesn't automatically translate into a fulfilling career.
Research shows that 33.8% of college graduates are "underemployed" in jobs that don't require a college degree.
Thankfully, college is only one path toward a stable, high-paying career.
Why vocational training is increasingly popular
The outlook for non-degree holders is improving, with some of the best and highest paying jobs without a degree required going to people with vocational training rather than traditional four-year college degrees.
Bright outlook for non-degree holders
Many companies are rethinking the degree requirements in their hiring processes, opening jobs to applicants who possess relevant skills and demonstrate an ability to learn quickly.
Some of the biggest brands in the world are on board with hiring people who didn't graduate from college. Per a Guide2Research report on the best companies to work for without a college degree:
Google has opened advanced positions to people who don't have college degrees, including senior interaction designer, business intelligence manager, and technical program manager
Apple's new hires in 2018 were about 50% non-degree holders
Hilton offers internships and sales representative partnerships to people who didn't graduate from college
Moving away from strict degree requirements led to direct economic results. For instance, the unemployment rate for people 25 years old and up with only a high school diploma dropped from 10.2% in Jan. 2010 to 3.8% in Jan. 2020.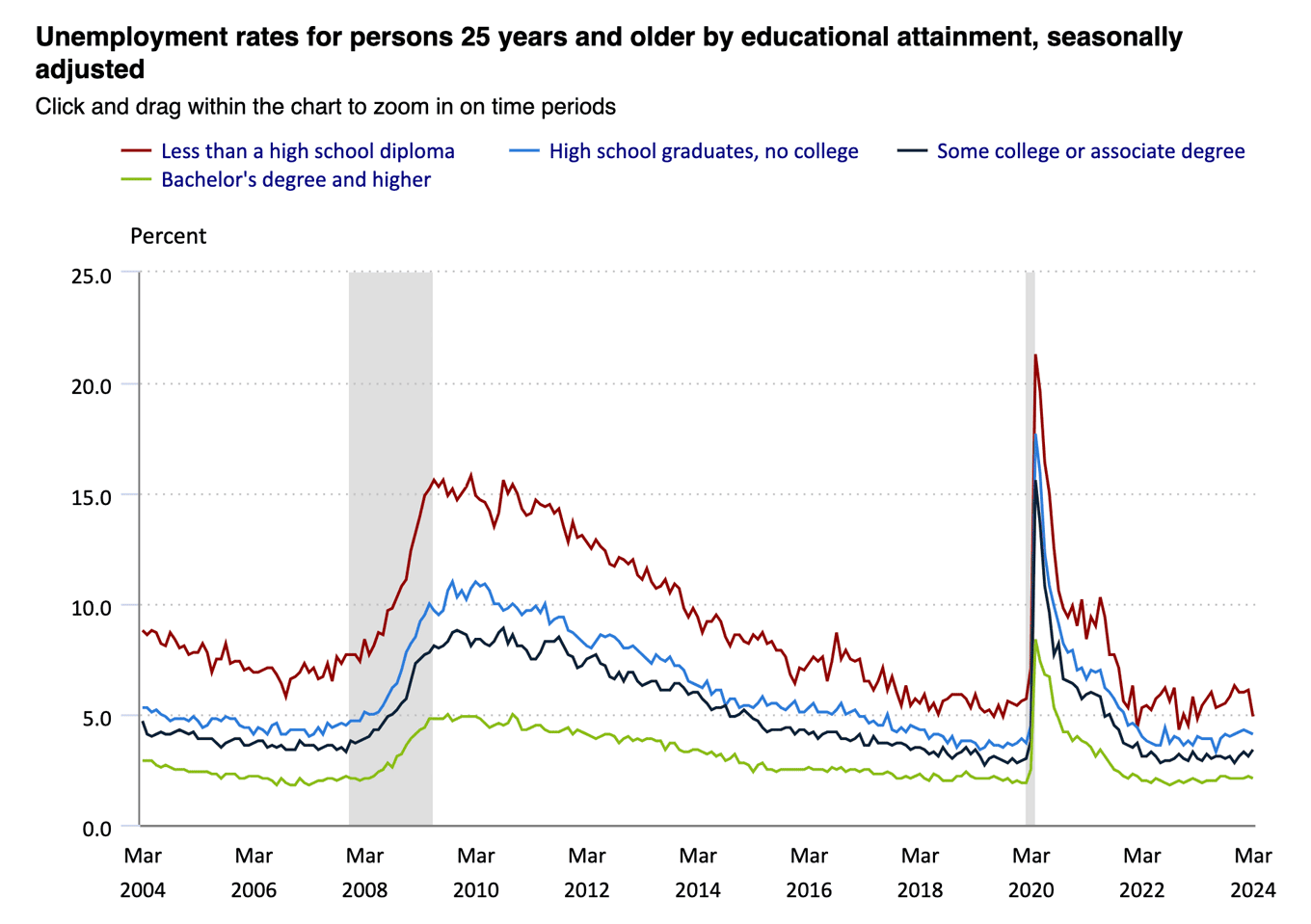 Also, the COVID-19 pandemic triggered a trend of people resigning from their jobs to find more meaningful work. This "Great Resignation" has created more opportunities than ever for skilled workers who don't have the formal education required for their target jobs.
The pandemic reduced the number of degree holders who were supposed to enter the workforce over the next decade as well. CNBC reported that college enrollment fell by 25% during the fight against COVID-19, and noted that 87% of people who drop out of college don't end up enrolling within the following five years.
With fewer college graduates to hire, companies will have to continue removing degree requirements and developing training programs.
Many great jobs don't require 4-year college degrees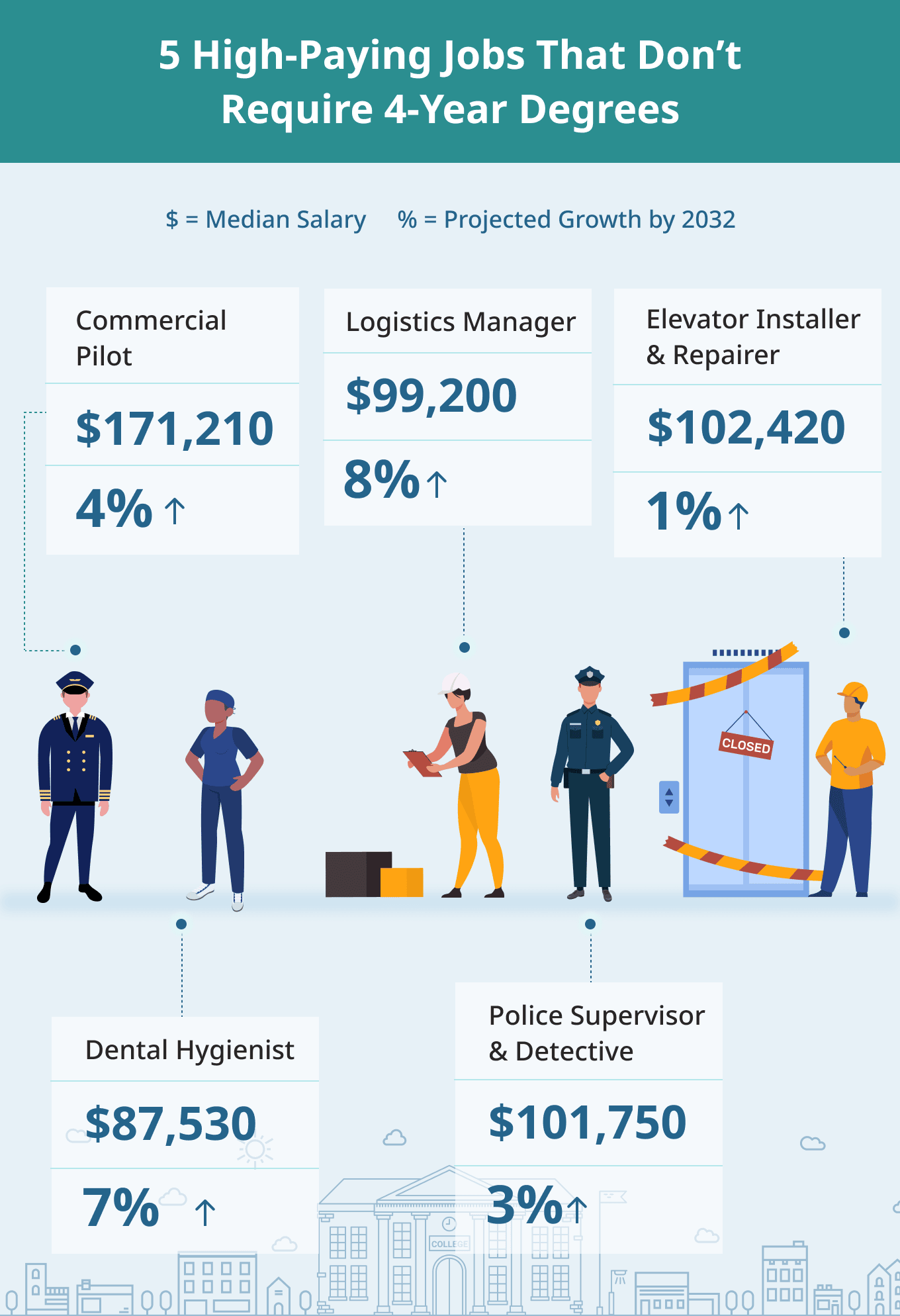 There are plenty of fulfilling, well-paying careers available to people who don't attend college or want to switch careers without returning to school.
However, if you decide to skip college or make a career change, be cautious about which profession you choose. For example, a job as a power plant operator seems like a good choice because of its nearly $90,000 median annual salary. But look closer and you'll see this field is projected to decline 16% by 2029 thanks to the rise of alternative energy sources like wind and solar.
To pick a career that offers long-term success, consider both the salary and the projected industry growth. Here are three of the best trades to learn in terms of pay and stability:
Commercial pilot
You can pass the certifications and complete the 1,500 flight hours required to become a commercial pilot in two years or less.
Once you've got your wings, you'll enjoy a $130,440 median annual salary and 5% projected industry growth by 2029.
Makeup artist
Makeup artists working in theater and performance earn a median salary of $106,920. Plus, the makeup artist industry has plenty of room for new workers because the occupation is expected to grow 11% by 2029.
A certificate from a vocational school or an esthetician apprenticeship and some networking could have you applying makeup for stars in a year or two.
Dental hygienist
Dental hygienists assist dentists with everything from cleaning teeth to taking X-rays. They make a median salary of $77,090, and the occupation is projected to grow 6% by 2029.
Become a dental hygienist by completing a two-year associate degree and passing your state's licensing requirements.
Here are more top jobs that don't require four-year college degrees but pay well and offer growth potential:
| Occupation | Median Annual Salary (USD) | Projected Growth (2019—2029) |
| --- | --- | --- |
| Commercial pilots | $130,440 | 5% |
| Makeup artist (theatrical and performance) | $106,920 | 11% |
| Transportation, storage, and distribution managers | $96,390 | 4% |
| Police supervisors and detectives | $92,970 | 5% |
| Elevator and escalator installers and repairers | $88,540 | 7% |
| Radiation therapists | $86,850 | 7% |
| Dental hygienists | $77,090 | 6% |
| Medical sonographers and cardiovascular technicians | $70,380 | 12% |
| Aircraft mechanics and technicians | $66,680 | 5% |
| Court reporters and simultaneous captioners | $61,660 | 9% |
Source:
US Bureau of Labor Statistics
Types of professional training alternatives
If you decide not to take the traditional college route to a career, you have many options to choose from, including:
Trade school
Trade schools offer students specialized, hands-on training for specific occupations. Graduates receive certificates, diplomas, or associate degrees.
Community colleges are often confused with trade schools, but they're very different.
Curriculums at community colleges are typically designed for students who plan to transfer to a four-year university. You can get a technical certification at a community college, but you'll have to take general education courses meant for students seeking to transfer.
Vocational schools hold several advantages over traditional universities and community colleges:
Trade schools are 75% cheaper than college on average
Trade schools focus on teaching the skills needed for specific jobs without general education requirements
Credentials only take two months to two years to earn
Technical school
A technical school is similar to a trade school, offering associate degrees, certifications, and diplomas that students can earn in half the time it takes to earn a bachelor's degree. However, technical school classes are more theoretical than the courses taught at trade schools.
For example, an associate degree in criminal justice may be available at a technical school, while a certificate in construction practices is more likely to be found at a trade school.
Many vocational institutions remove the line between trade school and technical school by offering both theoretical and hands-on programs.
Apprenticeships
Apprenticeships emphasize learning industry-specific skills on the job. These programs are popular in Europe, and they're rapidly growing in the US.
The US added 3,143 new apprenticeship programs in 2020, a 174% increase from the previous 10 years.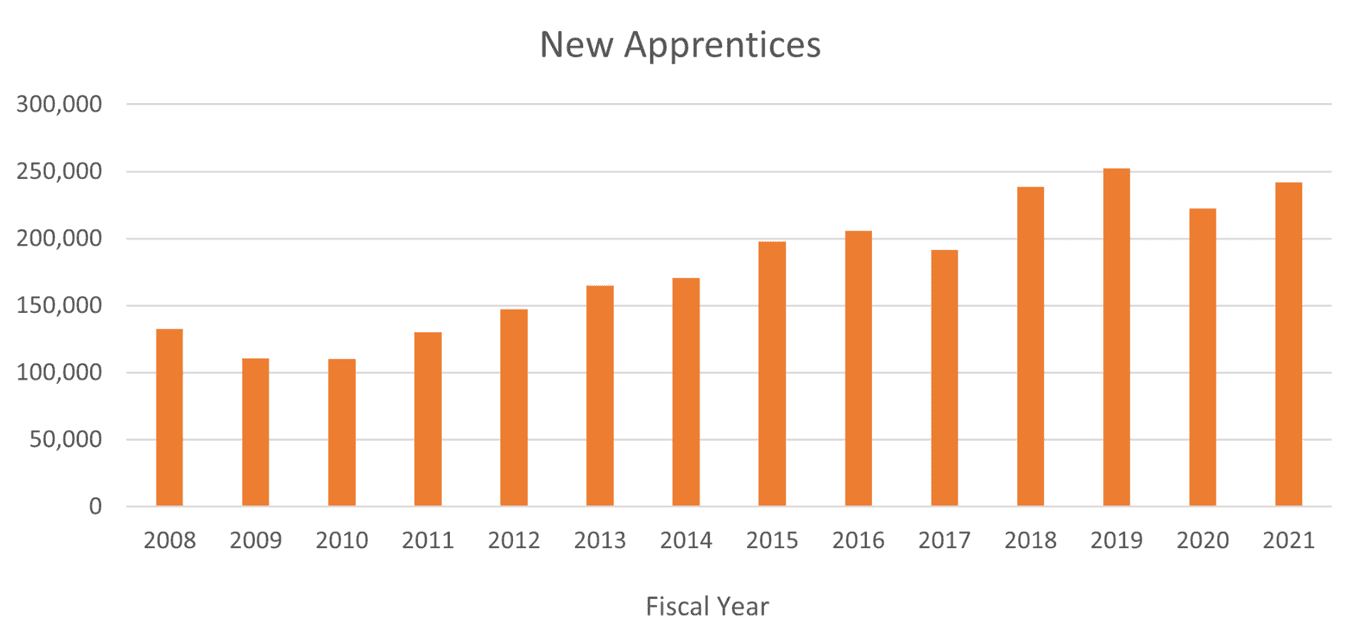 Doing an apprenticeship is sometimes a better option than going to a traditional college because you:
learn your craft while collecting a paycheck
don't need to take out student loans
could be ready to start your own business or get a promotion earlier than if you went to college
Apprenticeships aren't only for blue-collar workers like electricians or carpenters. Industries ranging from health care to information technology — including giants like Google and IBM — offer in-house training programs.
Other college training alternatives
In addition to trade schools, technical schools, and apprenticeships, here are even more ways to build a rewarding career without attending college:
Internships: A good way to get entry-level experience in your preferred industry, internships aren't always paid, but they can lead to full-time employment.
Military service: As a member of the US Armed Forces you'll get technical training, hands-on experience, and leadership opportunities that look great on your military to civilian resume. Plus, you'll earn a good paycheck and receive excellent benefits while you learn.
Career boot camps: Boot camps are intensive job-specific trainings that usually last several weeks or months. For instance, many engineers attend coding boot camps to boost their skills.
Self-studying: Massive open online course (MOOC) platforms like Edx let you create your own curriculum. Many classes are free or give you the option to pay an affordable fee to receive a certificate upon completion.
Volunteering: Earn degree-equivalent job experience and upskill by volunteering. Organizations like the Peace Corps and Americorps teach you skills that can help you get a high-paying job following your service time.
Working your way up from an entry-level job: With patience and determination, you can turn a minimum-wage job into a management position — like these 15 people who went from entry-level to CEO.
Starting your own business: If you have the skills to produce a product or service people want, you can bypass traditional education and go straight to managing your own company.
Getting an online degree: If your circumstances make it difficult to attend college in person, consider getting an online degree. Online programs usually offer more flexibility than traditional programs do.
How to get hired without a 4-year degree
If you choose an alternative to traditional college, you'll need to write a standout resume (or a CV), compose a thorough cover letter, and promote top job skills in interviews to compete with degree-holding job seekers:
Create a skills-forward resume
Because you don't have a college degree, your main selling points are your skillset and your work experience.
Highlight your top qualifications with a resume format that emphasizes your relevant skills and work history — use a resume builder to do this if you're not confident formatting your resume manually.
When you write your resume's work experience section and skills section, provide hard numbers and examples that show you're qualified and trump any lack of education on your resume.
Here's an example from an applicant who used the functional resume format and data to highlight their skills and experience: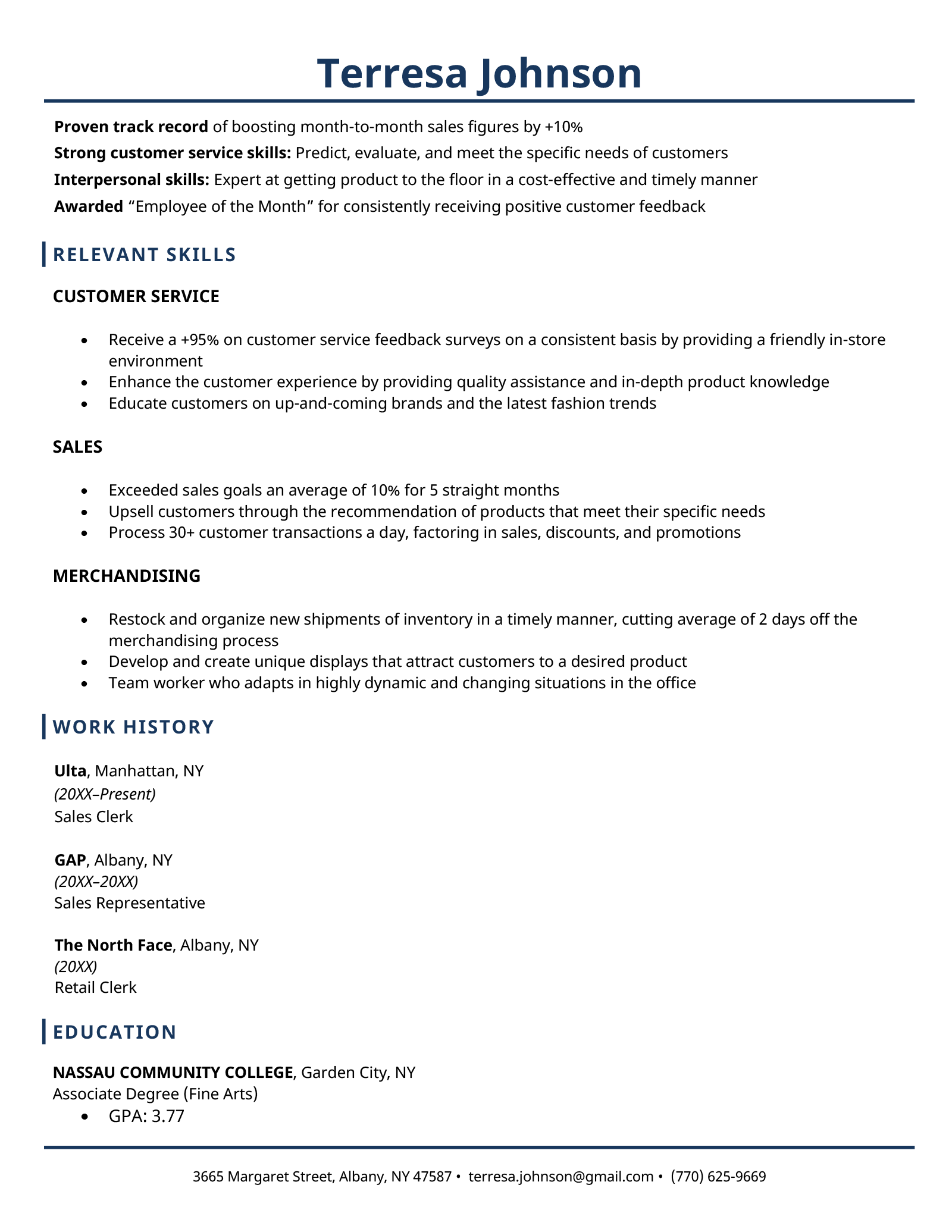 Looking at how other professionals in your industry are presenting their experience on their resumes — or checking job-specific resume samples — will help you understand how best to advertise your skill set to employers.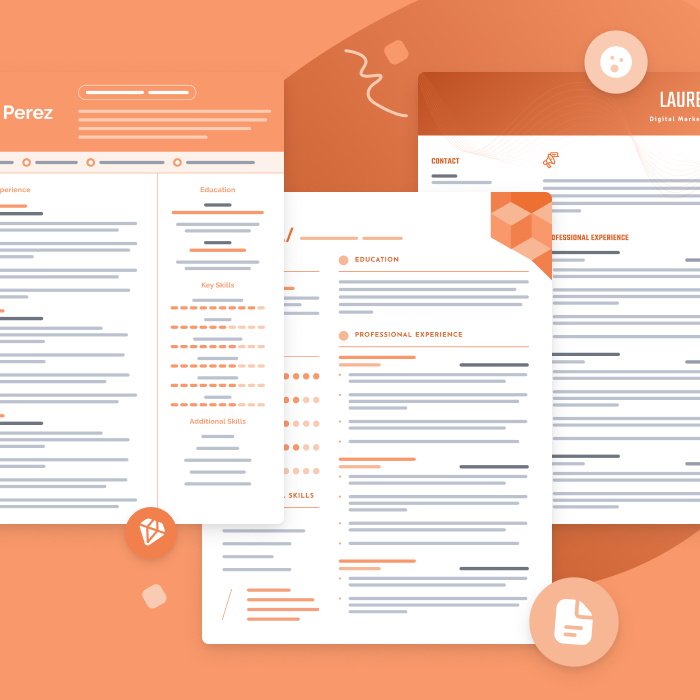 One of the best ways to make your resume is by filling out one of our free resume templates. All our templates are designed by experts and free to download for Microsoft Word or Google Docs.
Write a strong cover letter
Explain why your skills and experience are more valuable than a college degree in a well-written cover letter.
Here's an example of how to start a cover letter by convincing the hiring manager your experience is equivalent to a college degree:
I'm a highly skilled, award-winning makeup artist interested in your open Theater Makeup position. Although I don't possess the preferred education requirements listed in your job ad, I believe my 8+ years of experience applying makeup artistry in local theater and television settings proves I'm qualified to take your productions to a new level of quality.
Explain your training in interviews
When your resume and cover letter land you a job interview, be ready to answer questions about your technical training and experience. Your answers should:
show that you've researched the company
highlight the ways your skills will allow you to thrive in the position
include specific examples of your related experience and accomplishments
indicate you take initiative by keeping your skills up-to-date and learning about the latest industry trends
An outstanding interview performance could be what lands you a job over a candidate who has better qualifications than you do. Ensure you're ready to ace your interview with these resources: