Building valuable relationships outside of your usual workplace is a great way to enhance your personal and professional growth. One powerful tool to help build those relationships is the informational interview.
We discuss how informational interviews can enhance your job search and give you a walk-through of the five key steps you can take to hold one effectively.
What is an informational interview?
An informational interview is a friendly and purposeful question-and-answer discussion with someone who has extensive experience in the field you're interested in.
During an informational interview, you have the chance to soak up helpful knowledge in an informal setting and gain unique insights while building an authentic connection with your interviewee.
It's not just about landing a job (although that could be a fantastic outcome), but rather about expanding your network and opening doors to exciting future possibilities.
What are the benefits of informational interviews?
When it comes to gaining industry knowledge and guidance, textbooks and online resources can only take you so far.
By learning about your interviewee's perspectives and the challenges they've faced, you'll gain a realistic view of the industry that can guide your future career decisions.
The person you're interviewing can also:
give you personalized advice about your specific situation
introduce you to new contacts
provide ongoing support as you progress in your career
How to conduct an informational interview in 5 steps
Feeling uncertain about approaching a stranger for an informational interview? Don't worry! Let's break it down into five easy-to-follow steps: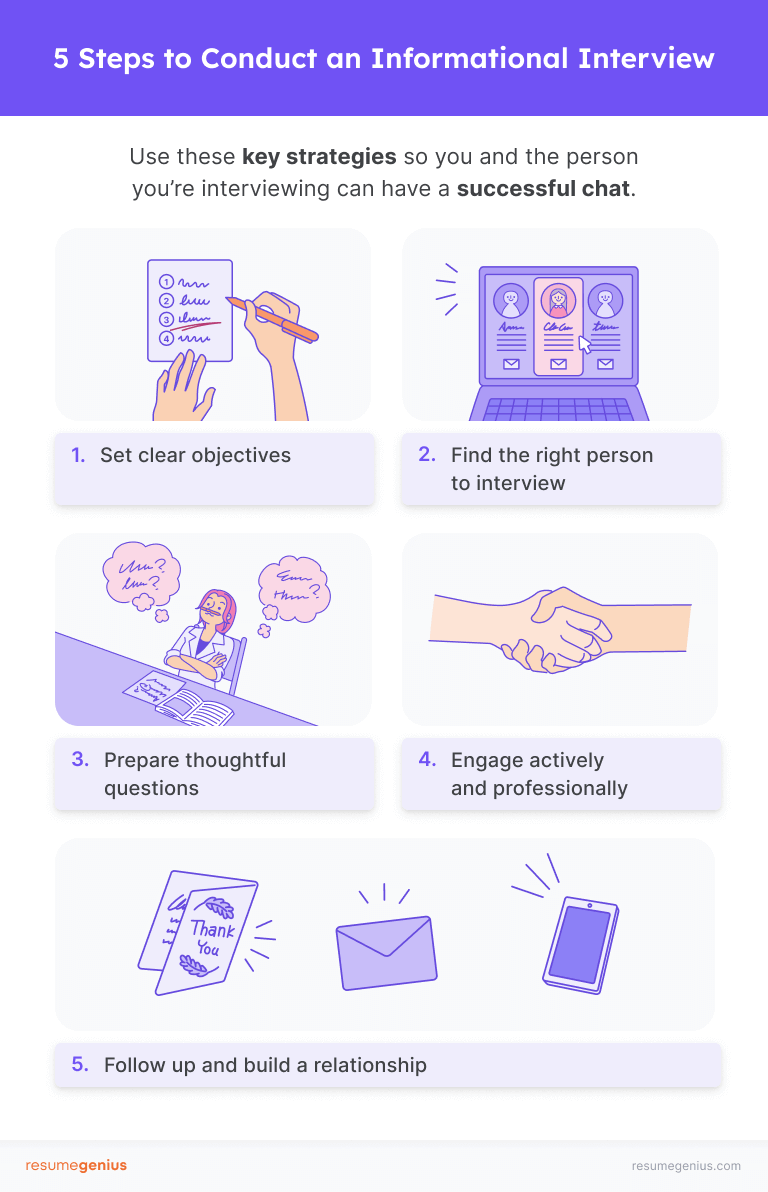 1. Set clear objectives for your informational interview
Before the interview, define your goals and what specific information or insights you want to gain. Having a clear focus will guide your questions and make the conversation more productive.
Ask yourself:
What do I hope to learn from this interview?
How can it help me with my career?
What resources or recommendations can this person provide to support my career growth?
How can I set up my interviewee to succeed during this interview?
2. Find the right person to interview
It can be intimidating to approach someone you admire, but most professionals are genuinely excited to share their expertise and might be more open than you think.
Start by reaching out to former colleagues, friends of friends, or professionals on LinkedIn who have relevant expertise or work in your dream field.
Once you've found the right person, it's time to connect!
Start by introducing yourself by writing a friendly and professional LinkedIn message that expresses your interest in that person's field or expertise.
To make it easier for them to respond, be clear about your intention for an informational interview and suggest a specific format such as a video call, in-person chat, or phone conversation.
Here's an example to help you get started:
Example of an informational interview request
Hi [Interviewee's Name],
I hope this message finds you well! I couldn't help but notice your remarkable expertise and accomplishments in [field/industry] while browsing LinkedIn. It's really inspiring!
As someone who is passionate about a career in this field, I'd love the opportunity to connect with you for an informational interview. I understand you're likely busy, but if you have a moment to spare, I'd greatly appreciate the opportunity to learn from your experiences.
We could chat over a video call, meet up for a coffee, or have a phone conversation – whatever suits your schedule and preferences. Thank you for considering my request!
Best,
[Name]
3. Prepare thoughtful questions to ask for your informational interview
To ensure you'll have a productive conversation, prepare a list of engaging and relevant informational interview questions that explores industry trends, career paths, and potential challenges.
Doing a quick search on your interviewee's background and their industry's recent developments can help you ask specific, well-informed questions that reflect your genuine interest.
Below are some examples of potential questions to ask in an informational interview:
How did you get started in this industry?
What influenced your career path?
What key skills or qualities have contributed to your success?
Can you share any notable industry trends or developments that you find exciting or challenging?
What was it like getting your [name of certification/license]?
Have you faced any challenges in your field?
What advice would you give to someone starting out in this field?
How do you see this field evolving in the next few years?
4. Engage actively and professionally with your interviewee
During the informational interview, show enthusiasm by seeking specific examples or clarification on your interviewee's points and ask thoughtful follow-up questions to deepen your understanding of the topic.
Next, be mindful of your body language, even in virtual settings. As the person you're interviewing is speaking, try:
maintaining good eye contact through the camera
nodding appropriately
projecting a confident and attentive presence
Also, consider asking for permission to take notes during the conversation, signaling that you value their insights and want to capture important information. These actions demonstrate your commitment to learning and making the most out of the interview.
5. Follow up and continue building the relationship
Don't be a stranger! After the interview, send a heartfelt thank you LinkedIn message or email to show your appreciation for the person's time and insights. Feel free to mention specific points that resonated with you or actionable takeaways you gained from the conversation.
Finally, stay connected by actively sharing relevant resources and insights or offering assistance whenever the opportunity arises. By nurturing these relationships, you might even unlock new opportunities, such as potential job referrals or collaborations.
Here's a templated example of a thank you LinkedIn message to inspire you:
Example of an informational interview thank you message
Hey [Interviewee's Name],
I wanted to drop you a quick note to say thank you for our conversation today. It was incredibly informative, and I'm truly grateful for the valuable insights and advice you shared about the [name of industry/field]. Your expertise has given me a deeper perspective on the opportunities and challenges in this field, and I can't thank you enough for taking the time to share your knowledge.
Please know that if there's ever anything I can do to support you, I'm more than happy to help. I thoroughly enjoyed our conversation and appreciate the connection we've made. Looking forward to staying in touch and wishing you continued success in your future endeavors!
Best,
[Name]
Remember, informational interviews aren't just about gathering information — they're about building relationships. Through these meaningful connections, you'll discover new possibilities and set yourself on a path to long-term success.
Happy interviewing and networking!