Professional bios are an important part of making a good first impression on potential employers, clients, or contacts.
You'll typically find professional bios for work on a:
LinkedIn profile
Personal website
Portfolio
Social media profile
Resume
Our free-to-use resume builder can make you a resume in as little as 5 minutes. Just pick the template you want, and our software will format everything for you.
What is a professional bio?
A professional bio is a brief description of who you are as a professional and what your goals are. They can vary in length, but are typically short bios composed of 4-7 sentences.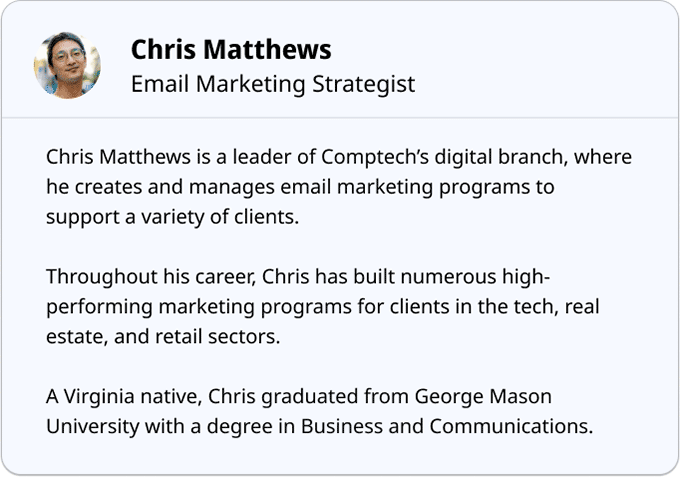 Your professional bio provides others with an opportunity to get to know a little bit about who you are and what you do.
What to include in a bio
Your professional bio should include your:
Name
Place of work
Job title
Educational background
Mission statement
Professional accomplishments
Professional goals
Hobbies or interests
That may seem like a lot to squeeze into 4-7 sentences. The good news is, you can take or leave what you need depending on who your bio is geared towards.
For example, if you're writing a resume and want to include a bio, keep it professional and leave out your hobbies and interests. If it's for your social media profile, adding more personal flair will help you connect with your audience.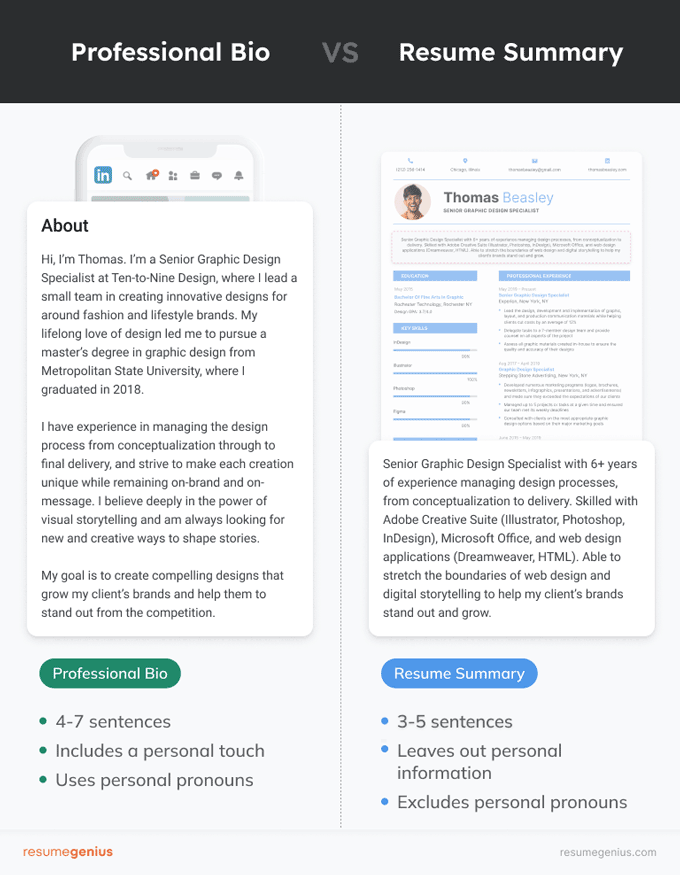 Pick and choose what is most relevant for your purposes, and what will leave the best impression.
How to write a good bio for work
Summing yourself up in a few short sentences can be quite a challenge. Here are a few tips to help you write a bio that showcases your skills and qualifications:
1. Describe what you do
The first thing people want to know about you is what you do, so be sure to explain clearly by including your job title and a brief description of your work.
Here's an example of an effective opening sentence to a professional bio:
Explain your current position
Christy is a wedding photographer with extensive experience shooting destination and theme weddings. She is fluent in English, Spanish, and French, and often coordinates with local studios to provide equipment and shooting locations.
2. Highlight your professional achievements
When you're trying to make a good first impression, highlighting your professional accomplishments can make a big difference, so don't be shy. Quantify your achievements and put them in the spotlight.
Here's an example of a strong second that includes some accomplishments:
Include an accomplishment
She has photographed weddings for prominent travel influencers such as Lauren Bullen and Jack Morris, gaining over 4 million views of her photographs on Instagram.
3. Add a personal touch
If you decide adding a personal touch to your bio is appropriate, it can give your audience a sense of your personality and something to relate to.
Here's a sample that demonstrates how to close out your work bio with style:
Tell readers something about yourself
She loves the adventure of her work, the culture, and problem solving on the fly. Her favorite wedding location so far has been at the Arenal Volcano in Costa Rica.
Professional bio examples
Now that you know how to put together a short bio, let's look at some examples of both brief and longer professional bios.
Short professional bio examples
Here are some examples of short professional bios:
Recent nursing school graduate short bio example
Here's an example of a professional bio for an aspiring pediatric nurse: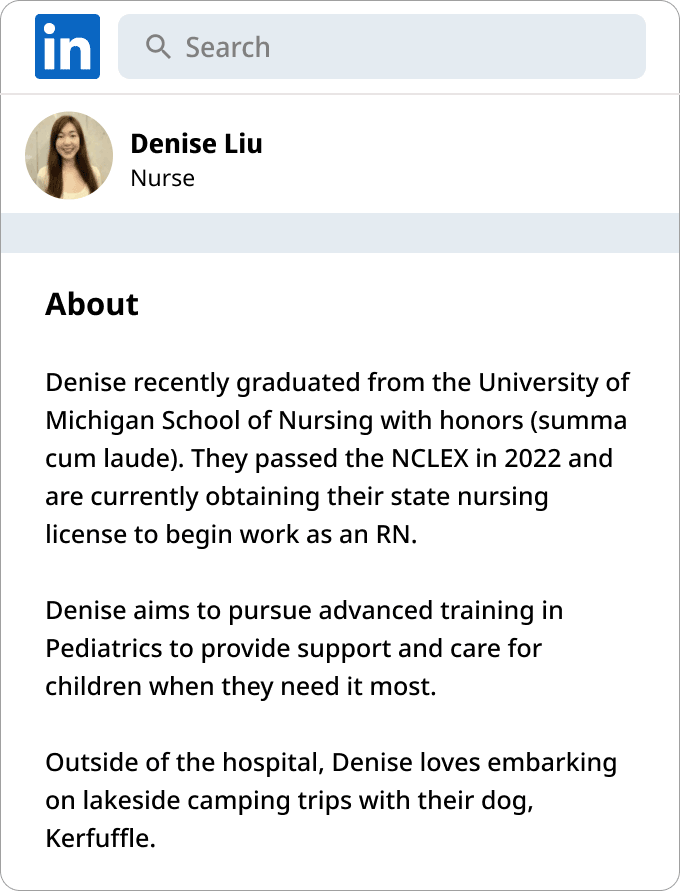 Denise's bio is concise, but gives readers a good idea of their educational background and professional goals. It also shows that Denise is a compassionate person, and gives a little insight into their hobbies outside of work.
Elementary school teacher short bio example
Here is a professional bio for a teacher: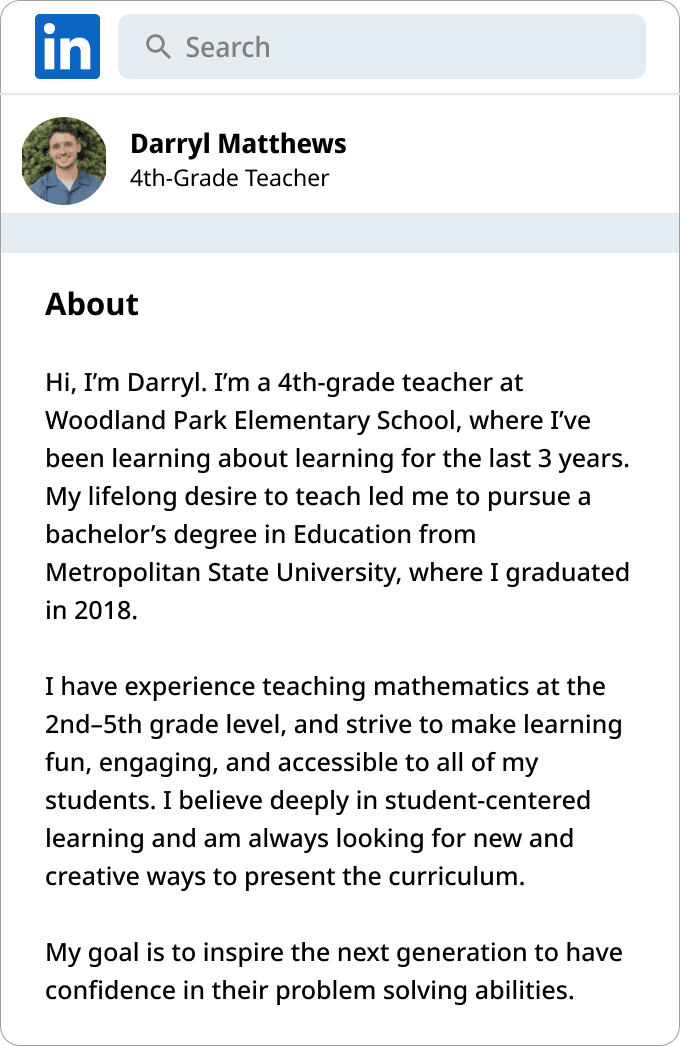 Darryl's bio lays out his key qualifications: his teaching experience, degree, and key teaching skills. He also mentions what motivates him in his teaching, which tells employers that he is dedicated and driven.
Long professional bio example
If you're a seasoned professional, you'll likely have more career highlights to show off. In that case, you can opt for a long professional bio and include 3-5 short paragraphs summarizing your achievements.
Here are a couple examples:
Writer bio example
Here's what a writer's professional bio might look like: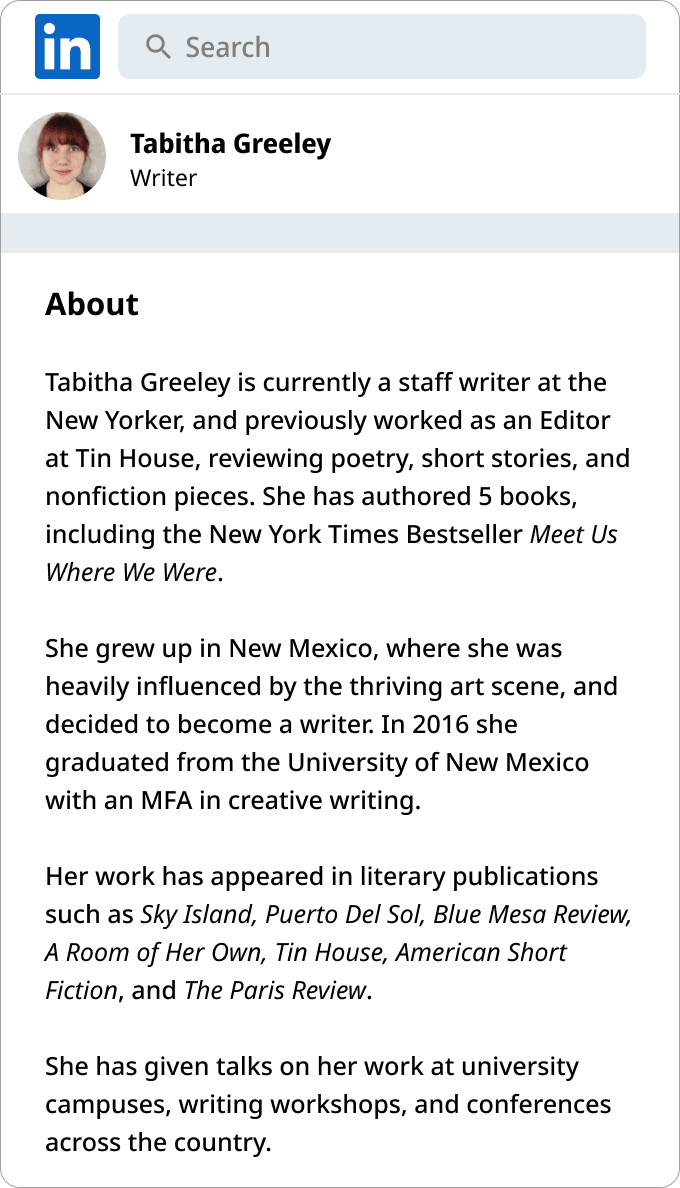 In this example, Tabitha tells readers about her writing background, where she derived inspiration and her most noteworthy accomplishments. Including the literary magazines she's been published in leaves readers with a strong first impression.
Brand strategist bio example
Here's an example of a brand strategist's professional bio: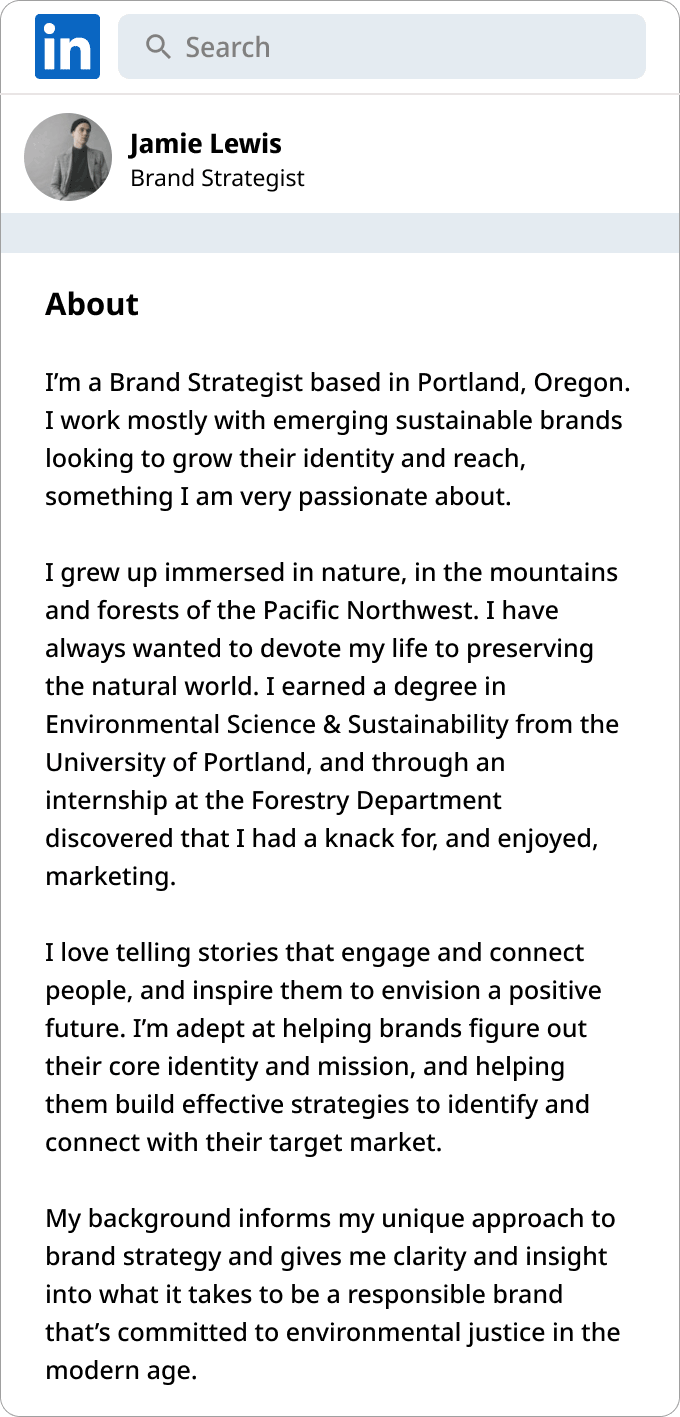 As a professional who makes a living crafting rich stories, Jamie includes his own in his bio, giving potential clients a good idea of the services he can provide. By telling his own story, he demonstrates his value as a brand strategist, and helps the reader connect with him.
Professional bio templates
Ready to make your own bio? Below are two templates you can fill in with your own information to create an eye-catching bio for work or your LinkedIn profile. The first one is a first-person short bio template: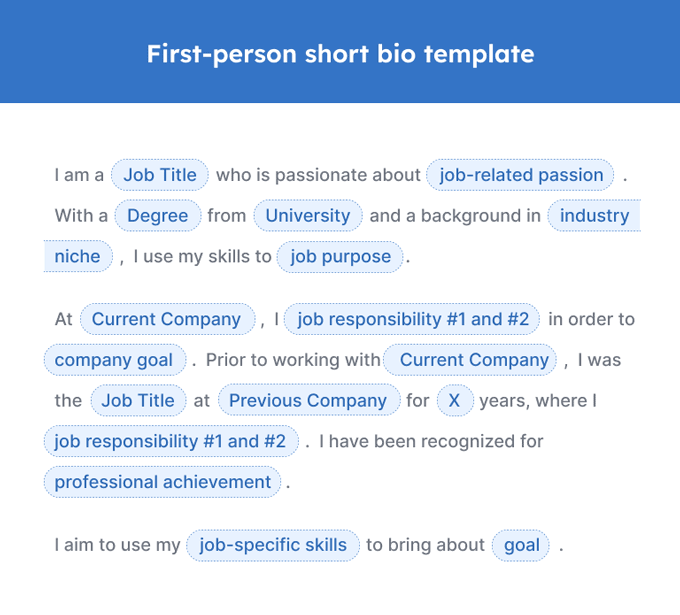 If you want to make it a bit more formal, use the third-person. Here's a template for a short professional bio using third-person:
What is a resume bio?
A resume bio is a great way to start your resume. It's a brief 3-5 sentence introduction of yourself as a candidate that highlights all of your key qualifications, such as your:
Education
Relevant professional experience
Industry-specific skills
Related accomplishments
A resume bio should include less information than a standard professional bio used for a personal website or LinkedIn profile, and should leave out any personal details that aren't directly related to the job you're applying for (for instance, you don't need to include hobbies and interests on your resume).
Another key difference to note is that while a professional bio is written for a broad audience, your resume bio is written for a particular employer, and should be tailored to the specific job you're applying for.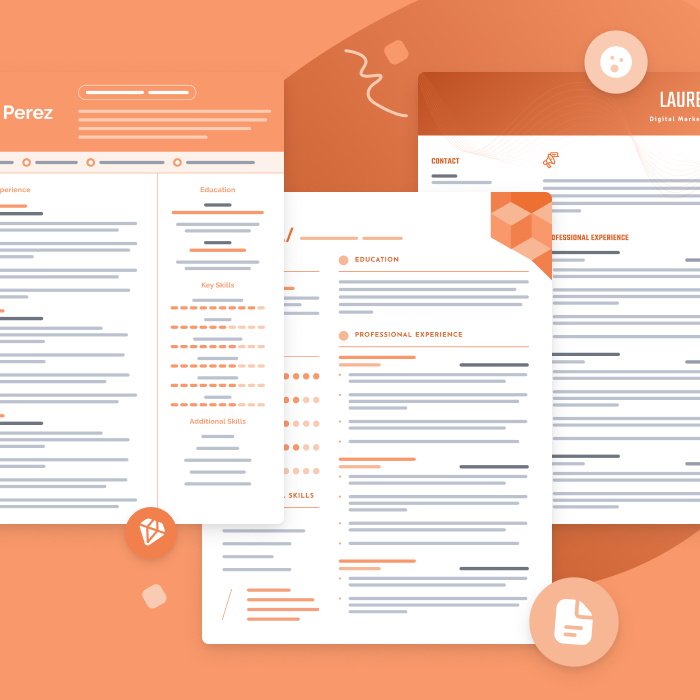 One of the best ways to make your resume is by filling out one of our free resume templates. All our templates are designed by experts and free to download for Microsoft Word or Google Docs.
Resume bio examples
Here are a couple examples of good resume bios:
Bio for resume example #1
Aspiring IT Support Specialist with a bachelor's degree in Computer Science adept at troubleshooting technical issues and handling customer complaints in a professional setting. Proactive worker recognized by peers for my effective analytical and problem-solving skills. Looking to apply my understanding of help desk software and virus scanning software at your company. CCNA certified.
Bio for resume example #2
Certified administrator skilled in streamlining office operations and administering records in a professional setting. Detail-oriented worker recognized by peers for my effective organizational and time management skills. Looking to apply my understanding of Oracle PeopleSoft and data entry software at your company.