Eva Chan and Geoffrey Scott from the Resume Genius team recently sat down for an insightful conversation about resume writing and professional development with Margaret Phares, a highly respected figure in the career space and the Executive Director of the Professional Association of Resume Writers and Career Coaches (PARWCC).
Their discussion has been condensed into short video snippets and key takeaways for your convenience.
In this interview, Margaret discusses her thoughts on the following topics:
Note: Some of these quotes have been edited for clarity.
Meet Margaret Phares
Margaret Phares is the Executive Director of the Professional Association of Résumé Writers and Career Coaches (PARWCC). From St. Petersburg, Florida, Margaret has applied her vast experience in association management and project development to guide PARWCC since August 2019.
Established in 1990, PARWCC is a leading association for career professionals worldwide, with nearly 3,000 members from more than 20 countries.
Their mission? To provide jobseekers with the tools and strategies they need to succeed in their careers.
In this clip, Margaret shares her career journey and her role as the Executive Director of PARWCC:
Can you tell us about your background and how it led to your role as PARWCC's Executive Director?
I grew up with an appreciation for associations.
My dad belonged to the American Newspaper Association for as long as I can remember. I was a part of our University students association. When I graduated from college, I worked for the Paper Industry Management Association. 
From there I bridged out into not-for-profit community relations and speechwriting. But my passion has always been for the not-for-profit or customer service side.
And when [my husband and I] came across PARWCC from the original owners who lived in St. Petersburg – where we are, [I thought to myself that] it has the potential to absolutely change the world. And there's so much value in that — that I fell in love with it and it's really just become my passion and the thing I just want to do forever.
In 1990 [PARWCC was started] by Frank Fox and his business partner, Jay Block, who is still a member of the association. And then Frank and his wife, Vickie, decided to retire and the timing was perfect [for us to step in]. And it speaks 100% to the value of relationships and finding opportunities.
The "art and science" of crafting an impressive resume
Discover Margaret's insights on the crucial elements and strategies to create a resume that leaves a lasting impression:
How has resume writing evolved over the years?
I think what we're seeing is a more strategic use of a resume right now and definitely a more value-driven proposition than I think resumes used to be. 
Resumes used to be kind of an obituary. "And then from 1986 to 1989 I did this." Now it's [becoming] more value-driven — talking about how the jobseeker can benefit the company.
What are your thoughts on the impact of AI technology?
Things evolve and change. And as you use tools, what you know about them evolves and changes. And I think it's going to be like that too. Right now, it's just a tool and it requires a person to use the tool. 
John Suarez, who runs our Fundamentals program that teaches the art and science of resume writing, he said it's like a beast that you can use, but you have to keep a close eye on it. 
It's always going to be about finding the person behind the resume that's going to make it work. So it's the jobseeker who is important.
What's your ideal starting point for a resume?
The content has to drive the design and it can't go any other way.
For example, if you're working with a jobseeker who has a 10 year gap in their employment, well, how do you address that, how's it going to drive design?
So there isn't a right way to start except that maybe your design needs to be consistent to help build your kind of personal brand [and help] the hiring manager [understand you]. But beyond that, I can't say that there's one right thing to start with.
The components of a cover letter that stand out
Writing an impactful cover letter is your ticket to catching a potential employer's attention. In this segment, Margaret unveils the crucial elements that transform a good cover letter into a great one:
What are the most important elements of a cover letter?
Cover letters should never regurgitate information that's in the resume.
It's an opportunity to double your branding opportunities and repeat why you're going to be a valuable addition to a company.
I think the cover letter sets the tone for the jobseeker and it can be your opportunity to establish that you can fit in their company. So you also shouldn't be filling that cover letter margin-to-margin with content. It should be short, it should be concise, and it should have a focus.
Also tight, short paragraphs, short sentences that give hiring managers more information about who you are, and reinforce that value proposition and the quantifiable results that you as a jobseeker can bring to them.
How can you balance personal experiences versus what you can do for a company in a cover letter?
What I think is the kiss of death for a cover letter is "I want to work for you" – that's not focused on the company. Your own accomplishments should support the company.
It shouldn't be about you. It should discuss what you can do for them. And that's where the art and science of the creation come together. For example, someone might feel really great about, "Hey, I worked at McDonald's when I was 17 and I learned all these great things."
Well, now you're 56 and I'm glad you learned a lot from McDonald's, but it's not really that important. Like, that's great for you, but that doesn't tell me how you're going to increase sales in my company. You know, tell me how your passage statements will support your future achievements. So I think that's the more valuable part of that.
Effective job search strategies in today's competitive market
Here's what Margaret had to say about successfully navigating the modern job hunt:
What are some common mistakes that you see jobseekers make when applying for jobs?
Well, I would say first and foremost, [your content should be] 100% error free. That's been true forever.  
[Second, not including] a value proposition. That value proposition we talked about earlier. How can the jobseeker be valuable to the company and prove it? Come up with [a way to] showcase quantifiable results.
John Suarez of our Fundamentals program says "Every word needs to deserve the real estate it takes up." So if you're using extraneous words, take them out because there are other words that you can use that'll create more value for the company that you're applying for.
What do you think of online platforms like LinkedIn?
LinkedIn is a tool and I think anybody who isn't using it is probably shortsighted. 
We're starting to see a lot of jobseekers who feel confident in their career documents but not confident in their LinkedIn profiles especially, and I find this happens especially if they've lost their job very quickly, that they're like, "Whoa, okay, now my LinkedIn isn't up-to-date and I want to really maximize that." 
And I think most hiring managers who are getting really serious about a candidate are going to go check them out on LinkedIn.
Do I think it should be your only option? I don't. But I think it's definitely something that you should have up-to-date.
Margaret's top resources and recommendations
Navigating your career path can be easier with the right resources at hand.
Below, Margaret shares her favorite career-related podcasts, books, and online resources that she believes can support jobseekers and anyone interested in becoming a career resources provider:
What are some online resources or thought leaders for jobseekers to follow?
Find a podcast that really speaks to you as a jobseeker. There are a million podcasts on finding the right career path for you. One I like is "No More Mondays" by Angie Callen.
If you want to follow some great blogs, Denise Bitler has an amazing blog on [her] LinkedIn. She provides some really regular content. She's an amazing resume creator.
The industry titans Wendy Enelow, Jay Block, Jan Melnick, Louise Kursmark. They all have some really great public information, but the books of Louise Kursmark and Jan Melnick. They're absolutely gold. They have the best resume samples that you can find in the industry.
I always think learning what your opportunities are is the best bet for a really great outcome.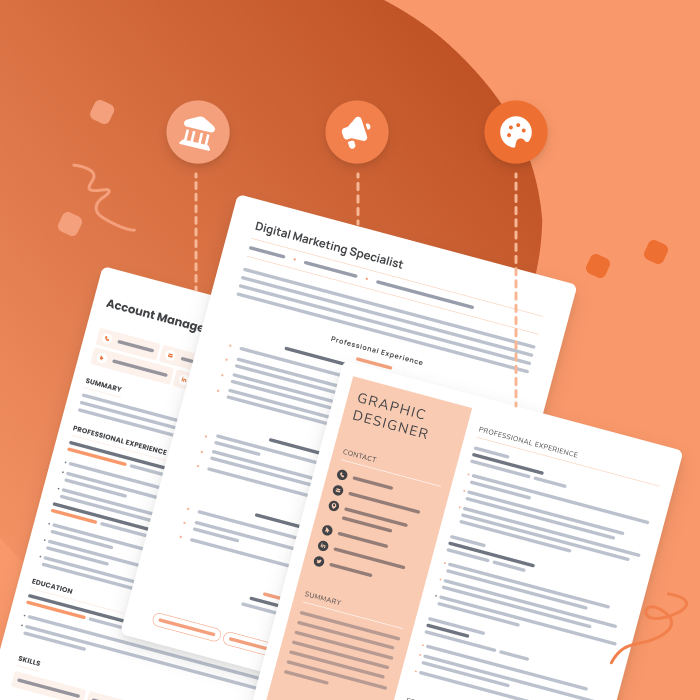 Not sure what your resume should look like? The best way to learn is by taking inspiration from resume examples written by other candidates in your industry.
Do you have any tips for aspiring career service professionals?
We have the [PARWCC] magazine and our weekly newsletters, so you can participate in PARWCC as much or as little as is useful to your practice. 
We have opportunities for connection everyday on the website, and for solopreneurs, that can be a real lifeline for them because it can get kind of lonely if you're just working on your own.
The first thing I think [for] somebody who is pursuing this professionally and is looking for a certification is to look at the different associations within the industry.
You can look at PARWCC, obviously. Check out our website. We have a lot of information, you know, before you become a member, or even to see what fit is for you. Look at these other associations too, and see how they feel to you.
Do you have any final tips or thoughts for our audience?
My first tip would be for jobseekers. There's somebody who is skilled at providing career documents at every level. So a lot of jobseekers will try to do it on their own. You're immediately putting yourself at a disadvantage. 
So if you say you can't afford it, one, figure out what you can afford and then find the best service professional within your budget.
Use the professionals who can help you and partner with you and create a really exciting job search because appropriate employment can change your life. 
My second advice would be to providers. Keep reaching out to one another, keep supporting and upholding this community by creating events like this with Resume Genius, and creating a real upswell for the value of the art and science of what you do.
Because everybody supports everybody else. No two people's practice is the same. We never win when one of us shines, we all shine and, you know, really just be there for one another and recognize that we're all stronger together.
Maximizing opportunities with PARWCC
When asked if she's experienced any special moments during her time at PARWCC, here's what Margaret had to say:
Do you have any memorable experiences from operating PARWCC?
Well, my favorite success stories at PARWCC always come when somebody who has started with us and reports back that they have had a big win, that they've placed somebody in their dream job or they increased their jobseekers' potential earnings by six figures. I mean, that's really gratifying.
That's the stuff that makes it worth showing up every day and making things happen because [it's] creating the opportunity for people to be appropriately employed.
It changes that jobseeker's entire life, their family, their community, the people that they'll serve eventually. And that changes the world, right?
Connect with PARWCC
Go beyond our conversation with Margaret by exploring more of the resources offered by PARWCC.
By learning more about their association, you can gain access to the latest industry trends and become part of an active network of career professionals across the globe.
With fresh insights, helpful tips, and an opportunity to connect with like-minded individuals, PARWCC has something for everyone — jobseekers, career coaches, or resume writers.
About Resume Genius
Since 2009, Resume Genius has merged innovative technology with up-to-date industry expertise to simplify job hunting for people of all backgrounds and experience levels.
Its easy-to-use resume builder and wide range of career resources like free resume templates, cover letter samples, and resume writing guides can help you jumpstart your job hunt. Whether you're preparing for an interview or need a CV template for a career change, Resume Genius is ready to make your application competitive in a constantly changing job market.
Backed by a professional team of dedicated career advisors and HR experts, Resume Genius's ultimate mission is to guide jobseekers with finding fulfilling work and reaching their career goals. Are you ready to join the millions of other jobseekers who've used Resume Genius to land their dream job?