When it comes to applying for jobs, a well-written cover letter can make all the difference in setting you apart from other candidates. But if you don't enjoy writing or are short on time, ChatGPT can help.
To help you understand how ChatGPT works and whether you should use it to create your cover letter, we provide step-by-step instructions and do's and don'ts, with visual examples, so you can easily follow along and learn how to make a standout cover letter.
Our free-to-use cover letter builder can make you a cover letter in as little as 5 minutes. Just pick the template you want, and our software will format everything for you.
What is ChatGPT?
ChatGPT is an AI language model created by OpenAI that can understand and use language like humans. ChatGPT was trained using text databases from the Internet, so it can create grammatically correct and conversational text.
In fact, ChatGPT can not only answer your requests (also known as prompts or commands), but it can also help you create a wide variety of documents, including cover letters, resumes, and more.
Should I use ChatGPT for my cover letter?
Even in 2023, hiring managers still consider cover letters to be necessary in the application process. According to a recent survey on cover letter statistics, 78% of recruiters expect their applicants to submit a cover letter.
So if you're someone who dislikes writing cover letters, you may wonder whether to use ChatGPT to make yours.
To help you make an informed decision about creating an AI-generated cover letter, here are some pros and cons to think about:
Why you should use ChatGPT
it saves you time and effort in writing a cover letter so you can focus on other aspects of your job search
the chatbot assists you with quickly customizing cover letters to different jobs
it helps correct grammatical errors so your writing looks professional
ChatGPT serves as a starting point to build a good cover letter that showcases your experience and qualifications
Why you shouldn't use ChatGPT
the chatbot generates generic, inaccurate, or unoriginal content that takes time to correct
it doesn't address specific job requirements or qualifications as well as a human writer could
ChatGPT lacks the individuality and personality that employers look for in cover letters
it's unsuitable for niche industries or job positions (for example, if you're applying as a food stylist or a forensic psychiatric nurse)
it poses intellectual property risks if it overlaps with existing copyrighted material
Concerned about the cons of ChatGPT? We've got you covered. The following steps can help you minimize any potentially negative effects on your cover letter.
5 steps for making a ChatGPT cover letter
Writing a good cover letter can be challenging, but using ChatGPT can make the process much easier.
Here are 5 steps to help you generate a cover letter using ChatGPT:
1. Sign up for ChatGPT
To get started with ChatGPT, you'll need to make an account. Here's how you can register:
Go to the ChatGPT OpenAI website and click the "Sign Up" button.
Enter your email address and choose a password.
Follow the listed steps to complete your account setup.
Once you've created an account, you can start using ChatGPT to write your cover letter.
After you've made your account, you'll land on the home screen: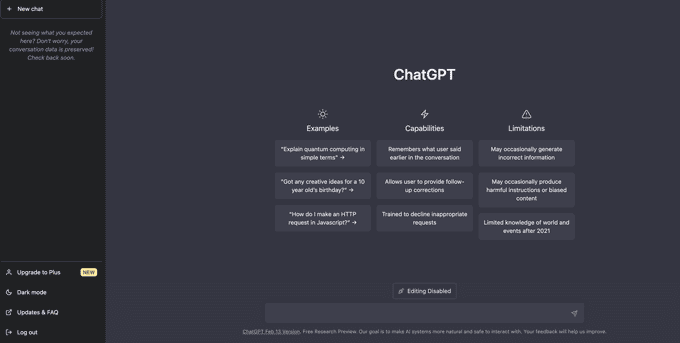 2. Give ChatGPT a specific set of instructions
Making clear requests is the next step toward creating a winning cover letter.
Your request should be specific to your skills and experiences and tailored to the job you're applying for so ChatGPT can generate a more personalized cover letter for you.
Whenever possible, include these details while you're telling ChatGPT what to do so you can have the most accurate and customized responses from it:
your target role's name (e.g., "I'm applying for a UX Researcher role.")
the target company's name (e.g., "The company I'm applying for is called Zapier.")
the industry you're applying for (e.g., "Target the tech industry.")
job-specific abilities (e.g., "Include conducting usability tests and data analysis as two of my top skills.")
the cover letter sections you need (e.g., "Write me a cover letter that has an opening paragraph, three short body paragraphs, and a closing paragraph.")
Write me a cover letter for [Company Name] that shows I'm passionate about the [Industry] industry and how I can contribute to [Target Company Name] specifically. I have [number of years] years of experience in this industry. Add specific numbers and action verbs to my cover letter. The key skills to mention are: [skill 1], [skill 2], and [skill 3]. Make my cover [number of words] words maximum.
After filling in the details, here's what ChatGPT produced from this prompt: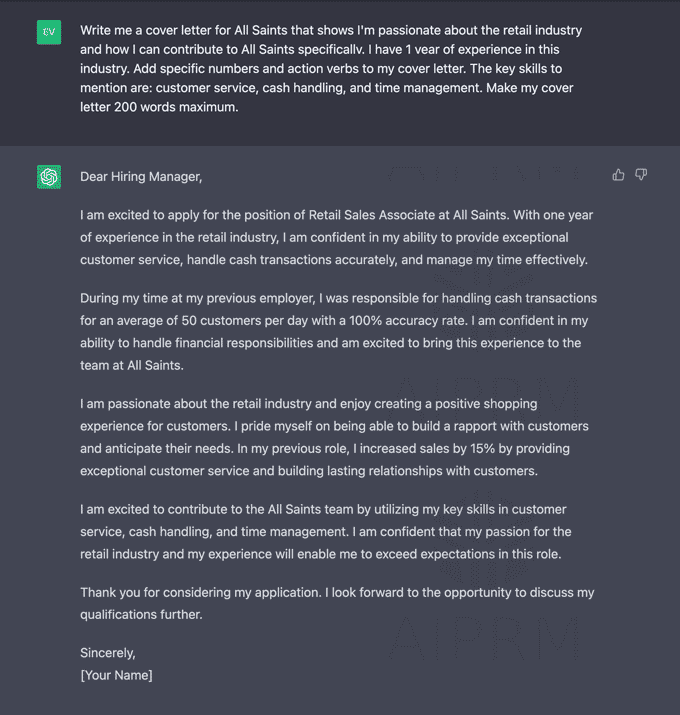 3. Review your content and make edits
After generating your cover letter using ChatGPT, review your content and make any necessary edits.
Remember that ChatGPT will make up information unless you provide it with more details, so use your initial commands as a starting point and then fill in more details later on so your cover letter will sound natural and specific to your experience.
Here are some prompts that'll help ChatGPT write about a variety of job situations:
Job-specific prompts to refine your results
Include a time when I used my problem solving skills as a [Name of Previous or Current Role] to overcome a difficult challenge.
Explain how my previous work experience has prepared me for this position.
Discuss why I'm passionate about the company and how my values of [list your values] align with its mission.
Detail my communication style and how it can positively impact [Company Name]'s goals.
Describe how I plan to contribute to [Target Company's Name]'s growth and success in this position.
Mention my experience working with a team when I worked as a [Name of Previous or Current Role] and how I collaborated effectively with others.
Also, these are examples of prompts that'll help to adjust how your cover letter sounds:
More prompts to improve your cover letter's tone and delivery
Make the cover letter sound more persuasive and confident.
Use contractions in this cover letter.
Remove any redundancies.
Use these specific keywords in the cover letter: [keyword 1] and [keyword 2].
Add more action-oriented language and vocabulary so I seem like a leader.
Use US spelling conventions throughout the cover letter.
For example, maybe you'd want mention your excellent teamwork abilities and use a conversational tone throughout your cover letter.
Here's an example of how to ask Chat GPT for adjustments using more detailed commands: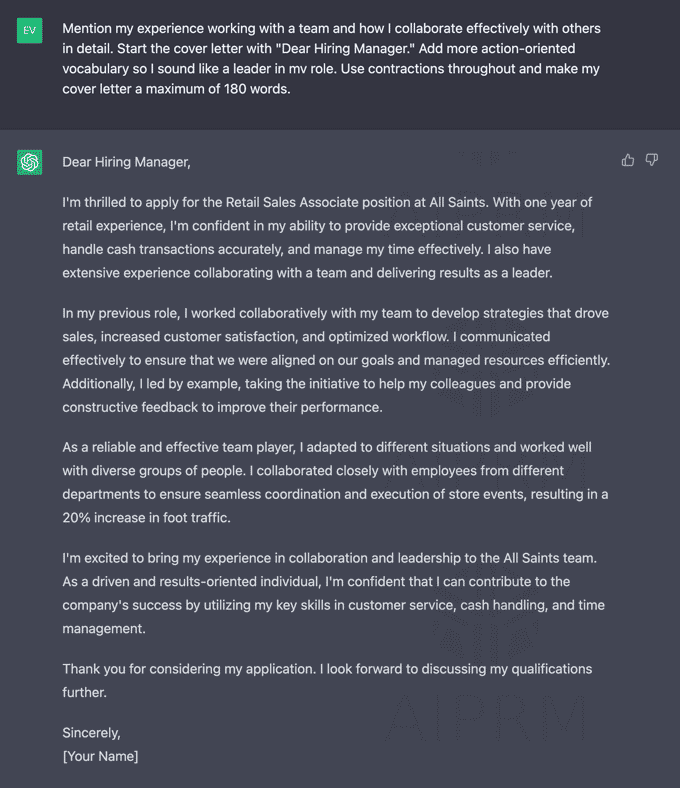 4. Copy and paste your work onto a new template
After fine-tuning your cover letter with ChatGPT, the next step is to transfer it to a new template.
Although ChatGPT provides you with a written version of your cover letter, it doesn't help you with the formatting or give you a template to put your cover letter on.
Make sure the design you choose for you cover letter matches your resume template.
You also can create your own template using Google Docs or Microsoft Word by simply pasting your completed cover letter onto a new document.
5. Use correct cover letter formatting
One of ChatGPT's limitations is that it can't format your cover letter for you. However, employers will still expect you to follow the standard format for cover letters when you're submitting your application.
So keep these points in mind as you format your cover letter:
Add all the necessary cover letter sections. Include your contact information, the employer's contact information, a formal salutation, 1–2 body paragraphs, and a professional closing.
Use a standard font. Choose professional fonts like Arial or Times New Roman in a 10–12 point size so employers can read your cover letter easily.
Address your letter to a specific person. To show you've done your research, personalize your cover letter greeting with the hiring manager's name. Try finding the contact person's name on LinkedIn, on their company website, or by calling the company.
Use proper margins. When writing a cover letter, choose appropriate margins between 1″ and ½" so the contents don't look too crowded or empty. If you're running out of space, you can adjust your cover letter margins by ½" so your cover letter stays on one page.
Include a professional closing. End your cover letter with a professional closing, such as "Sincerely," or "Best Regards," followed by your name.
Proofread your work. Double-check for any typos or grammatical errors before submitting your cover letter so employers can see you're a detail-oriented applicant.
To avoid writing long commands and additional formatting, try a cover letter builder instead of ChatGPT. The best online cover letter generators offer customizable templates and pre-written content that you can easily modify to fit your needs. Plus, they have built-in formatting options to save you time.
ChatGPT cover letter do's and dont's
ChatGPT can be a helpful resource to you, but there are some key do's and don'ts to keep in mind:
✅ Read the job posting carefully beforehand
Don't forget to highlight your relevant skills, experience, and qualifications when you're giving ChatGPT commands so they can match the job description as much as possible.
Understanding your target employer's requirements and tailoring your cover letter to the specific job is important because it shows:
you're a good fit for the company
you've taken the time to research the position
you have a genuine interest in the role
Paste your target job's description or requirements into ChatGPT when writing your cover letter prompt so ChatGPT can write your cover letter with the target job in mind.
✅ Experiment with different requests and outputs
ChatGPT can generate a variety of results for each section of your cover letter, so choose ones that fit best with your experience and qualifications.
Try experimenting with different prompts for each cover letter paragraph (for example, using a more personal tone for the opening paragraph and a more professional tone for the body paragraphs) until you're satisfied with ChatGPT's results.
For instance, you could write: "Introduce me in a friendly but professional way by stating my years of experience and how I found the role on FlexJobs" or "State that I learned about the company from my friend Lacy Tang in the opening paragraph."
As for your body paragraphs, consider making prompts that highlight your relevant experience and skills.
Some examples include: "Explain how my previous growth marketing experience at SoundCloud relates to the job requirements" or "Describe a specific achievement that demonstrates my qualifications for the Mechanical Engineer position."
✅ Use an AIPRM prompt
AIPRM, a ChatGPT extension, is a resource database for publicly available prompts shared by the community. Using a cover letter prompt on AIPRM can help you effectively showcase your achievements and experiences and save you time from writing your own prompts.
First, you'll need to download AIPRM as a free Chrome extension:
Then, you can explore any of the available prompts using their search menu. Try typing in "cover letter" into their search menu to see if there are any suitable prompts that can help you make your cover letter.
For instance, if you want to try out Resume Genius' free cover letter prompt on AIPRM, follow the instructions and enter your information based on the questions ChatGPT asks you.
Here's what this AIPRM prompt looks like:

Here's an example of how you can interact with ChatGPT while using this specific AIPRM cover letter prompt: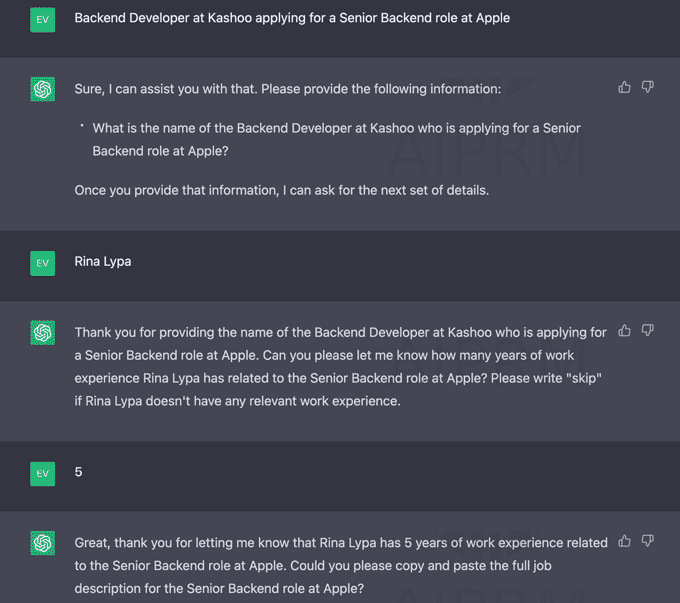 ✅ Be detailed and accurate in your prompts
You can use bulleted points or full sentences as you're writing your ChatGPT prompts. Just ensure what you're asking for is detailed and clear.
Being specific as you're writing your prompts will help ChatGPT produce more accurate outputs, avoid confusion, and generate the most appropriate and effective content for your cover letter.
For instance, take a look at this prompt. While this person does state their previous positions, they don't mention how many years of experience they had or include much context.
Example of a vague ChatGPT prompt
Write me a cover letter that shows I'm the best candidate for the Blue Bottle Barista role. I'll paste the job description below. I recently worked at Lavender Glaze, Victoria's Secret, and Madewell, so mention these positions in the cover letter and make me sound confident.
And here's an example of a more specific and detailed prompt:
Example of a clear and descriptive ChatGPT prompt
Write me a cover letter that introduces me as a confident barista candidate for the Blue Bottle barista role. I'll paste the job description below. Mention my three years of experience in customer service-oriented roles, which were Lavender Glaze, Victoria's Secret, and Madewell. I especially want you to include my teamwork skills, attention to detail, and ability to create beautiful, customized latte art while working at Lavender Glaze. Include my Lavender Glaze barista experience first. Next, talk about my Victoria's Secret and Madewell roles using one body paragraph and make sure to mention my cash handling skills and how I won "Employee of the Month" at both of these retail stores.
Because the prompts you provide directly impact the quality of the output you receive, always take the time to craft them thoughtfully.
Try saving your written prompts in a Google Doc or Microsoft Word document so you can access them easily if you have many cover letters to write.
❌ Don't rely solely on ChatGPT
Remember that ChatGPT is just a tool, so don't rely on it to write your entire cover letter without editing it afterward. While it can be a helpful starting point, use your own judgment and expertise to create a strong cover letter showcasing your unique qualifications.
Instead of pasting Chat GPT's cover letter directly onto a template without making any changes, take the time to review and revise the content to ensure that it accurately represents you and your qualifications for the job.
Doing so ensures  your cover letter stands out and effectively communicates your value to your target employer.
❌ Don't submit a cover letter without proofreading it
Submitting a cover letter with errors can hurt your chances of getting the job. You can use ChatGPT to proofread your cover letter, but the chatbot might still not catch certain typos (e.g., not realizing the difference between "their" or "there") or the non-literal meaning behind text (e.g., sarcasm, irony).
So even though ChatGPT can provide the structure and content for your cover letter, always proofread it to catch any mistakes or typos.
It's a good idea to read your cover letter out loud, use spell-check tools, and have a friend or family member review it for errors.
❌ Don't lie on your ChatGPT cover letter
ChatGPT provides impressive accomplishments and experiences to include in your cover letter. Before submitting, ensure the contents accurately reflect your experiences.
Employers value honesty and integrity, and if they discover that you've lied on your cover letter, it can hurt your chances of getting hired.
❌ Don't expect ChatGPT to know anything past 2021
ChatGPT is an AI language model that's been trained on data up until 2021 and currently can't get access to new information past that date.
So always use your judgment when deciding what to include in your cover letter and check ChatGPT's information to ensure facts are accurate and up-to-date.
Additionally, staying informed on industry trends and conducting thorough research can help you create a relevant and memorable cover letter.
About Resume Genius
Since 2009, Resume Genius has merged innovative technology with up-to-date industry expertise to simplify job hunting for people of all backgrounds and experience levels.
Resume Genius's easy-to-use resume builder paired with a wide range of free career resources like resume templates, cover letter samples, and resume writing guides can help anyone improve their job hunt. Resume Genius has been featured in esteemed publications such as CNBC, Business Insider, Forbes, and The New York Times.
Supported by a team of dedicated career advisors and HR experts, Resume Genius's ultimate mission is to guide job seekers toward fulfilling work and help them reach their career goals.
For media queries or concerns, please contact us.